In a surprising turn of events, our usual Whelmed Wednesday post has turned into a Turbed Thursday! Apologies for the delay, but the #CrashtheMode leaders needed just a tad more time to complete the events calendar, and I promise, it's amazing. We are one (1!) day away from the start of the #CrashtheMode campaign, and I don't know about y'all, but I'm ready for it. Before I get into the nitty gritty, the team leaders wanted to remind you of three very important tasks to be completed. If you haven't already:
Please send in a short video letting us know why you love Young Justice. It doesn't have to be long, just a few seconds at most. We've gotten some amazing videos from you guys, so keep it up! Last time we had a campaign, the video turned out to be so meaningful and absolutely stunning. Don't feel comfortable showing your face? Perfectly fine. Use whatever you want! Be it a Kid-Flash plush, a drawing, or just a quote. Any contribution is equally helpful. Once you have your clip, please email it to

This email address is being protected from spambots. You need JavaScript enabled to view it.

by June 16th.
Follow @YJFANDOMFEST and nominate your favorite fandom members to gear up for #FandomFriday. We have some wonderful submissions, but we want more! Remember, we will be publishing these submissions every Friday in June using the tag #FandomFriday to spread awareness and thank our amazing fandom. Anyone and everyone is eligible, so go make someone's day and nominate them for being amazing.
Promote, promote, promote. The only way this campaign can succeed is if everyone spreads the word and contributes. We want to show DC Universe that we love this show and will do anything to show it; that starts here. Reblog, send a video, thank a fandom member, and get ready to use hashtags and promote the campaign! We know this fandom is capable of amazing things, now it's time to show the world.
Binge-watch the show and read the tie-in comics. It goes without saying, but the best way we can show DCUniverse that we want more YJ is to give them the numbers.
Now that we've gotten that out of the way, I'm sure you've all noticed the beautiful calendar that the lovely YJFanvids created for the month of June. In case you're in stimulation overload or confused about the events, we've got you covered! Every week,we'll be releasing a detailed guide to explain the week's upcoming events, in addition to reminding everyone day-of on Twitter and Tumblr.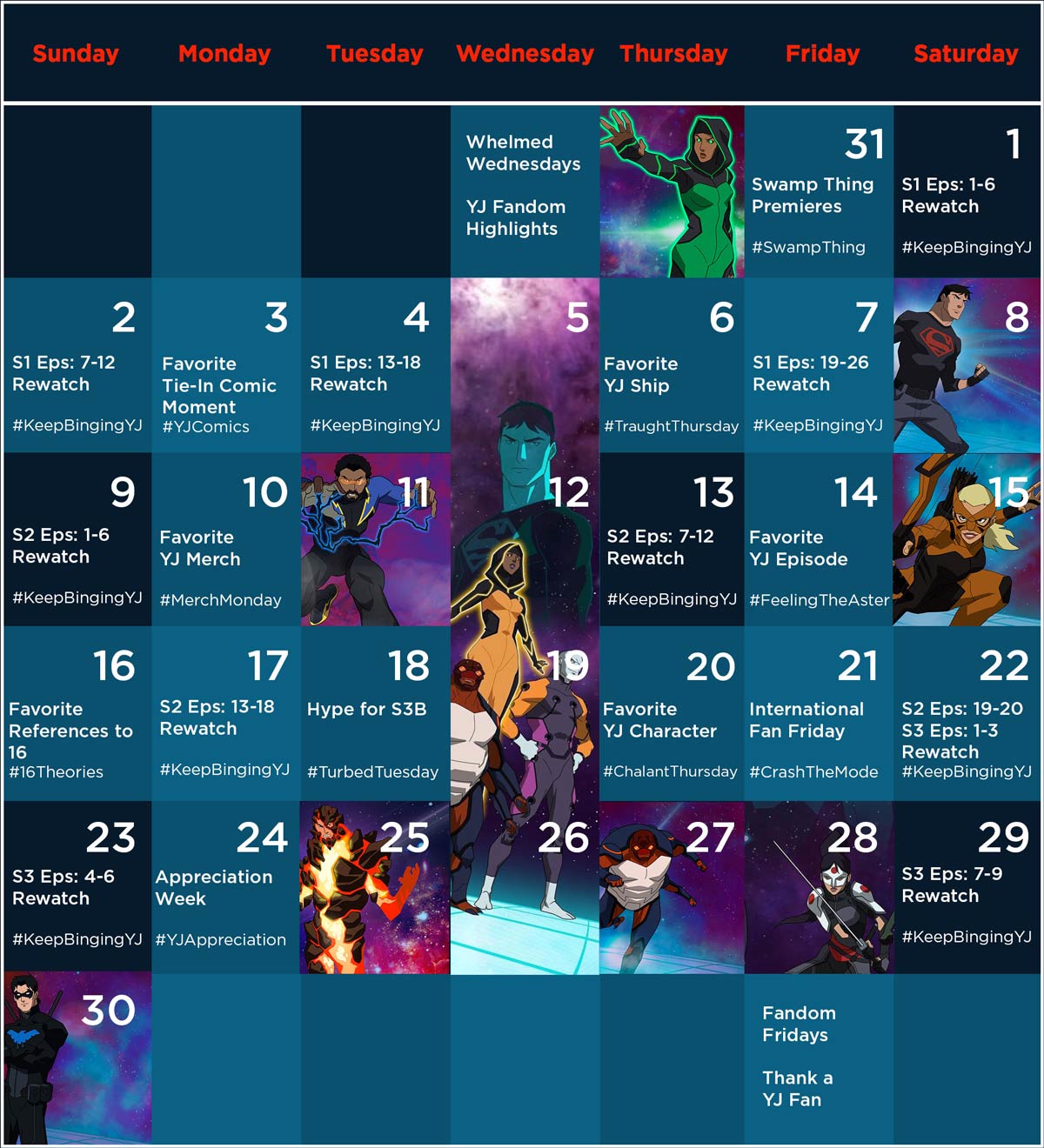 We have a more detailed post coming tomorrow with the week's events, but as tomorrow is the first day, we thought we'd give a little sneak preview to the weekend! Tomorrow, we'll be kicking off the campaign using the hashtag #SwampThing. I know, I can hear you bristling at me already; what does Swamp Thing have to do with Young Justice? Well, as a fandom, we're here to support DC Universe and all of its shows, especially on their release date. I've watched the first couple episodes of Swamp Thing, and I promise you that it's worthy of a hashtag!
So, for tomorrow, spread awareness using the hashtag #SwampThing to promote the show on Twitter. Let's let DC Universe know how excited we are for Swamp Thing and how we know it'll be just as good as Young Justice!
This weekend, we'll have a few viewing parties, and then some new hashtags later in the week. More details coming tomorrow!
We're so close, everyone, but we cannot do this without help! We are so excited to see what everyone is capable of.
Symbiosi, my friends. As always, stay whelmed; we got this!