12/30/2021 11:52 am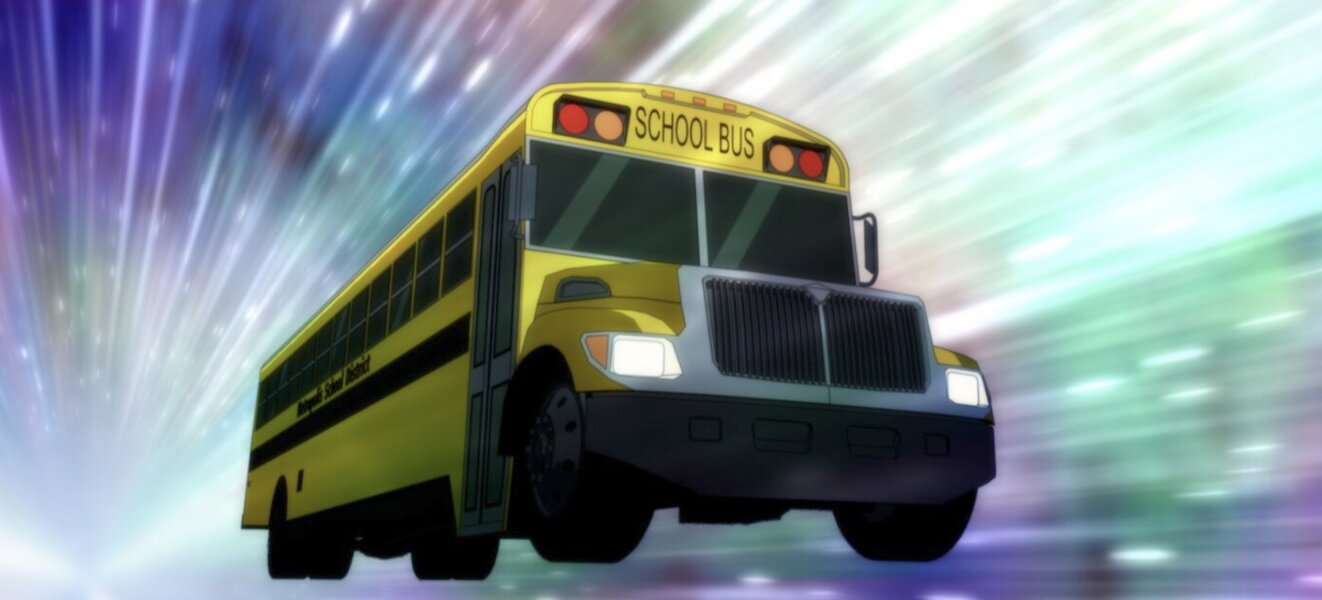 Eht soahc raw sehcaer sti ylemit dne!
After five weeks, Zatanna's arc rounds out the first half of the season with "Kaerb Ym Traeh!", and boy are our hearts broken. Between all the action, the heartache, and the shocking revelations, there's so much to unpack that we're just going to get right to it! As always, here's your spoiler warning for the newest episode. If you haven't seen it yet, go watch it, because it's not one to be missed!
In the midst of the heroes attempting to save Australia, Vandal Savage pops up and recruits the Phantom Stranger for a little side mission. This mission in question is actually reasoning with both the Lords of Chaos and Lords of Order in an attempt to have them stop Child from, you know, destroying the entire planet. After a bit of back and forth, he succeeds in getting the Lords of Chaos to remove their support for Child, and thus she loses their external power.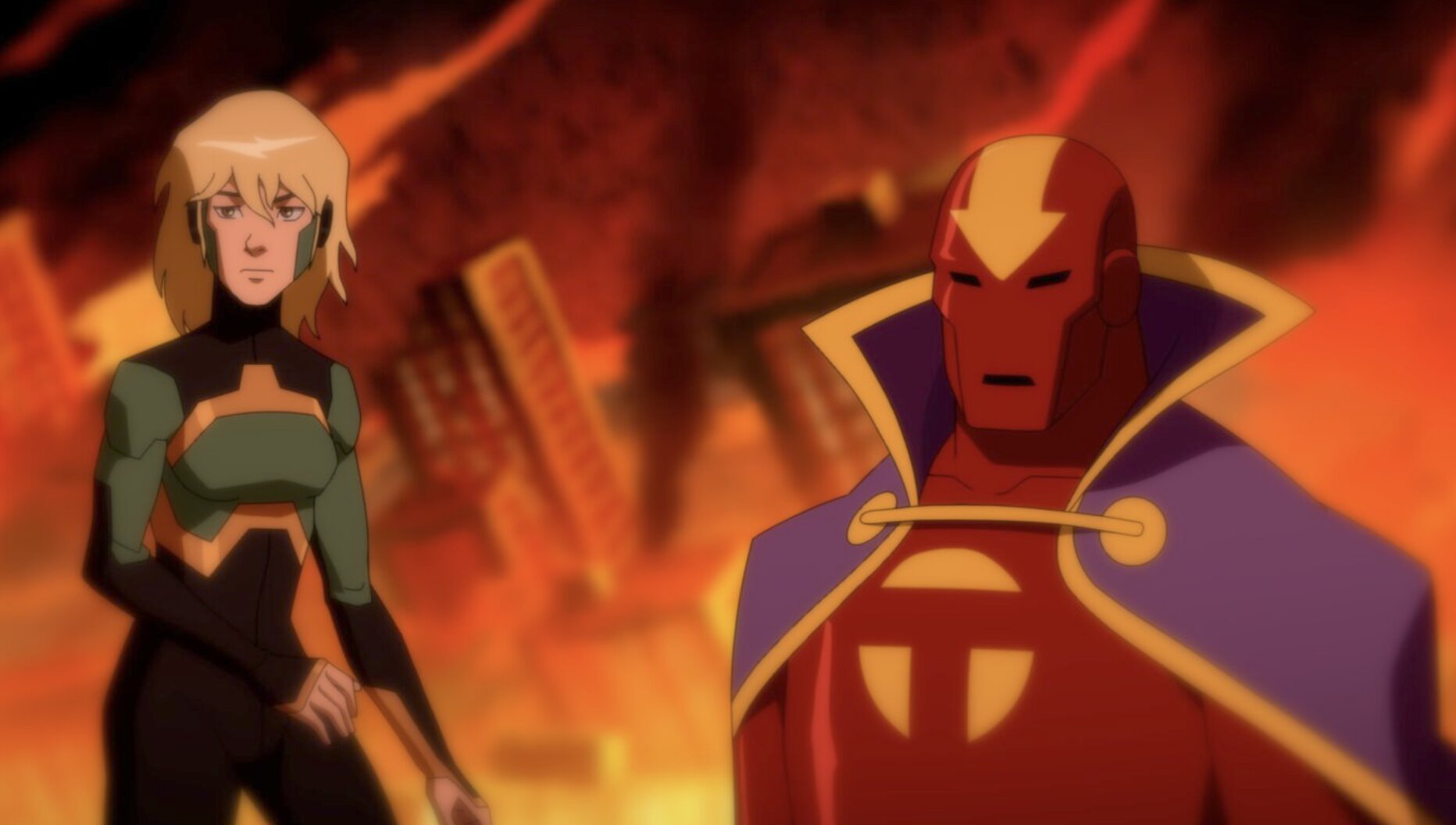 Meanwhile, over with Zatanna and Co., we return to the hilarious Klarion the Bus Boy saga. Understandably, Zatanna and her sentinels are quite surprised to find their former adversary is now, well, a school bus. They reluctantly agree to team up in order to stop Child and also promise to return the cursed school bus inhabitants back to their correct time. As they leave the frozen tundra, we get a sweet little Easter egg of Ice and Isis (!?) appearing to clean up the lingering disaster.

The first stop on the journey to stop Child is a creepy animal shelter in Salem in an attempt to find Klarion his new anchor. After seeing several options for cute cats, Teekl 2.0 is found and bonded as Klarion's new familiar. Never expected to be rooting for Klarion and baby Teekl, but here we are. The bus full of children (and Charlie!) is left in the relative safety of Salem while Zatanna, her team, Fate and Klarion summon Child. After losing the support of the other Lords of Chaos, she's not nearly as strong, but she still manages to hold her own against Klarion and Fate. That is until Traci wises up and uses her bad luck magic to strike Flaw's crack in his heart, effectively breaking his heart (ba dum tss), and removing Child from this world.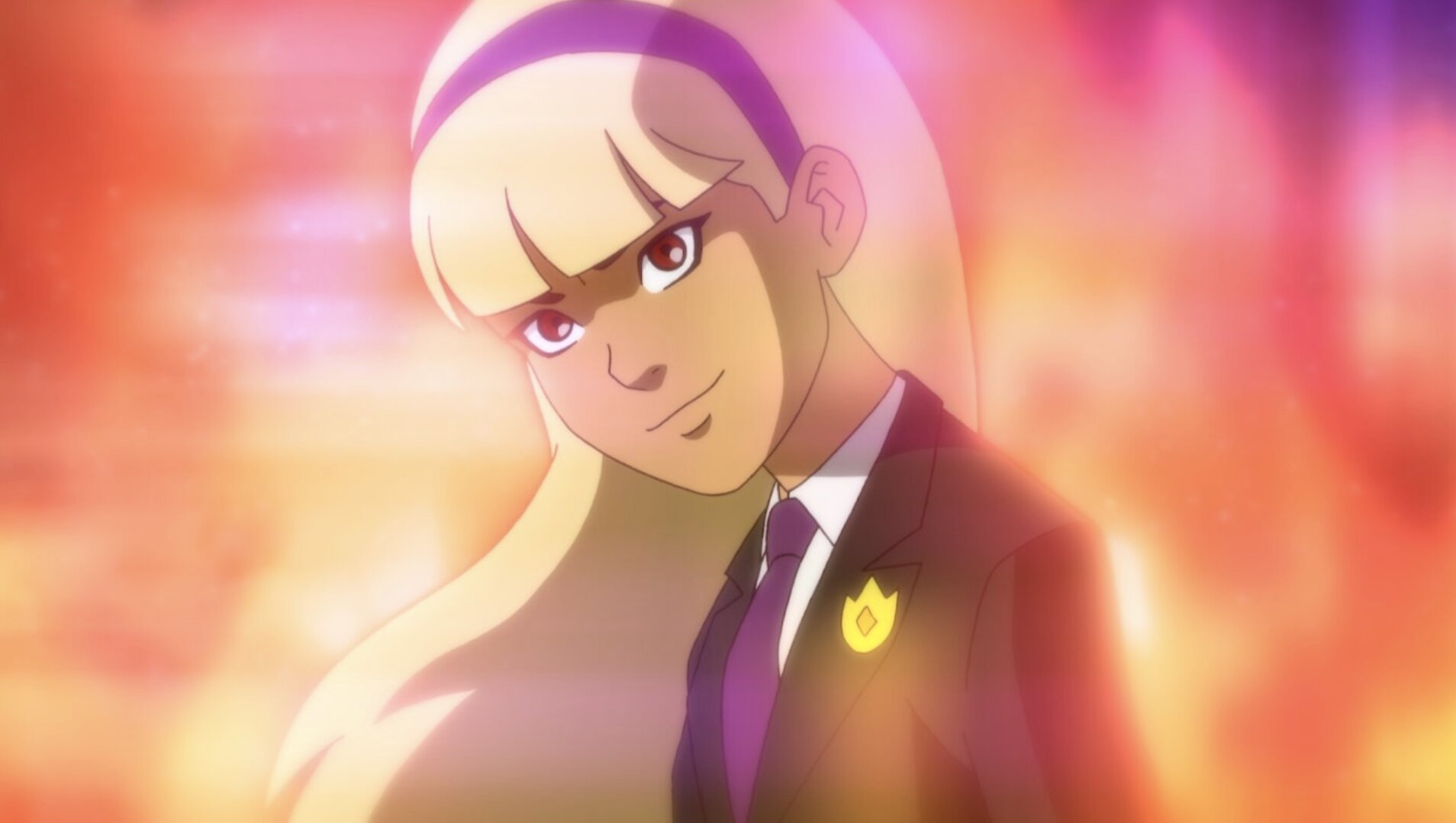 With the problem of Child effectively handled, there remains one last thing to solve. As it turns out, in the beginning of this arc, Zatanna decided on a new plan for her sentinels, effectively training them to take the helm of Dr. Fate. After the chaos war, both Khalid and Traci proved themselves ready for this responsibility, while Mary, who lusts a little too much for power, is sidelined. Mary is not happy about this and storms off to Fawcett City, where an eerie voice (Granny Goodness!) tempts her into saying Shazam and becoming Sergeant Marvel again, foreshadowing a slew of problems to come. But that's an issue to worry about later! Currently, and very understandably, Khalid is not jazzed about Zatanna's proposal that she, Khalid, Traci and her father will each take the helm of Dr. Fate for a week. Don't blame you, Khalid, it definitely comes off a little sus. And given that Zatanna doesn't even have a valid answer for him doesn't help things in the least. For now, though, it is what it is and after ten years she is finally able to reunite with her father. So all's well that ends well, we suppose!
Over with Beast Boy, Perdita appears for a surprise visit. To our relief, she picks up on the fact that Beast Boy is a giant, walking red flag of depression symptoms and attempts to talk some sense into him. Queen Perdita for the win. Unfortunately, Garfield is still unwilling to accept help or help himself, and because Queen Perdita waits for no man, the two break up, leaving Garfield's problems still unresolved and hanging eerily for the return of 4b.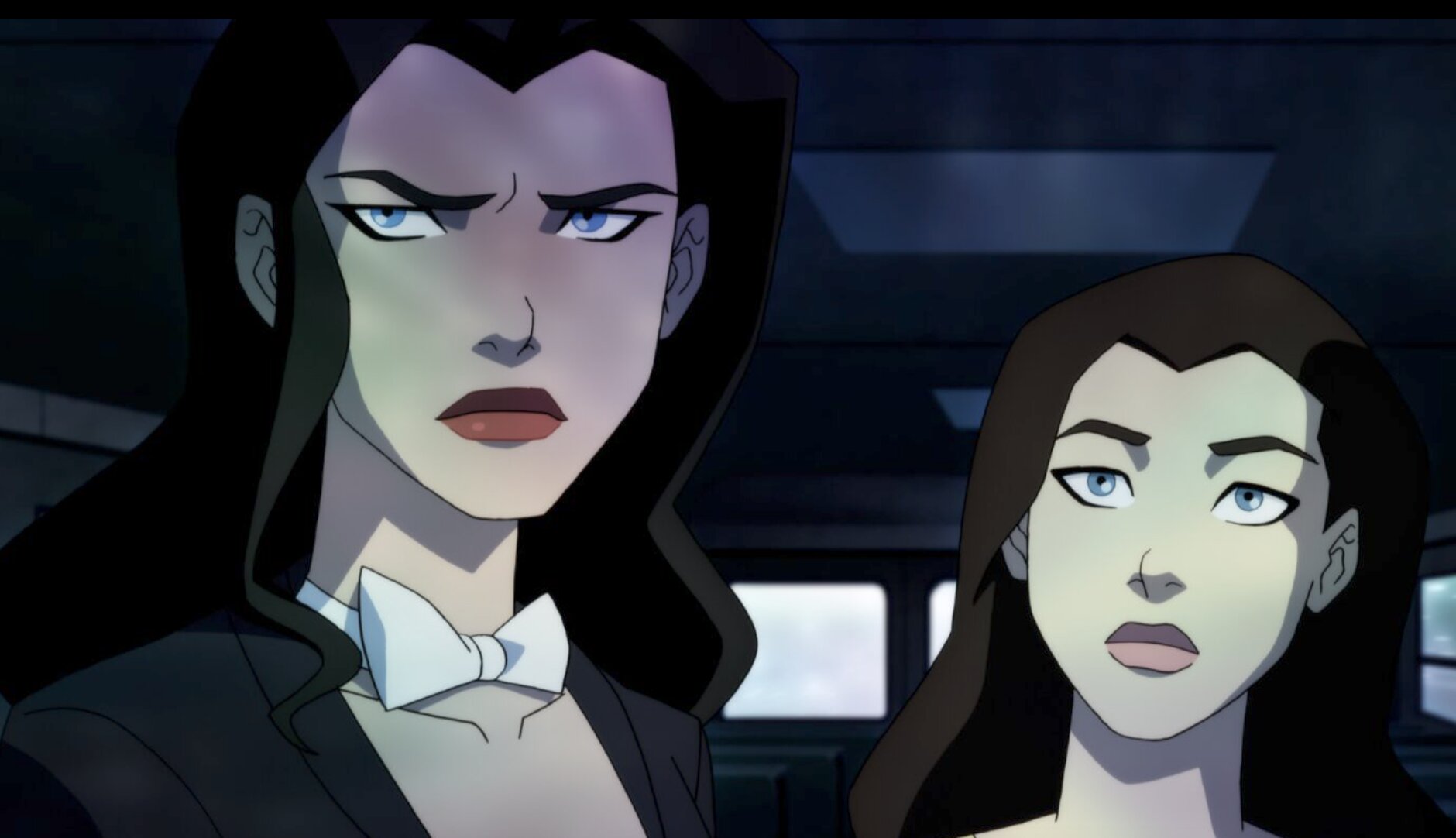 Last, and definitely not least, we received the confirmation that we've all been waiting for: Conner! That's right, his spirit is still alive and desperately seeking help somewhere out in the universe that we daresay might be the Phantom Zone.
As befitting a midseason finale, this episode really packed a tight punch. Between juggling the different plot lines and trying to wrap up every single story, we felt that the episode did a pretty good job of it all. While we're still questioning Zatanna's decision to secretly groom her sentinels and take on Dr. Fate's mantle without necessarily telling them, we're on board with Zatara finally being freed. Our only wish was to see the fight between Child and everyone to be a bigger deal, as after four episodes of buildup, we assumed it would take a lot more to bring that little chaos gremlin down. You win some, you lose some.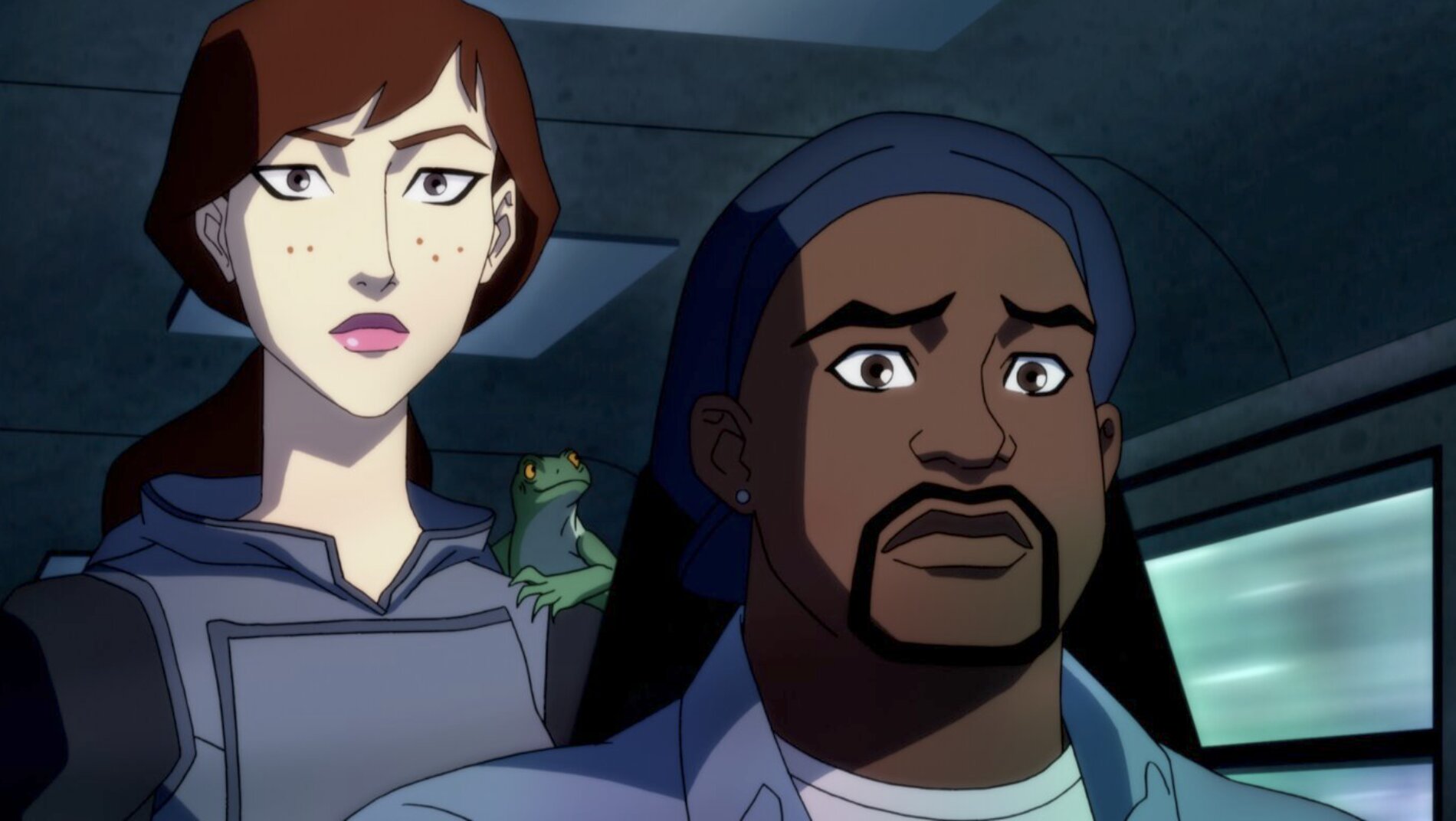 "Kaerb Ym Traeh!" serves as a great conclusion to Zatanna's arc. This latest episode showcased some fantastic visuals, plenty of humor, and quite a few touching moments. Between cooing over baby Teekl, cheering over Child's demise, crying over Zatara being freed and screaming over Conner, we're pretty much spent and ready for the short hiatus until 4b airs!
What did you think of the midseason finale? Do you think Conner will be rescued? Are you ready to start a campaign to get Beast Boy to go to therapy? Let us know in the comments, the forum, or on our Twitter!
12/23/2021 9:05 am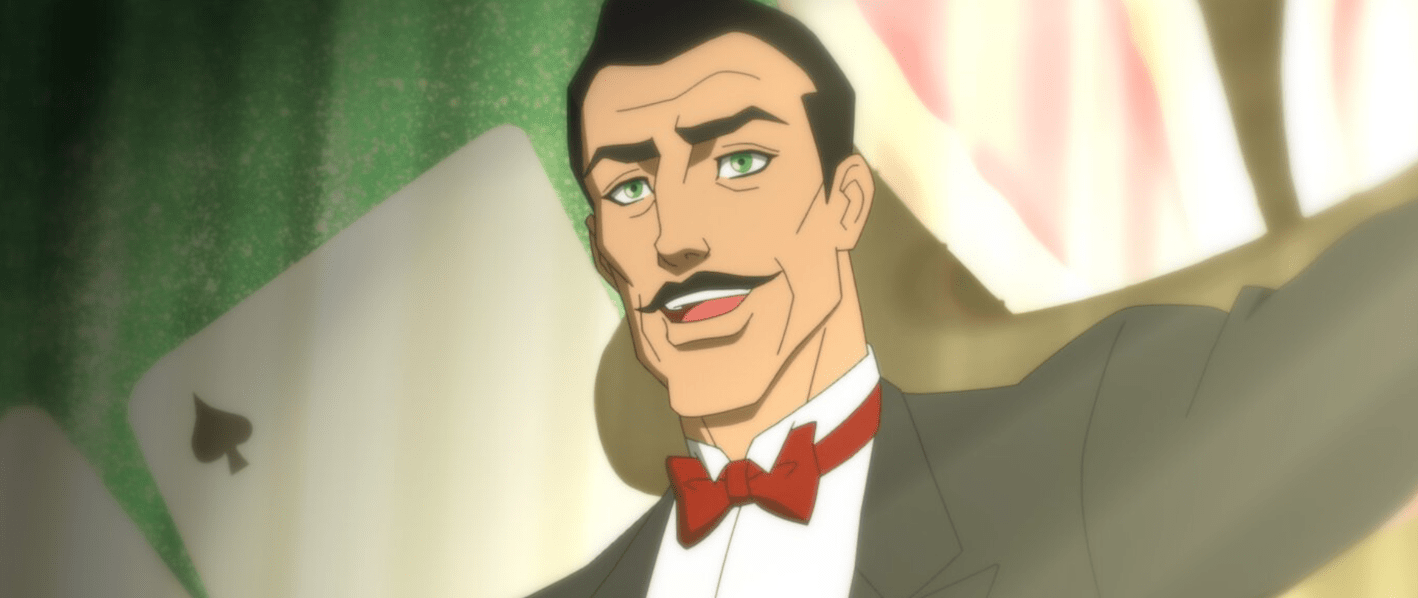 The fourth episode of "Zatanna's arc" is upon us, and those quotations are very intentional, but we can get to that later. It is no surprise, but this episode continues to escalate things more and more. Child ended the last episode with a literal snap, and she decides to continue causing as much chaos as she can, and illustrate that there may be nothing that anyone can do to stop her. Also, the enigma of the bus is cleared up. Let's take this ride!
We kick the episode off learning more of the history with the history of Zatara. He was a stage magician that had some real magic mixed in, and when he used that magic to stop a fire he caught the eye of Kent Nelson. After he saved the audience he knew that he could do more to save people, and he started to do so. Zatara grew under the tutelage of Kent, but it came at the price of more time away from his family. We see that Zatara's wife Sindella was diagnosed with cancer, but he still performed and fought until eventually she passed and he wasn't there. Losing his wife sent Zatara reeling, and he joined the Justice League to find purpose, but was still reeling as he saw others inspired by his actions. Eventually, this leads to Zatanna putting on the helmet of Fate, and him giving himself over to it willingly as if his life had led to that moment. We see that Zatara has been talking to Fate and tasks him with relaying his story to Zatanna when the time comes.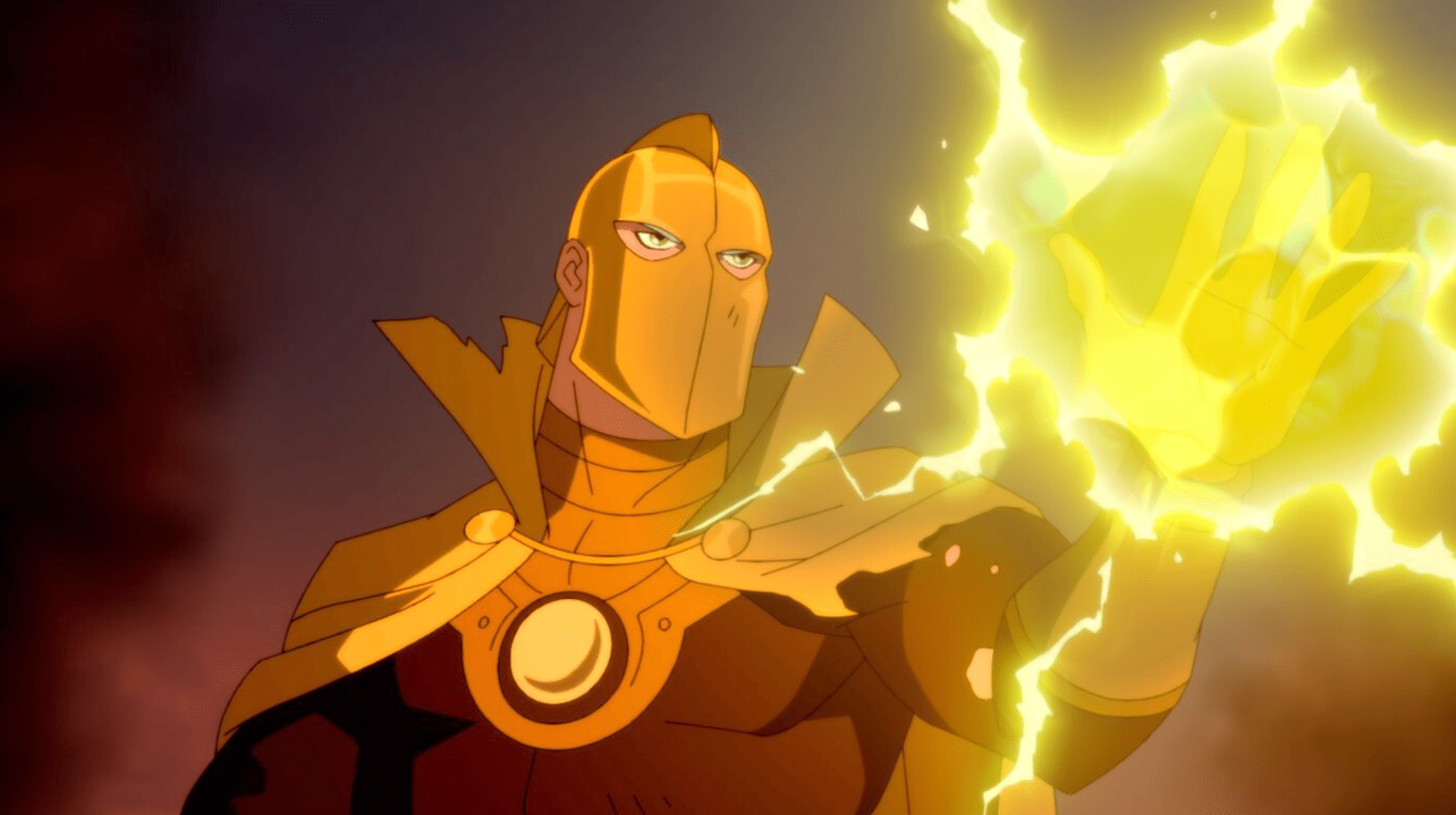 We move over to Gar on the set of Space Trek 3016, who is struggling to maintain the role he has on set. J. Anson takes Gar aside and talks to him about his previous struggles with Granny Goodness and Outsiders missions, but dives deeper as well. He both asks and offers to Gar to get some assistance with his mental health, but Gar brushes it off again by saying he is tired. J. Anson agrees that he could take a break and that a replacement has been built up in his stead.
In a rare moment we actually take the final moments of the last episode to kick off our time with Child again, and we see that Klarion is forced into his true form. With seemingly little effort, Child destroys the tower of Fate. Zatanna manages to save those inside with a quick spell, but it only postpones the inevitable. We cut back to Klarion careening through time and space looking for the heroes he needs, and he finds THE bus and makes it his anchor. With the total destruction of the tower of Fate, Dr. Fate is convinced that Child needs to be stopped, and the hunt for her begins. The group follows her to Sydney where Child has caused a volcano, but is no longer there. Phantom Stranger has mobilized the League, the Outsiders, and every mystic champion he can to combat the chaos. Klarion continues to careen through time and space, and the group continues to not find Child quickly enough in Manhattan, Poseidonis, Taipei, or Agra. They finally catch up to Child in the North Pole where they culminate all of their power into a single strike. Child is completely unphased and with a snap she knocks the entire group out and seals Dr. Fate in ice. Klarion in bus form arrives in the North Pole finding the heroes he needs in the time he wants.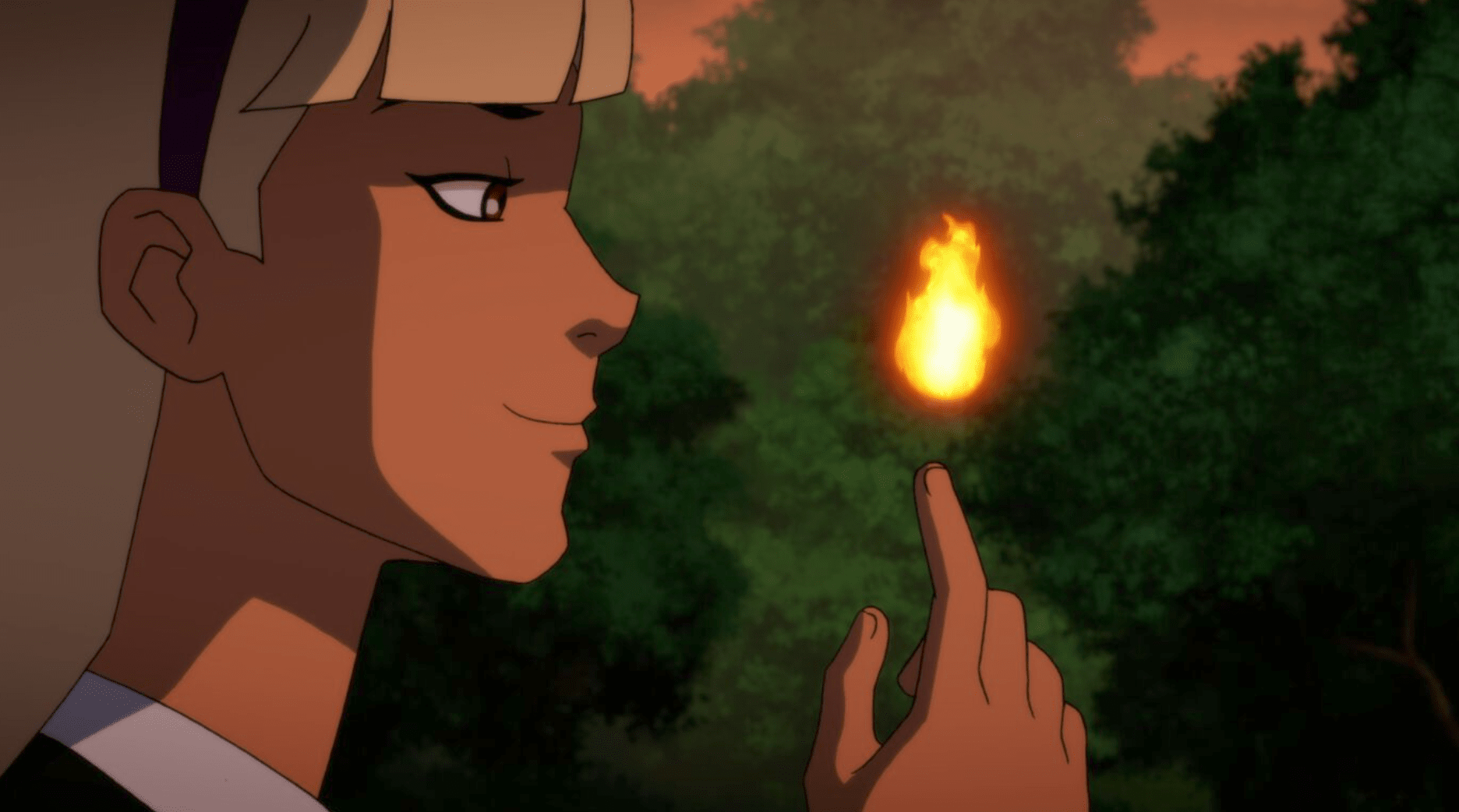 These review recaps never feel like they cover the episode completely, but this one falls a bit shorter than most with the constant stream of scenes from here, there, and everywhere. We think the word whiplash is very applicable to the back and forth between Klarion, Team Zatanna, and Zatara's history. There are scenes, characters, and locations from across the history of the show in all of these plot lines. We also saw things we haven't seen before, as some of the cuts are only seconds long, and will take us some time to process and decode all of them but that is the ultimate joy of being a Young Justice fan. In writing this review, it feels like the best word to describe it all is "chaotic" and there is little doubt that was the plan given the circumstances.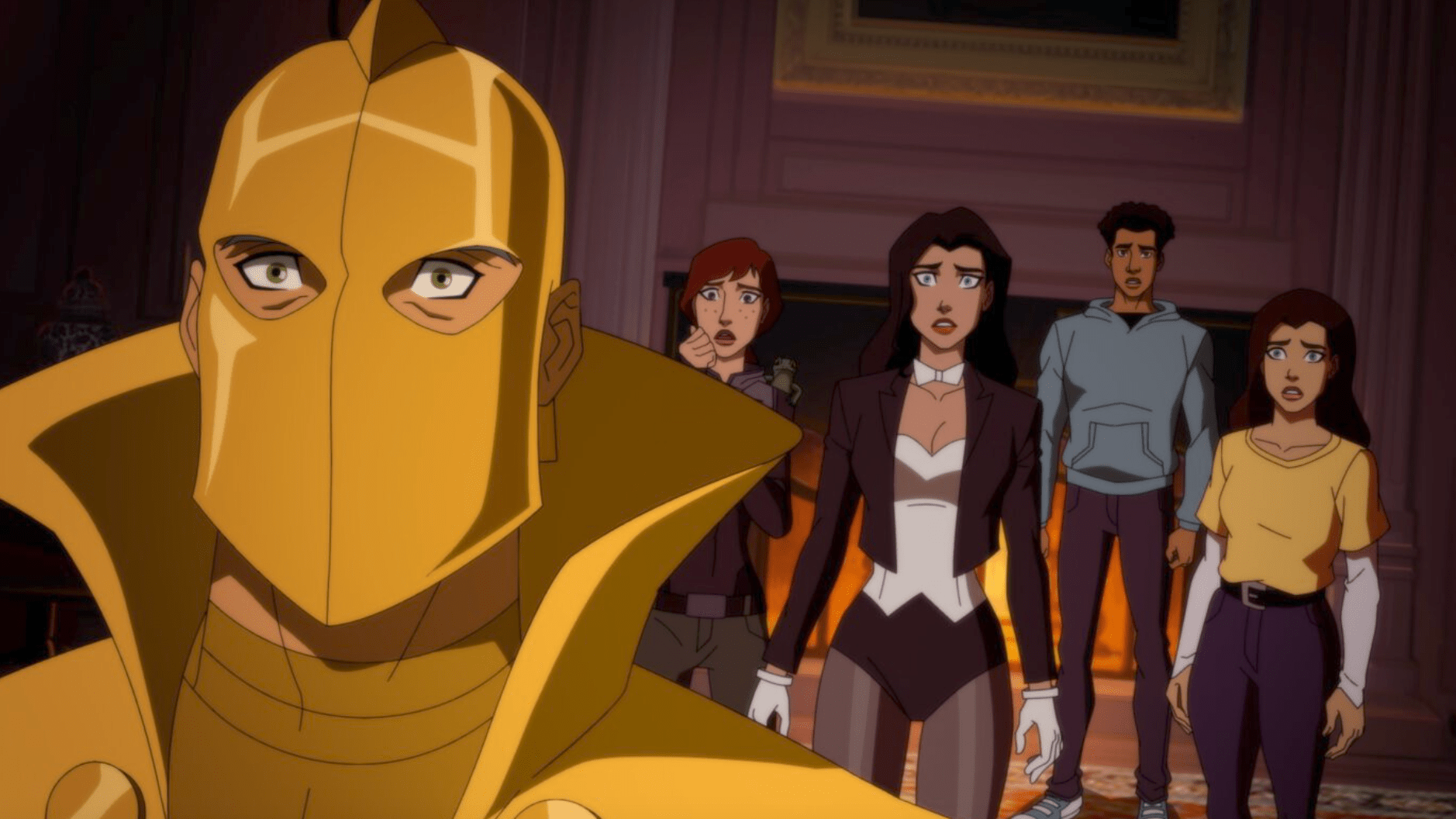 Additionally, we're also sending all the kudos to the episode's director, Christina Sotta, and her storyboard and revisions team (Emily Hu, Kelly Kao, Rozlynn Waltz, Christopher Jones and Yujin Lee) for somehow managing to put together the crazy amounts of scenes and still have them all be engaging, and frankly terrifying. If this is what episode 12 has let us, who knows what kind of madness we're in for the midseason finale!
We are sure you are on the edge of your seat waiting to see what those quotes were all about at the very beginning of this review, and here we are! One of the most interesting things that we have discussed internally is what an arc in Young Justice: Phantoms really is. It feels as if there are unmet expectations between what the fandom feels an arc should be and what an arc is. This arc was believed to be "Zatanna's arc" but instead it focuses on magic within Earth-16 from start to potential finish. Zatanna is here, but it is hard to feel like it is her arc any more than it is the arc of her proteges, or Dr. Fate, or the Lords of Order and Chaos. That said, there is absolutely nothing wrong with that other than not being what was expected by some. When thinking about these episodes in that light, it truly changes the feelings surrounding them. This episode is no different, if you are looking for a "Zatanna episode" this isn't really it, but it shows so much about the magical world of Young Justice, more of who Child is compared to Kalrion, more about Zatara, Dr. Fate, and the proteges which ends up culminating into a solid addition to the season.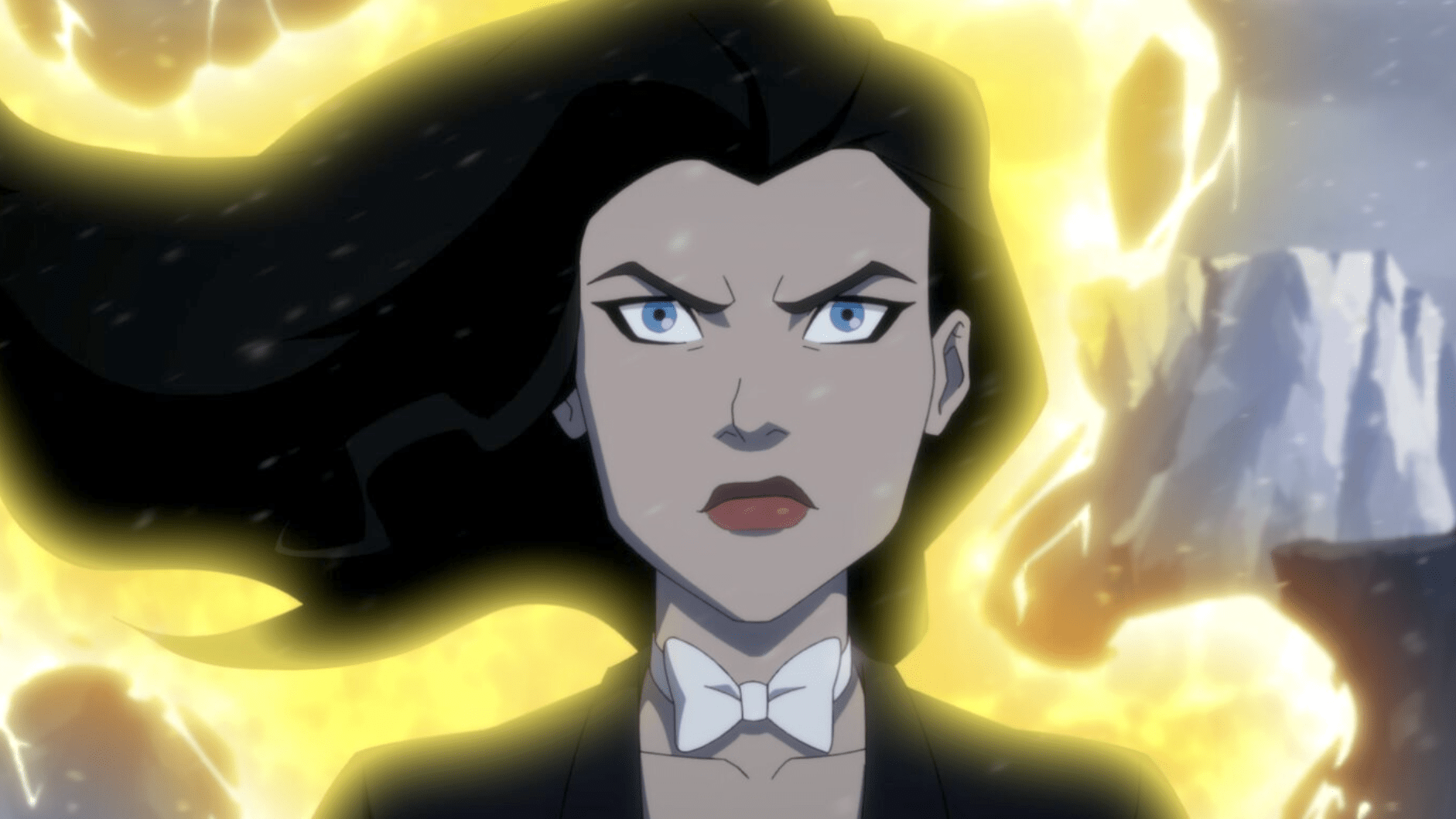 What did you think of the episode? Are you equally as terrified for the midseason finale? Let us know in the comments, our forum and via our Twitter!
12/16/2021 9:02 am

Retpahc eerht fo S'annataz cra si won nopu su!
The third installment to Zatanna's arc has dropped, and there's certainly a lot of interesting and thought-provoking elements in this episode. The past two episodes have taken us on a not-so whimsical ride throughout the world of magic in Earth-16. We've been introduced to brand new characters like Etrigan the Demon and the Phantom Stranger, and have had more focus on characters who've been mentioned in prior episodes and media such as Mary Bromfield and Doctor Fate. How will the third act to this invigorating story arc turn out? Let's get into it!
The main focus of the "Teg Ydaer!" centers around Zatanna and her three protégés, Traci, Khalid, and Mary, still trying to find a way to stop both Klarion, Child, and Flaw from wrecking magical havoc in their world. They attempt to contact Doctor Fate to aid them at the Tower of Fate, but, surprising no one, Doctor Fate doesn't want to help because he believes the Sentinels of Magic aren't ready for this kind of fight. Of course, Traci, Khalid and Mary don't take this sitting down and are eager to prove their worth. So, Doctor Fate decides to give each of Zatanna's students a test to prove themselves against the powerful mystical enemies that they'll be going up against soon.
First, Traci is given a task to complete with the only help available being her familiar, Leroy. The test goes after her inner insecurities and is given physical representation with her closest friends and allies. In regards to Khalid, the aspiring doctor is faced with fake versions of his parents, disapproving of his actions in relation to how he was raised. On the final side of the spectrum, Mary is forced to face herself as a little girl and in her prior superpowered form, Sergeant Marvel. Each prized pupil of Zatanna is faced with a challenge that could very well overpower them and prove that Doctor Fate was right about them not being ready.
Meanwhile, in terms of events that don't relate to magical beings, Garfield is unfortunately still forlorn and in crestfallen despair over the loss of his surrogate older brother, Conner. A few Outsiders, Stargirl, Wonder Girl, and El Dorado, attempt to briefly help out their leader, but Garfield is so irritable that he brushes them off like a pesky bug. A little more backstory is also revealed for not only Vandal Savage, but also Doctor Fate and how he connects with the slimy, megalomaniacal warlord. The world-building and expansion on the origins of certain characters is most definitely intriguing, but let's dive a bit deeper into what makes this episode amazing!
The first thing to note is each challenge that the Sentinels of Magic has to face, every one of them is unique and provides a horrifying contrast to each character and their internal struggles. You can really understand and sympathize with the struggles Traci has as she surprisingly lacks a lot of confidence in her abilities and her relationships with others like Zatanna, Jaime, and Garfield. Khalid's inner turmoil is very identifiable as well as anyone with strict, religious family members can certainly understand what he's going through. However, the mental skirmish Mary has during her test is something arguably everyone has to go through once in their lives as feeling like you're not as good as what you used to be or could potentially become is both highly understandable and garners genuine pity from the audience.
While on that topic, the performances each actor gives in this episode, particularly those who voice the Sentinels of Magic, is borderline flawless. Experienced and highly talented voice-over artists like Greg Cipes, Lauren Tom, and Erika Ishii give spectacular performances as Garfield, Traci, and Mary respectively. You can really feel the heartache in their voices in scenes that require their characters to be put in situations of insecurity and despair. Meanwhile, Young Justice veterans such as Kevin Michael Richardson lends a wondrous performance as he has the difficult task of portraying a character that must be stoic, but get across a lot of story as Nabu. It's hard to look over that Lacey Chabert is also shining as bright as a diamond in regards to her performance as Zatanna throughout this arc too, she really understands that the sorceress is now both a natural-born leader and a kindly mentor to her students.
In regards to the way the show has progressed in relation to the way religion is represented, there has certainly been a lot of evolution in that in this episode, which is no doubt a welcome addition courtesy of writer, Nida Chowdhry. The religious aspects of "Teg Ydaer!" was written beautifully, but there's no doubt that some of the fanbase will be torn about such a controversial topic being discussed at this length in the episode. However, one must keep in mind that seeing different perspectives, whether you agree with them or not, is always fascinating to learn about as you can find out a great deal of new, intriguing things from different voices.
Overall, when discussing what made "Teg Ydaer!" a certainly memorable episode, there's a lot to go off of. Not counting the fantastic writing from Young Justice newcomer, Nida Chowdhry, the way Traci, Khalid, and Mary are written and how we can see the inner struggles they have is both phenomenal character development and world-building. Next to no actor in this episode had a less-than-stellar performance, each actor knew what they needed to bring to the table and knocked it out of the ballpark. While many will be questioning some of the more potentially contentious aspects of "Teg Ydaer!", there's also no doubt that there are many great prospects of the episode too as listed above. To conclude, the third chapter to Zatanna's arc was able to deliver on creating one of the most unforgettable episodes of the series, and will hopefully lead into more enthralling stories going forward with this cast of characters.
12/14/2021 5:12 pm
Ever since Young Justice premiered back in 2010, one of the major staples of the series in regards to its incredibly talented cast is undoubtedly Stephanie Lemelin. She voices a variety of diverse characters such as Olga Ilyich, Catherine Cobert, the Justice League's computer, and most importantly, Artemis Crock. With such a colorful collection of characters, there's no surprise that Lemelin has accumulated a stirring repertoire of works outside of Young Justice. Today, we're here to delve into not only what other movies, television shows, and video games that Stephanie Lemelin has taken apart in, but what she brings to the table as well with each intriguing and unique character she portrays.


Harvey Street Kids/Harvey Girls Forever!: In a more contemporary adaptation of the Harvey Girls franchise from Harvey Comics, Stephanie Lemelin lends her voice to this popular animated Netflix series as Audrey. The character herself is the leader of the titular Harvey Girls, who's also an enthusiastic tomboy who goes on grand adventures with her close-knit group of friends, Lotta and Dot. Lemelin is able to capture a sense of wonder and idealism in her performance as Audrey in this series. In a setting that's fairly uncynical and imaginative, she's able to fully resonate with the audience as this young girl who's filled with endless energy trying to make Harvey Street a more fun and happy place. An insanely charming series that chronicles the coming-of-age story of three girls, Harvey Street Kids/Harvey Girls Forever leaves viewers with a smile and a sense of happiness in them with its innocent likability and clever writing.


Dawn of the Croods: The television prequel series to the Dreamworks movie released in 2013, Dawn of the Croods tells the tale of an eccentric family of cavemen and cavewomen trying to survive in a constantly evolving world. Lemelin plays Eep in the series, a curious and somewhat rebellious teenage cavewoman, who was previously voiced by Emma Stone in the movie. The already multi-talented voice-over artist is able to impersonate Stone in an uncanny manner as Eep while also adding her own special take to the character. Lemelin is able to delve more into Eep's story before the events of The Croods, and helps define why she's filled with such wanderlust and a passion for the great beyond. For those who are major fans of The Croods and its sequel, The Croods: A New Age, Netflix's Dawn of the Croods is most definitely a welcome addition to the franchise, and the series is able to let Stephanie Lemelin shine as the plucky, inquisitive Eep.


Spider-Man (PS4): One of the most revered video game adaptations featuring the spectacular Spider-Man, Stephanie Lemelin gets a chance at playing a quirky antagonist in this incredibly popular video game. She voices Screwball, whose identity is not revealed in the game nor the comics, an arrogant, unstable influencer who live-streams her crimes to the world. The voice actress behind our favorite young archer perfectly understands the modus operandi of Screwball, she craves attention as an overt narcissist. The evil-doing egotist gleefully causes destruction and has a grand time doing so with a barrage of bombastic commentary and terribly trollish taunts coming out of her mouth in most cases. With a ghastly gimmick and a peculiarly pesky personality, Lemelin brings her all to playing Screwball in a way that most certainly screws with our friendly neighborhood Spider-Man.


Call of Duty: Black Ops II: Arguably one of the most iconic video game franchises in the entire World, Stephanie Lemelin voices Abigail "Misty" Briarton, one of many interesting characters in this lucrative universe. Similar to Audrey from Harvey Street Kids/Harvey Girls Forever, Misty is very much a brash, self-satisfied tomboy who's quick with a quip and well-versed with fighting with a knife. Lemelin brings a cocky energy to the role of Misty, who hides a great deal of repressed memories with her snide sense of humor and aggressive fighting skills. You can really sense that Misty has many layers to her personality and backstory despite what appears at the surface of someone who's initially quite assertive and brazen-faced. Another addition to the beloved Call of Duty franchise, this installment to the video game franchise is able to give us another well-rounded and engrossing character to add to the already impressive range of roles of Stephanie Lemelin!


Sunset Overdrive: An open-world, third-person shooter game, Insomniac's Sunset Overdrive allows players to be a highly customizable character who has to annihilate mutants running rampant in the streets of Sunset City. If you choose to play the game as a female, then you'll get a personalized avatar voiced by Stephanie Lemelin! No matter what the female avatar may look or act like, they'll always have the voice of Lemelin, and she has so much emotional range that each different variant of the female avatar still feels unique and special. You never feel like you're getting a copy of a prior female avatar with the same voice, they all are distinctive in their own way. A video game that relishes in the fact that it's a world where nearly anything can happen, Sunset Overdrive gives Stephanie Lemelin the opportunity to play varieties of the same character that never becomes overly repetitive and doesn't fail with being distinguishing amongst many avatar renditions.
Of course, this is by no means a definitive list of all the incredible works Lemelin has voiced or acted in. We highly recommend that you check out her full body of work on her IMDB page and discover some new media along the way!
What are your favorite roles that Stephanie Lemelin has played in the past? Comment down below, on our Twitter, and share in the forum too!
12/9/2021 11:12 am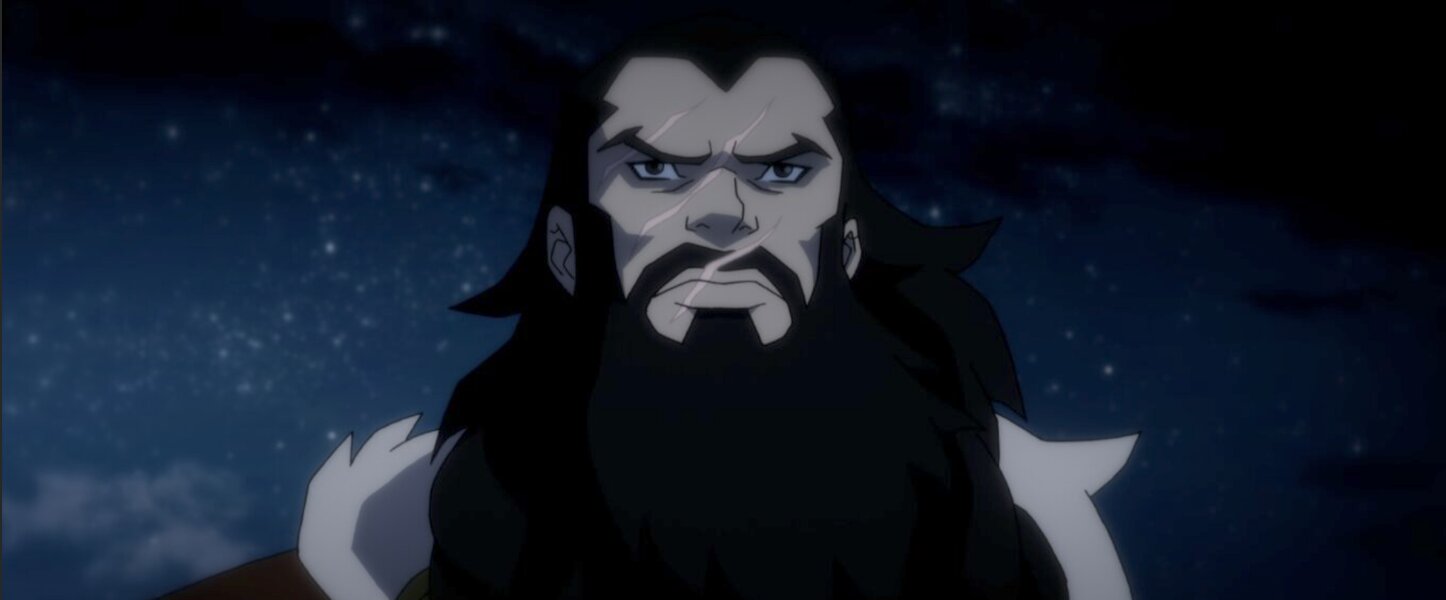 Sgniht era gnitteg esrow...
If you thought that the last episode revealed the world of magic in Young Justice, then this one begins to tear it wide open from start to finish. The stakes continue to rise, the players in the game continue to grow, and things do not look good for our heroes, our villains or any one in between. Lets dive deep and hope we come out the other side!
We open again on Vandar Edge and the earliest days of Atlantis, and we see it begin to rise to the technological prominence it is still known for. The first immortal from Vandal's line is born and Arion, Lord of Atlantis, sits upon the throne. Arion is then designated as a Lord of Order and the infusion of magical power leads to the creation of the homo-magi in the world. Atlantis continues to thrive as technology and sorcery advance the city for all its people. With the addition of Vandal's help, Atlantis becomes the capital of the Atlantean kingdom, and the rift between Arion and Vandal begins.
Vandal's plan was to sink the Atlantean capital to begin taking over the area beneath the sea so that the world can be taken over in full. Arion refused to sink the town because of the deaths it would cause. Vandal then seeks out the assistance of Klarion to do what his grandson Arion would not. Klarion helps to sink Atlatnis, but is empowered by the other Lords of Chaos to continue. He sinks the entire continent of Atlantis into the sea, killing Arion and countless more. The treasures of Atlantis were lost to the sea as well, but some Atlanteans survived to become the city we now know.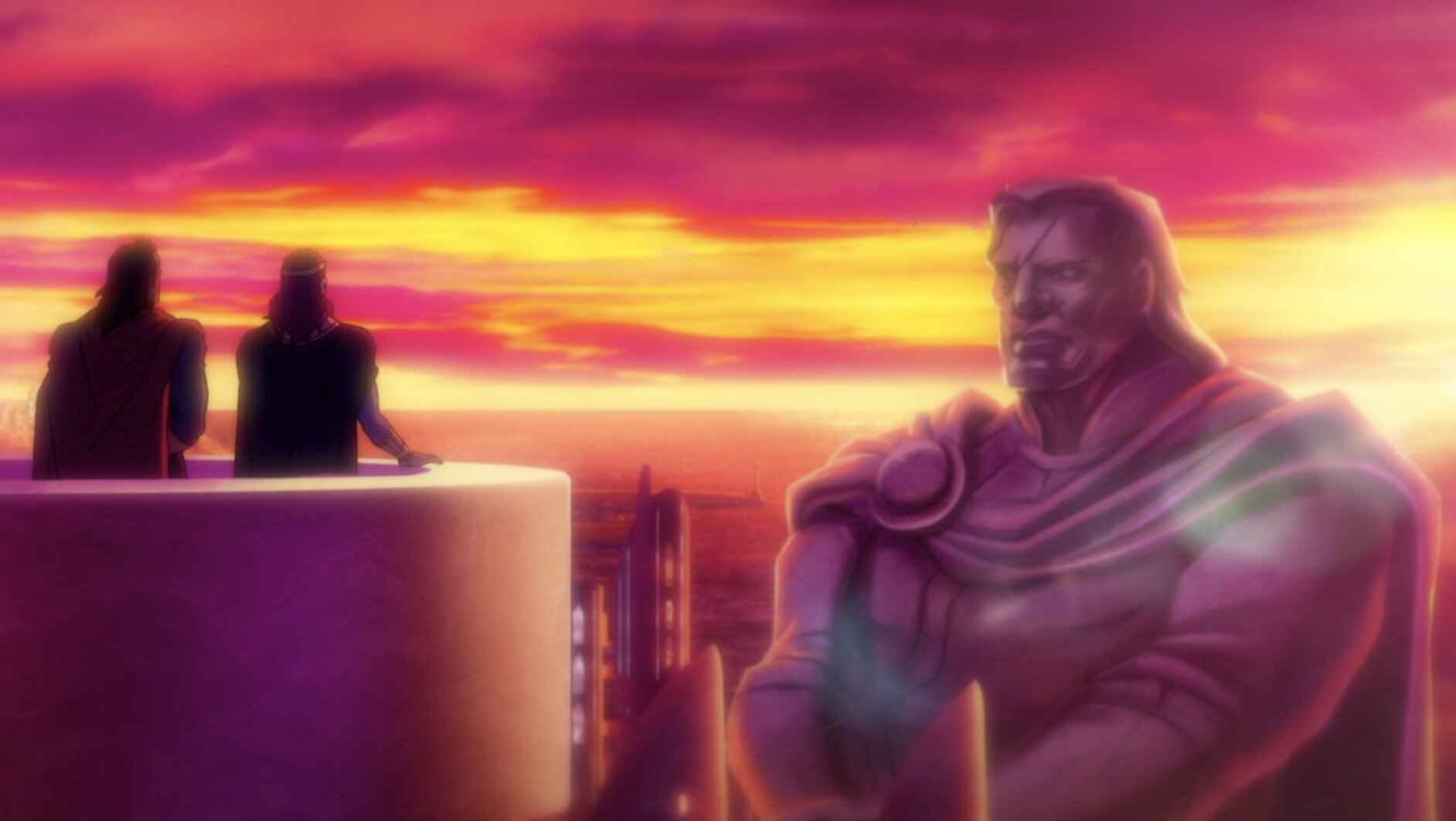 We cut back to Baby, where we find a hilariously classic road trip scene. Em'ree asking "are we there yet," and J'onn not getting the joke and buying all in is as good as Em'ree's explanation. Following this is a great conversation of family wanting to help, Em'ree chooses to start a fight with M'gann about going to Earth and starts psychically yelling about everything. "I'm a professional guidance counselor, Em'ree! I know you're just trying to bait me into a catharsis!" "Is it working?" "Kind of!" will likely be one of the favorite lines from this episode. Then what may be one of the most discussed scenes happens, and the bus from early in the season, and from seasons gone by, almost hits Baby IN SPACE a WEEK OUT from Earth…
We find Zatanna and her proteges still recovering from the fight with Klarion. Before they can figure anything out at all, the Phantom Stranger arrives to add another layer to the story. We cut to hear that the Child has arrived not to assist Klarion, but instead to destroy and replace him due to his failures. After finding out that Klarion is fighting another Chaos Lord Zatanna is given some perspective by Phantom Stranger she is transported to where Klarion and Child are fighting. Child reveals that she is using the power of all of the Lords of Chaos and Klarion seems hard pressed to win. Stranger then transports the proteges to find someone to help Zatanna. The proteges find themselves in the Sanctum Sanctorum of Jason Blood, and we now know who Stranger seeks to assist Zatanna. We get to see the spell and transformation of none other than Etrigan.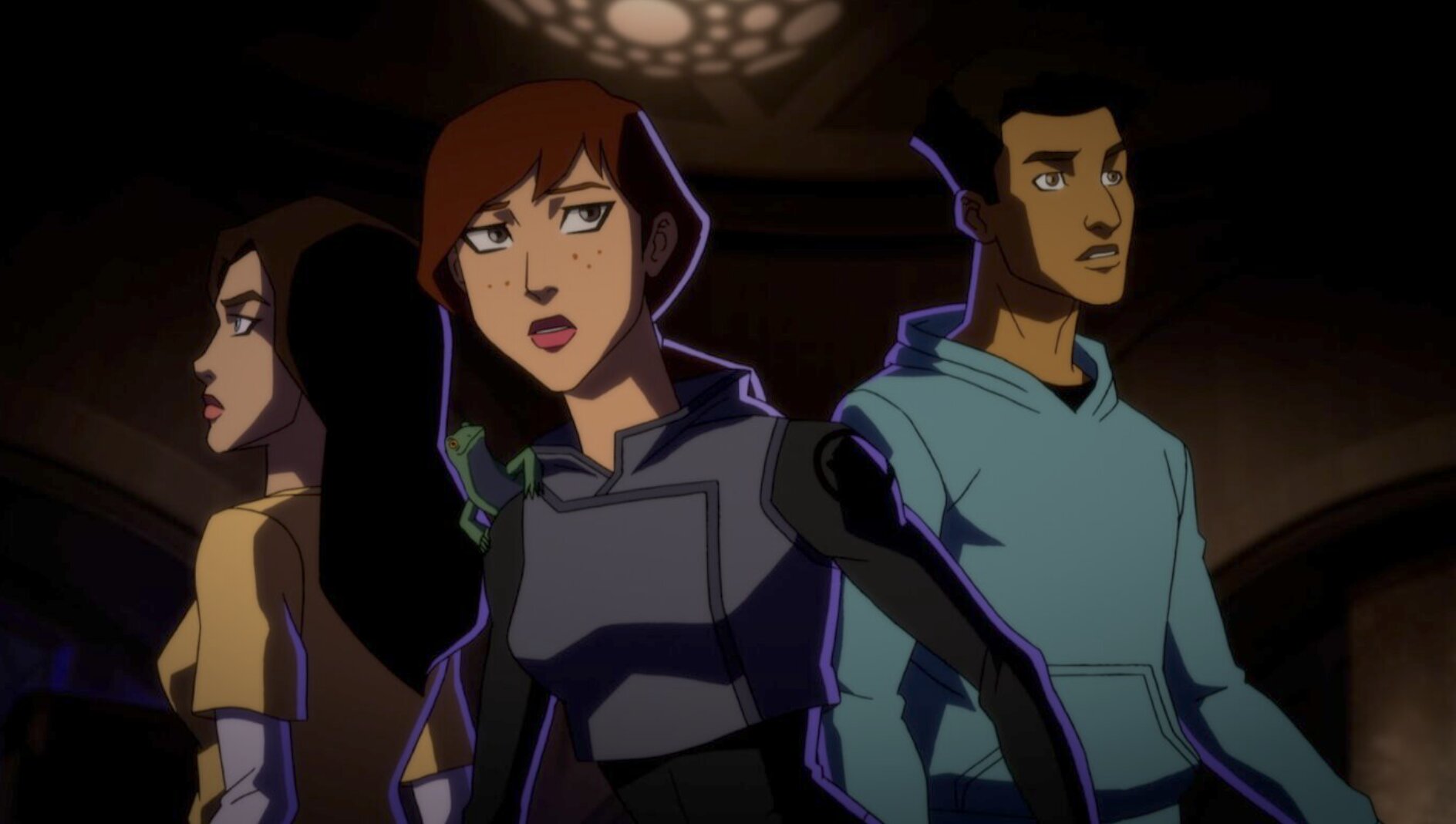 Etrigan calls out Mary for having the power of Shazam hidden inside her, and he says he doesn't want to help. Thankfully for us Stranger cares little for where people want to go, and transports Etrigan into the middle of the fight between the Lords of Chaos. We get to see one of the largest displays of magic so far in the form of a "rock tsunami."
The battle between the Lords of Chaos continues leading to Child squishing Klarion with the rock tsunami and wide spread destruction ensues knocking Zatanna out. Both Lords of Chaos leave, the proteges arrive and Zatanna admits she has enough perspective to know more help is needed. We cut to Vandal talking to his son Nabu about the balance of Order and Chaos and justifying the sinking of Atlantis. He discusses the use and control of Klarion and that the Child must me stopped. In out final scene Vandal begins operation Lifeboat and begins getting all of Earth's resources onto the War World until further notice.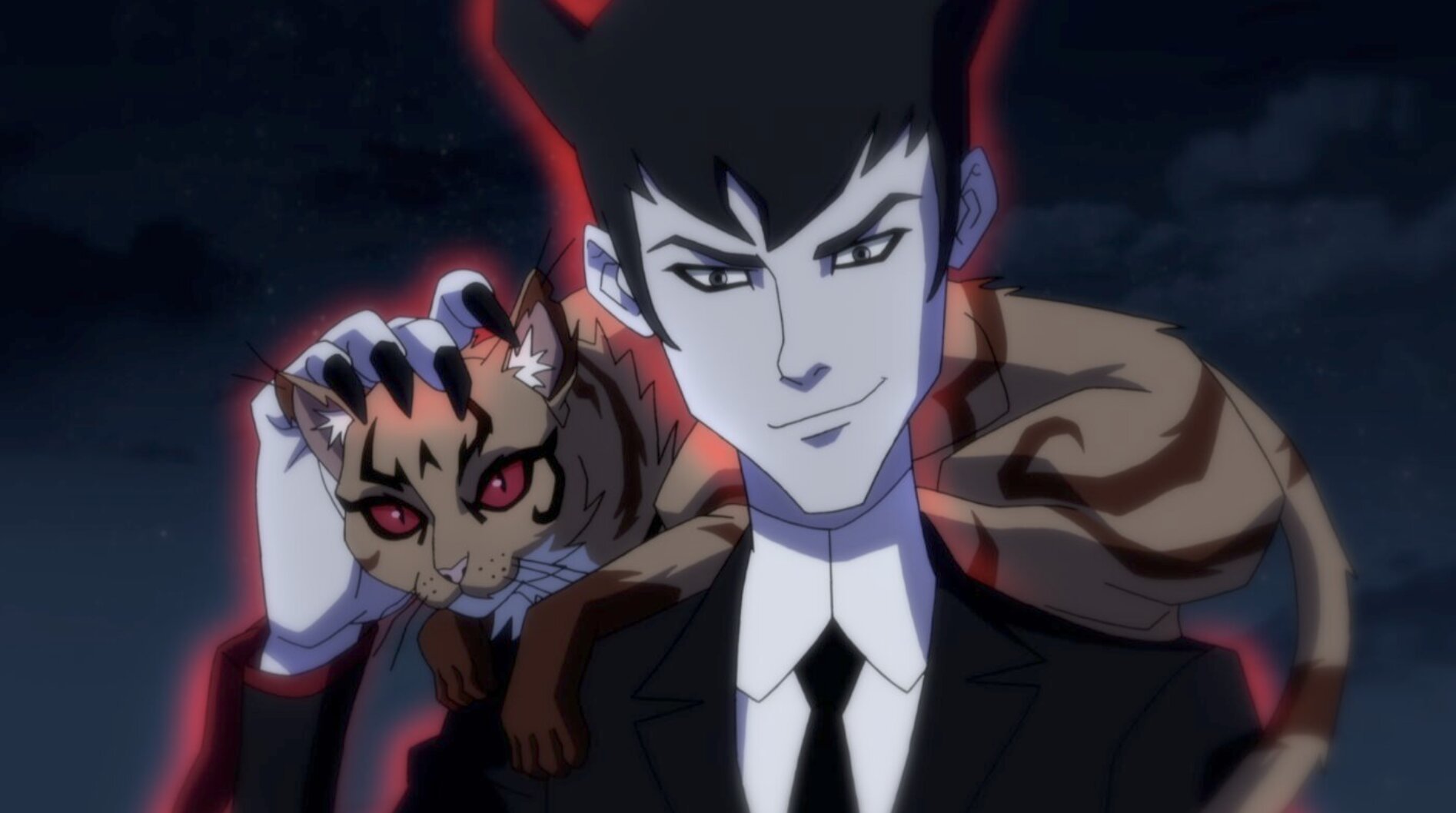 Where to even begin with this episode! We can say without a doubt that things are escalating and culminating and just generally -ating in a way that makes us scared for the heroes we know and love. Before that though, the scene on Baby was a great scene in that the relationship between Em'ree and M'gann is one that seems intended to grow and develop through this season and potentially beyond. That said, the scene with the bus is something that has raised more questions than just about any scene in the entire show. Like, how? Why? Wha!? We have too many things to think and worry about before that though.
The introduction of early Atlantis and the homo-magi sets the stage for knowing a majority of the magical history of the world from its inception to present which is a very interesting feeling as Young Justice fans. It is rare that we definitively know things, but the things we know we can say with certainty. Klarion's prominent role throughout the world's history feels both odd and makes perfect sense, and his connection to Vandal feels the same way. Ultimately, they are the oddest of couples, but they remain the foil to each other and working in concert to keep the scales of Chaos and Order balanced.
Many stones in the magical realm of DC are being turned over, and many more may yet be turned, but the introduction of Etrigan has happened! We know that he is a fan favorite, and his introduction feels much more like Chaos than it does order, but he did seem to align with Team Zatanna. Team Zatanna continues to expand, and at the very least we can assume Nabu is set to join them, but who else could as well? John Constantine, Madame Xanadu, Doctor Occult, or Ragman are all names that come to mind, but we will have to wait and see.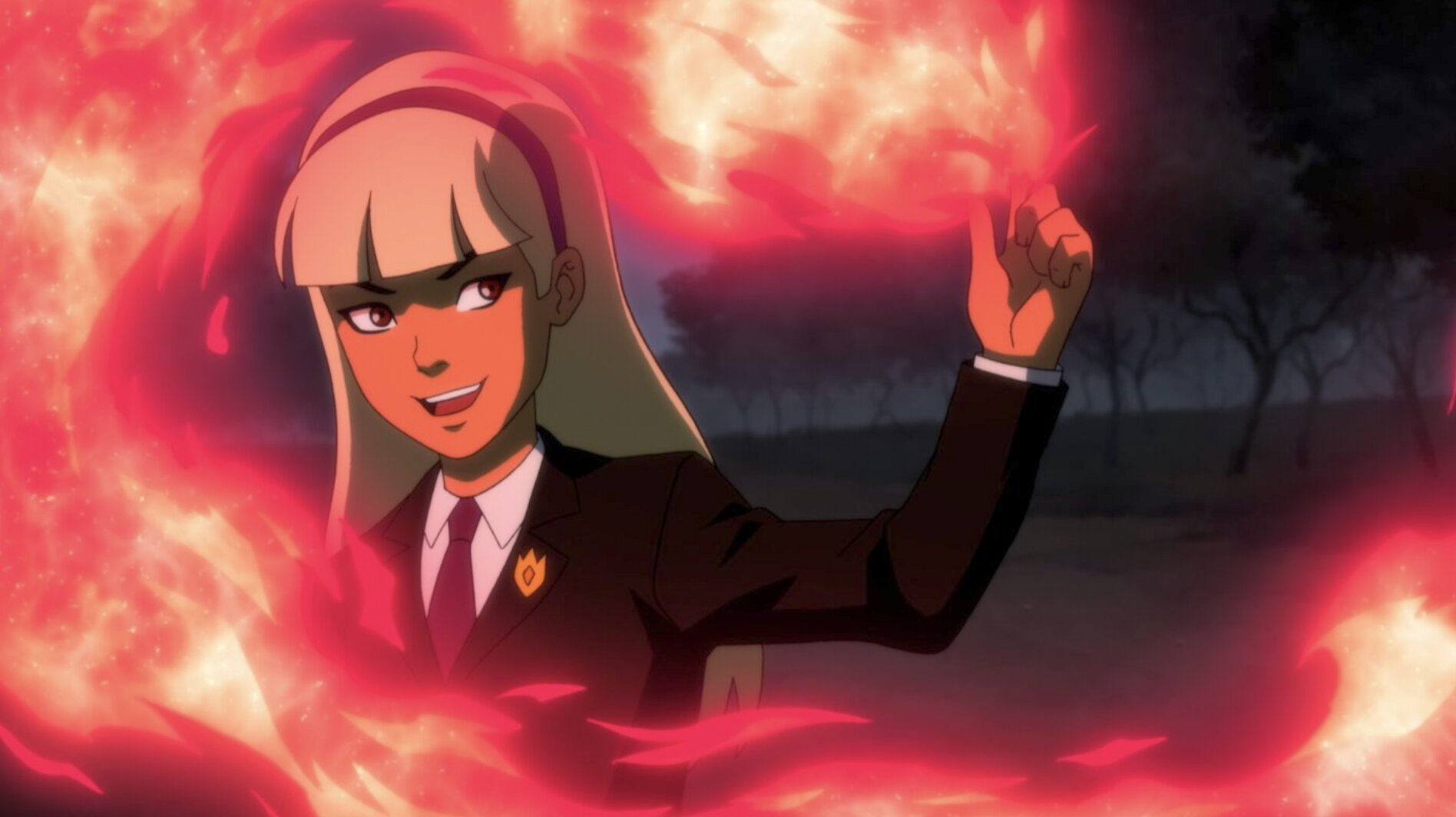 There are some episodes like this every season, in that they are a way to get us from here to there. As it stands on its own, on first viewing, there is so much being set up and so many questions unanswered that there is this sense of "why not more?" Why not more Zatanna? Why not more about the proteges? Why not more? This has another truly amazing fight scene that feels like it is somewhat lost in the midst of the questions, like how can you have a bus in space a week out from Earth!? But that will plague our minds for the foreseeable future. Thankfully we are all only a week away from another episode gracing the digital airwaves of HBOMax.
What did you think of the episode? Who do you think will join the fray next? Let us know in the comments and via our Twitter!