6/25/2019 9:26 am

We've waited, and waited, and WAITED! But the time is almost here! The DC Universe has released the one-line synopses for the next three episodes! Additionally, we can confirm that next Tuesday there should be three episodes to view not just one! A bit of an extra treat for having to wait so long. We believe that after Tuesday, the 2nd, DCU will revert back to releasing only one episode per week, taking us into August. We are working to confirm that now. As for the one-line synopses, you can check those out below:
Episode 314: "Influence" The team reassembles while the Justice League faces a new threat in space.
Episode 315: "Leverage" A new Gamma Squad sets out on its first mission.
Episode 316: "Illusion of Control" The team gives thanks for what they have…and might lose!.
Very interesting! Sounds like the Outsiders could be folded into the larger team! We'll have to wait and see! Let us know your thoughts in the comments below and in the forum!
6/24/2019 1:03 pm

Young Justice fans have been waiting a good while to get to the second half of the long awaited season 3. With San Diego Comic Con on the horizon and the return just 7+ days away, The DC Universe is sharing with fans a new poster to commemorate the second half of Outsiders. As far as real-estate goes, the poster gives Granny Goodness the most space in the top left corner. Additionally, Lex Luthor makes a pretty big appearance in the top right. Dead center is Beast Boy, who we know is leaving Hollywood to return to a hero's life. Some Outsiders are there, Halo and Geo-Force, but Forager is missing. Check out the new poster below: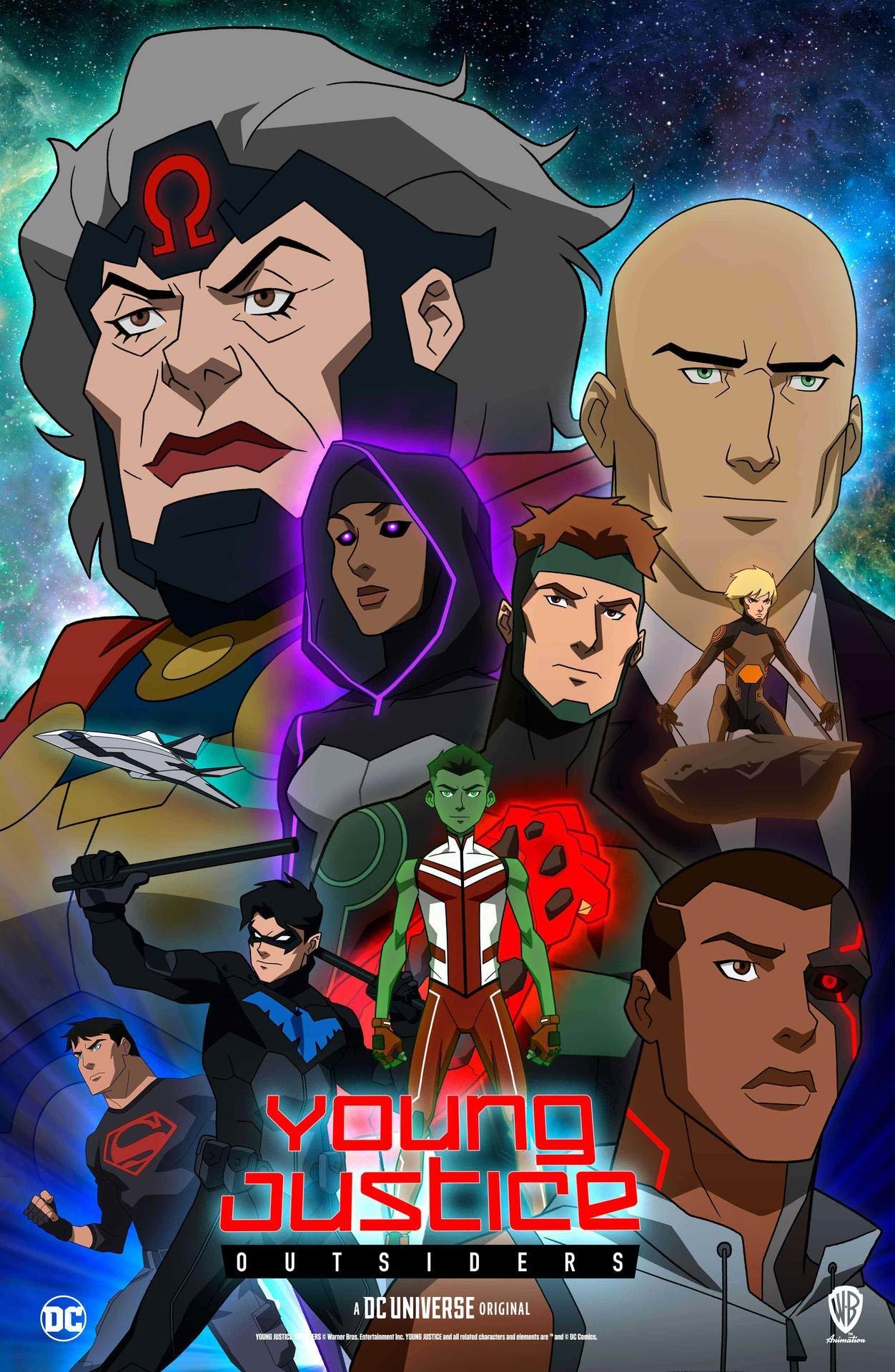 Let us know wha you think of the poster in the comments below and in the forum!
6/19/2019 9:39 am

It's a beautiful Whelmed Wednesday here at YJTV, and we're incredibly close to the second half of Outsiders! I know, I know, we still have about two weeks to wait, but next week Eric will be in charge of the final countdown while yours-truly will be ziplining and exploring waterfalls in Costa Rica.
A lot happened this past week, including finally receiving a trailer for 3b, and the (potential) realization that we'll probably only be getting one episode a week for the remainder of the seasons. While this may seem underwhelming, let's look at the bright side! An episode a week means that we have thirteen weeks to spend with each other, as opposed to just four. I for one am glad for the extra community-building, and hopefully we'll get a Season 4 renewal in this time frame. I'm putting the latter out into the universe, so it pretty much has to come true, right?
As we creep closer to the premiere of 3b, we near the end of the #CrashtheMode campaign. The last week is actually the one I'm looking forward to the most, and we could really use everyone's help in spreading it around. Without further ado, here are the final events for the #CrashtheMode campaign:
June 20th: Use the hashtag #ChalantThursday to share your favorite Young Justice character! Feel free to use pictures, gifs, or even your favorite quote.
June 21st: International Fan Friday! If you're an international fan, share how much you would like to access DC Universe and watch Young Justice, and use the #CrashtheMode hashtag to share.
June 22nd: Season 2 and 3 rewatch, episodes 19-20 and 1-3! Cry while finishing the end of Season 2, and start on the first half of Season 3. Use the #KeepBingingYJ hashtag to share your thoughts!
June 23rd: Season 3 rewatch, episodes 4-6! (My favorite batch of episodes in this season). Use the #KeepBingingYJ hashtag to share your thoughts! If you're watching Private Security, feel free to send me your reactions, pictures, and gifs to my Twitter handle (@ArielHorn10) because they'll make my year.
The following week is Young Justice Appreciation week; this week, on every day, show the YJ cast and crew your thanks by letting them know how much you love the show.
June 24th: Thank your favorite Voice Actor by tweeting them and using the hashtag #YJVA!
June 25th: Thank a crew member by tweeting them and using the hashtag #YJCrew!
June 26th: Thank your favorite YJ Fansite by tweeting them and using the hashtag #YJFanservice!
June 27th: Thank Christopher Jones for the phenomenal YJ Comics by tweeting him and using the hashtag #YJComics!
June 28th: And finally, thank Greg Weisman and Brandon Vietti for their amazing efforts in making YJ by using the hashtag #YJGrandon.
June 29th-July 1st: Use these final days to finish catching up on Season 3, and use the #KeepBingingYJ hashtag to share your thoughts!
July 2nd: I mean, is there any other hashtag to use other than #TodayistheDay?
Happy tweeting everyone!
On today's #WhelmedWednesday, I want to personally thank YJFanVids, the co-creator of the #CrashtheMode campaign, for being my partner in crime and making this campaign with me. If you haven't yet interacted with this wonderful human, she's been devoted to this fandom since the early YJ days, always sharing the latest news, promoting campaigns, and being on top of all the fandom goings-on. Additionally, she shares amazing artwork and Young Justice fan videos on her Tumblr (YJFanVids), so please feel free to check her out!
Let's end this campaign on a big bang, show our appreciation for the show, and keep using those hashtags! I have absolutely loved seeing everyone's posts these past few weeks, and I look forward to the coming ones. The next time I'll see y'all is in my episode 14 recap, so until then, keep feeling the aster!
6/13/2019 5:28 pm

We gotcha' covered! Or at least that is what every character in the new season 3b trailer for Young Justice Outsiders is saying! DC Universe dropped the first official trailer for the second part of season 3 this afternoon! With it came some interesting new footage but also a change to how we can expect to watch the show. In a tweet from the official DC Universe account, the streaming platform announced that they would be releasing new episode starting July 2nd, through August. *Record Scratch Sound. Through August? Does that mean we are getting more episodes that we thought? Unfortunately no. Rather that release three episodes at a time every Friday. We will be getting one episode a week every Tuesday. Some fans might feel the change is a good thing, others might want more Young Justice as fast as they can get it. Either way, this assures that DC Universe will be debuting new content through August this year!
Check out the trailer below:
Let us know what you think of the new trailer in the comments below and in our forum!
6/12/2019 10:11 am

Happy Whelmed Wednesday, lovely readers! We're getting close, only 19 more days until we get to have our faves back on DC Universe. I know there's been a lot of uncertainty, confusion and frustration flowing around after the Swamp Thing cancellation, so I hope I can provide you with a heaping spoonful of optimism. Or at the very least, help you to stay Whelmed.
Of course, before I get into gushing about today's #WhelmedWednesday recipient of recognition, I'll take a hot second to remind everyone of the events going on for the week:
TODAY: Whelmed Wednesday! Use the hashtag #WhelmedWednesday to support the YJ Contributor of the week.
June 13th: Season 2 rewatch, episodes 7-12! This is where things really start to get intense with YJ Invasion, so treat yourself to a few episodes and use the hashtag #KeepBingingYJ to share your favorite moments.
June 14th: Favorite YJ episode! Use the hashtag #FeelingtheAster to share your favorite episode from Young Justice. Feel free to use pictures and GIFs to support!
June 16th: FINAL DAY TO SUBMIT YJ VIDEOS! Also, to celebrate the wonderful number 16, share your favorite 16 reference in Young Justice using the hashtag #16theories.
June 17th: Season 2 rewatch, episodes 13-18! Nearing Season 3, follow along the rest of Season 2 and use the hashtag #KeepBingingYJ to share your favorite moments.
June 18th: Hype up for the second half of Season 3! Use the hashtag #TurbedTuesday to share what you are most excited to see in the latter half of Season 3.
That's all for the next week!
This week, the #CrashtheMode team wants to recognize the people behind the Young Justice Wiki for #WhelmedWednesday. These people are always up to date on news, and tirelessly work on the YJ Wiki website to provide all the information the fans want to know about the show. Where would we be without them? From the bottom of our hearts, thank you for everything you guys do. It is sincerely appreciated.
Keep spreading the campaign and using those hashtags! I look forward to seeing what y'all have to share this week. Don't let the uncertainty get you down, and always stay whelmed.