11/9/2020 8:48 pm

As 2020 ever so slowly comes to a close, fans have been eagerly awaiting news about the next season of Young Justice. Late in September, HBO Max revealed that Phantoms would be premiering in 2021, but no additional news as to when. With little to go on, we've been keeping an eye on Greg Weisman's Twitter, as he periodically gives updates on the production status of the new season. Yesterday, he treated fans to one of those updates, letting everyone know where Phantoms stands in terms of production: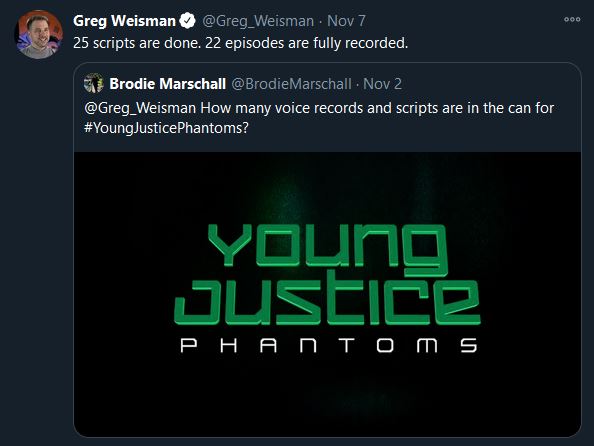 According to Greg, Young Justice: Phantoms has 25 episodes written, 22 recorded, and 7 in post-production. This is a nice update from last month, and it looks like they've been able to record two more episodes and finish writing another. With only one episode left to write and four to record, it looks like the newest season is making a nice pace.
What does this mean for when Phantoms will air? It's hard to say for sure. Given the current standing, we could make the assumption that the earliest we'll see Phantoms is Spring 2021, but that's a very optimistic guess. More conservatively, it's likely that Phantoms will air either late Summer or Fall 2021, but we'll keep our fingers crossed for earlier. Either way, we're excited to hear about the progress, and we know that the newest season will be worth it.
10/23/2020 10:07 am

Making the move from DC Universe to HBO Max, Young Justice will be coming to Warner Brothers' newest streaming service on November 1st! All three seasons, including the most recent season dubbed Outsiders, will be on the platform for all to watch. The upcoming fourth season of the series, which will be titled Phantoms, will ultimately make its exclusive debut next year on HBO Max. Not only that, but fellow DC Universe series, Titans, will also be heading over to HBO Max as well on the first day of November. Titans' two seasons and Young Justice's three seasons will be on the service to watch with other DC shows like Doom Patrol, Harley Quinn, and Batwoman.
Are you all excited for the upcoming HBO Max release of Young Justice? Let us know down below and comment what you want to see in the upcoming fourth season, Phantoms!
9/23/2020 11:26 am

Jaime Reyes, the third Blue Beetle, has been a popular character that many fans have enjoyed watching on Young Justice for the past two seasons. The character's charm and likability is a given considering he's voiced by the memorable, high-talented Eric Lopez. A well-recognized voice-over artist in the industry, Eric has been a regular addition to many Greg Weisman-led productions such as Young Justice and The Spectacular Spider-Man. Not only that, but Eric's also done a variety of differing movies and television shows that are all unique and exciting in their own ways. Today, we here at Young Justice TV dig into some of our favorite roles that were so masterfully portrayed by the wonderful Eric Lopez.
The Spectacular Spider-Man: The amazing, sensational, and most certainly spectacular web-slinger of the Marvel universe is nothing without his famous rogues gallery. Eric lends his voice to Mark Allan, originally known as Mark Raxton in the comics, the brother to Peter Parker's love interest, Liz Allan. Due to unfortunate circumstances involving a desire for more money, Mark is transformed into the living fireball known as the Molten Man. Forced to fight against our favorite webhead against his will, Eric captures both the rage and sadness that comes with Mark's plights and struggles to understand the newfound curse that's now fallen upon him.
Star Wars Rebels: One of LucasFilm Animation's most popular shows, Star Wars Rebels is another cinematic adventure in a galaxy far far away with characters we've grown to love over the years. Five years before A New Hope, Star Wars Rebels centers around a crew of outlaws who conduct covert operations against the Imperial garrison and the other menacing Empire organizations. Rather than voicing one character in the main cast, Eric voices a few characters in this show including a young imperial named Oleg to a member of the Iron Squadron named Jonner Jin. Eric is able to juggle a diversity of differing parts in this show and is still able to leave a lasting impression on this show with his assortment of special character roles.
Spirit Riding Free: Grab your cowboy boots and hop in the saddle because this show is certainly aimed for horse lovers everywhere! Based on the DreamWorks movie, Spirit: Stallion of the Cimarron, Spirit Riding Free centers around a young girl named Lucky who befriends a wild mustang named Spirit. Bonding with the stallion, Lucky and her newfound friends embark on everyday adventures involving the typical struggles of a teenage girl along with the responsibilities of having a horse in your life. Similar to the selected work above, Eric voices many intriguing characters in this show ranging from a travelling circus ringmaster to a cunning balloon salesman. The Netflix series provides even more proof that even in minor roles, Eric's still able to shine with his natural, unparalleled talents as a voice actor.
Infinite Crisis: Reprising his role as our favorite superhero with a bug on his back, Infinite Crisis was released in 2015 to many passionate gamers and DC fans everywhere. Loosely based on the comic book storyline with the same title, the multiplayer online game featured two an assortment of iconic DC heroes and villains that competed in combat missions across multiple destructive battlefields featuring changing in-game events. Eric once again voices Jaime Reyes, which is quite interesting considering he's voiced the character in two games now counting this and Young Justice: Legacy. Whether in a video game or an animated series, Eric always knows how to bring his A game to the role of Blue Beetle.
Did we miss any of Eric's best roles? Got any suggestions for other characters that he's played so well in the past? Leave a comment down below and give us your thoughts!
9/21/2020 8:55 pm

Our anticipation is incredibly high for the upcoming fourth season of Young Justice, which is subtitled Phantoms. This new season will follow our favorite heroes as they continue to battle the injustices of the universe with brand-new allies by their side.
According to an email released by DC Universe, Young Justice: Phantoms will be released some time next year in 2021. An exact date wasn't specified, but it's incredibly exciting to hear that we're one year away from more Young Justice content.
What kind of stories are you wanting to see adapted in the fourth season? What characters will we expect to return in the very near future? Comment down below and share the excitement we have for potentially being a year away from Phantoms!
9/12/2020 11:28 am

Happy Saturday, everyone! Did you miss us? We sure missed reporting on Young Justice! And what better way than to break back into things than covering the Young Justice audioplay and panel. After some technical difficulties, we were able to access it, and it was so worth the wait.
To keep the fun and avoid major spoilers for those who have yet to watch the panel, we'll only give a general summary of the episode. If you're spoiler wary, this is your warning!
The audio play episode takes place in between Season 3 and 4, and appears to be after the events of Season 3. The Team Year Zero gang (excluding Dick and Zatanna) gather at Lucas Carr's home to celebrate a going away party for Conner and M'gann before they leave on a long-awaited trip. Meanwhile, Roy, Jim and new guy Harlan Matthews conduct a boring Bowhunter Security gig back at Star City. They're meant to be guarding a new shipment of Waynetech hardware destined for the new Waynetech skyscraper in Star City. However, because this is Young Justice, nothing goes as planned. Amanda Waller's 'Suicide Squad' hijack the mission, and the Bowhunter Crew must defend it.
In true Young Justice fashion, the audio play episode is full of hilarious hijinks and sweet moments a plenty. It's clear that the writers had the fans in mind while writing it, and it serves as the perfect buffer while waiting for Season 4 to come out.
Speaking of Season 4, we finally received official confirmation that it will be titled Young Justice: Phantoms! So many theories and possibilities, we can't wait to start sharing them with you.
As to whether COVID-19 has impacted production on Season 4, the answer is both yes and no. While the crew have continued trekking through pre-production at home, it's definitely been an adjustment. However, there are no anticipated delays at this time. Considering there are 23 scripts written, with zero in the can, if we had to give our best guess, we'd say that we can likely expect Season 4 around Fall 2021, or early 2022 at the latest. But this is only our guess, so who knows! Here's hoping it's earlier.
Thanks to the cast and Gred and Brandon for an amazing episode! We can't wait to see what Season 4 has to offer.