4/1/2021 9:53 am

Updates on the newest season of Young Justice have been few and sporadic, without much known except what was teased in the audioplay and the title. Today's the day we get something a little extra! After months of waiting for news on Young Justice: Phantoms, we've finally received some confirmation on which characters will be leading the main cast, in addition to how long the timeskip will be.
While many were hoping for a shorter skip to maintain some of the storylines we were introduced to in Outsiders, it seems like this season will be taking a different approach. This season's time-skip looks to be around 2.3 trillion years in the future, which is quite a big jump from timeskips of seasons past!
Given that most of the original team members would be, well, deceased, a whole new roster of characters will be taking center stage! This season will include valuable team members, such as the well-loved Sparrow, Blue Arrow, Apollo, Prodigy Girl, Red Grasshopper, Anna-Taz, and Missile!
While this change is quite a bit different than what we were initially expecting, we're curious to see how the new season will introduce these new characters and what missions they'll go on. Though, one has to wonder, with a time skip that big, will we ever get confirmation on if Wally's alive or not? Fingers crossed.
The new season will premiere sometime in 2021, and we wait for it eagerly.
Happy April Fools!
1/6/2021 12:14 pm

Dick Grayson is by and far one of the most entertaining characters to watch in HBO Max's Young Justice. Whether he's flying through the air cracking jokes and laughing it up as Robin in season one or making the tough choices and risking it all as Nightwing in seasons two and three, most fans will tell you that Dick Grayson is one of their all-time faves of the show. So, if you like watching Dick in Young Justice, it stands to reason you would enjoy seeing him in some other material too, right?
Dick Grayson has been appearing in all forms of media ever since the 1940's in his debut as Robin the Boy Wonder, so obviously if we took the time to list everything you might see him in it might take a bit too long. So, instead we're going to give you the top five things (At least in this writer's opinion) that you can find your favorite partner of Batman in.
Number 5: The 1960's Batman live-action show. Starring Adam West as Batman and Burt Ward as Robin, the live action Batman series that ran from 1966-1968 was one of the very first TV series in general to feature Dick Grayson as Robin. This series is good for those fans who like a bit of comedy, quirkiness, and campiness rather than overly-dark and gritty storylines seen more often in modern Batman interpretations (We'll be getting there soon, though). Sadly, 1960's Batman is unavailable on any streaming services, but you can almost certainly find collections of it at your nearest store that sells DVDs or on iTunes.
Number 4: Gotham Knights. Currently unreleased but coming soon, Gotham Knights is a video game for PC, Playstation, and Xbox that focuses on the sidekicks of Gotham City rather than Batman himself, featuring such heroes as Red Hood, Batgirl, Red Robin, and, of course, Nightwing. A trailer for this game was recently released online and the game itself won't be available until later in 2021, but it's definitely worth sticking around for if you love watching Batman's partners in action.
Number 3: The Teen Titans animated series. Running from 2003-2006, Teen Titans aired on Cartoon Network and has always been a fan favorite DC TV series from day one. Featuring Dick Grayson as Robin alongside his heroic teammates of Starfire, Cyborg, Beast Boy, and Raven, Teen Titans features amazing action, storylines based on such famous Titans comic stories like The Judas Contract and The Terror of Trigon, and also a ton of hilarious jokes and humor. It's also worth watching if you're interested in seeing Dick Grayson getting romantic with people other than Barbara Gordon and Zatanna like he is in Young Justice. What can I say? Dickori is always a win! (Though Dickbabs and Chalant are easily just as great in this reporter's eyes)
Number 2: Batman: The Animated Series. Considered the end-all-be-all of Batman animated content for most fans, Batman: The Animated Series was one of the first shows of the DC Animated Universe, or DCAU, and is certainly the most popular series from that universe. This is the series that introduced Harley Quinn to the world and gave us some amazing Dick Grayson moments both as Robin and Nightwing. It has plenty of storylines that will keep you on the edge of your seat and even tug at the heartstrings a little. It was recently added to HBO Max, so definitely go check it out if you haven't already.
Number 1: The Titans live-action series. You all knew this was coming eventually. Titans, currently streaming on HBO Max, features some darker takes on the character of Dick Grayson, though that doesn't mean it isn't still entertaining to watch. This series picks up a little while after Dick quits working with Batman but is still trying to be a hero as Robin, and then gives us Dick in his even cooler Nightwing persona in season two. Season three of Titans is on its way and will be coming to HBO Max soon.
And there you have it! The top five appearances of Dick Grayson besides Young Justice. Again, there are obviously way more appearances of Dick as both Robin and Nightwing than just these five, so definitely feel free to tell us about your own personal favorite appearances of Dick Grayson below.
11/9/2020 8:48 pm

As 2020 ever so slowly comes to a close, fans have been eagerly awaiting news about the next season of Young Justice. Late in September, HBO Max revealed that Phantoms would be premiering in 2021, but no additional news as to when. With little to go on, we've been keeping an eye on Greg Weisman's Twitter, as he periodically gives updates on the production status of the new season. Yesterday, he treated fans to one of those updates, letting everyone know where Phantoms stands in terms of production: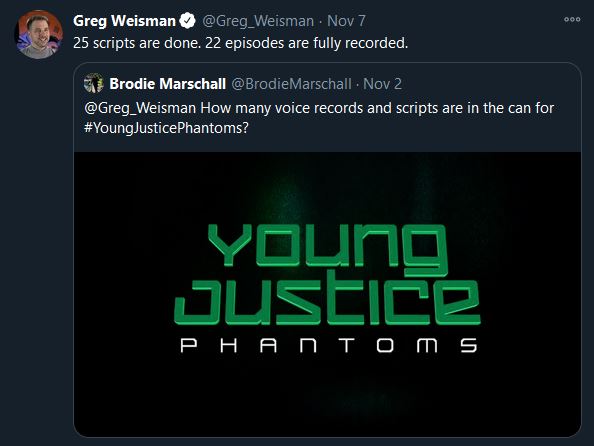 According to Greg, Young Justice: Phantoms has 25 episodes written, 22 recorded, and 7 in post-production. This is a nice update from last month, and it looks like they've been able to record two more episodes and finish writing another. With only one episode left to write and four to record, it looks like the newest season is making a nice pace.
What does this mean for when Phantoms will air? It's hard to say for sure. Given the current standing, we could make the assumption that the earliest we'll see Phantoms is Spring 2021, but that's a very optimistic guess. More conservatively, it's likely that Phantoms will air either late Summer or Fall 2021, but we'll keep our fingers crossed for earlier. Either way, we're excited to hear about the progress, and we know that the newest season will be worth it.
10/23/2020 10:07 am

Making the move from DC Universe to HBO Max, Young Justice will be coming to Warner Brothers' newest streaming service on November 1st! All three seasons, including the most recent season dubbed Outsiders, will be on the platform for all to watch. The upcoming fourth season of the series, which will be titled Phantoms, will ultimately make its exclusive debut next year on HBO Max. Not only that, but fellow DC Universe series, Titans, will also be heading over to HBO Max as well on the first day of November. Titans' two seasons and Young Justice's three seasons will be on the service to watch with other DC shows like Doom Patrol, Harley Quinn, and Batwoman.
Are you all excited for the upcoming HBO Max release of Young Justice? Let us know down below and comment what you want to see in the upcoming fourth season, Phantoms!
9/23/2020 11:26 am

Jaime Reyes, the third Blue Beetle, has been a popular character that many fans have enjoyed watching on Young Justice for the past two seasons. The character's charm and likability is a given considering he's voiced by the memorable, high-talented Eric Lopez. A well-recognized voice-over artist in the industry, Eric has been a regular addition to many Greg Weisman-led productions such as Young Justice and The Spectacular Spider-Man. Not only that, but Eric's also done a variety of differing movies and television shows that are all unique and exciting in their own ways. Today, we here at Young Justice TV dig into some of our favorite roles that were so masterfully portrayed by the wonderful Eric Lopez.
The Spectacular Spider-Man: The amazing, sensational, and most certainly spectacular web-slinger of the Marvel universe is nothing without his famous rogues gallery. Eric lends his voice to Mark Allan, originally known as Mark Raxton in the comics, the brother to Peter Parker's love interest, Liz Allan. Due to unfortunate circumstances involving a desire for more money, Mark is transformed into the living fireball known as the Molten Man. Forced to fight against our favorite webhead against his will, Eric captures both the rage and sadness that comes with Mark's plights and struggles to understand the newfound curse that's now fallen upon him.
Star Wars Rebels: One of LucasFilm Animation's most popular shows, Star Wars Rebels is another cinematic adventure in a galaxy far far away with characters we've grown to love over the years. Five years before A New Hope, Star Wars Rebels centers around a crew of outlaws who conduct covert operations against the Imperial garrison and the other menacing Empire organizations. Rather than voicing one character in the main cast, Eric voices a few characters in this show including a young imperial named Oleg to a member of the Iron Squadron named Jonner Jin. Eric is able to juggle a diversity of differing parts in this show and is still able to leave a lasting impression on this show with his assortment of special character roles.
Spirit Riding Free: Grab your cowboy boots and hop in the saddle because this show is certainly aimed for horse lovers everywhere! Based on the DreamWorks movie, Spirit: Stallion of the Cimarron, Spirit Riding Free centers around a young girl named Lucky who befriends a wild mustang named Spirit. Bonding with the stallion, Lucky and her newfound friends embark on everyday adventures involving the typical struggles of a teenage girl along with the responsibilities of having a horse in your life. Similar to the selected work above, Eric voices many intriguing characters in this show ranging from a travelling circus ringmaster to a cunning balloon salesman. The Netflix series provides even more proof that even in minor roles, Eric's still able to shine with his natural, unparalleled talents as a voice actor.
Infinite Crisis: Reprising his role as our favorite superhero with a bug on his back, Infinite Crisis was released in 2015 to many passionate gamers and DC fans everywhere. Loosely based on the comic book storyline with the same title, the multiplayer online game featured two an assortment of iconic DC heroes and villains that competed in combat missions across multiple destructive battlefields featuring changing in-game events. Eric once again voices Jaime Reyes, which is quite interesting considering he's voiced the character in two games now counting this and Young Justice: Legacy. Whether in a video game or an animated series, Eric always knows how to bring his A game to the role of Blue Beetle.
Did we miss any of Eric's best roles? Got any suggestions for other characters that he's played so well in the past? Leave a comment down below and give us your thoughts!