10/8/2021 12:42 pm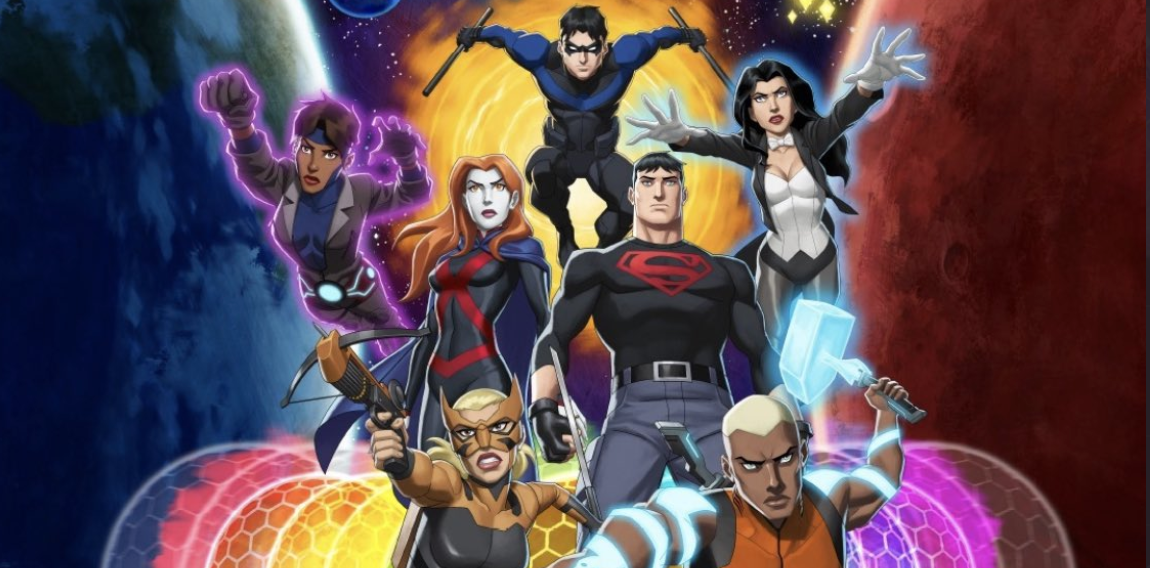 SURPRISE! A little over a week to go until DC Fandome, and we receive a bit of a present! The key poster for Season 4 has been released, and just like you, we're obsessed.
The poster, featuring art by Brandon Vietti, Christopher Jones and Jason St. John Wright, showcases the core six members of the original team: Nightwing, Rocket, Zatanna, Miss Martian, Superboy, Aquaman, and Tigress. We're in love with how bright and vivid the colors on the poster are, especially when compared to last season's darker tone. Could it be that this season will be on the lighter side? This is Young Justice, so, likely not!
There's a bunch of interesting things to note about the poster, namely the unidentified rainbow entities in the center, the red and yellow crystals above Zatanna, and the two planets on either side of the heroes. The rainbow objects sorta remind us of the zeta tubes, and the crystals are also familiar but we can't place our finger on them just yet. As is tradition per every new season, M'gann's hairstyle has changed and she seems to be rocking it long again. Going solely off the poster, we love seeing the original core team together again— sans Wally, and Will, who is probably off wrangling his daughter, a business, and his clone brothers off-poster (we can only hope, right?).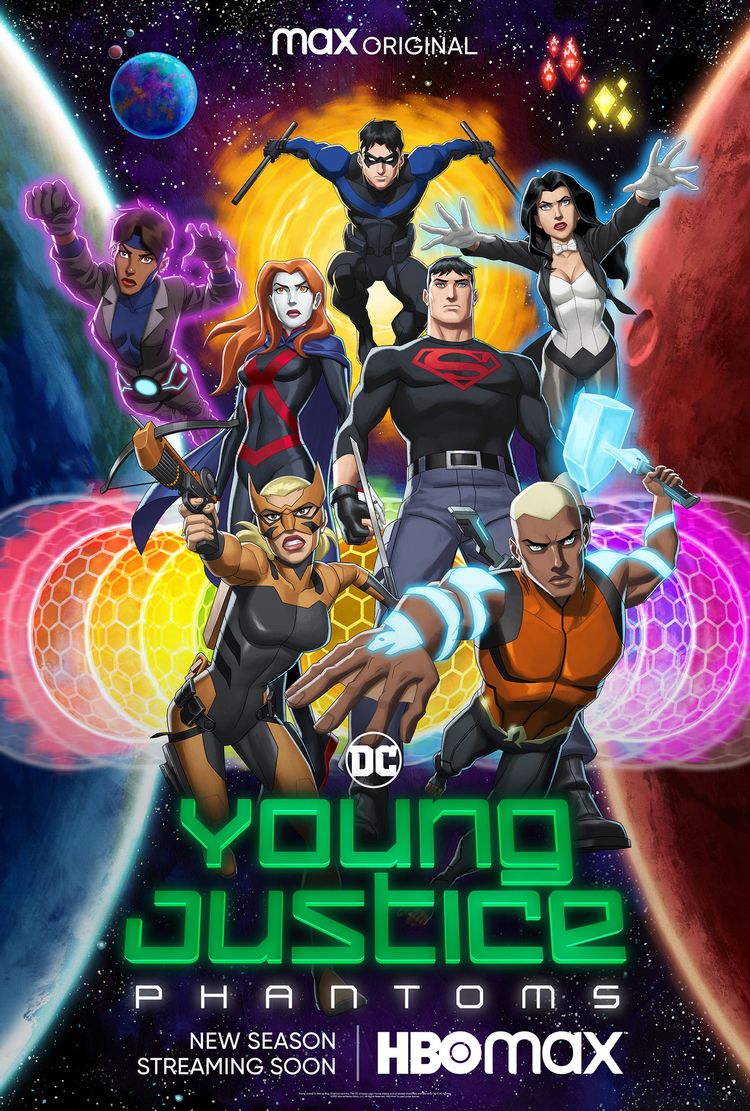 In addition to the poster, Collider released an interview with Greg Weisman and Brandon Vietti, spoiling as little as possible about the new season. Keeping in line with the usual tradition of showcasing secrets and lies, Vietti shares that "[they] always find reasons for characters to engage in more secrets and lies that complicate both hero life and private life". We're glad to see that while there may be many changes in Phantoms, keeping secrets remains a strong theme. You can read the full interview right here.
As the days tick closer and closer to DC Fandome, our excitement for Young Justice: Phantoms only grows! We can't wait to see the full season and share it with you all. Do you have thoughts on the new poster? Any theories you'd like to share? Let us know in the comments, the forum, or by tagging us on Twitter (@tvyoungjustice)!
10/6/2021 8:25 pm

We're getting closer than ever to DC Fandome! If you've been on the edge of your seat like us, you've probably been endlessly theorizing about what we can expect at the Young Justice panel. Without mincing words, it's been a long two years with very little to go on other than a confirmed title and potential release year for Season 4. Just like you all, we've been scouring the internet and all those speculation videos, but after next Saturday, we won't have to! While we don't know what'll actually happen during the panel, using previous years and hopeful speculation as guidance, we can take a few confident guesses as to what we might expect to see revealed!
Promotional images and poster for Young Justice: Phantoms
Just like you all, we are very surprised that we haven't yet received so much as a hint of what to expect of Young Justice: Phantoms (outside of the Audioplay last year). Clearly, it's going to be so incredible that they're keeping everything under tight wraps! It wouldn't be too crazy to assume that we might get a few images hinting as to what's to come this season, in addition to a poster that'll be used for promotional purposes.
Exclusive clips
Who can forget the iconic clip we received a few months before Young Justice: Outsiders aired, in which Nightwing took down a Bedlam plant with Oracle's assistance? Since we're a little starved for content, and with no release date yet in sight, a clip or two would be very welcome to give us just a little taste of the season to come.
A full trailer
At this point in the game, if Phantoms is to air before 2022, we definitely expect to see a full trailer at Fandome. Getting a full trailer would be a perfect way to get a glimpse as to what our favorite heroes have been up to and to build hype for the new season, and honestly, we wouldn't even be mad if that's all we end up getting!
An interview with Brandon, Greg, and members of the Voice Cast
Aside from the Audioplay at Fandome last year, it's not often that we get to see both the Showrunners and the Voice Cast together, talking about Young Justice. A full panel at Fandome would be the perfect way to get them all together and talking ever so vaguely about the new season without dropping any major spoilers.
A release date
With 2021 slowly coming to a close, we definitely expect to get a release date for Young Justice: Phantoms. Even if they're keeping the content of the season top-secret, finally putting out a release date is the very least we can ask for and hope to expect from the panel.
When it comes to Young Justice, there's one thing we know for sure: expect the unexpected! As much as we love theorizing, there's a very real possibility that we missed the mark and the panel at Fandome will show us something completely different. Honestly, as long as it's Young Justice related, we can't complain! DC Fandome will take place on Saturday, October 16th at 10AM PT, and will run for four hours. We don't yet know when the Young Justice: Phantoms panel will be held, but the moment we do, we'll let you all know!
What are some of your theories? Let us know in the comments below!
9/8/2021 1:47 pm

Ever since they were teased at the end of Young Justice: Outsiders, the Young Justice fandom has been nothing but excited when it comes to the inevitable debut of the Legion of Super-Heroes in Young Justice: Phantoms. Introduced in 1958, this team of futuristic heroes has been a staple in the DC multiverse for many years. Various comics, television appearances, and even their own respective animated series have set their status as staples in the world of DC. However, with a rotating roster of exciting and interesting characters, which ones are we the most keen on seeing the most in the upcoming fourth season? Today we delve into some of the most fascinating Legion of Super-Heroes members that we'd love to see appear in Young Justice: Phantoms!
Cosmic Boy:
Cosmic Boy, who's also known by Rokk Krinn, is one of the major founding members of the Legion of Super-Heroes, and was the leader in nearly all incarnations of the team. Cosmic Boy's main superpower is super-magnetism, he can attract, repel, and manipulate metal objects of various sizes. The more metal is in an object, the easier it is for him to affect magnetically. As one of the major factors in the original line-up, it'd be more than exciting to see a new take on this master of magnetism in the fourth season!
Lightning Lad:
Lightning Lad, whose real name is Garth Ranzz, is another founding member of the Legion of Super-Heroes who's abilities are nothing short of electrifying! Hot-headed and impulsive, Lightning Lad has the ability to generate electricity within his own body without causing harm to himself. He's able to use this self-made electricity in discharges in the form of potent "lightning bolts", and he can also allow himself to direct his electric powers internally to move at superhuman speed, with his top speed being around one-third the speed of light! Lightning Lad is such a staple amongst countless variations of the team that it'd be shocking not to see him pop up on the show in the near future!
Saturn Girl:
Saturn Girl, known as Imra Ardeen by her friends, is a super-talented telepath who rounds out the founding members of the team. The title of "Saturn Girl" refers to her homeworld of Titan, the biggest moon of Saturn. She's a gifted, highly-trained telepath who can create telepathic illusions and uses heightened senses in combat. Another major power of Saturn Girl is that she can control the minds of those who have been weakened in some capacity. Extremely intelligent and a very skilled superheroine, Saturn Girl would surely blow the minds of the viewers if she finally makes her debut in the upcoming fourth season!
Phantom Girl:
Phantom Girl, who's actually Tinya Wazzo, is a native of Bgztl, the fourth dimension parallel with Earth, and a loyal teammate to boot! Phantom Girl has the ability to turn intangible, and has demonstrated the ability to phase with almost split-second timing. She's also capable of phasing certain parts of her body selectively, and is immune to physical harm and most radiation such as energy blasts when in her intangible form. An intriguing addition to the ever-changing roster, the Legion of Super-Heroes is always bringing in new, colorful teammates and Phantom Girl certainly adds a special charm and a great deal of power to the table!
Shrinking Violet:
Salu Digby, whose superhero moniker is Shrinking Violet, is a native of the planet, Imsk. Those who originated from Imsk have the ability to change their sizes in a variety of ways. Digby could initially just shrink to microscopic sizes before she was ultimately given the ability to grow to massive heights courtesy of the Emerald Eye. Even when in her smaller form, Digby can still pack a punch with her enhanced strength that remains no matter what size she is. Heroines like Shrinking Violet display that size doesn't really matter when it comes to those who save the day!
Were there any Legionnaires that we missed? Which Legion of Super-Heroes members are you keen on seeing in Phantoms? Let us know in the comments down below!
8/25/2021 4:03 pm

With Young Justice: Phantoms approaching on the horizon, it's time we did a bit of reflecting on what we know so far about this season. Granted, it isn't much, but we do have a few tidbits of information to go on, largely in thanks to the Young Justice audioplay: "The Prize".
The events of the audioplay centered around the attempted recruitment of Clayface to Amanda Waller's suicide squad after the big ol' hunk of clay went straight and started working for Bowhunter Security. An entertaining romp, it ended in the hilarious climax where several members of the original team suited up in Bowhunter uniforms to battle Waller's Task Force X and rescue their new ally. (Side note: if this isn't proof that a Bowhunter Security spinoff could work, I don't know what is.) Clayface was then offered a spot on the Justice League but turned it down in lieu of continuing to work at Bowhunter (can't blame him!). However, the heroes did collect a new member in the form of Arsenal, who accepted Artemis' offer to rejoin the team quite readily.
Although the audioplay left us with more questions than answers, it still provided some key clues as to what may be happening in Young Justice: Phantoms. For starters, we know that Artemis is leading the Team and likely has been for some time, Clayface is now a good guy and working with Bowhunter Security, and Miss Martian, Superboy, Beast Boy and Martian Manhunter are going on some sort of journey with Bioship. All of these things point to there definitely being another timeskip. As far as how big that timeskip is, we have some thoughts.
In an interview with Whelmed: The Young Justice Podcast in February, Greg Weisman noted that "One of the joys of Young Justice is time is passing, and you know, Artemis was 15 in season one and as we go into Season 4, she's 25, and that's a big difference." If we do a little math here, we know that Artemis was around 22 years old in Season 3 since it had been seven years since the start of the series by that point. Using this line of thinking, in addition with the audio play taking place shortly before the start of Season 4, it wouldn't be outrageous to assume that the timeskip will be a minimum of one year, and no more than three.
Of course, this is Young Justice. We wouldn't be surprised in the least if the show opened thousands of years into the future, if only to tease us.
While this information isn't exactly groundbreaking, it still is something small to go on until we get to the big news. Production on Season 4 is moving along steadily, and we have high hopes for an official release date and a trailer at DC Fandome in October. Either way, we're waiting on the edge of our seats to find out more!
How long do you think the time jump will be? Got any insane theories as to what will happen in Season 4? We'd love to know! Drop a comment below or tag us on Twitter at @tvyoungjustice!
4/1/2021 9:53 am

Updates on the newest season of Young Justice have been few and sporadic, without much known except what was teased in the audioplay and the title. Today's the day we get something a little extra! After months of waiting for news on Young Justice: Phantoms, we've finally received some confirmation on which characters will be leading the main cast, in addition to how long the timeskip will be.
While many were hoping for a shorter skip to maintain some of the storylines we were introduced to in Outsiders, it seems like this season will be taking a different approach. This season's time-skip looks to be around 2.3 trillion years in the future, which is quite a big jump from timeskips of seasons past!
Given that most of the original team members would be, well, deceased, a whole new roster of characters will be taking center stage! This season will include valuable team members, such as the well-loved Sparrow, Blue Arrow, Apollo, Prodigy Girl, Red Grasshopper, Anna-Taz, and Missile!
While this change is quite a bit different than what we were initially expecting, we're curious to see how the new season will introduce these new characters and what missions they'll go on. Though, one has to wonder, with a time skip that big, will we ever get confirmation on if Wally's alive or not? Fingers crossed.
The new season will premiere sometime in 2021, and we wait for it eagerly.
Happy April Fools!