1/10/2019 1:30 pm

If you're still sailing the Young Justice high from last week, hop right in my boat because the waves are a plenty. After the intensity of last week's episodes, we get a nice little refresher with 'Private Security'. This episode executes a short mission featuring the Harper men, while giving us a sneak peak into the lives of Zatanna, Dr. Fate, Brion and Halo. It's been a long time since we've been treated to a fun episode as funny as this one, while still hitting a few sentimental notes. Make sure you have your finger on the 'replay' button because you're going to want to watch this one a few times. Here's the rundown:
A Home For Strays: We start the episode with a little insight into the Harper and Supermartian homes, where Halo and Brion have been taken in. Neither homes are particularly excited about this development; the only person who doesn't seem to be bothered is Lian. I think I speak for a lot of people when I say that morning glimpses in the Harper household are far too cute for their own good. Unlike Halo and Brion, Dr. Helga Jace has been put up at a hotel and is looked out for by Jefferson. Bottom line: Nightwing's of no use, and the benefactors are left to deal with these guests on their own.
It's a Harper Family Reunion: Dick, Roy, and Jim show up at Will's job, a Private Security company. Dick needs Will's help on a mission to bust a trafficking ring in Star City, but Will counters with another course of action. Due to a nasty epidemic of food poisoning within the company, Will needs their help to work a gig transporting a shipment of Goode VR Goggles. The highlight of this interaction is a glorious shot of the four in rent-a-cop uniforms, piling into Will's van.
A Short Visit: Artemis and Halo embark on an 'appointment'. During the walk, Artemis tries to get Halo to remember about her life to no success. Under a willow tree, they meet with Dr. Fate, who scans Halo and reveals that she is an old soul, trapped in a young body. Before we can dwell on that too much, Zatanna joins the group, and we learn that every year Dr. Fate allows her to spend one hour with her father. Enjoy those tears, y'all.
Broad Daylight: We get a bit more information about the popularity of the Goode VR goggles. According to Roy, they're top of the line and cost a pretty penny to own. In the previous scene, we saw people running around with them on, so the popularity is not exaggerated. The interactions between the three members of the Harper clan is everything you could ever ask for after learning there were three of them. Will tries to bring up the topic of his houseguest to Dick, but Dick brushes off his concerns. Just when everything with the shipment is looking smooth, Season one villain Brick turns up to disrupt the shipment.
Brunch Pals: Jefferson Pierce treats Dr. Jace to the best brunch Metropolis has to offer: a hotdog. We get a little more insight about her role in the Bedlam organization, namely how she was coerced into participating and maintained the impression that she could look out for the children. We all see how well that worked out, but at least she's exhibiting some remorse. Dr. Jace worries about Halo and Brion, claiming that she feels responsible because they feel like her children. Time will tell if this sentiment is genuine and not just a clever ruse.
Connor the Mechanic: If Connor wasn't already soft enough this season, he also works as a mechanic. His conversation with the short-tempered Brion couldn't be more patient and it seems to be hinting towards a possible mentorship. It's nice to see how much he's grown over the past few seasons.
Bye Daddy: While Zatanna spends time with her father, Artemis keeps questioning Halo. Halo is starting to remember more about what happened to her, but keeps quiet and insists she remembers nothing. Before Artemis can question further, Zatanna and Giovanni's time is up. If your heart didn't break while watching Zatanna beg her father not to put the helmet on and then collapsing on the ground in tears when he didn't, then you're a stronger person than I'll ever be.
Brick Breaker: In one of the most entertaining showdowns of the series, the Harper/Grayson team are attacked by Brick and his cohorts who try to steal the Goode VR Goggle shipment. Come for the action, stay for the entertaining dialogue showcasing the three personalities of the Harper men. In between the comedic banter, we get our first real glimpse at Dick's mourning over Wally's ceasing when Will calls him out on his irresponsibility towards Halo, Brion and Jace. Despite the comedy, it's a beautiful callback to the relationship that Will, Dick, Wally and Kaldur shared prior to the team being formed. Once Brick is silenced via a flashlight-clipboard-hand to hand combat attack, Dick admits that Will is right and promises to make it right with everyone.
Let us know what you thought of the episode in the comments below and in the forum!
1/7/2019 11:27 am

We added thirty one new images for the upcoming three episodes this Friday and while a picture says a thousand words, they don't say the synopses that go with each episode. We are excited to have those for you as well today! Episode 304 will center around the aftermath of the Markovian incident and while the team gets homes for their new comers, Dick has a mission for himself! Episode 305 and 306 will be both off-world and in Happy Harbor! For the full synopsis of each episode, check them out below:
Private Security:
While Jefferson, Conner and Artemis find homes for their Markovian strays, Dick assembles a new squad and hits the road – but may not survive the trip.
Away Mission:
A distant conflict sends the team on an away mission, while the Happy Harbor gang decides what to do with Brion Markov and Halo (Zehra Fazal).
Rescue Op:
Brion Markov is determined to rescue his missing sister – even if it means throwing down against the entire League of Shadows.
Let us know what you think of these new synopses in the comments below and in our forum!
1/7/2019 11:11 am

After an amazing and frankly historic return for Young Justice, fans are elated to have their show with their heroes back! But of course three episodes won't satisfy any fan, we are looking for more! Well today we are excited to share with you at least ten new images from the next three episodes out this Friday! The images look like they pick up right where episode 3 left off. The new heroes will need to be trained and a visit from Dr. Fate seems in order. Also, much more of New Gensis is on the way! But as the old saying goes, a picture is worth a thousand words, check them out below:
Private Security:
---
Away Mission:
---
Rescue Op:
Let us know what you think of the new images for the next three episodes in the comments below and in our forum!
1/5/2019 2:32 pm

If you are a Young Justice fan and it feels like there are fireworks going off all around you then you aren't alone. The historical launch held a lot of emotion for the fans and the cast/producers. Many took to twitter to share their thoughts on the return. Most of the sentiment was a feeling of seeing an old friend return after a long absence. A lot of the fan communities that have existed since the show's abrupt end, rightfully took a victory lap in celebration. It nearly never happens that a show cannot only be rescued but revived like Young Justice has. Cast and Producers also took to social media: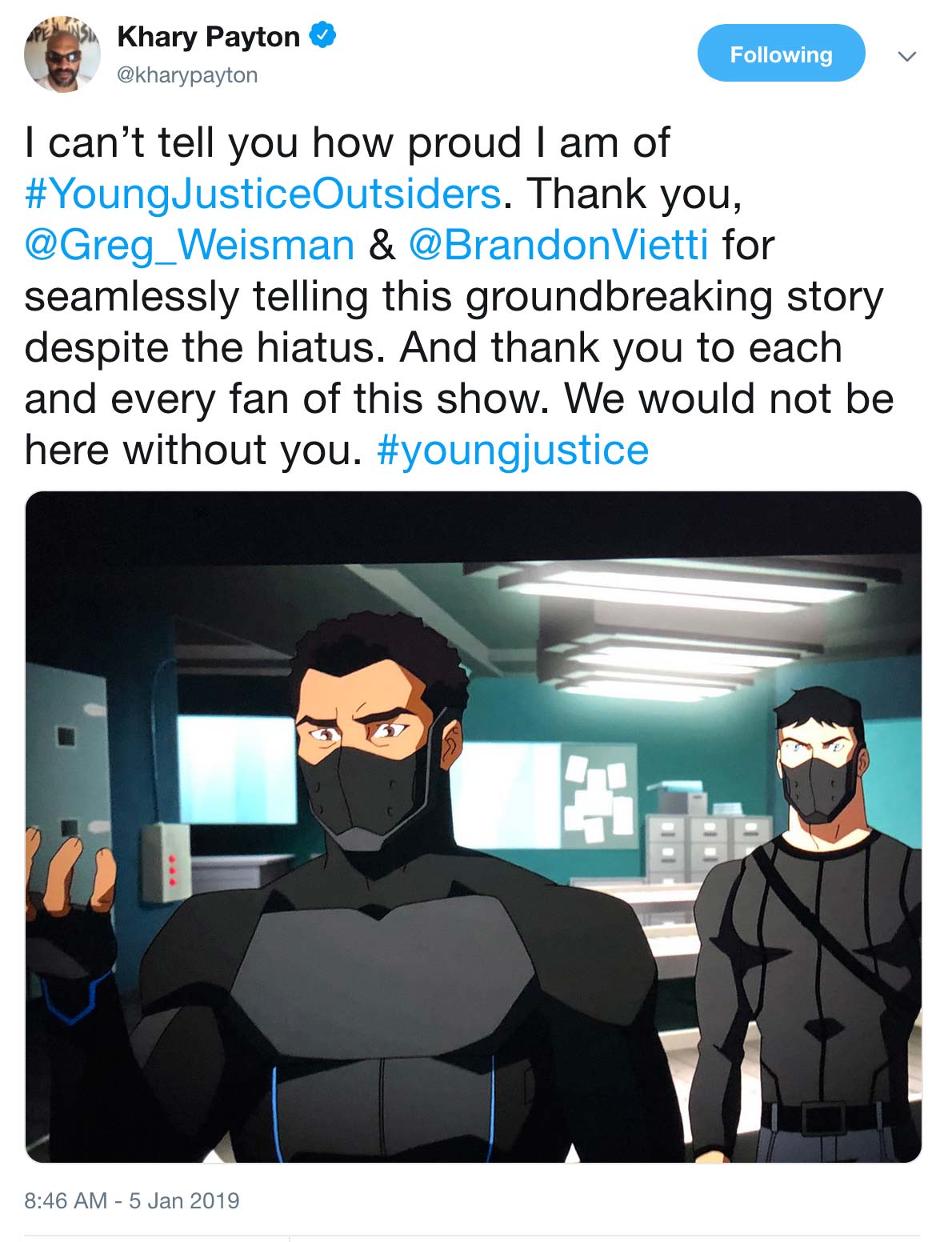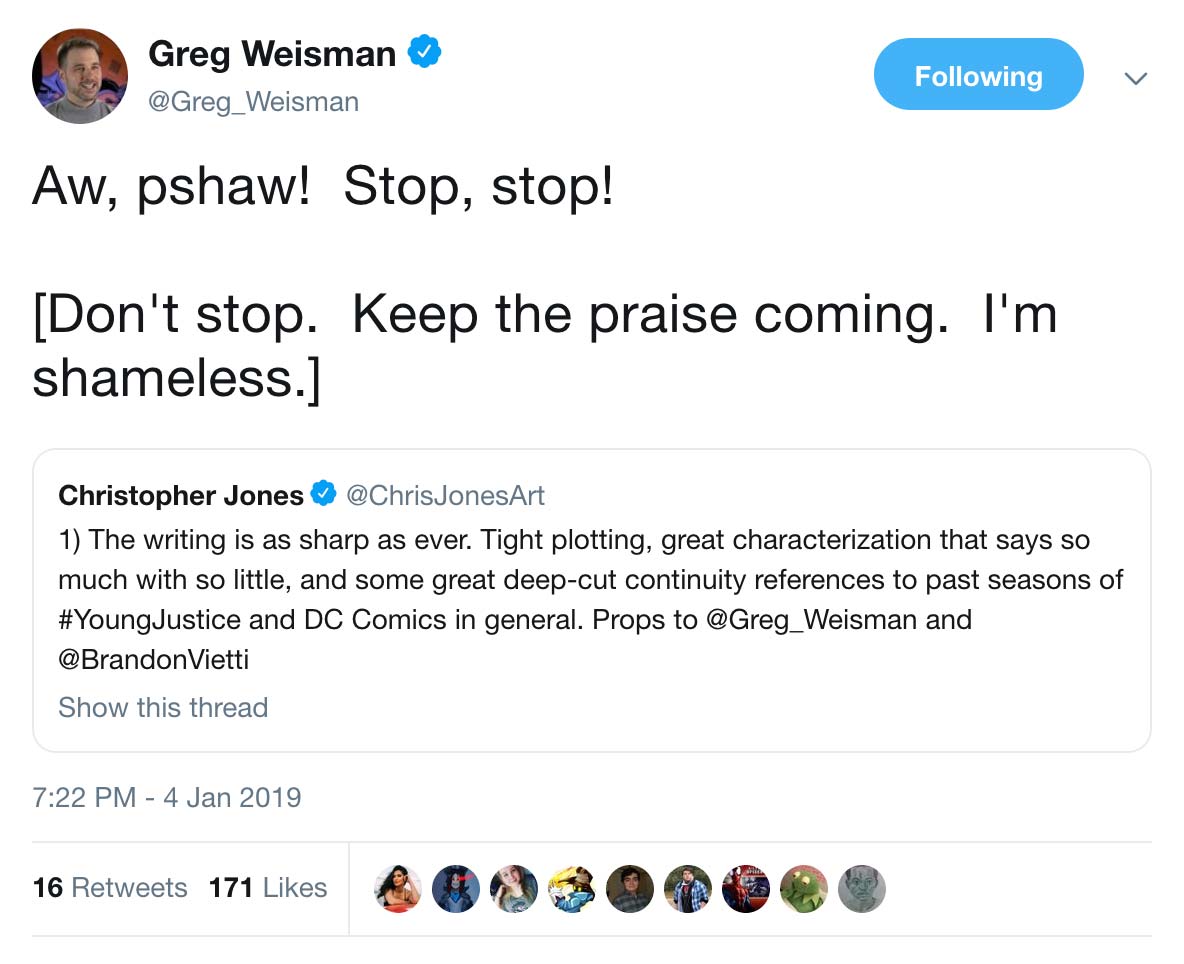 You might notice that last tweet from Zehra Fazal, who voices Halo among many other characters, is referring to the show's rating of a 100% fresh on Rotten Tomatoes! This kind of reception is nearly unheard of, especially for a young adult animated show!

Finally, with all the amazing press, the DC Universe has decided to capitalize on the show's success and released this new TV promo spot that would highlight everything the streaming service is doing with Young Justice. Check it out below:
What were your thoughts on the premiere? Did Young Justice Outsiders live up to everything you hoped? Let us know in the comments below and in the forum!
1/4/2019 7:00 am

Sixty-nine minutes and forty-nine seconds. By now, if you are reading this you should have finished episode three of season three of Young Justice. So, you've now seen sixty-nine minutes and forty-nine seconds of Young Justice that could have never existed without The DC Universe, Greg Weisman, Brandon Vietti and most of all, you the fans. Eminent Threat was the capstone to a three episode story arch that took place in Markovia. Nightwing, Superboy, Tigress, and Black Lightning worked with their new friends to expose Bedlam and make some major changes for Markovia. That wasn't all though, here's what stood out to us:
Rescue of Superboy: Just like James Bond, Nightwing walks right through the front door of the Children's Hospital. He is able to break into the underground lair and meanwhile Tigress and Black Lightning enter though the sewers. Together they coordinate a two-pronged attack.
Bedlam's Deal: Before the rescue can go forward, the team pauses to hear all the plans of the villans. Vertigo, The Regent, and Dr. Ecks are all working together for a much bigger plan. Count Vertigo is hoping to take over Markovia which will allow them to take the neighboring country. Then the two countries will be under the Light's dominion.
Plasmus Attacks: Before the team can begin the rescue, Plasmus begins to attack. A single hit could kill Tigress but luckily Halo is there to stop him. Nightwing gets to the pod and frees Superboy. The bad guys are able to get the children off world via a Boomtube. The Regent heads back to the party to get ahead of the team's attack. He calls out the Prince as a meta-human, which Brion now is, and blames him for meta-human trafficking as well as the murder of his parents and abduction of his sister. The new meta-human hears this via the team's transmission and loses it!
Geo-Force's Revenge: Brion, now Geo-Force, heads for the party to confront The Regent's lies. The two engage in battle as it is revealed the Regent is also a meta-human. Superboy, tracking Geo-Force with his infrared vision, heads to the party to stop/assist Geo-Force.
Apokalyps Tech Battle: Count Vertigo returns to where the team has set up. They also bring Plasmus, and two goons armed with tech. A battle ensues but the team is victorious except Plasmus grabs Halo and burns her skull. She is killed and lies dead on the ground. Black Lightning sees yet another dead kid and loses his mind. His powers come rushing back and he takes on Plasmus. Artemis and Dr. Jace head to the side of Halo whose face is half burned to the skull (this is the new darkness I believe the show was talking about). She does however, come back to life again and heals herself.
Markovian Exile: The battle between the regent and Geo-Force rages on but the crowned prince orders his guards to intervene and arrest the Regent. When the Regent doesn't go quietly, Superboy takes him out! The crowned prince however, banishes Brion from Markovia and Superboy takes him away.
One More Dead Kid: Black Lightning fighting Plasmus is able to remove the brain controlling device that he was outfitted with. The team quickly got the upper hand and ends the battle. Plasmus turns on his captures and the fight is over. Vertigo retreats and then a bystander with a rifle thinks he is helping by shooting Plasmus through his heart. Halo can't save him and he dies. Black Lightning rage-fully shares that he killed a kid and he'll have to live with it while also realizing it is true of himself. Artemis turns to Dick and asks "What now?".
Let us know what you thought of the episode in the comments below and in the forum!