11/11/2021 9:14 am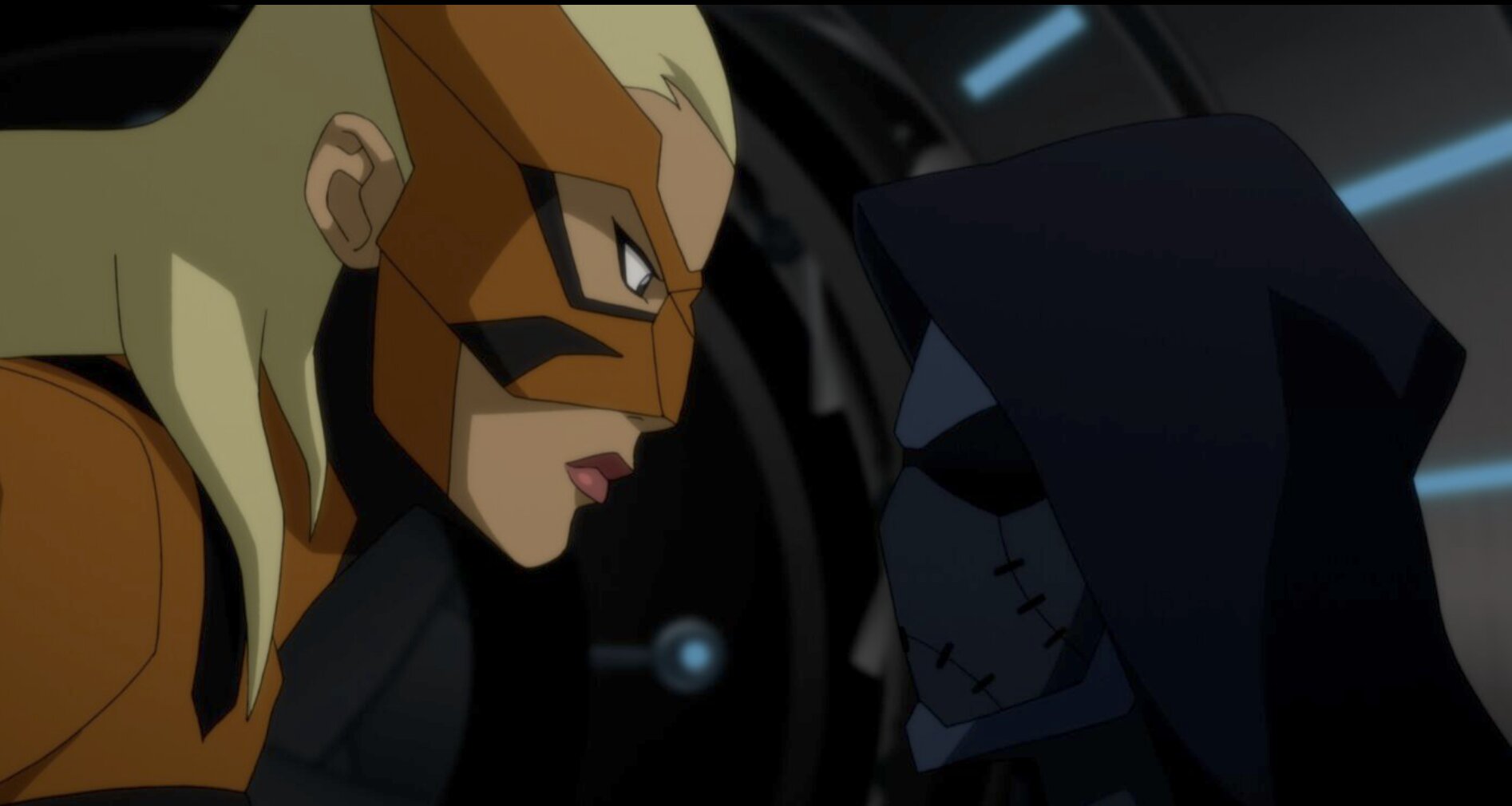 After a solid beginning with "Tale of Two Sisters", Young Justice: Phantoms continues Artemis' arc with another interesting, well-crafted episode. Through heartbreaking flashbacks, comedic moments and a powerful fight sequence, "Artemis Through the Looking Glass" takes the audience further into Artemis and Jade's relationship while still keeping viewers on their toes in regards to the mole plot, with a few other surprises left in store. If you haven't yet seen this episode, please stop what you're doing and go watch it, because the sixth episode of the season is truly Young Justice at its best.
"Artemis Through the Looking Glass" begins immediately after "Tale of Two Sisters"; sort of. It launches first into a flashback, taking place a little while after Jade has left Artemis. A broken and battered Artemis is skeptical as to why her sister is there, and then the flashback segues back into the present. Jade seems pretty unreceptive to what Artemis has to say— that is, until Artemis mentions that the Shadows have managed to track her down to the house, the same house where Jade's daughter lives. With her daughter's life potentially at stake, Jade begrudgingly agrees to help Artemis out with her mole problem.
After a very entertaining meeting with Artemis' new boyfriend, Jason Bard, Jade and Artemis trade notes. While intel on Cassandra Savage is right on the money, Onyx is still a mystery. Either way, none of them are proving to be particularly trustworthy just yet. In a previous scene, Looker attempted to psychically read both Onyx and Cassandra, but Orphan points out that Shadows are trained to avoid psychic interrogations. After receiving all this information, Jade agrees to interrogate them using her own tricks, one former Shadow to another.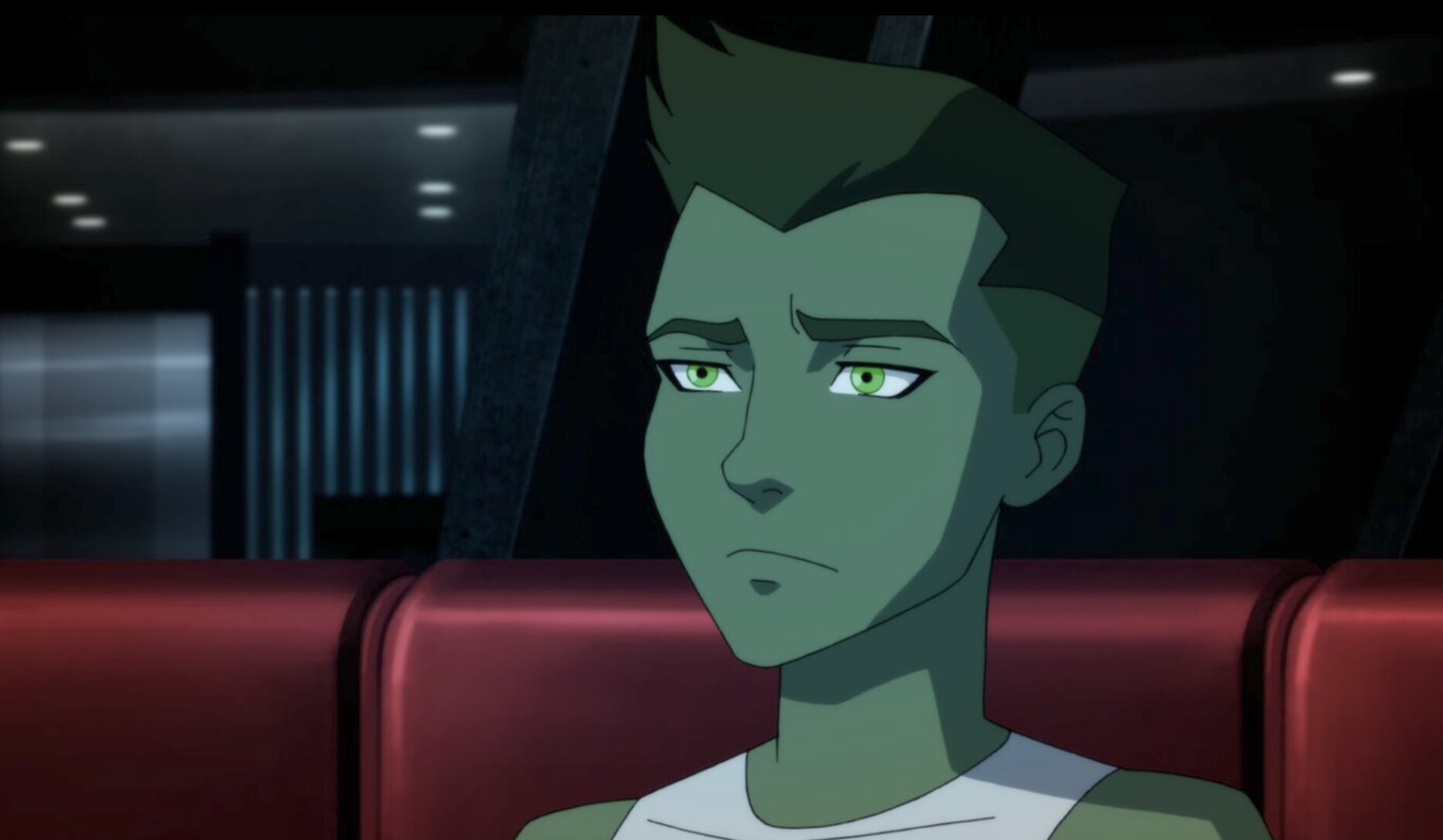 Meanwhile, in a very depressing B-story, Garfield is back on Earth. He's been sleeping a lot, resting and recovering from the crushing news that Conner is now gone. In between sleeping and replaying the video from Conner's memorial service, he attempts to watch TV, only to learn that Prince Brion is full on welcoming metahumans to Markovia, highlighting the refugee crisis that Perdita had from a credits scene in episode 2. With public fear from Brion's decree, people have been rushing to Vlatava— no wonder Perdita is so stressed.
Back at Green Arrow's vault, Cheshire interrogates Onyx and Cassandra, with Orphan and Artemis on watch. While both their stories are solid, Jade still doesn't trust either of them, but announces her initial job is done. Unfortunately, they're interrupted by the entrance of Black Spider and Rictus, who attack the group and attempt to kidnap Cassandra. A very entertaining fight ensues, but ultimately, Lady Shiva ends it by appearing and kidnapping Orphan, instructing the group to bring Cassandra Savage to Santa Prisca in exchange. The villains disappear with the help of Shade, much to Jade's surprise, considering she freed him in 'Triptych' last season.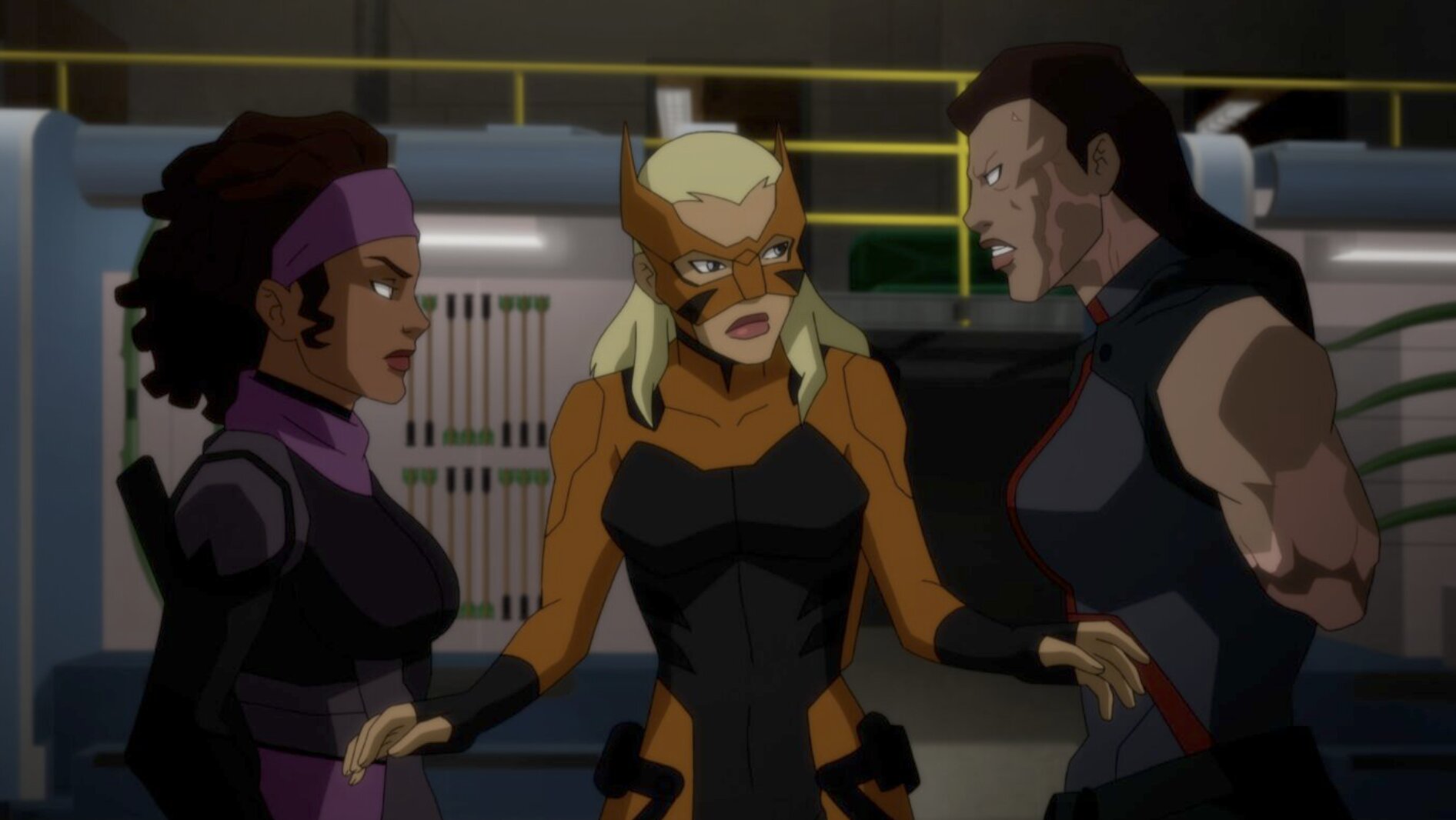 While Cassandra immediately offers to go to Santa Prisca alone, Artemis is insistent on going as a group and rescuing Orphan together. Jade is firmly against this idea, especially once she reveals that Orphan is actually Cassandra Wu San, Lady Shiva's daughter who has been muted and trained from birth to be a living weapon. Despite Jade's protests, Artemis is set on going to rescue her, bringing Onyx and Cassandra with her. She asks Jade to go with them, but Jade refuses, claiming that they're all "mad as hatters". Artemis, Onyx and Cassandra are on their own.
The C-story is interwoven throughout the episode, a follow-up on Jade and Artemis' childhood. Jade shows up an undetermined amount of time after leaving Artemis behind, having hit a rough spot and needing food. Their father, however, catches them, and intimidates Jade to get on her way without help. Lucky for her, she uses a code word she and Artemis came up with, and they meet on the rooftop later to exchange goods— food for Jade (freeze dried chicken whizzies!), and a book for Artemis. Jade promises to return the next night with money to restock, and even though Artemis waits for her, she never shows. Lawrence ends up catching her, punishing her for helping Jade by making her train on an empty stomach.
While we felt the previous episode struggled to juggle several strong storylines, "Artemis Through the Looking Glass" doesn't share the same issues. The stories all feel well-balanced and equally intriguing, interweaving bits of comedy with the harder to swallow, painful elements. The humor this episode definitely takes liberties with the more mature rating, and while it was surprising to hear such on-the-nose jokes, it's not unwelcome, and definitely fits the characters who said them. When it comes to the mystery of the moles, we love how this arc (and the previous) takes the 'simmering pot' approach, where the plot thickens and things slowly but steadily start coming together. With Artemis, Cassandra and Onyx heading for Santa Prisca next episode, we're sure things will reach a steady boil, fast.
Just like the previous episode, this one also excels in character development. Everyone gets a little bit of the spotlight here, from Cassandra Wu San to Jason Bard. We loved learning more about these previously minor characters, all the little details that there wasn't time to show in the previous season. While many people are on the fence about the character-focused arcs, we're completely on board with giving certain groups their time to shine before moving on to others.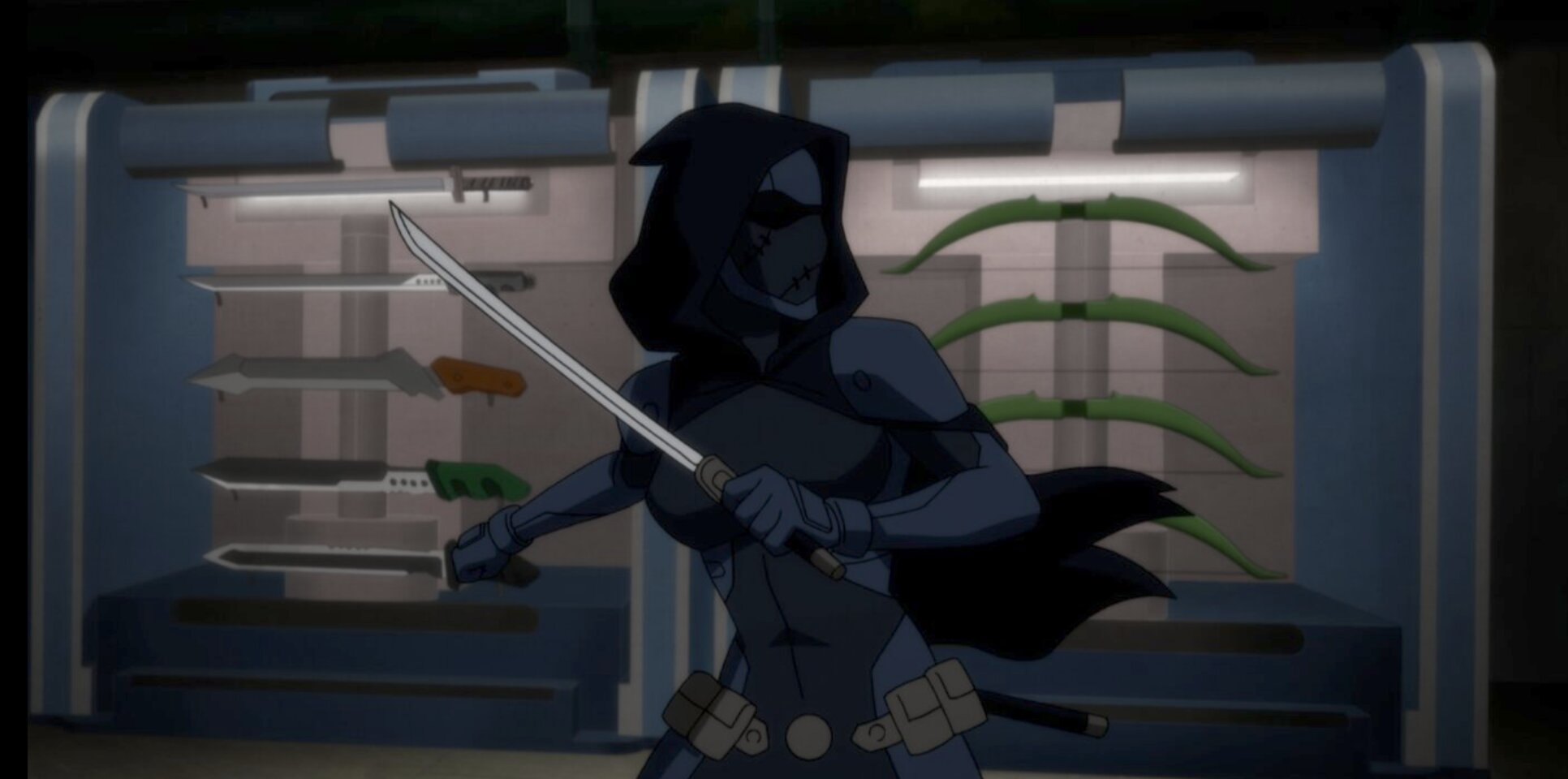 Other welcome notes include all the minor callbacks that suddenly make sense. Jade introducing Artemis to Vietnamese Literature, the music playing in Artemis' car being the music from the Superboy tribute video— all these little details help the episode and the characters feel more fleshed out and memorable.
In addition, we would be remiss not to mention the stellar fight scene between Black Spider, Rictus, Onyx, Cheshire, Tigress, Orphan and Cassandra Savage. Many have noted that the Mars arc lacked significant action, and the sequence in this episode more than made up for it. Additionally, the animation and art style this episode were phenomenal, we can only imagine how hard the artists, storyboarders, character designers and other various crew members worked to make it come to life.
Young Justice: Phantoms has been delivering standout episode after episode, with "Artemis Through the Looking Glass" being a top contender. If the remainder of the season keeps delivering in this manner, Phantoms may be the best season yet. We're sitting on the edge of our seats waiting for the remainder of Artemis' arc, with high anticipation of what's to come.
What did you think of "Artemis Through the Looking Glass"? Craving some Chicken Whizzies? Excited about the new twist on Cass' character? Praying that everyone ends up happy and okay at the end? Let us know in the comments, our forums, or on our Twitter!
11/10/2021 3:05 pm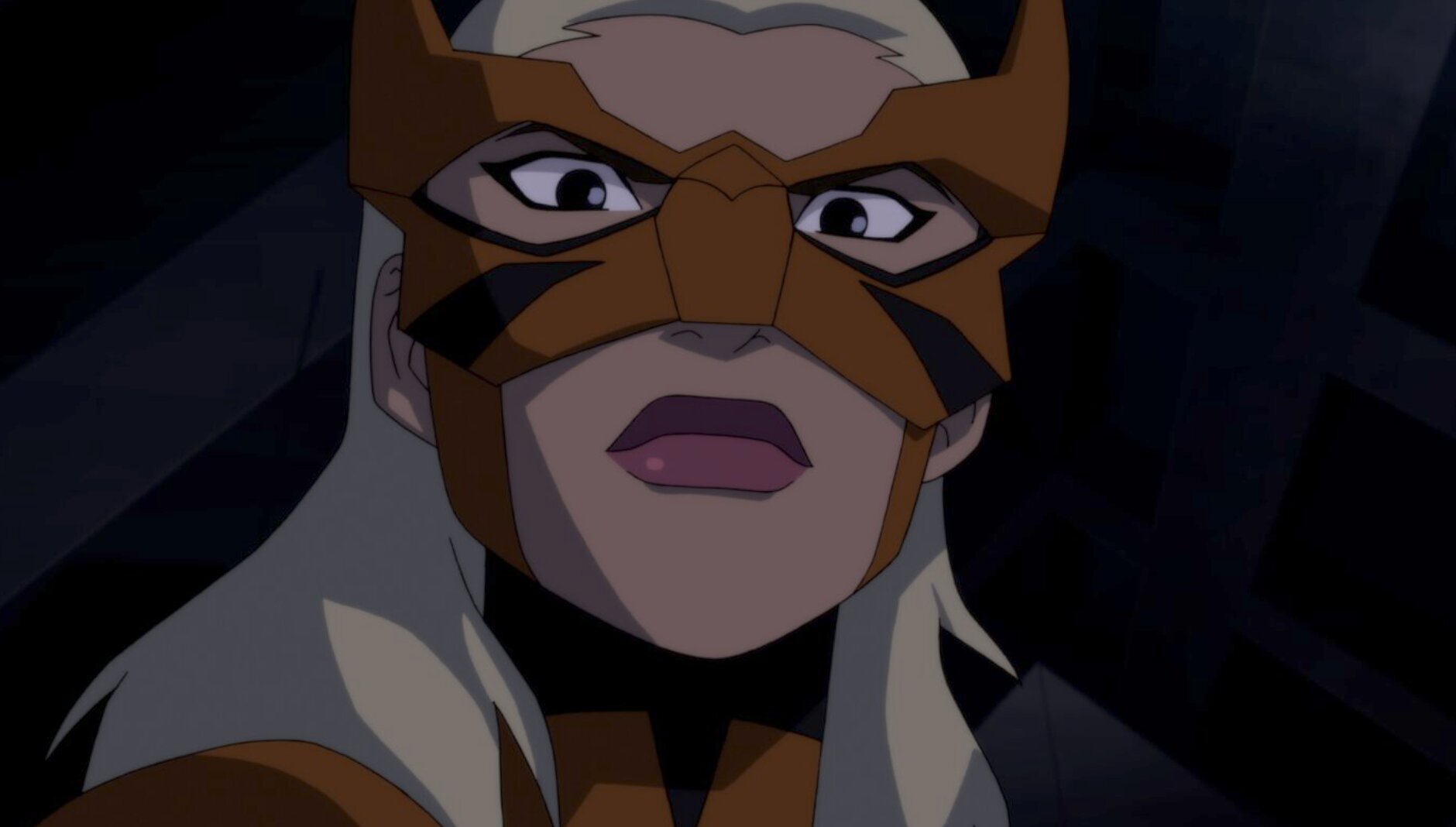 Happy Whelmed Wednesday everyone! Last Friday, team members Ariel Horn and Melissa K. had the opportunity to sit down with Greg Weisman and Brandon Vietti and ask them a few questions about Young Justice: Phantoms. While there's tons we want to know about the new season, we hope you enjoy a few select insights to some burning questions we had.
YJTV: We have been loving the smaller arcs this season, and I know the fandom does too. Do you find that smaller arcs allow you to include more detailed stories that otherwise there might not have been time to do? Sort of like how the tie-in comics would have several issues pertaining to a specific villain or problem, or fleshing out relationships between more secondary characters?
Brandon Vietti: Certainly, by focusing on one character in an arc, you can dive into one particular story in more detail and get more nuances in there, more twists and turns, and I certainly think that's more rewarding for us and the writing, and hopefully more rewarding for our audiences as well. It also gave our season a unique character on its own. One of the things I'm most proud of is that we've found a way to give each season its own character and its own vibe. We're always trying to evolve the show and make things feel fresh and new, but at the same time, honor everything we've done before and make it feel like the same show, but with a slightly different presentation. It helps from a production standpoint as well, if we can design a bunch of characters and locations that can last throughout four episodes is better than just doing that for one episode and onto the next episode with a whole new bunch of designs, so from a production standpoint too, we can get a little more mileage out of our designs and it's helpful for our artists too.
YJTV: It was great seeing M'gann and Conner go to Mars, and see just how thriving their society is. In terms of M'gann's other siblings, do they resent her for just being A'ashenn, for leaving, or for everything she did on Earth after she left (becoming a hero and being with Conner)? Or is it a combination of factors?
Greg Weisman: There are over twenty of them, so I don't think there's one answer that'll answer all twenty. There's a combination of factors in there, I think that there's an element of fear, and they've all built lives as G'arrunns, and some may be more religious and so the interspecies nature of their relationship may be problematic to some. There's the out there way of M'gann walking around town as both as an A'ashenn and an A'ashenn presenting as a human. There are angers that go back years about her leaving, maybe about her relationships with those before she left. Over the years, we introduced M'Comm in season three and Em'Ree in season four, and as time goes on, we may introduce more if we get more episodes. Those are some of the issues though involved with it.
YJTV: We both really love Artemis and Jade, and just from this first episode we are so ecstatic to see where this will go, and a bit nervous of course! We're very curious to know about Artemis' path forward. She has arguably been through a lot, from way back in Season 1 when she was trying to prove that she could be a hero despite her family, all the way to this season where she has now lost Conner, who she considered a brother, just after seemingly having reached a point where she had moved on from Wally, and was finding her way back with a good job, a steady work-life-superhero balance, and a boyfriend. We've already seen how this is affecting her (and we loved the desaturated scenes after she found out, really drove the point home) - and we're sure we'll continue to see things develop, but we were wondering how you decided to approach Artemis' grief in terms of finally wanting to bring Jade back home after all?
Greg Weisman: I think that obviously Artemis's grief works on multiple levels that she's even aware of and spoke to which is that on one hand, she lost Conner who's like a brother to her and she was close to him. That's grief in itself, but let's get real, seeing this happen and knowing how M'gann must feel, this has got to bring up a lot of Wally stuff. This was going to be hard and painful for her, and the great thing about twenty-five year old Artemis as opposed to fifteen year old Artemis is there's a lot of self-awareness there. She's learned that one thing that got her through her grief is not focus inward, but focus outward. How can I help other people? What can I do to help other people? And goes beyond what her mom said with "hitting bad guys over the head with a bo staff", which I imagine has a sense of satisfaction, but that's not the point. That turns her focus, as she has this big hole in her life with Wally, which we've seen a day in her life before and after Conner's death. She's begun to successfully create a new life for her, but his death creates a new hole and opens up a new wound, but there's another wound that's still open and she's like "I can't fix those two, I can't bring Conner back to life and I can't bring Wally back to life, but maybe I can bring Jade back into my life". Whether or not she'll succeed is not up to her, but whether or not she tries is up to her, so that's at least what you're seeing. So you'll be seeing her try to bring Jade back into her life, and then we'll just have to see what happens.
YJTV: Paula has been quite the character through the seasons, and we must admit we were surprised to see that she knew quite a lot more than she was letting on about Jade's precarious situation. Knowing what she knew, it's jarring to see that she seems so convinced that Jade is beyond saving, especially since she is a former villain and would know it's not an easy road to travel. What do you think is her conviction in regards to Jade's lost cause?
Brandon Vietti: I don't know if we really written all the specifics out for ourselves, I do imagine there are parallels between lives there that a mother seeing the worst of herself in her daughter must be a terrible thing to deal with and there's got to be some tension there for her and dealing with what path Jade has taken for herself

Greg Weisman: I think that Paula is cynical, that those are the lessons her life taught her and that she loves to present herself as "Hi, I'm the cautionary tale". She feels that given that Jade has that remarkable opportunity from her point of view of having a husband and a house in Star City and a normal life, she looks at herself and is like ``don't do what I did", and Jade didn't take that cautionary tale. Paula says that Jade's unsalvageable, and that doesn't necessarily mean that Paula is right nor that she believes that deep down, it's very possible that she needs to tell herself that, but beyond that, I think I'll keep my mouth shut because we've got three more episodes in this arc.

Brandon Vietti: It's interesting how even with Artemis, she doesn't want her in the hero game because so much bad befell her in the high stakes game she played, and clearly Jade is not and she sees more hope in Artemis. Clearly there's a lot of tension there within herself and struggling with her own past, and how her daughters have taken similar paths, but in different directions, it's still something that's in front of her everyday and she has to live with that and relate with that. The tension within her is interesting to put on-screen, and especially as Artemis has come face-to-face with that and how it expands their relationship.
Thank you so much for taking the time to answer some of our questions, Greg and Brandon! You can catch the first batch of new Young Justice: Phantoms episodes airing on Thursdays until 12/30 on HBO Max, with the second half of the season continuing in Spring 2022.
11/4/2021 9:02 am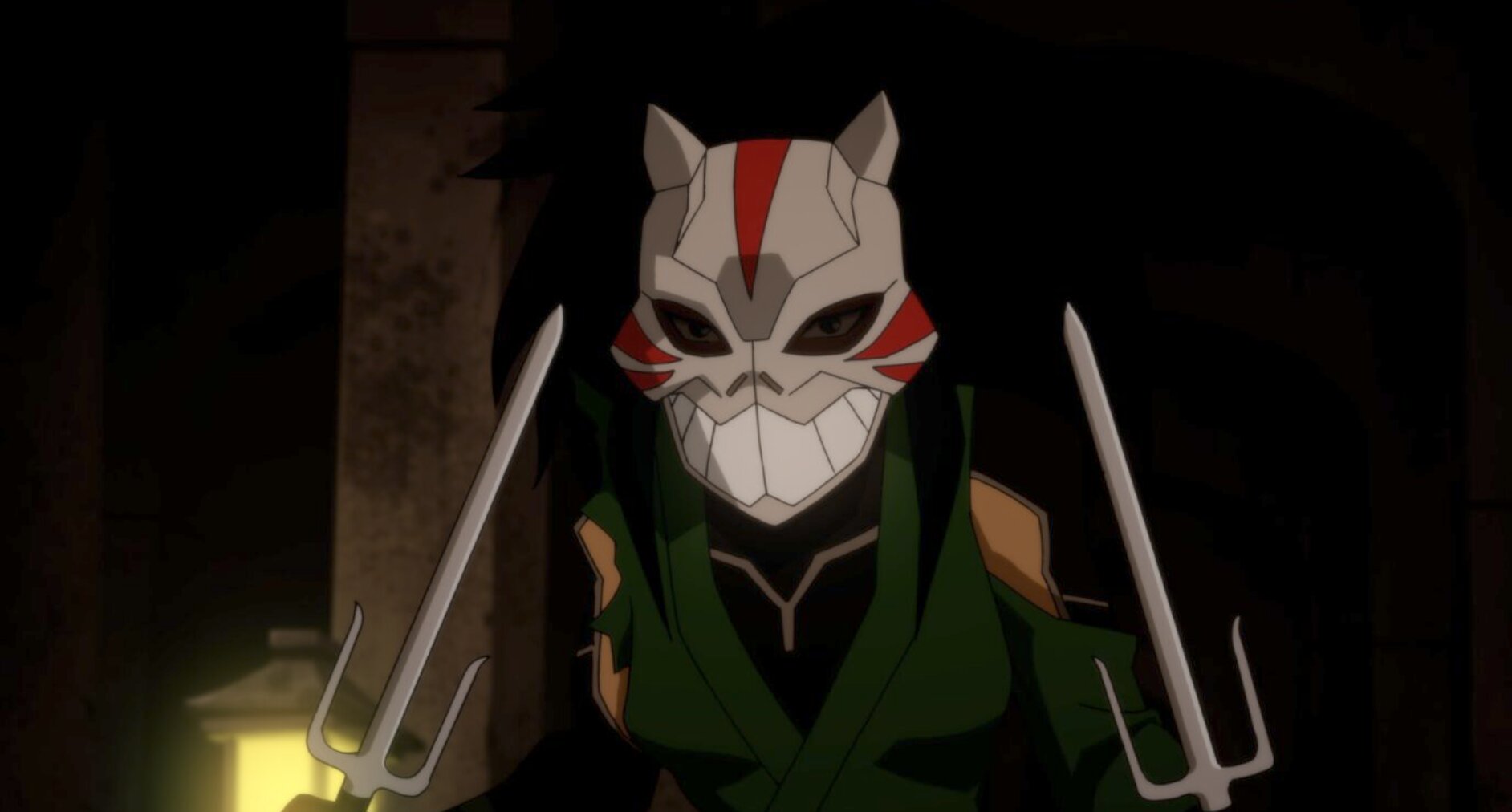 With such a powerful first arc and a shocking cliffhanger under its belt, Young Justice boldly moves past Mars and settles us back on Earth-16 for the second arc of the season. Going off the promotional poster, this arc will feature several fan-favorite players, such as Artemis Crock, Jade Nguyen, Cassandra Cain, Cassandra Savage, Lady Shiva, and newcomer, Onyx. While "Tale of Two Sisters" doesn't feature all of them just yet, it definitely provides an intriguing start to their journeys throughout this arc.
"Tale of Two Sisters" picks up a day after "Involuntary"'s heartbreaking ending, with a short stills-montage to catch the audience up as to what Artemis has been up to. She's a professor now at her school, an excellent aunt, and, interestingly, even dating again! Just when we're left with a happy feeling that she's happy and moving on, Young Justice is quick to remind us that happy-endings are few and far between. With Dick and Kaldur's arrival at the Star City home, Artemis quickly deduces that something is gravely wrong and learns of Conner's death.
What follows is a really nice conversation between Will and Artemis, reminding the audience that it's okay to express sadness and grieve over the loss of a loved one. This conversation spurs Artemis to think about her sister, Jade, combined with a flashback to when they were training as children. The resulting memory leads Artemis to have a conversation with her mother, Paula, as she laments not taking the time to help Jade. Paula, however, seems to think Jade is beyond help, which is heartbreaking to hear. It's nice to see that at least Artemis is still somewhat in Jade's corner.
Meanwhile, Jade is on a separate mission of her own. She arrives on Infinity Island, the current home of Sensei, Talia Al Ghul, baby Damian, and the 'red hooded ninja'. We don't see yet what she's up to, but it's clear that nothing good will come from it. Back with Artemis, she leaves her home to go to the library and is followed by a masked stranger. Luckily, she is apprehended by Arsenal and Arrowette, the tag team we never knew how badly we needed to see in action together, and is brought to Artemis for questioning. On infinity island, Jade is caught by Sensei and attempts to attack him. This does not go well for her. We're not sure if it's because she's lost her touch, her heart isn't in it, or if she's throwing the fight for a reason yet to be seen, but it's hard to watch her get smoked in a fight like that.
Artemis, Roy and Cissie question the stranger, now known as Onyx. She claims she is an escaped Shadow and tries to warn them about an impending attack by Cassandra Savage. Of course, then Cassandra Savage pops up, heavily scarred and missing an arm, and claims the opposite. With both former Shadows a suspect, more help is needed. Back on Infinity Island, Jade confirms that she is there to kill Sensei in order to end the contract that has been set on her life from back when she saved Red Arrow from the Shadows. Talia appears, and butts heads with Jade over their views on motherhood. She claims that Jade is a coward for leaving Lian, while Jade considers Talia selfish for exposing Damian to their lifestyle. No conclusion is reached, because Jade is called on her emergency line, and she makes a mad dash out of there.
In Star City, Artemis and Will each drive a separate car with a former Shadow in each. They're taking them to Ollie's vault, figuring it's no great loss if it's compromised. Before they get there, however, the group is attacked by a mass of Shadows. We get our first real fight of the season, and it's wholly entertaining to watch the entire crew take everyone down— even if it comes at a heavy cost, the loss of Will's favorite clipboard.
The episode wraps up with no result being reached after a thorough questioning of both Onyx and Cassandra. Members of the team are called in to debate what to do with them, and though Orphan thinks they shouldn't trust either one of them, Artemis insists they protect them in the chance that one of them might be telling the truth. Another flashback comes, immediately following the aftermath of Jade leaving Artemis as children. With Jade gone, no one is there to take the brunt of their father's training, leaving Artemis wide open for his attention. Meanwhile Jade, only 13 and on a bus to who knows where, scares off a potential harasser and somberly stares out the bus window. The flashback ends, and Jade is in front of Will's house in Star City. She's clearly hesitant, feeling the weight of her decision to show up again resting heavy on her shoulders, but since it's an emergency, she enters anyway. Paula is surprised to see her, especially because she never called her. Turns out, the summon came from Artemis, and the two sisters are left glaring at each other as the episode ends.
This episode was heavy with plot and new developments for the several characters it featured. Each storyline was very powerful, but sometimes it felt like each was battling for screentime and left us feeling a bit of whiplash. This is just a minor qualm, however, and is likely something to get used to, considering the previous four episodes didn't have as much of the back-and-forth. For the most part, the writing is solid, witty, and at times, heartbreaking. "Tale of Two Sisters" is set up at the perfect introduction to Artemis' arc, and leaves us with several questions and much anticipation for where things will go from here.
Where "Tale of Two Sisters" truly excels, however, is its characterization. Just like the previous arc, the focus on a specific set of characters allows the audience to truly zone in on those the episode features, and it leaves so much room for a variety of character interactions that we hadn't seen before. In our opinion, Jade is this episode's breakout star, with it being the first time on the show where her plight has been shown directly from her perspective. While the episode does highlight both Jade and Artemis equally, it is Jade's character that gains the most from the additional screen time and flourishes under insight that was sorely desired by fans who wanted to see more of her. In addition, other character highlights include the budding brotherly relationship between Will and Roy, the comradery between Roy and Cissie, and the quiet bickering between Onyx and Cassandra Savage. If this pattern of improved character interaction continues, we're positive that we're in for a hell of a season.
Other notable positives in this episode include the music by Dynamic Music Partners. We're not really surprised though, they knock it completely out of the park with every season, and the music in this episode is no exception. Our favorite music moment is the calm, yet bittersweet tune Artemis listens to in the car as she cries, feeling all the more relatable. Sometimes we just need a good car cry.
As far as where we anticipate the show will go from here, we can only guess (and likely incorrectly). With Jade now in Will's home, a confrontation (or, a conversation, to put it kindly) seems inevitable, but whether it will end in hope or heartbreak is left to be seen. Things seem to be teasing a redemption arc for Jade, but we won't get our hopes up just yet. With Onyx and Cassandra, we don't really trust either of them, so time will tell whether or not the two can be trusted. Interestingly enough, no Legionnaires have appeared yet (that we know of), so we wonder what kind of role (if any) they will play in this arc. It's entirely plausible that they have their hands full with saving Conner (catch us on the conspiracy train…), but it's something we'll have to wait and see to find out.
Overall, "Tale of Two Sisters" is a powerful start to Artemis' arc that gave us a closer look at several characters that we'd been wanting to see more of, including Arrowette, Cassandra Savage, and Cheshire. The plot is compelling and draws us in, and with the former arc's conclusion still lingering in our heads, we're very excited to see where Young Justice will go next.
What did you think of "Tale of Two Sisters"? Did you love finally seeing Artemis and Jade fighting in the training flashback? Are you as worried about another possible death like us? Are you still mourning the loss of Will's favorite clipboard? Let us know in the comments, our forums, or on our Twitter!
11/3/2021 11:49 am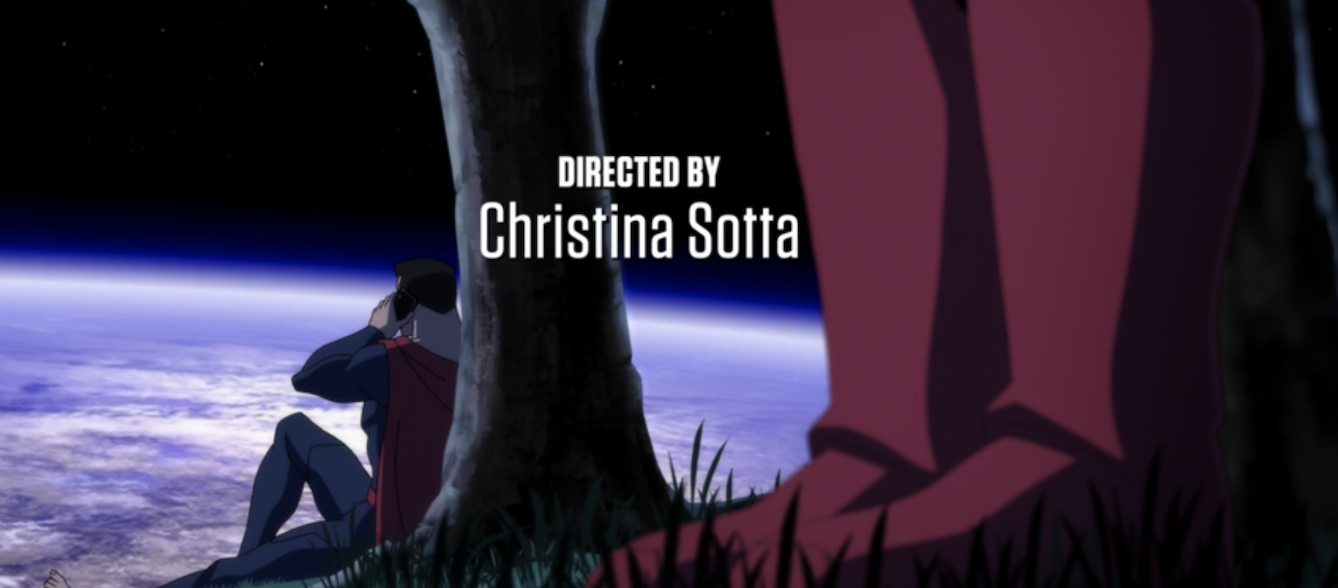 Welcome back to Whelmed Wednesday everyone! This week, we're more than happy to introduce a new member of the team, and the author of this wonderful article: Neal Powell. Neal is a great friend of ours, and after spending years as the producer of Whelmed: the Young Justice Files, he knew it was time to produce some words for YJTV as well. We're so happy to finally have him join us, and we know you'll love what he has to say.
For today's Whelmed Wednesday piece, we're taking a look at the amazing end credit scenes in Season 4 thus far. Young Justice has always taken to packing in as much story as possible, and the end credits since Season 3 have been no different. We loved the relaxing, lullaby segments, but Season 4 has taken the end credits to the next level! Here are our thoughts on the credits from the first four episodes:
Canary session: While we get a normal feeling scene with Wolf casually sleeping on the deck outside the Carr house, we immediately dive deeper. In one of the most enjoyable additions to Young Justice Dinah Lance aka Black Canary continues to promote mental health while talking to Violet Harper. In the span of roughly one minute we learn so much. Jefferson is still in charge of the League, further promoting the mental health of everyone. The events of Season 3 still echo into the lives of everyone. and, thankfully Wolf is alive and well! It's so nice to see Young Justice prioritizing mental health, definitely an attitude that we need more of in today's world. We're very curious to see Violet's journey into learning more about Islam and her connection to it, and we'll be waiting for that storyline with bated breath.


River Runs Through It: We find ourselves floating down a river on Mars with the glow of a phone lighting Beast Boy's face. Again, in the space of a minute we learn so much about Queen Perdita and the issues that face her relationship with Garr. Not only does Garr tackle leading the Outsiders, but Perdita faces a refugee crisis, as Markovian refugees seek new homes. King Brion denies any chance of talking, and we now have so much more knowledge about several relationships, and foreshadow again how impactful the events of Season 3 were. Will our favorite famous couple reunite and fix things upon Garfield's return from Mars? We sure hope so.


Boom Tube, NOW: Debatably the greatest end credit scene so far, as baby Lobo is always a contender. We see Superman with his shoes off taking a moment to relax only for fatherhood of a super powered baby to show up. I don't know that I would ever invest this much thought into Kryptonian poop, but here we are! The continued sharing within the parents of powered children makes me happy, right after I have a moment pushing past the Nuclear Option again.


True Pain: From what may be the funniest credits, to the saddest, we see and hear M'Gann crying at the place that should have been the happiest in her life only for it to be a reminder of what will instead be the saddest moment. The completed altar is now a beacon to how close they were to the wedding, and we're left crushed. Well, partially crushed. We still have very high hopes that the Legion managed to get to Conner in time!
On the whole, these end credit scenes are an excellent way to add in character moments and make use of every second of screentime available. The good news is that there will be credit scenes at the end of every episode. The better news? In a recent interview, Brandon Vietti hinted at the idea of after credit scenes, too. While we have only seen that twice before, both instances were certainly memorable and we'll be keeping our eyes glued to the time remaining on the episodes from here on out!
What is your favorite end credits scene? What do you hope to see in the credits for the rest of this season? Let us know in the forum, or on our Twitter; we love hearing from you!
11/1/2021 4:45 pm

Still reeling from "Involuntary"? Hard same on our end. But, to slightly take the edge off, we have nine preview images from Episode 5! For those that predicted an Artemis arc, looks like you get your wish. We get plenty of shots of her, and some cool action sequences too. If you were missing the action during the Mars arc, looks like there's plenty to make up for it now. Though, really, it's Artemis, so did we really think we'd be let down on that end? Catch the full gallery below:
What do you guys think? Scared, like we are? Screaming in delight to see Arsenal, Arrowette and Cheshire again? Let us know in the comments, on our forum, or on
Twitter
! Make sure you're following us to get all the news and updates on
Young Justice: Phantoms
.