10/17/2021 6:42 pm

Yesterday, Young Justice kicked off its fourth season with a surprise two episode drop on HBO Max. After waiting for over two years, expectations are sky-high, with many wondering if the eagerly-anticipated fourth season would live up to the hype. Not only did the first two episodes fulfil nearly every expectation, it completely destroyed them.
"Inhospitable" picks up where Outsiders left off, refreshing the audience's memory that M'gann and Conner vowed to resolve their issues and reinstated their desire to marry one another. Flash forward one year later, and things have mainly stayed the same— with a few notable changes. Harper Row and her brother Cullen now live with Lucas Carr and his new wife, Police Chief Bethany. The Happy Harbor home is heartwarmingly chaotic, with the west-coast based heroes (Violet, Tara and Forager) arriving for their daily transport to Happy Harbor High. M'gann and Conner say their goodbyes as they head off for a three-month-long trip to Mars for a traditional Martian wedding ceremony, taking Bioship, Garfield and J'onn with them.
As the group arrives at the epic beauty of Ma'aleca'andra, it's clear that this isn't going to be a happy, relaxing vacation. On top of Garfield's uncharacteristically snippy attitude, racial tensions are high, both towards the unwanted Earthers and the G'arrunn and A'ashenns. "Inhospitable" does an excellent job at bringing the audience up to speed by having the exposition equally demonstrated and explained throughout the episode. It's easy to get invested in this first episode. New characters like M'gann's sister Em'ree and her parents J'ann and M'aatt are both engaging and endearing, and as the plot thickens, so does the audience's interest. By the time we reach the shocking cliffhanger of an ending, our fingers can't hit 'next episode' fast enough.
Thankfully, "Needful" doesn't leave us in suspense for too long. It continues "Inhospitable"'s story, raising its low simmer to a steady boil. The hostility and racism between the G'arrunn and A'ashenns only grows, fueled both by M'comm and the new antagonist, R'ess E'dda. Add Prince J'emm assigning Garfield and Conner the task of solving the mystery of the King's murder, and we've got a jam packed story ready to unfold over the next few episodes. Luckily, we get a sweet breather in the gift of M'gann and Conner's pre-wedding Ma'ayava'ana ceremony. It's the perfect antidote to the brief heaviness— at least, until someone tries to murder them under an avalanche of rocks. Throughout the two episodes, we see three Legionnaires (Phantom Girl, Saturn Girl, and Chameleon Boy) follow M'gann, Conner and Garfield. We don't yet know as to why they're there on Mars and following the three, but one thing's clear, there's an unseen villain behind much of the trouble the trio are facing and the Legionnaires are there to stop them.
The writing of these two episodes is top-notch and solid— truly, this is Young Justice at its best. Though some expository dialogue is to be expected with a time skip, once it gets past the requisite explanation, the dialogue is witty, sharp, and often funny. The tone of the episodes is a good blend of dark and lighthearted, never straying too far into each spectrum so it's easy to bounce between the two. Several plotlines are teased, between the Legionnaires, the mystery villain, M'comm's gene bomb, M'gann and Conner's wedding, and more, there's plenty to be covered in the future episodes. Our only disappointment with the story was the sole focus on the Mars trip, and the status of all the other core team members (Artemis, Dick, Kaldur, etc.) are left unknown. However, this is a minor qualm and we appreciate the refreshing return of solely focusing on a small batch of characters to complete an arc. We're sure we'll see the remaining core members in the episodes to come!
In addition to the writing, the emotional moments and character beats are very well done. Garfield's frequent lashes of anger are disturbing and leads us to suspect a turbulence in his emotional psyche. M'gann and M'comm's confrontation was heart wrenching and leaves us with a deeper understanding of both their characters. Even Bioship's small arc made us a bit teary-eyed, and we cannot wait to see more of baby bioship.
One thing that truly stands out in both "Inhospitable" and "Needful" is the art. Between the character designs on the Martians, the stunning scenery and backdrops, and the vivid color schemes, we were constantly left in awe. Truly a job well done to the art team. The animation is a vast improvement from Outsiders, thanks to the sole use of Studio Mir, and we loved to see it.
The intro is brand-new to the season, a spin on season one's theme that made us a little weepy with nostalgia. However, the new additions to the outro might be our favorite part. While Outsiders featured calming music with a serene moment (Brucely sleeping, Bioship humming), it seems that Phantoms is using the extra minute of screentime to showcase important conversations that will play a role in upcoming episodes without detracting from the main plot. We found it an excellent use of time, and are extremely looking forward to seeing Violet's journey in learning about Islam and what it holds for her. What other conversations and small moments will we be privy to? We can't wait to find out.
Overall, these two episodes alone were more than worth the wait. They were an excellent setup for what's to come this season, and going off these two alone, we're sure we're going to be in for a hell of a ride.
Young Justice: Phantoms is currently airing on HBO Max. New episodes will be released every Thursday until 12/30.
What did you think about the two episodes? Love them? Hate them? We want to know! Share with us in the comments, in our forums, or on our Twitter. And make sure to follow us on Twitter for episode updates, preview images and all related Young Justice news!
10/16/2021 12:36 pm

IT'S TIME! After two years, two months and thirty days, Young Justice: Phantoms has finally arrived at our doorstep. What a panel, right? A trailer, a release date and the first two episodes?! We definitely couldn't have predicted that. In case you're still reeling from all the news (don't worry, us too), we've already gone ahead and broken down the trailer and provided some of our thoughts as to what might happen this season. Without further ado, let's get cracking!
Mission to Mars: We learned during "The Prize" that Miss Martian, Superboy, Beast Boy, Martian Manhunter and Bioship would be going on a journey, and now it seems some of those theories were right: they're going to Mars! There's so much epic footage in the trailer of the new challenges they face on their trip, we couldn't even begin to speculate. Will we be kicking off the season with this trip, a la Invasion? Something interesting to note, Martian Manhunter is no longer with them! We see him say that they're on their own, so now we're very curious as to what went down.


Twisted Sisters: The return of our favorite, morally-grey cat-villainess: Jade! (Ariel's still screaming about it in the distance). While voiceover in trailers doesn't always reflect what's happening in the scene, we can't help but wonder if our theory on Jade from last season will come into play. Did she really leave of her own volition? Will she play a bigger role this season? We're also super intrigued by the flashback of Artemis and Jade fighting each other as kids. After years of headcanons and speculations, we'll finally get to see some cannon-animated backstory! We're hype.


Breaking the Rules: Is anyone else deep into the DC Character research to find out who the masked girl is? She clearly did something wrong if Tigress is pissed at her. And given that she nearly toppled a bookshelf on Arsenal and Arrowette in the trailer a little later, our interests are piqued. Anyone got any theories on who she might be?! Not only that, but Tigress is usually quite collected and composed on the field, so whatever this young girl did surely enraged her to a point where she's willing to commit some immoral acts. Will Tigress reach her breaking point this season?


Every Breath You Take: Trouble on Mars! At least, we think that's Mars, we reserve the right to be wrong. Superboy's oxygen tank is punctured, and he loses the fight for consciousness and passes out in the storm. Sending thoughts and prayers, we hope he's okay!


Painful Memories: Artemis seems to be going through it this season. In a painful stab to our hearts, we see her both looking at an old picture of the original Season 1 Team (+Will!) and then crying in the car. Is she crying over Wally? Did something happen with Lian? Did she kiss her brother in law again? We're scared to find out!


Magical Mischief: Zatanna's in the house, and she's not alone! That's right, those of you who caught that she had multiple proteges in "The Prize", you get a cookie. And in a fight against Klarion, the more help, the better. In a very (apparently bloody) fight, the four of them struggle to hold their own against the lord of chaos. We're so excited to see more of Zatanna and her proteges in action! Jury's out as to who the unknown girl is, but could the male be Zachary Zatara? A young John Constantine? Or a totally new character?


Death of a Loved One: Bowhunter + Harper Family + Tigress (?) team up?! It's like all the holidays rolled into one. Impressively fighting a bunch of assassin goons against a very colorful set piece of destroyed fast-food spots, it is here we say goodbye to a fan-favorite character. That's right, unfortunately, we bid goodbye to Will's favorite clipboard. How will he fight now?! Here's hoping he has a backup bow and arrow in the trunk of his new minivan. Why are they all fighting these goons, and what's the cause of this epic team up? Only time will tell!


Battle of the Sword: In one intriguing shot of the trailer, we see the return of the ruthless, formidable Lady Shiva. While we aren't sure as to who she's fighting, we're willing to make an educated guess and say that it's no other than Cassandra Cain! A showdown between the two is sure to be epic.


Interpersonal struggles: Mars will clearly be taxing on Beast Boy, Superboy and Miss Martian. Between the shot of Superboy beating someone to a bloody pulp, Beast Boy worrying about losing him, and just the general tense vibe going on, it's sure to be an emotional arc for these characters. Will Connor and M'gann ever make it down the aisle? Odds aren't good for superhero weddings, but we still hold these sweethearts in our hopes!


New Character Alert: If you didn't watch past the HBO Max logo, go back and finish the trailer! We get our first glance at a new character, who we assume may be a villain? She (?) definitely gives off some creepy vibes. Who is she?! Plus, catch that little symbol on her blazer? It's the same one as the one on the poster for the season. Could she be another lord of chaos?
We have so many more questions! Where were Nightwing, Aqualad and Rocket? What exactly is the main plotline this season? Does Will get another clipboard?! The good news is that we won't have to wait too long to find out, because the first two episodes of Young Justice: Phantoms are available now on HBO Max! Following today's premiere, Young Justice will continue to air on HBO Max on Thursdays, starting on 10/21.
If you need to see that awesome trailer again, catch it right here:
We're so excited to be back on this journey with you all, and one thing's for sure, it's going to be an incredible season. As usual, make sure to follow us on Twitter for episode updates, preview images and all related Young Justice news!
10/8/2021 12:42 pm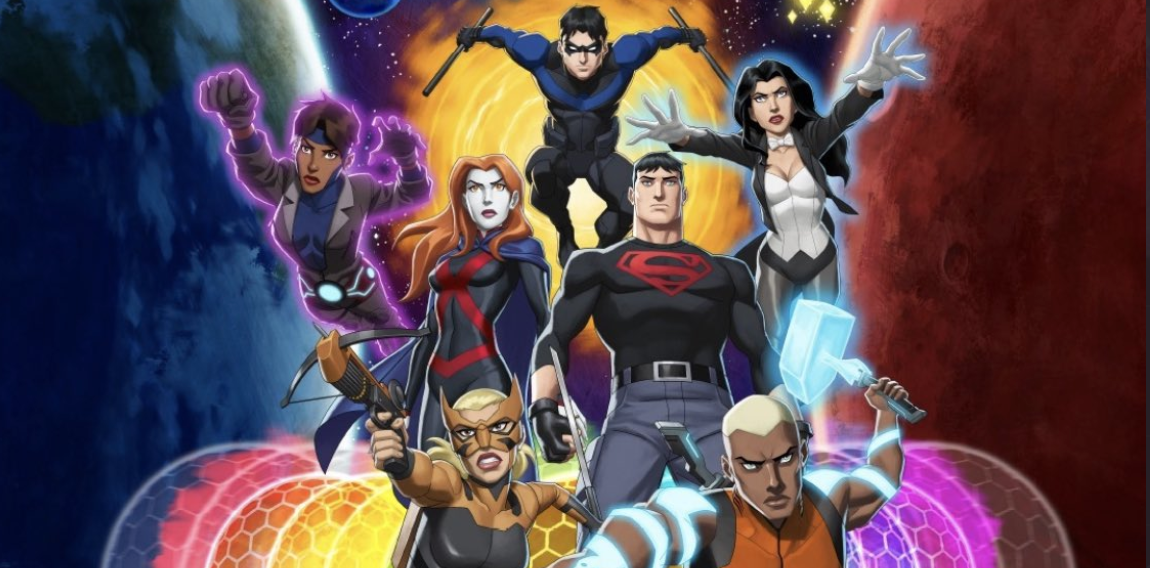 SURPRISE! A little over a week to go until DC Fandome, and we receive a bit of a present! The key poster for Season 4 has been released, and just like you, we're obsessed.
The poster, featuring art by Brandon Vietti, Christopher Jones and Jason St. John Wright, showcases the core six members of the original team: Nightwing, Rocket, Zatanna, Miss Martian, Superboy, Aquaman, and Tigress. We're in love with how bright and vivid the colors on the poster are, especially when compared to last season's darker tone. Could it be that this season will be on the lighter side? This is Young Justice, so, likely not!
There's a bunch of interesting things to note about the poster, namely the unidentified rainbow entities in the center, the red and yellow crystals above Zatanna, and the two planets on either side of the heroes. The rainbow objects sorta remind us of the zeta tubes, and the crystals are also familiar but we can't place our finger on them just yet. As is tradition per every new season, M'gann's hairstyle has changed and she seems to be rocking it long again. Going solely off the poster, we love seeing the original core team together again— sans Wally, and Will, who is probably off wrangling his daughter, a business, and his clone brothers off-poster (we can only hope, right?).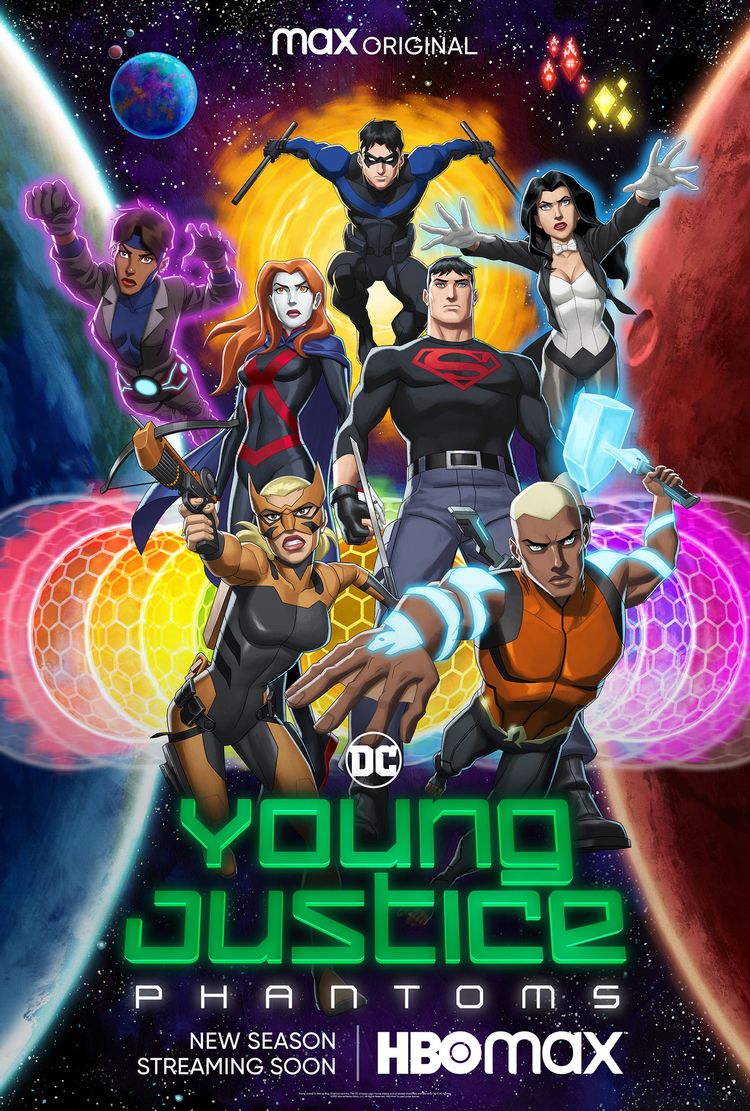 In addition to the poster, Collider released an interview with Greg Weisman and Brandon Vietti, spoiling as little as possible about the new season. Keeping in line with the usual tradition of showcasing secrets and lies, Vietti shares that "[they] always find reasons for characters to engage in more secrets and lies that complicate both hero life and private life". We're glad to see that while there may be many changes in Phantoms, keeping secrets remains a strong theme. You can read the full interview right here.
As the days tick closer and closer to DC Fandome, our excitement for Young Justice: Phantoms only grows! We can't wait to see the full season and share it with you all. Do you have thoughts on the new poster? Any theories you'd like to share? Let us know in the comments, the forum, or by tagging us on Twitter (@tvyoungjustice)!
10/6/2021 8:25 pm

We're getting closer than ever to DC Fandome! If you've been on the edge of your seat like us, you've probably been endlessly theorizing about what we can expect at the Young Justice panel. Without mincing words, it's been a long two years with very little to go on other than a confirmed title and potential release year for Season 4. Just like you all, we've been scouring the internet and all those speculation videos, but after next Saturday, we won't have to! While we don't know what'll actually happen during the panel, using previous years and hopeful speculation as guidance, we can take a few confident guesses as to what we might expect to see revealed!
Promotional images and poster for Young Justice: Phantoms
Just like you all, we are very surprised that we haven't yet received so much as a hint of what to expect of Young Justice: Phantoms (outside of the Audioplay last year). Clearly, it's going to be so incredible that they're keeping everything under tight wraps! It wouldn't be too crazy to assume that we might get a few images hinting as to what's to come this season, in addition to a poster that'll be used for promotional purposes.
Exclusive clips
Who can forget the iconic clip we received a few months before Young Justice: Outsiders aired, in which Nightwing took down a Bedlam plant with Oracle's assistance? Since we're a little starved for content, and with no release date yet in sight, a clip or two would be very welcome to give us just a little taste of the season to come.
A full trailer
At this point in the game, if Phantoms is to air before 2022, we definitely expect to see a full trailer at Fandome. Getting a full trailer would be a perfect way to get a glimpse as to what our favorite heroes have been up to and to build hype for the new season, and honestly, we wouldn't even be mad if that's all we end up getting!
An interview with Brandon, Greg, and members of the Voice Cast
Aside from the Audioplay at Fandome last year, it's not often that we get to see both the Showrunners and the Voice Cast together, talking about Young Justice. A full panel at Fandome would be the perfect way to get them all together and talking ever so vaguely about the new season without dropping any major spoilers.
A release date
With 2021 slowly coming to a close, we definitely expect to get a release date for Young Justice: Phantoms. Even if they're keeping the content of the season top-secret, finally putting out a release date is the very least we can ask for and hope to expect from the panel.
When it comes to Young Justice, there's one thing we know for sure: expect the unexpected! As much as we love theorizing, there's a very real possibility that we missed the mark and the panel at Fandome will show us something completely different. Honestly, as long as it's Young Justice related, we can't complain! DC Fandome will take place on Saturday, October 16th at 10AM PT, and will run for four hours. We don't yet know when the Young Justice: Phantoms panel will be held, but the moment we do, we'll let you all know!
What are some of your theories? Let us know in the comments below!
9/8/2021 1:47 pm

Ever since they were teased at the end of Young Justice: Outsiders, the Young Justice fandom has been nothing but excited when it comes to the inevitable debut of the Legion of Super-Heroes in Young Justice: Phantoms. Introduced in 1958, this team of futuristic heroes has been a staple in the DC multiverse for many years. Various comics, television appearances, and even their own respective animated series have set their status as staples in the world of DC. However, with a rotating roster of exciting and interesting characters, which ones are we the most keen on seeing the most in the upcoming fourth season? Today we delve into some of the most fascinating Legion of Super-Heroes members that we'd love to see appear in Young Justice: Phantoms!
Cosmic Boy:
Cosmic Boy, who's also known by Rokk Krinn, is one of the major founding members of the Legion of Super-Heroes, and was the leader in nearly all incarnations of the team. Cosmic Boy's main superpower is super-magnetism, he can attract, repel, and manipulate metal objects of various sizes. The more metal is in an object, the easier it is for him to affect magnetically. As one of the major factors in the original line-up, it'd be more than exciting to see a new take on this master of magnetism in the fourth season!
Lightning Lad:
Lightning Lad, whose real name is Garth Ranzz, is another founding member of the Legion of Super-Heroes who's abilities are nothing short of electrifying! Hot-headed and impulsive, Lightning Lad has the ability to generate electricity within his own body without causing harm to himself. He's able to use this self-made electricity in discharges in the form of potent "lightning bolts", and he can also allow himself to direct his electric powers internally to move at superhuman speed, with his top speed being around one-third the speed of light! Lightning Lad is such a staple amongst countless variations of the team that it'd be shocking not to see him pop up on the show in the near future!
Saturn Girl:
Saturn Girl, known as Imra Ardeen by her friends, is a super-talented telepath who rounds out the founding members of the team. The title of "Saturn Girl" refers to her homeworld of Titan, the biggest moon of Saturn. She's a gifted, highly-trained telepath who can create telepathic illusions and uses heightened senses in combat. Another major power of Saturn Girl is that she can control the minds of those who have been weakened in some capacity. Extremely intelligent and a very skilled superheroine, Saturn Girl would surely blow the minds of the viewers if she finally makes her debut in the upcoming fourth season!
Phantom Girl:
Phantom Girl, who's actually Tinya Wazzo, is a native of Bgztl, the fourth dimension parallel with Earth, and a loyal teammate to boot! Phantom Girl has the ability to turn intangible, and has demonstrated the ability to phase with almost split-second timing. She's also capable of phasing certain parts of her body selectively, and is immune to physical harm and most radiation such as energy blasts when in her intangible form. An intriguing addition to the ever-changing roster, the Legion of Super-Heroes is always bringing in new, colorful teammates and Phantom Girl certainly adds a special charm and a great deal of power to the table!
Shrinking Violet:
Salu Digby, whose superhero moniker is Shrinking Violet, is a native of the planet, Imsk. Those who originated from Imsk have the ability to change their sizes in a variety of ways. Digby could initially just shrink to microscopic sizes before she was ultimately given the ability to grow to massive heights courtesy of the Emerald Eye. Even when in her smaller form, Digby can still pack a punch with her enhanced strength that remains no matter what size she is. Heroines like Shrinking Violet display that size doesn't really matter when it comes to those who save the day!
Were there any Legionnaires that we missed? Which Legion of Super-Heroes members are you keen on seeing in Phantoms? Let us know in the comments down below!