10/28/2021 9:02 am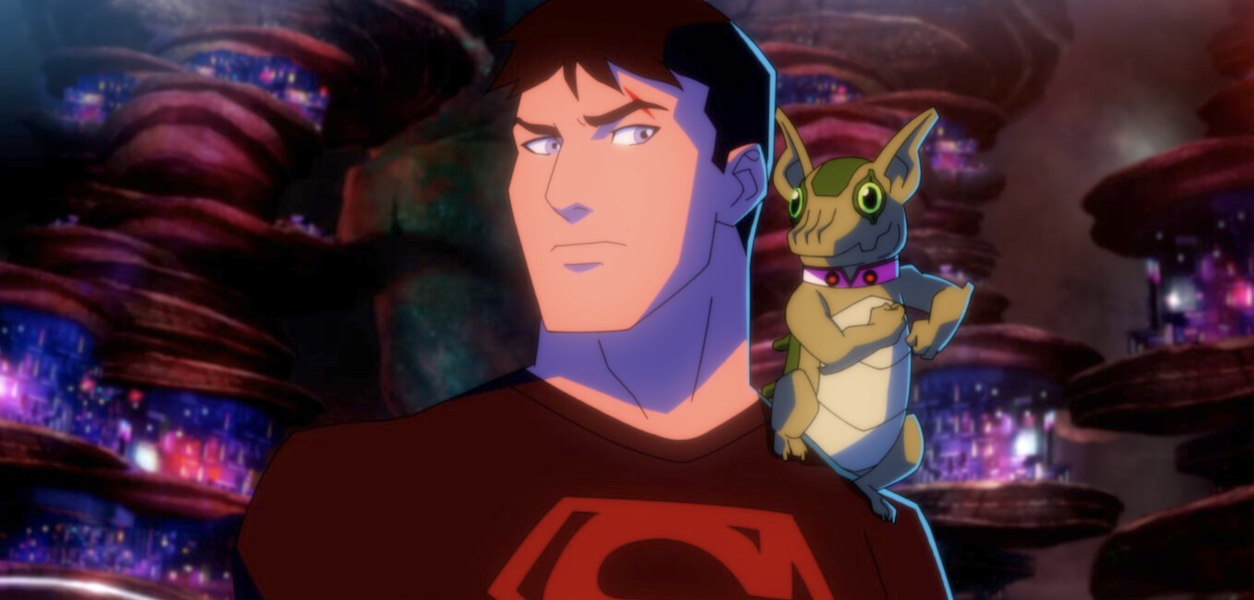 Once again, we're back with another incredibly exhilarating and surprisingly shocking episode of Young Justice: Phantoms! In the fourth episode to this already captivating season, M'gann, Conner, and Garfield still remain on Mars with M'gann's family, trying to adhere to Martian wedding rituals while also dealing with a variety of other disrupting factors. However, answers finally come to the light as shocking truths are revealed to our trio of superheroes. Not only that, but it leads to a culmination that's sure to leave most fans of the show intrigued and wondering what will happen next.
When we last saw our favorite heroes, they were busy prepping for Conner and M'gann's wedding while also learning about the different ways of religious orthodoxy in Martian culture. The episode begins with the departure of Bio-Ship to live out the rest of her days peacefully. Her offspring, tentatively called "Baby", will take her place. The saddening goodbye leads to the mystery of who killed Prince J'emm's father, as that's still a major bump in the road of a happy ceremony. It's up to M'gann, Conner, and Garfield to unleash their inner Sherlock Holmes and find out the mysteries behind this malevolent murder.
Meanwhile, M'gann attempts to make amends with her brother, who's content with being known as Ma'alefa'ak. This leads to no avail as the search continues with a variety of suspects being interrogated. However, the suspect was under the noses of our heroes and it's certainly a shocking reveal that many wouldn't see coming from a mile away. Not only is the reveal of the killer a major surprise, but the ending concludes on a distressing cliffhanger that acts as a heart-wrenching tear-jerker to boot.
One of the major things that stood out in this episode was the element of mystery in the plot. While it's been a notable factor in prior episodes, "Involuntary" really makes the viewer wonder what's going on in the case of the murder of the prior Martian ruler. M'gann, Conner, and Garfield make for effective detectives as the audience must place themselves in the situation they're in and figure out the missing pages to this mind-boggling mystery. The cessation of the puzzle is definitely satisfactory too, and without giving away too much information, the culprit isn't as malicious as one may think.
Mystery is very key to what makes this episode fantastic, but another component to what made "Involuntary" a quite enjoyable episode was the tone and the intervals of changes it had from time-to-time. There's an underlying sense of dread throughout "Involuntary", as each clue that brought our leads to the conclusion of this enigma makes the heart race and the mind ponder as well. Moments of dark, rudimentary apprehensiveness are balanced out with a fair share of heartache. To think that so many of these events could've been solved in another way is certainly tragic, it's even lampooned by one of the characters.
However, what many will still be talking about regarding this episode is sure to be the alarming and downright shocking ending. Without giving too much away, certain characters are placed in scenarios that may not seem terribly harmful initially. However, with the circumstances they're in, it's even more deadly and difficult with what's at stake and what else is in the equation. The conclusion of this harrowing ending leads to scenes that are carried by performances capturing the sorrow, panic, and incredulousness of what happens. The end-credits scene is also a real punch to the gut with one of the characters reacting to the supposed fate of another lead. It's clear that this season won't be holding anything back regarding painful moments, and we hesitantly look forward to seeing more.
Overall, when discussing "Involuntary", there is certainly a lot to unpack and work with in regards to such a well-written episode. The mystery elements are never forced and feel genuine with what the characters are trying to unravel and solve like genuine sleuths. The tone is appropriately unnervingly and never feels out of place when it needs to change for differing scenes. The ending as well is sure to leave a lasting impression as no one could expect the outcome of some of these situations. It'd be an understatement to say that this episode knocked everything it needed to do out of the ballpark.
As for what's to come, while there's more than enough to do a whole season surrounding M'gann, Conner, and Garfield on Mars, we think that the focus will be moving to a different set of characters. Mars has been a wholly enjoyable storyline, and we're very excited to see what the writers and artists have to bring to the table involving the rest of the cast.
What did you think of "Involuntary"? Did you guess correctly regarding who killed the prince's father? Did the ending shock you to the core? Let us know in the comments, our forums, or on our Twitter!
10/25/2021 4:44 pm

We're three episodes in and excited for number four! Thankfully, this week we have those preview images a little early for you all. While the synopsis and the title of the episode will remain a surprise, we have nine new preview images to share from the fourth episode of Young Justice: Phantoms. So much to discuss! M'gann, Conner and Garfield seem to be hard at work, trying to figure out the king's murder. Meanwhile, M'comm is looking a little too comfy for our liking. With that gene bomb threat lurking in the background, we're a little scared to find out. Will Conner and M'gann have the perfect Martian wedding? Signs currently point to no, but we can always keep our fingers crossed! We'll find out this Thursday! Check out the images from episode 4 below:
Got thoughts? We wanna hear them! Let us know in the comments below,in the forum or on Twitter.
10/21/2021 9:02 am

(Warning! This review contains spoilers for Season 4, episode 3 "Volatile")
Young Justice: Phantoms has certainly started off with a bang, to say the least. With two phenomenal episodes already released on HBO Max, this week brings a few new intriguing cards to the table. Our lead trio, M'gann, Conner, and Garfield, are still on Mars preparing for the customary wedding traditions of those from the red planet. However, interesting things are rising within the group as some of our heroes are slowly deteriorating mentally and new issues begin to slowly come to the surface of what's supposed to be a very happy occasion.
The episode, titled "Volatile", picks up with a flashback with the Outsiders, consisting of Beast Boy, Wonder Girl, Robin III, Stargirl, and Windfall. The five young heroes take down a legion of Cobra cult members as it cuts to Mars, where Garfield is eager to find out when communications are up again, so he can contact his friends. The group realize that they must continue with the traditions that are highly established within the culture of Martians regarding Conner and M'gann's wedding. Two groups are established with Prince J'emm happily joining Conner and Garfield's group whereas M'gann goes with her mother, sister, and S'yraa S'mitt.
However, things aren't as exciting and jovial as they should be. Garfield's mind starts playing tricks on him, and his irritated behavior soon transforms into dangerous paranoia, ignited by the trauma inflicted on him from Brion's betrayal. Meanwhile, familial tensions rise as M'gann is slowly delving into the problems of race with her sister, Em'ree. Tension escalates into a full-on confrontation between the two, but not without positive results.
Young Justice has always been incredibly proficient in regards to the quality of its writing, and the third episode of the highly-anticipated fourth season is no exception. However, there's something in "Volatile" that is different, and falls more in line with the writing style of the first season. While the plot is still going on, and we do uncover several bits of new and intriguing information, the episode relies on a character-based approach that focuses on the story of the plot and how it affects the characters who are a part of it. This method allows the audience to take a step back and really get into the characters' shoes, allowing for bigger empathy and understanding.
The emotional beats in "Volatile" are extremely well-handled, both in terms of character development and audience empathy. Meeting baby Bioship, only to learn that the original Bioship would be remaining on Mars was all sorts of bittersweet and left us needing a couple of tissues. Additionally, we found ourselves enjoying the notes and themes connecting to real-world issues to be excellently done. M'gann's resolution with her self image bears similar tone to a trans allegory, and we love the idea that someone else struggling with their self identity may be able to look up to M'gann's character as a result.
While the voice acting on Young Justice is always top-tier, it seems to have kicked it to another level this season. Greg Cipes, who's often associated with energetic, humorous characters, really gets a chance to show off his emotional range as Garfield, who's slowly beginning to lose his mind in this episode. Not a lot of people can portray the mental anguish and rudimentary paranoia laced in the mind of this character, but Cipes manages to give a performance that's both heartbreaking and nerve-wracking to the audience. The exchanges between Hynden Walch and Danica McKellar as Em'ree and M'gann are also brilliantly done, the genuine pain each sister has for the situation they're in feels very real and raw.
As to our thoughts on where the Mars arc will next lead us, we noted the suspicious absence of M'comm, and are waiting with bated breath to see what will happen with the gene bomb. Superhero weddings commonly end in disaster, so we have no doubts that M'gann and Conner's Martian wedding is sure to be an interesting event. As to the Legion, our interest only keeps growing and growing as to why they're on Mars, and who actually assassinated the King. There's also the question of what's going on with the characters on Earth, ranging from the Team to the Outsiders to the Justice League. We've previously theorized that this season may feature several mini-arcs, in which each character will be given a specific set of episodes to fully let them shine, and if this is true, we're very excited to see what's in store for the core team next.
Overall, we loved "Volatile" and felt it was a very solid episode that kept up the hype from the previous episodes. The way each character interacted and bounced off one another felt organic and never forced. The emotions conveyed were astoundingly three-dimensional and all the actors in this episode helped make this story shine in its own unique way. While the first two episodes were more than fantastic, this third episode really gave the audience the opportunity to truly be immersed in the mental processes of some of these leads and keep them sleuthing for little clues for the rest of the Mars arc. A wonderful addition to this already spectacular fourth season, it's sure to be one crazy adventure for all fans of Young Justice everywhere.
What did you think of "Volatile"? Did you also cry when Bioship retired? Were you cackling at the prospect of baby Jon having powers? Let us know in the comments, our forums, or on our Twitter!
10/17/2021 6:42 pm

Yesterday, Young Justice kicked off its fourth season with a surprise two episode drop on HBO Max. After waiting for over two years, expectations are sky-high, with many wondering if the eagerly-anticipated fourth season would live up to the hype. Not only did the first two episodes fulfil nearly every expectation, it completely destroyed them.
"Inhospitable" picks up where Outsiders left off, refreshing the audience's memory that M'gann and Conner vowed to resolve their issues and reinstated their desire to marry one another. Flash forward one year later, and things have mainly stayed the same— with a few notable changes. Harper Row and her brother Cullen now live with Lucas Carr and his new wife, Police Chief Bethany. The Happy Harbor home is heartwarmingly chaotic, with the west-coast based heroes (Violet, Tara and Forager) arriving for their daily transport to Happy Harbor High. M'gann and Conner say their goodbyes as they head off for a three-month-long trip to Mars for a traditional Martian wedding ceremony, taking Bioship, Garfield and J'onn with them.
As the group arrives at the epic beauty of Ma'aleca'andra, it's clear that this isn't going to be a happy, relaxing vacation. On top of Garfield's uncharacteristically snippy attitude, racial tensions are high, both towards the unwanted Earthers and the G'arrunn and A'ashenns. "Inhospitable" does an excellent job at bringing the audience up to speed by having the exposition equally demonstrated and explained throughout the episode. It's easy to get invested in this first episode. New characters like M'gann's sister Em'ree and her parents J'ann and M'aatt are both engaging and endearing, and as the plot thickens, so does the audience's interest. By the time we reach the shocking cliffhanger of an ending, our fingers can't hit 'next episode' fast enough.
Thankfully, "Needful" doesn't leave us in suspense for too long. It continues "Inhospitable"'s story, raising its low simmer to a steady boil. The hostility and racism between the G'arrunn and A'ashenns only grows, fueled both by M'comm and the new antagonist, R'ess E'dda. Add Prince J'emm assigning Garfield and Conner the task of solving the mystery of the King's murder, and we've got a jam packed story ready to unfold over the next few episodes. Luckily, we get a sweet breather in the gift of M'gann and Conner's pre-wedding Ma'ayava'ana ceremony. It's the perfect antidote to the brief heaviness— at least, until someone tries to murder them under an avalanche of rocks. Throughout the two episodes, we see three Legionnaires (Phantom Girl, Saturn Girl, and Chameleon Boy) follow M'gann, Conner and Garfield. We don't yet know as to why they're there on Mars and following the three, but one thing's clear, there's an unseen villain behind much of the trouble the trio are facing and the Legionnaires are there to stop them.
The writing of these two episodes is top-notch and solid— truly, this is Young Justice at its best. Though some expository dialogue is to be expected with a time skip, once it gets past the requisite explanation, the dialogue is witty, sharp, and often funny. The tone of the episodes is a good blend of dark and lighthearted, never straying too far into each spectrum so it's easy to bounce between the two. Several plotlines are teased, between the Legionnaires, the mystery villain, M'comm's gene bomb, M'gann and Conner's wedding, and more, there's plenty to be covered in the future episodes. Our only disappointment with the story was the sole focus on the Mars trip, and the status of all the other core team members (Artemis, Dick, Kaldur, etc.) are left unknown. However, this is a minor qualm and we appreciate the refreshing return of solely focusing on a small batch of characters to complete an arc. We're sure we'll see the remaining core members in the episodes to come!
In addition to the writing, the emotional moments and character beats are very well done. Garfield's frequent lashes of anger are disturbing and leads us to suspect a turbulence in his emotional psyche. M'gann and M'comm's confrontation was heart wrenching and leaves us with a deeper understanding of both their characters. Even Bioship's small arc made us a bit teary-eyed, and we cannot wait to see more of baby bioship.
One thing that truly stands out in both "Inhospitable" and "Needful" is the art. Between the character designs on the Martians, the stunning scenery and backdrops, and the vivid color schemes, we were constantly left in awe. Truly a job well done to the art team. The animation is a vast improvement from Outsiders, thanks to the sole use of Studio Mir, and we loved to see it.
The intro is brand-new to the season, a spin on season one's theme that made us a little weepy with nostalgia. However, the new additions to the outro might be our favorite part. While Outsiders featured calming music with a serene moment (Brucely sleeping, Bioship humming), it seems that Phantoms is using the extra minute of screentime to showcase important conversations that will play a role in upcoming episodes without detracting from the main plot. We found it an excellent use of time, and are extremely looking forward to seeing Violet's journey in learning about Islam and what it holds for her. What other conversations and small moments will we be privy to? We can't wait to find out.
Overall, these two episodes alone were more than worth the wait. They were an excellent setup for what's to come this season, and going off these two alone, we're sure we're going to be in for a hell of a ride.
Young Justice: Phantoms is currently airing on HBO Max. New episodes will be released every Thursday until 12/30.
What did you think about the two episodes? Love them? Hate them? We want to know! Share with us in the comments, in our forums, or on our Twitter. And make sure to follow us on Twitter for episode updates, preview images and all related Young Justice news!
10/16/2021 12:36 pm

IT'S TIME! After two years, two months and thirty days, Young Justice: Phantoms has finally arrived at our doorstep. What a panel, right? A trailer, a release date and the first two episodes?! We definitely couldn't have predicted that. In case you're still reeling from all the news (don't worry, us too), we've already gone ahead and broken down the trailer and provided some of our thoughts as to what might happen this season. Without further ado, let's get cracking!
Mission to Mars: We learned during "The Prize" that Miss Martian, Superboy, Beast Boy, Martian Manhunter and Bioship would be going on a journey, and now it seems some of those theories were right: they're going to Mars! There's so much epic footage in the trailer of the new challenges they face on their trip, we couldn't even begin to speculate. Will we be kicking off the season with this trip, a la Invasion? Something interesting to note, Martian Manhunter is no longer with them! We see him say that they're on their own, so now we're very curious as to what went down.


Twisted Sisters: The return of our favorite, morally-grey cat-villainess: Jade! (Ariel's still screaming about it in the distance). While voiceover in trailers doesn't always reflect what's happening in the scene, we can't help but wonder if our theory on Jade from last season will come into play. Did she really leave of her own volition? Will she play a bigger role this season? We're also super intrigued by the flashback of Artemis and Jade fighting each other as kids. After years of headcanons and speculations, we'll finally get to see some cannon-animated backstory! We're hype.


Breaking the Rules: Is anyone else deep into the DC Character research to find out who the masked girl is? She clearly did something wrong if Tigress is pissed at her. And given that she nearly toppled a bookshelf on Arsenal and Arrowette in the trailer a little later, our interests are piqued. Anyone got any theories on who she might be?! Not only that, but Tigress is usually quite collected and composed on the field, so whatever this young girl did surely enraged her to a point where she's willing to commit some immoral acts. Will Tigress reach her breaking point this season?


Every Breath You Take: Trouble on Mars! At least, we think that's Mars, we reserve the right to be wrong. Superboy's oxygen tank is punctured, and he loses the fight for consciousness and passes out in the storm. Sending thoughts and prayers, we hope he's okay!


Painful Memories: Artemis seems to be going through it this season. In a painful stab to our hearts, we see her both looking at an old picture of the original Season 1 Team (+Will!) and then crying in the car. Is she crying over Wally? Did something happen with Lian? Did she kiss her brother in law again? We're scared to find out!


Magical Mischief: Zatanna's in the house, and she's not alone! That's right, those of you who caught that she had multiple proteges in "The Prize", you get a cookie. And in a fight against Klarion, the more help, the better. In a very (apparently bloody) fight, the four of them struggle to hold their own against the lord of chaos. We're so excited to see more of Zatanna and her proteges in action! Jury's out as to who the unknown girl is, but could the male be Zachary Zatara? A young John Constantine? Or a totally new character?


Death of a Loved One: Bowhunter + Harper Family + Tigress (?) team up?! It's like all the holidays rolled into one. Impressively fighting a bunch of assassin goons against a very colorful set piece of destroyed fast-food spots, it is here we say goodbye to a fan-favorite character. That's right, unfortunately, we bid goodbye to Will's favorite clipboard. How will he fight now?! Here's hoping he has a backup bow and arrow in the trunk of his new minivan. Why are they all fighting these goons, and what's the cause of this epic team up? Only time will tell!


Battle of the Sword: In one intriguing shot of the trailer, we see the return of the ruthless, formidable Lady Shiva. While we aren't sure as to who she's fighting, we're willing to make an educated guess and say that it's no other than Cassandra Cain! A showdown between the two is sure to be epic.


Interpersonal struggles: Mars will clearly be taxing on Beast Boy, Superboy and Miss Martian. Between the shot of Superboy beating someone to a bloody pulp, Beast Boy worrying about losing him, and just the general tense vibe going on, it's sure to be an emotional arc for these characters. Will Connor and M'gann ever make it down the aisle? Odds aren't good for superhero weddings, but we still hold these sweethearts in our hopes!


New Character Alert: If you didn't watch past the HBO Max logo, go back and finish the trailer! We get our first glance at a new character, who we assume may be a villain? She (?) definitely gives off some creepy vibes. Who is she?! Plus, catch that little symbol on her blazer? It's the same one as the one on the poster for the season. Could she be another lord of chaos?
We have so many more questions! Where were Nightwing, Aqualad and Rocket? What exactly is the main plotline this season? Does Will get another clipboard?! The good news is that we won't have to wait too long to find out, because the first two episodes of Young Justice: Phantoms are available now on HBO Max! Following today's premiere, Young Justice will continue to air on HBO Max on Thursdays, starting on 10/21.
If you need to see that awesome trailer again, catch it right here:
We're so excited to be back on this journey with you all, and one thing's for sure, it's going to be an incredible season. As usual, make sure to follow us on Twitter for episode updates, preview images and all related Young Justice news!