4/22/2020 1:03 pm

Happy Whelmed Wednesday, everyone! We know that the current times haven't been easy, and we wish nothing but good health and safety to all of our readers. We'll get through this by social distancing together: symbiosi. To lighten things up, this past weekend, Michael Greenway held a Young Justice trivia night, featuring some very familiar faces. Did you guys attend the stream that went down this past Saturday? If you didn't, no worries, we'll catch you up on everything that happened!
Organized by Michael Greenway (@DarkSuperboyDA), the Trivia Night was a rousing success, featuring appearances by Zeno Robinson (Cyborg), Cameron Bowen (Tim Drake), Eric Lopez (Blue Beetle), Neal Powell (from Whelmed: The YJ Files), and our very own Ariel Horn. Michael led the contestants through questions from a variety of categories, including General Knowledge, Video Games, and Young Justice itself. The quiz was challenging, but the contestants took all the questions in stride with a great sense of humor. Even when they didn't know the answers, they came up with their own creative spins that left everyone laughing.
In addition to Michael's questions, there was plenty of entertainment happening in the live chat as well! Zehra Fazal (voice of Halo and several others) provided some stellar commentary and supplementary questions for the contestants. Thomas Dreyfuss (@Thomas_Dreyfuss) hopped in the chat midway as well, able to answer questions and provide general knowledge that was more on the unknown side. Even Rich Howard (from Whelmed: The YJ Files) popped in to say hello! Plenty of fans chimed in with support for the cast, crew and the show, and it was overall a wonderful experience.
At the end of the game, Neal Powell ended up the champion of the trivia night, which was a surprise to no one. However, Emily Buza's (from Whelmed: the Young Justice Files) score beat all the contestants, playing from the sidelines. We expected nothing less from the Whelmed team!
To catch all of the madness and hilarity that went on in the game, check out the stream below:
Michael is currently planning a second round to take place in the near future, potentially featuring an all-girls night. We, for one, look very forward to it.
4/8/2020 9:37 am

The co-creators of Young Justice, Greg Weisman and Brandon Vietti, are more than just creative masterminds; they're insightful, perceptive visionaries who can easily create an array of fantastic stories and well-rounded characters. However, the duo's talents aren't solely reserved for just the expanded DC universe. Weisman and Vietti have had the chance to develop amazing properties throughout the years that have all earned a special place in many fan's hearts. Today, we break down some of the most memorable projects that Weisman and Vietti have worked on in the past.
The Spectacular Spider-Man: Living on the edge, fighting crime, and spinning webs! This phenomenal animated series focusing on one of Marvel's most iconic heroes, Spider-Man, is highly considered to be one of the most popular properties involving our friendly neighborhood web-slinger. The easy to follow plotlines, extremely humorous jokes, and fast-paced action makes this Spider-Man series unforgettable. While the series unfortunately ended in 2009, it continues to be held in such a high regard in many Spider-Fans' eyes.
Lego DC Comics Super Heroes: Justice League vs. Bizarro League: Our favorite DC superheroes are now fighting off evil in their LEGO forms. The Justice League is forced to take down a legion of doppelganger superheroes in the form of the Bizarro League, featuring such nefarious evil-doers as Batzarro, Bizarra, and Greenzarro! An entertaining joyride within not only the DC universe, but the LEGO universe as well, this direct-to-DVD movie allows for fun, silly romp for younger audiences and quick, amusing action and comedy for adults.
Gargoyles: Gargoyles was a complex, thought-provoking animated series that catered to both children and adults. The show centered around species of petrified gargoyles who have reawakened in modern-day New York City and take on the roles of the city's secret night-time protectors. A dark, dramatic tone, rich character arcs, and complex themes makes Gargoyles an absolute spectacle to watch. Gargoyles ceased production in 1997, but Greg Weisman's #KeepBingingGargoyles movement on social media is still very active. Make sure to check out Gargoyles on Disney+!
Batman: Under the Red Hood: Arguably the darkest entry on this list, this DC animated movie focuses on one of the most iconic comic book storylines in the Batman mythos. The movie follows Batman's investigation into a new enemy known as the Red Hood, who may or may not be an old friend who has surprisingly popped back into the dark knight's life. Incredibly somber, yet powerful in the dramatic department, this film's wonderous art style, talented voice cast, and heartfelt, tear-jerking moments makes it stand out among the various animated films in the DC catalog. A can't miss movie for any Batman fan, Under the Red Hood can captivate any viewer with its adult themes and plot-driven narratives.
W.I.T.C.H: The animated fantasy series based on the Italian comic book series, W.I.T.C.H. was a unique franchise that mixed both elements of hair-raising adventure and character-driven storylines that made the protagonists incredibly interesting. The series centered around our five leads, Will, Irma, Taranee, Cornelia and Hay Lin, who have magical powers which they use to fulfill their duties as Guardians of the Veil. Not only is the series funny and visually fantastic to look at, but the characters are quite relatable as well with the creators making sure that they come off as fallible, yet likable and humane too. The series' vibrant animation style and quick, sharp sense of humor makes W.I.T.C.H. a timeless animated series that continues to be popular with audiences to this day.
Scooby-Doo! WrestleMania Mystery: A comedic adventure involving our favorite Mystery Gang and the WWE foundation, this direct-to-DVD movie has anyone who watches this in stitches. The mysterious appearance of a ghostly creature has Scooby-Doo, Shaggy, and the rest of the Mystery Gang searching for clues along with the help of various WWE stars. An all-star cast, a sense of energetic, zany humor, and even cameos from some well-known Young Justice characters make this movie a fun and exciting ride in the world of Hanna-Barbera.
Are there any properties we missed? Comment below on which Greg Weisman and Brandon Vietti projects you think should belong on this list!
4/1/2020 8:55 am

If you've been missing Young Justice as much as we have, you'll love this. A brand new line of Young Justice merchandise is making its way to DC Universe, expanding the selection of items available for purchase. While we love the current offerings, the new line of merchandise truly caters to everything the fans have been asking for. Are y'all traught, whelmed and feeling the aster? We sure are!
The merchandise heavily leans on the show's inside jokes, featuring items with several fan-favorite catchphrases. If you've been wanting a mug featuring the iconic Bowhunter Security logo, now's your chance! The true showstopper, however, is the official Dicktionary©.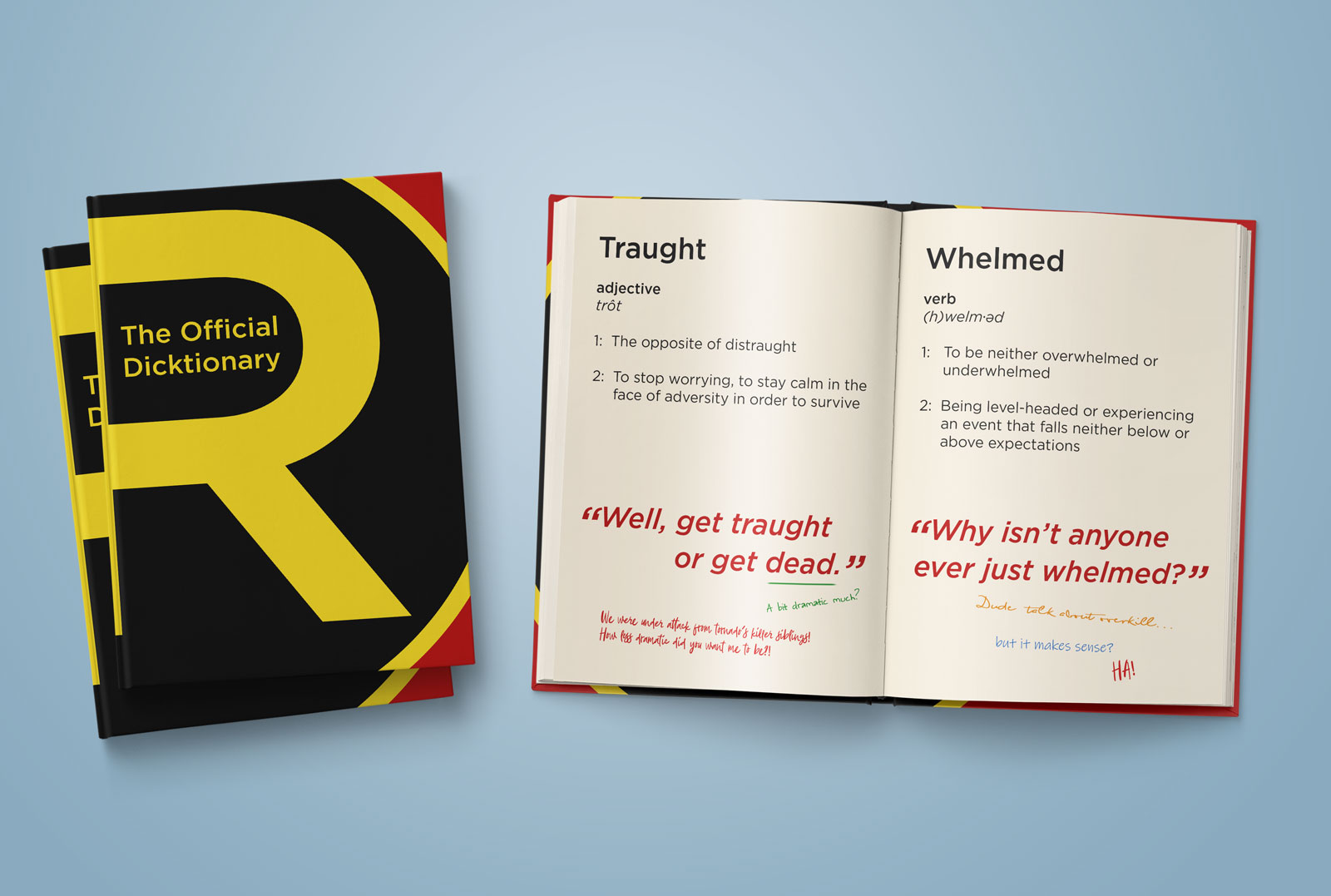 The Dicktionary© features all of Robin's 'un-words' from the three seasons, in addition to Bart's futuristic lingo. Unsure what the true meaning of 'aster' is? The Dicktionary© will spell it out clear as day. If that wasn't enough, the Dicktionary© also contains annotations from past and present team members! How's that for a fun little add on?
All of the new Young Justice merchandise will be for sale via the DCU streaming service this summer. For those wanting to reserve their copy of the Dicktionary© before they sell out, pre-orders go live on April 16 while using the code: ENOYREVE YAD SLOOF LIRPA YPPAH.
3/25/2020 11:59 am

This month has been a lot of things, but on the bright side, it's Women's History month! We already made a kick-ass thread on International Women's Day over on Twitter, but today we wanted to highlight some specific moments from Young Justice that really brought on a sense of girl power.
On the whole, Young Justice does a really nice job in how it handles its female characters; they're multilayered individuals who have a variety of roles on the show. The female character designs are something that's been repeatedly talked about in the past as it's one of the few shows to give the female heroes sensible hero costumes, while still paying homage to their traditional appearance in comics/other media. As a result of the show's treatment of the female characters, the audience has latched on to fan-favorites such as Miss Martian, Artemis, Zatanna, and Oracle. Here are some of our favorite moments in the past three seasons:
Sensible Shoes, Please!: In the fan-favorite Season One episode 'Secrets', Artemis and Zatanna find themselves face to face with Harm, who isn't initially phased by their attacks. The two girls end up on the run from Harm, and Zatanna notes that while her shoes are very cute, they're not exactly cut out for a chase sequence. She transforms her boots into sensible running shoes, which many people could probably appreciate. The moment is probably a nod to how many female heroes often wear inappropriate clothing and shoes for such an active lifestyle, and we can definitely appreciate it.
A Touch of Guidance: During Season Three's 'Quiet Conversations', M'gann uses her role as a guidance counselor to help get Harper Row the help she needs. On the surface, this moment doesn't exactly scream 'female empowerment'. And yet, it does just that. M'gann is able to use her skills and experience to give Harper the safety net she needs to come clean about her abuse at the hands of her father. We love to see a softer moment expressing how women can lift each other up, and for that reason, the interaction between M'gann and Harper deserves a spot on this list.
Just One Shot: Another fan-favorite episode, Season One's 'Homefront' had many on the edges of their seats. With all their superpowered friends held captive, Artemis and Robin must use their wits to save the day on their own. When Robin is captured, Artemis faces the situation alone. Despite her momentary lack of confidence in her abilities, she musters up the courage to take one last shot and ultimately succeeds. We cannot express enough the importance of Artemis' journey in this episode. It's this episode that helps put herself on the path of self-acceptance and something many viewers were able to relate to. In terms of powerful female role models, Artemis might deserve top spot, and we can think of no better moment to grant than this one.
Squad Goals: In Season Two's 'Beneath', Nightwing assigns an all female squad to investigate Queen Bee. The squad consists of Bumblebee, Batgirl, Miss Martian and Wonder Girl— we're going to mosey past Nightwing's reasoning for an 'all girl' squad, and move right along to talking about the girls' teamwork. It's undeniable that the girls know how to work well together. Though Cassie doubts herself at first, she's reassured that they've all been there and the team is able to find another solution to save the day. Again, another great example of women working together and lifting each other up, and we're absolutely here for it.
A Group That Celebrates Together, Fights Together: This last moment is probably the definition of a 'girl power' moment on Young Justice. In Season Two's 'Satisfaction', many of the women gather at Raquel's bridal shower to celebrate her upcoming nuptials. However, when Captain Cold (idiotically) tries to cause some mischief, they're all there to stop him. What more needs to be said about this scene?
Do you agree with our choices? Let us know your favorite girl-power moments by commenting below, on our forum, or over on our Twitter!
3/10/2020 7:50 pm

When it comes to character growth and progression, Young Justice arguably has some of the strongest development for their leads.The leads on Young Justice are always evolving and learning from their past experience; such is the course for growing up, and it's extremely relatable to see favored characters doing the same. Today, we'd love to break down some of our favorite character arcs and note which characters have changed the most.
5.) Garfield Logan: During the first two seasons of the series, Beast Boy's characterization was initially similar to prior adaptations in media: goofy, energetic, and mainly serving as comic relief. However, since Wally's ceasing, Beast Boy did some growing up. With the formation of the Outsiders, Beast Boy matured and took on the disposition of a natural leader. As heartbreaking as 'Nightmare Monkeys' was, we're glad that it had such an effect on Beast Boy's character. By the end of the season, he proved that he has come a long way from being a wide-eyed, childlike jokester.
4.) Artemis Crock: Thanks to her rough upbringing, Artemis started the series as a jaded young woman with a chip on her shoulder and a slew of trust issues. As the series progressed, we had a front-seat view to her interpersonal journey, watching her become a beloved mentor and strong member of the team. Many people found her arc to be extremely relatable; while most of us don't have a family of villains to wrangle with, it's how she deals with hardships, complications, and loss that truly make her memorable. We can't imagine the series without Artemis Crock; here's to more of her in Season 4!
3.) M'gann M'orzz: Miss Martian started out as "the heart" of the Team, a very bubbly, perky, and enthusiastic idealist who wore her emotions on her sleeve. By the time seasons like Invasion and Outsiders came along, she's been through some emotional stuff and, as a result,became a lot more serious and mature. We adored seeing how far she came in Outsiders, having learned from (some of) her mistakes in Invasion and truly putting forth an effort to be a mentor; both on the Team, and in her position as a guidance counselor at Happy Harbor High. Throughout all of this, she never ceases to be a good person at heart, despite some of the rough decisions she's had to make.
2.) Conner Kent: When it comes to doing a complete 180, Superboy definitely comes to mind. By Outsiders, he is no longer the quick-tempered, rash, emotional person he was in the first season. Throughout the seasons, Superboy learned how to work alongside a team, be patient, and keep his cool. In Outsiders, he has grown enough to provide guidance to Brion,who possesses the same impatient, quick-to-anger traits he used to have. Most heartwarming of all, by the end of the season, not only had he grown as a mentor, he learned to step up to Superman's absence and acted as a beacon for those in need of support.
1.) Dick Grayson: Another quick change in personality, Nightwing transformed from the frequently cackling, lighthearted Boy Wonder to one of the most mature, driven superheroes of the Earth-16 universe. Nightwing made it clear that he didn't want to be 'the Batman', but since then, he's grown as a different type of leader. While we wish he'd participate a little less in secret-keeping, we can't deny that his strategies served the greater good. Though he's constantly adapting to a hefty mantle with tons of responsibility, he's good at it. Nightwing's transformation and personal journey still has a way to go, but we're confident that he'll get there and become an even bigger symbol of great wisdom and strength.
Is there anyone we missed? Do you agree with these choices? Let us know in the comments below, in our forum, or over on Twitter!