4/1/2020 8:55 am

If you've been missing Young Justice as much as we have, you'll love this. A brand new line of Young Justice merchandise is making its way to DC Universe, expanding the selection of items available for purchase. While we love the current offerings, the new line of merchandise truly caters to everything the fans have been asking for. Are y'all traught, whelmed and feeling the aster? We sure are!
The merchandise heavily leans on the show's inside jokes, featuring items with several fan-favorite catchphrases. If you've been wanting a mug featuring the iconic Bowhunter Security logo, now's your chance! The true showstopper, however, is the official Dicktionary©.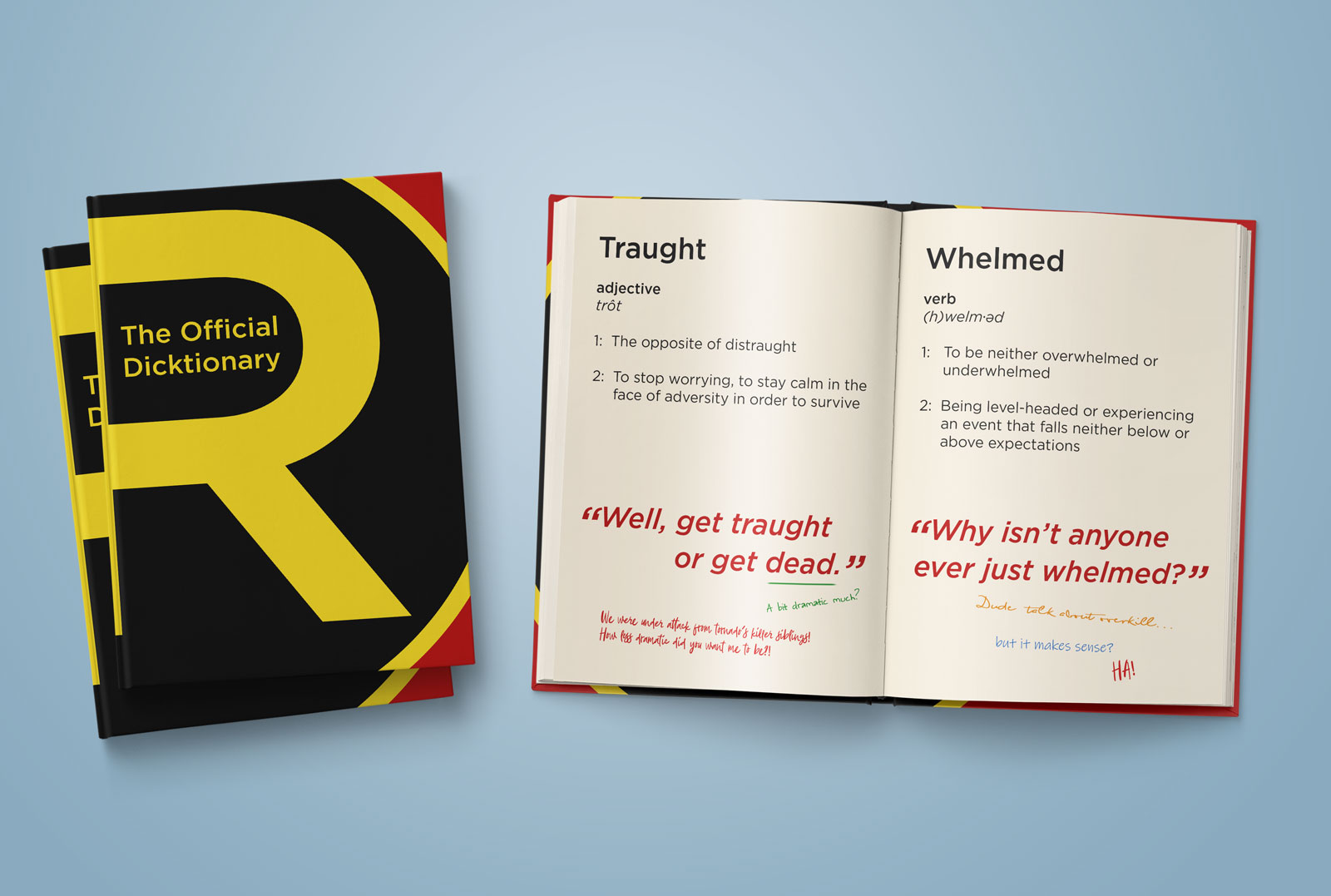 The Dicktionary© features all of Robin's 'un-words' from the three seasons, in addition to Bart's futuristic lingo. Unsure what the true meaning of 'aster' is? The Dicktionary© will spell it out clear as day. If that wasn't enough, the Dicktionary© also contains annotations from past and present team members! How's that for a fun little add on?
All of the new Young Justice merchandise will be for sale via the DCU streaming service this summer. For those wanting to reserve their copy of the Dicktionary© before they sell out, pre-orders go live on April 16 while using the code: ENOYREVE YAD SLOOF LIRPA YPPAH.
3/25/2020 11:59 am

This month has been a lot of things, but on the bright side, it's Women's History month! We already made a kick-ass thread on International Women's Day over on Twitter, but today we wanted to highlight some specific moments from Young Justice that really brought on a sense of girl power.
On the whole, Young Justice does a really nice job in how it handles its female characters; they're multilayered individuals who have a variety of roles on the show. The female character designs are something that's been repeatedly talked about in the past as it's one of the few shows to give the female heroes sensible hero costumes, while still paying homage to their traditional appearance in comics/other media. As a result of the show's treatment of the female characters, the audience has latched on to fan-favorites such as Miss Martian, Artemis, Zatanna, and Oracle. Here are some of our favorite moments in the past three seasons:
Sensible Shoes, Please!: In the fan-favorite Season One episode 'Secrets', Artemis and Zatanna find themselves face to face with Harm, who isn't initially phased by their attacks. The two girls end up on the run from Harm, and Zatanna notes that while her shoes are very cute, they're not exactly cut out for a chase sequence. She transforms her boots into sensible running shoes, which many people could probably appreciate. The moment is probably a nod to how many female heroes often wear inappropriate clothing and shoes for such an active lifestyle, and we can definitely appreciate it.
A Touch of Guidance: During Season Three's 'Quiet Conversations', M'gann uses her role as a guidance counselor to help get Harper Row the help she needs. On the surface, this moment doesn't exactly scream 'female empowerment'. And yet, it does just that. M'gann is able to use her skills and experience to give Harper the safety net she needs to come clean about her abuse at the hands of her father. We love to see a softer moment expressing how women can lift each other up, and for that reason, the interaction between M'gann and Harper deserves a spot on this list.
Just One Shot: Another fan-favorite episode, Season One's 'Homefront' had many on the edges of their seats. With all their superpowered friends held captive, Artemis and Robin must use their wits to save the day on their own. When Robin is captured, Artemis faces the situation alone. Despite her momentary lack of confidence in her abilities, she musters up the courage to take one last shot and ultimately succeeds. We cannot express enough the importance of Artemis' journey in this episode. It's this episode that helps put herself on the path of self-acceptance and something many viewers were able to relate to. In terms of powerful female role models, Artemis might deserve top spot, and we can think of no better moment to grant than this one.
Squad Goals: In Season Two's 'Beneath', Nightwing assigns an all female squad to investigate Queen Bee. The squad consists of Bumblebee, Batgirl, Miss Martian and Wonder Girl— we're going to mosey past Nightwing's reasoning for an 'all girl' squad, and move right along to talking about the girls' teamwork. It's undeniable that the girls know how to work well together. Though Cassie doubts herself at first, she's reassured that they've all been there and the team is able to find another solution to save the day. Again, another great example of women working together and lifting each other up, and we're absolutely here for it.
A Group That Celebrates Together, Fights Together: This last moment is probably the definition of a 'girl power' moment on Young Justice. In Season Two's 'Satisfaction', many of the women gather at Raquel's bridal shower to celebrate her upcoming nuptials. However, when Captain Cold (idiotically) tries to cause some mischief, they're all there to stop him. What more needs to be said about this scene?
Do you agree with our choices? Let us know your favorite girl-power moments by commenting below, on our forum, or over on our Twitter!
3/10/2020 7:50 pm

When it comes to character growth and progression, Young Justice arguably has some of the strongest development for their leads.The leads on Young Justice are always evolving and learning from their past experience; such is the course for growing up, and it's extremely relatable to see favored characters doing the same. Today, we'd love to break down some of our favorite character arcs and note which characters have changed the most.
5.) Garfield Logan: During the first two seasons of the series, Beast Boy's characterization was initially similar to prior adaptations in media: goofy, energetic, and mainly serving as comic relief. However, since Wally's ceasing, Beast Boy did some growing up. With the formation of the Outsiders, Beast Boy matured and took on the disposition of a natural leader. As heartbreaking as 'Nightmare Monkeys' was, we're glad that it had such an effect on Beast Boy's character. By the end of the season, he proved that he has come a long way from being a wide-eyed, childlike jokester.
4.) Artemis Crock: Thanks to her rough upbringing, Artemis started the series as a jaded young woman with a chip on her shoulder and a slew of trust issues. As the series progressed, we had a front-seat view to her interpersonal journey, watching her become a beloved mentor and strong member of the team. Many people found her arc to be extremely relatable; while most of us don't have a family of villains to wrangle with, it's how she deals with hardships, complications, and loss that truly make her memorable. We can't imagine the series without Artemis Crock; here's to more of her in Season 4!
3.) M'gann M'orzz: Miss Martian started out as "the heart" of the Team, a very bubbly, perky, and enthusiastic idealist who wore her emotions on her sleeve. By the time seasons like Invasion and Outsiders came along, she's been through some emotional stuff and, as a result,became a lot more serious and mature. We adored seeing how far she came in Outsiders, having learned from (some of) her mistakes in Invasion and truly putting forth an effort to be a mentor; both on the Team, and in her position as a guidance counselor at Happy Harbor High. Throughout all of this, she never ceases to be a good person at heart, despite some of the rough decisions she's had to make.
2.) Conner Kent: When it comes to doing a complete 180, Superboy definitely comes to mind. By Outsiders, he is no longer the quick-tempered, rash, emotional person he was in the first season. Throughout the seasons, Superboy learned how to work alongside a team, be patient, and keep his cool. In Outsiders, he has grown enough to provide guidance to Brion,who possesses the same impatient, quick-to-anger traits he used to have. Most heartwarming of all, by the end of the season, not only had he grown as a mentor, he learned to step up to Superman's absence and acted as a beacon for those in need of support.
1.) Dick Grayson: Another quick change in personality, Nightwing transformed from the frequently cackling, lighthearted Boy Wonder to one of the most mature, driven superheroes of the Earth-16 universe. Nightwing made it clear that he didn't want to be 'the Batman', but since then, he's grown as a different type of leader. While we wish he'd participate a little less in secret-keeping, we can't deny that his strategies served the greater good. Though he's constantly adapting to a hefty mantle with tons of responsibility, he's good at it. Nightwing's transformation and personal journey still has a way to go, but we're confident that he'll get there and become an even bigger symbol of great wisdom and strength.
Is there anyone we missed? Do you agree with these choices? Let us know in the comments below, in our forum, or over on Twitter!
2/26/2020 9:10 am

Happy Whelmed Wednesday! How is everyone doing in the Young Justice drought? Staying whelmed, we hope! To sprinkle on a tiny bit of mist, we're coming back at you with another opinion piece. With so many characters on Young Justice, some are bound to get more screen time than others. While we do love our mains, we'd also love to know more about the lesser-focused on characters! Here are the top 5 characters we feel deserve some more screen time in future seasons:
Tim Drake: When we saw Tim introduced as Robin in the first episode of Season 2, we were pumped. Regarded by many as the 'best' Robin, Tim is an incredibly popular character in the comics world. However, his limited appearances in both Invasion and Outsiders leave much to be desired. There's so much we want to see about Tim, we couldn't even begin to list them all! Also, what's his relationship with Cassie like? Did it survive his secret-keeping in Outsiders? We want to know!
Traci Thurston: The 'newest' character on our list, Traci briefly appears in Outsiders as part of the team, Zatanna's mentee, and Jaime's girlfriend. She has some really interesting powers that we'd love to see explored more in future seasons, not to mention her relationship with Zatanna. While her role may not have been as pivotal in Outsiders, we would love to see some more of her.
Stephanie Brown: Oh Steph, how we long to see more of you! The fiery member of the team definitely needs some more screen time, ASAP. Will she end up being the catalyst that breaks up Tim and Cassie's relationship? Or will she remain a fun, sassy member of the Bat Family? There's so much we want to know about Young Justice's iteration of Steph, we can't wait to see what season four holds!
Cassandra Cain: Do we even need to go into this one? Her appearance as Orphan in 'Triptych' was SUCH a tease that left us hungry for more. Like Stephanie and Tim, Cassandra is a much-beloved member of the Bat Family in the comics, and her identity as Orphan in Young Justice leaves tons of questions unanswered. Will we get more Bat Family focus next season? If we get to see more of Tim, Steph and Cass, we sure hope so!
Virgil Hawkins: Though Virgil has gotten more screen time as part of the Outsiders team, we're still clamoring for more of him! His personality really started to shine through this season, and we adored his close friendship with Cassie. If the Outsiders remain a focus next season, we can definitely see Virgil getting some more focus.
Who do you want to see get more screen time next season? Let us know in the forum, or on our Twitter, we love hearing from you.
2/5/2020 2:36 pm

I've been in the Young Justice fandom for nearly 10 years.
I've been through all of the hiatuses, the cancellation, the revival, all of the in-between moments, the highs and lows, all of the plot twists.
And I can safely say that Young Justice has changed my life and made a tremendous impact on me.
Ever since I first saw the first featurette for YJ, it had spoken to me. From spending my childhood intrigued by the likes of the Justice League cartoon, I had recently gotten into watching other superhero cartoons, and randomly came across an upcoming show about teenage superheroes.
But while I thought I had found a show that I would enjoy as a casual viewer, I couldn't have been more wrong. From Robin's first 'whelmed', I was hooked.
The characters, the plot, the action sequences, it was all fantastically done. Independence Day stands as one of the most captivating pilots I've seen, and it kept me going up until new episodes stopped after Bereft. During the first hiatus (of many), I first ventured to see if I could find more fans to talk about this show.
I wound up finding the short-lived Young Justice Net forums, and their welcoming community helped to solidify my wanting to do more for the fandom. I found my niche trying to create a repository of awe-inspiring fanvids, and from there my involvement just kept on growing. I had the chance to interact with hundreds of fans, and I ended up not only really enjoying what I did, but actively trying to involve myself more.
From guessing to who could possibly be the mole, to wondering when the next episodes would finally be airing, this fandom kept me entertained and engaged. This fandom created witty and inventive ship names, complex theories that had everyone wondering, stunning artworks, captivating fanfics, and mind-blowing fanvids.
During those years, I had made friends that I still keep in touch with even today. Being in the fandom, creating, helped me figure out what I wanted to do with my career. It impacted me as a storyteller, as a designer, and I hold it as a standard for so many shows and movies that I've seen since then.

Of course, it wasn't all sunshine and rainbows. The fandom has its hiccups and less desirable moments, and some of the show's plots fell a bit short in its executions, but that's to be expected. I knew my love for the show and its overarching plot would weather out any unpleasant experiences. And I would be more than willing to go to bat for the show no matter what.
So when the show was cancelled in 2013, I took it upon myself to gather with other fans both in the YJ fandom, as well as GLTAS fans who were in the same boat, and we started campaigning. We tweeted to Cartoon Network, DC and WB with everything we had. We trended most of the time, worldwide even.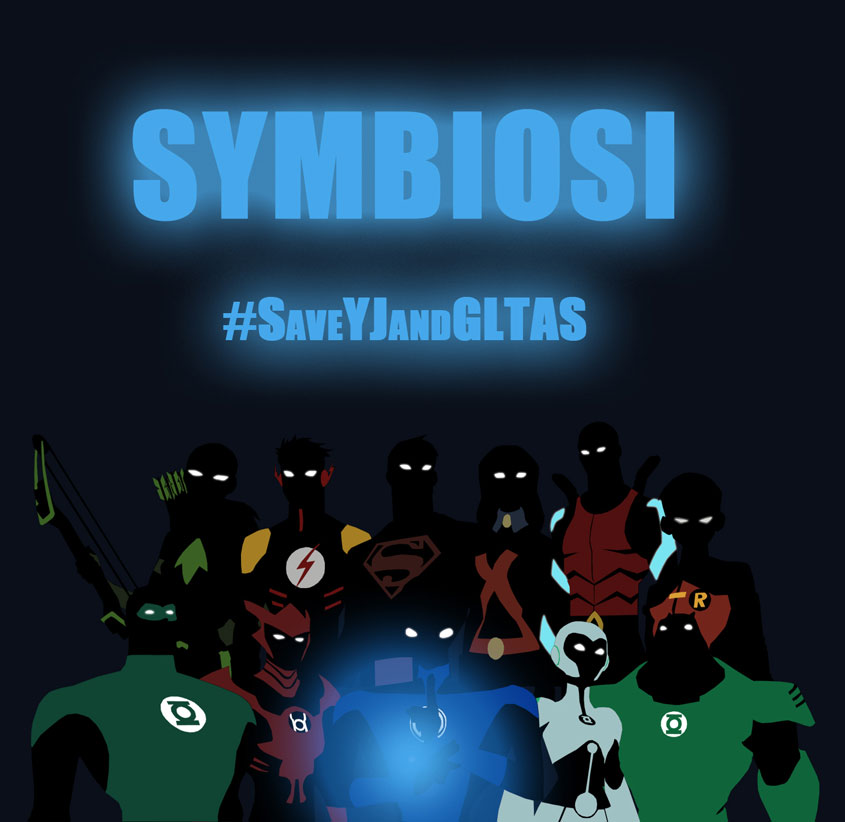 We created so many campaigns - some people even wanted to send rutabagas to the WB offices - but alas it wasn't the moment to revive the show quite yet.
Despite that, the fandom persisted. We had the comics, the video game, wondering whether Wally would be coming back, and while most of us moved on to other things, our love for the show stayed burning.
And then we got our wish.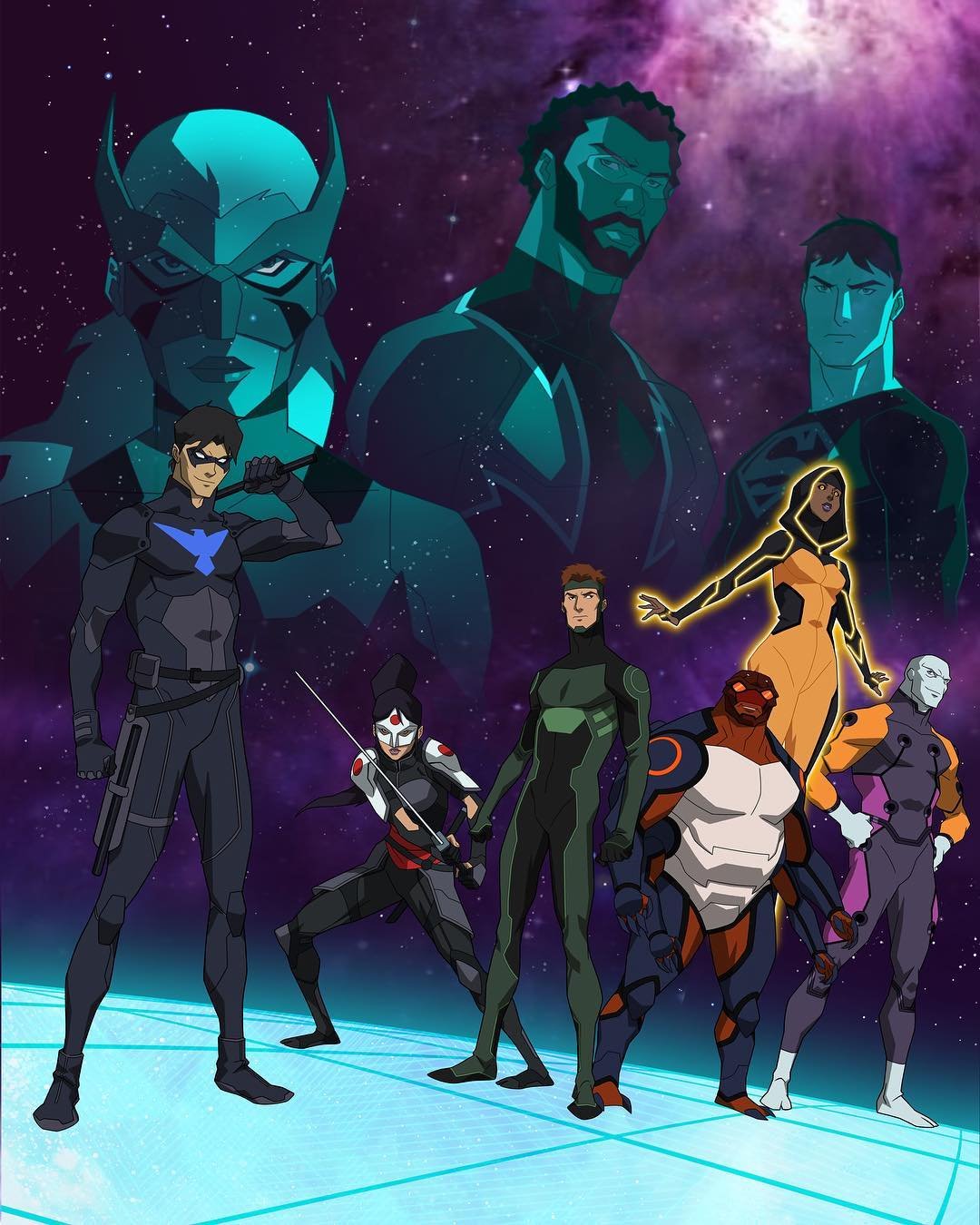 That day in 2016 was a memorable one. It was like we were all lying dormant, and when the new season was announced, we jumped to life. The show trended on multiple platforms, and we were all beyond ecstatic.
And truly, having the show come back helped to show me how much it meant to me. I felt like I had grown up with the characters, and I was ready to see how they were heading into adulthood. It didn't disappoint. Seeing the core team all settled into their mentorship roles, inspiring a future generation of heroes, was so amazing to see.
Even the fandom itself had grown up. I had seen so many familiar faces returning, but just as many new faces coming in and discovering the show. But fundamentally, that same community was there. It's a unique community that favours inclusion, and wants this show to thrive once more.
It especially made me happy to see that the entire cast and crew were back. I was fully expecting more than a few people to be replaced, having moved on to bigger things, but to my immense surprise, absolutely everyone that was part of the original show (barring those that had passed away) were back and just as enthusiastic as we were. And truly, seeing the cast and crew just as joyful about the return makes it feel like an extra special community.
And the new season didn't disappoint. Sure the tone had matured, but I feel that it made the show stronger. We were no longer kids, and the show knows that. The topics covered were new, but still intrinsically part of the show we had grown with.
After having seen season 3, I can hardly wait to see what Season 4 will bring, and I'm sure it will be just as amazing as the previous ones.