10/16/2019 1:35 pm

Happy Whelmed Wednesday, everyone! I know the effects of the hiatus are starting to set in, so I'm coming back with an opinion piece! It's definitely been a while. Today, I wanted to go back and take a deeper dive into 'Quiet Conversations', and why this episode matters so much in the grand scheme of things. If you need to refresh yourself on the contents of this episode, check out my recap here!
'Quiet Conversations' easily places into my top tier episodes from Season 3. In fact, if I wasn't so biased towards loving the Harpers and Bowhunter Security, I'd probably rank it my favorite episode from the season. Each plot introduced in this episode was delicately crafted, intermingling smaller threads with powerful emotions. While the storytelling in Young Justice is always on point, the emotional scenes are usually supplementary, intermingled with the main plot and the action. 'Quiet Conversations', on the other hand, lets the emotions behind the different plotlines take center stage, driving the action and leaving many important messages in its wake. .
Let's start with Victor Stone.
In the first half of the season, Vic's story started off strong. We were introduced to his character in 'Exceptional Human Beings', and followed his crisis through 'True Heroes'. After this episode, however, Vic's arc took a bit of a backseat to the introduction and development of the Outsiders. 'Quiet Conversations' pushes Vic away from brooding on his cellphone and returns him to the tension-filled spotlight, leaving viewers unsure of whether his humanity will survive the episode. On the forefront, we see how Conner, Jefferson, and Forager immediately jumped to his rescue by searching for metron. On a deeper level, there's a little more to uncover.
Victor's tech was triggered by a personal, internal stress, sucking away more of his organic nature and transforming him into an Apokoliptian machine. Could this be a metaphor for our own struggles? Too often, when faced with a problem, many people refuse to confront it and instead tuck it away until one day, it explodes with violent fervor. Like Vic, It is only when we start to accept the help of others that we finally get on a path to healing. For too many episodes, Vic chose to handle his problems alone and isolate himself from the company and assistance of others. To see him lean on others for support and encouragement feels right, and as a viewer, it helps me see how much his character has grown.
His friends weren't the only ones to help him, however. Since introduced to his character, we've been made privy to his and Silas' strained relationship. Though Vic distanced himself from many people this season, he completely alienated himself from his father, blaming him for his current condition. However, for the first time this season, Silas' concern for Vic overrides his son's wishes, and he takes the initiative to go help him. By seeing his father's care for him, Vic comes to realize that there may be hope for their relationship, and lets down his defenses to finally accept his aide. This simple action speaks volumes, telling the audience that perhaps not all strained relationships, familial or otherwise, are completely lost to the world.
Speaking of familial relationships, let's talk about Violet.
In the previous episode, it was strongly implied that Violet was planning on running away. 'Quiet Conversations' brings that implication into fruition, and her absence is discovered in little time. However, Violet's location came as quite a surprise. While I had little idea as to where she would go, I would not have easily guessed that she would have gone to give Gabrielle's parents closure over their daughter's disappearance.
Throughout the season, Violet struggled with discovering her new identity in relation to Gabrielle's and the unfortunate choices Gabrielle made. These choices harped on Violet's conscious, keeping secrets while internally struggling and lying to the friends she had made. Again, like Vic's dilemma, these are all easily relatable scenarios, where the audience can find their own problems reflected in these characters. Upon interacting with Gabrielle's family, Violet is unable to keep up the facade of being Gabrielle, as she is not her. Learning from her previous interactions this season, she comes out with the truth and accepts Samad's bitterness as a consequence. However, not all is negative.
Gabrielle's mother, Madia Daou, recognizes the struggle that Violet has gone through and thanks her for giving her the closure she needed over her daughter. Instead of preaching anger, like her nephew, she instead decides to practice acceptance, tired of the bitterness that has come as a result of Queen Bee's armies. She kisses Violet's forehead and wishes her peace among her new family. This scene hit me like a punch to the gut, and I had a hard time holding back tears at Madia's strength and her message to Violet. Acceptance and forgiveness seem to be a theme in this episode, a message that is often sorely needed in society. Not only that, but this interaction also held the importance of a found family, rather than a biological one. In today's world, many people find themselves among their found families, friends or otherwise, in contrast to their biological one. While there are many examples in media about the importance of a biological family, it's very touching to see an example of strength in a person's chosen family.
Moving on to another emotionally compelling scene (with another character voiced by the wonderful Zehra Fazal), Harper Row's counseling session.
After 'Early Warning', I wasn't sure what to make of Harper's character, nor could I imagine what the show had in store for her in the remainder of the season. What delivered was one of the most realistic, delicately composed interactions seen on Young Justice. Prior to this episode, Harper's traits could easily be brushed off as those of any run-of-the-mill television delinquent. In 'Early Warning', she was edgy, with a callous disregard of right and wrong. However, we soon learn that this in fact a mask, concealing her pain as a domestic-abuse victim.
On other young-adult focused shows, a domestic abuse storyline threatens to come off as 'campy', cheesy, or otherwise not handled well. 'Quiet Conversations' tackles the issue quietly, focusing on Harper's feelings and the consequences of the abuse without any unneeded drama. For those who have suffered domestic abuse, they may see themselves in Harper, who is both terrifyingly strong and incredibly vulnerable. She remains stubborn, lying about the severity of the abuse until Megan points out that her lies won't help her (or her brother) in the long run. When Harper finally realizes that there is an out, scary as it may be, she breaks, reaching out to Megan for support and allowing her to take her and her brother to Child Protective Services.
Harper's issues this episode are clear, not hidden by Apokoliptian tech or any other forces at play (like Vic and Violet). Her storyline is relatable, and unfortunately, one that many people will be able to relate to. It is because of this clarity that viewers may be able to see an alternative, a way out of their situation and into a better one. At the end of the episode, a phone number for the domestic abuse hotline is on display, offering real help to the viewers who need it. With this plotline, 'Quiet Conversations' extends beyond the metaphorical and into the real world, giving support to its viewers and sending them the message that their problems are real, and that they matter.
To end this analysis on a happier note, I'll move right along to Atlantis.
The storyline in Atlantis is the calmest of the four, focused mainly on rehabilitation and a quiet happiness. Though much of this plot focuses on Dolphin (as she is named in a later episode), it also gives us a closer look at Kaldur. As an audience, we'd grown so used to seeing Kaldur as a stoic, trained soldier, one who continues to take on more responsibilities instead of focusing on himself. 'Quiet Conversations' gives viewers a closer look into the more intimate aspects of Kaldur's character and how he's grown, in addition to introducing them to his parents and partner, Wyynde.
Kaldur and Wyynde's kiss is the second same-sex kiss this season. However, this one holds more significance, as Kaldur was a founding member of the team and a main character during all three seasons. While LGBTQ+ representation is on the rise in animated media, oftentimes this representation is given to smaller characters. It is both incredibly refreshing and cathartic to see Kaldur happy with Wyynde, confirming suspicions that many viewers had on Kaldur's sexuality. Their relationship is a soft and tender one and is given more screen time in the next episode. Many viewers rejoiced in seeing a positive, happy relationship depicted on-screen, and hope that this will open doors for future representation on Young Justice.
While this storyline takes on a softer tone, its messages about rehabilitation and acceptance speak volumes to its audience. Through a different environment, Dolphin is able to move past her trauma and find her own path to happiness. Kaldur's interactions with his family and Wyynde show that change is possible and previous mistakes don't determine a person's future. Like the other three storylines, the final message is one of hope.
'Quiet Conversations' may not be the most exciting episode of Young Justice, but it is the most powerful. Each storyline leaves a lasting impact on the viewers, not only delivering powerful punches of raw emotion, but also instilling a sense of hope and positivity for change. Episodes like 'Quiet Conversations' leave its viewers thinking, opening doors for discussion and further learning. And that, dear readers, is an excellent start to any conversation, quiet or not.
10/2/2019 10:57 am

Ok Young Justice fans, we've got some homework to do on this Whelmed Wednesday and if you study along with us, you'll get all the answers to the test at the end. Just kidding there is no test, but as far as Young Justice is concerned, we've never heard of the Legion of Superheroes on the show until the finale of season three! So, who is the Legion of Superheroes? What can they do and where are they from? Or perhaps even better, when are they from! Let's breakdown just who these superheroes are:
Created by: The Legion of Superheroes was created by writer Otto Binder and artist Al Plastino. The Legion is a group of superpowered beings living in the 30th and 31st centuries of the DC Comics Universe, and first appears in Adventure Comics #247 (April 1958). Interesting note, Otto Binder is also credited as creating Supergirl.
Superman Connection: The first iteration of the Legion of Superheroes lasted for 36 years which is a huge feat in comics today. Their original mission was to work with Superboy (Superman as a teenager) and use his powers and abilities to help in 31st century problems.
Legion's Scope: The Legion is a group not unlike the Justice League but their scope is a lot bigger. In the future, there is an allied planets federation and the Legion is comprised of many heroes from many worlds. Much of their charter is based on what the Justice League was able to accomplish in our time.
Who: The founding members of the Legion are Cosmic Boy, Saturn Girl, and Lightning Lad. They are joined by many other heroes like Supergirl, Triplicate Girl, Brainiac-5, Chameleon Boy, Phantom Girl, Colossal Boy, and Mon-El among many others.
So the Legion of Superheroes is essentially a galactic Justice League from 1,000 years in the future. Got it, so why is this important for Young Justice? Good question:
Time Travel: In a show where time jumps are all but a guarantee and each jump is always forward, The Legion's ability to travel back in time adds a whole new direction to how the show can play out. Deaths could be prevented, outcomes can be changed, and history can be destroyed or upheld.
New Characters: You may have noticed that the characters from the Legion all have names like "girl", "lad", "lass", or "boy". This is a young group of heroes and since Young Justice is always looking to tell the story of young heroes, these new Legionnaires are perfect for telling another young hero story while also including future stories of our core members.
Huge Threats: Generally the Legion doesn't like to time travel. They only do so in dire circumstances. Originally they needed someone of Superman's power to help in a future crisis. On The CW's Supergirl show, the Legion came back to hide one of their members from a potentially life threatening tech virus that could end all technology in the universe. On the TV Show Smallville, the Legion came from the future to prevent the death of Superman at the hands of Doomsday. Basically, if they are in your time frame, they are there to fight some serious dangers! With Darksied almost capturing the Anti-life equation, it's no wonder they have appeared!
In the end, The Legion's appearance gives Young Justice a whole new opportunity of storytelling. New young heroes, bigger threats and a story telling element (time jumps) that can now go in both directions! On a personal note, I would flip if Supergirl joined the show! The possibilities are endless and we couldn't be more excited to see what the team does with the Legion! Happy Whelmed Wednesday everyone and be sure to follow our sister site HarleyQuinn.tv as we prepare for NYCC! Ariel is already on the East Coast preparing!
Share your thoughts in the comments below and in the forum! Follow us on twitter!
9/18/2019 11:38 am

Exciting news Young Justice fans! If you aren't on DC Universe and or are out of country and you've been dying to see the third season of Young Justice, the show is coming out on Blu-Ray! No more need to hook up VPNs and whatever else you did! No worries we're not judging! The Blu-Ray collection will come with all 26 episodes of course and includes such notable guest starring appearances as Alan Tudyk, Lacey Chabert, Bill Fagerbakke, Oded Fehr, Daniela Bobadilla, Chad Lowe, Jacqueline Obradors, Keone, Young, Dwight Shultz, Mirina Sirtis, Deborah Strang, Gwendoline Yeo and Danny Trejo; and topnotch voice actors Scott Menville, Tara Strong, Hynden Walch, Diane Delano, Dee Bradley Baker, Jeff Bennett, Roger Craig Smith, Fred Tatasciore, David Sobolov, Kath Soucie, James Arnold Taylor, Kevin Michael Richardson and Steve Blum.
Mary Ellen Thomas, Warner Bros. Home Entertainment Senior Vice President, Originals, Animation and Family Marketing.had this to say about the show:
The audience demand for Young Justice is obvious – the fans are the ultimate reason the series has returned after six years, and the viewership on the DC Universe streaming service has been significant. We recognize that thirst for Young Justice and know those same fans will want to have the action-packed third season – with all of its new characters, voices and challenges – as a compilation package.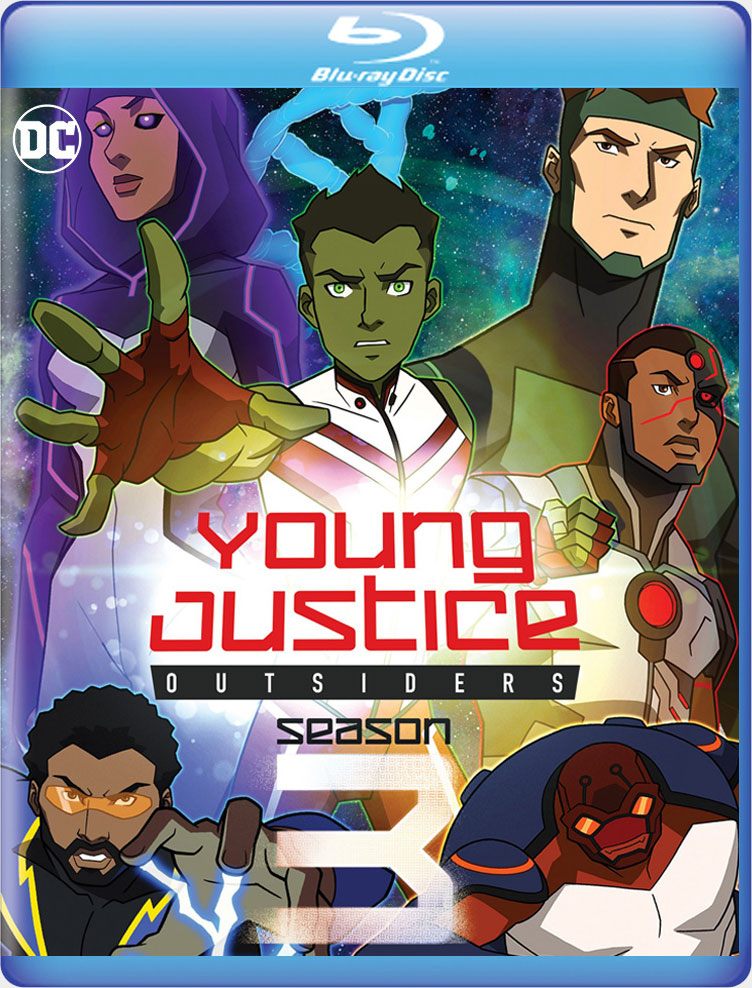 Fans will be able to purchase the whole third season digitally September 24th! If you want a physical copy, the Blu-Ray releases November 26th!
Let us know your thoughts in the comments below and in the forum!
9/18/2019 9:27 am

Hey Babe, miss me? Ha, I kid. After some well-deserved rest, I'm back and ready with another Young Justice piece for Whelmed Wednesday. What a final few episodes, right? Between Vic joining the good fight, Artemis and Wally's 'reunion', and Brion switching sides, most everyone was waiting on the edges of their seats. With that in mind, now we begin the long, arduous journey of waiting for Season 4. Have no fear, though. If there is anything Young Justice Fans are good at, it's waiting. (It wouldn't be Young Justice without a hiatus, am I right?)
How does one fill up a hiatus, you may ask? Well, for a start, theorizing about Season 4 plots always works! Season 3 was a very plot-heavy season, with many dangling bits and threads to get us excited for Season 4. Here's our top picks of what we're looking forward to, in no particular order:
What's Jade Up To?: Call me biased all you want, but I wasn't the only fan to notice her absence in the latter half of Season 3. I've already analyzed how she may have more going on than what we've been shown, and was surprised to see that the mystery wasn't brought up again. Even more curious, apparently Lian knows about her mother's identity as Cheshire? Thus, I'm led to believe that it will be explained in Season 4. Will our favorite Murder Mom (credit to Emily Buza for coining the perfect term) get a redemption arc? Or has she truly left her family for a life of crime? I, for one, cannot wait to find out.
Red Hooded Ninja: I know, this is a big one. While it hasn't been officially confirmed that the Red Hooded Ninja is Jason Todd, I feel pretty comfortable making that assumption. After his and Damian's appearances were teased in 'Rescue Op', a huge portion of the fandom lies eagerly in wait to see how their storylines will play out. Given that our very own Brandon Vietti directed 'Under the Red Hood', I think Jason's storyline is in very good hands.
More Character Development: As mentioned above, Season 3 was a very plot heavy season. It was also very character heavy, which left little time to dig deep into serious character development. According to Greg and Brandon, Season 4 will return to focusing on the core team, which could be amazing for their development. I would love to see more of Kaldur and Wyynde's relationship, and how Artemis is mentoring the younger Team members. Dick's plotline could involve him finding out about Jason Todd, and Conner and M'gann still have a wedding to prepare for! Fingers crossed that the time-skip won't be too monumental so we'll get to see our core team grow and develop as young adults.
The Nuclear Option: While nobody wants the Nuclear Option to happen, it's a little like Chekov's Gun. It's been mentioned, thus, something has to happen with it. Are the little tots going to be in danger come Season 4? Do I need to start worrying (even more) about the safety of Lian Harper? Let's hope we won't regret waiting to find out.
Mother and Fatherbox: What's going to happen with Halo and Cyborg? After Metron's conversation with them, we're pretty sure they won't be leaving the main picture any time soon. Seems like they'll continue to have important roles to play in the coming season(s). I'm keeping my fingers crossed for more cute Violet moments, as well as the continuing of the budding Garfield and Vic friendship. If I focus on the happy things, then nothing too bad will happen, right?
The Dark Side: As much as I wished that I'd never have to see Dr. Jace on my screen again, it looks like she's here to stay. I can hear Neal Powell laughing at me from the other side of the country, but whatever. I'm curious to see what becomes of Brion and the Markovia situation come next season. Will he ever break free from Zviad's control? Has he truly settled himself into his darker role? Will Halo play a part in saving him? Who knows!
Is Wally Really Gone?: I'm not going to get too much into this, because I feel like this subject has been talked about nonstop since 'Overwhelmed' aired. On one hand, the episode could have served as a goodbye to Wally, and his and Artemis' relationship. On the other, you'll notice that throughout the entire season, we've never really been given a clear answer as to Wally's existence. Even when Artemis asks if he's dead, he tells her not to talk about that. Sure, I could be digging even deeper into the 'Wally is alive' grave. Our favorite West could be gone. ...Or could he? Perhaps the LoS will play a role in potentially bringing him back.
Legion of Superheroes: Speaking of the LoS! I can already hear the excitement. I'm far from an expert on the topic, so I'm going to divert this one to Eric. He's writing an entire article letting you know how excited he is about their involvement next season! If that won't be enough for your LoS anticipation, I know that the Whelmed Podcast will have an entire discussion episode focused on them sometime in the next few months. Plenty of material to keep you research-fed and entertained until Season 4!
Did we miss anything? Are you looking forward to something else? Let us know in the comments, over email, or on Twitter! We love to hear from you all, keep staying whelmed, traught, and feeling the aster.
9/5/2019 6:26 pm

Today we are excited to share with you our first news about season 4! On DC Daily, the daily talk/news show that is on DC Universe, Executive Producers Greg Weisman and Brandon Vietti spoke about Halo, fleshing out Earth 16's universe and most importantly, Season 4 news! The show's fourth season will be twenty six episodes long! Of course, it wouldn't be a Young Justice season if there wasn't a TIME JUMP! How big of a time jump? We don't know yet but another 26 episodes and more time to cover, WE ARE IN FOR THIS! Additionally, there will be a conscious choice to follow the original team members a bit more while still introducing new young heroes. After all it is Young Justice!
Halo voice actor, among many others, Zehra Fazel was also on the show and shared a lot of info on her voices and what it meant for her to be on the show and bring Halo life! If you are a DC Universe subscriber, check it out here!
Let us know what you think in the comments below and in the forum!