11/29/2021 4:40 pm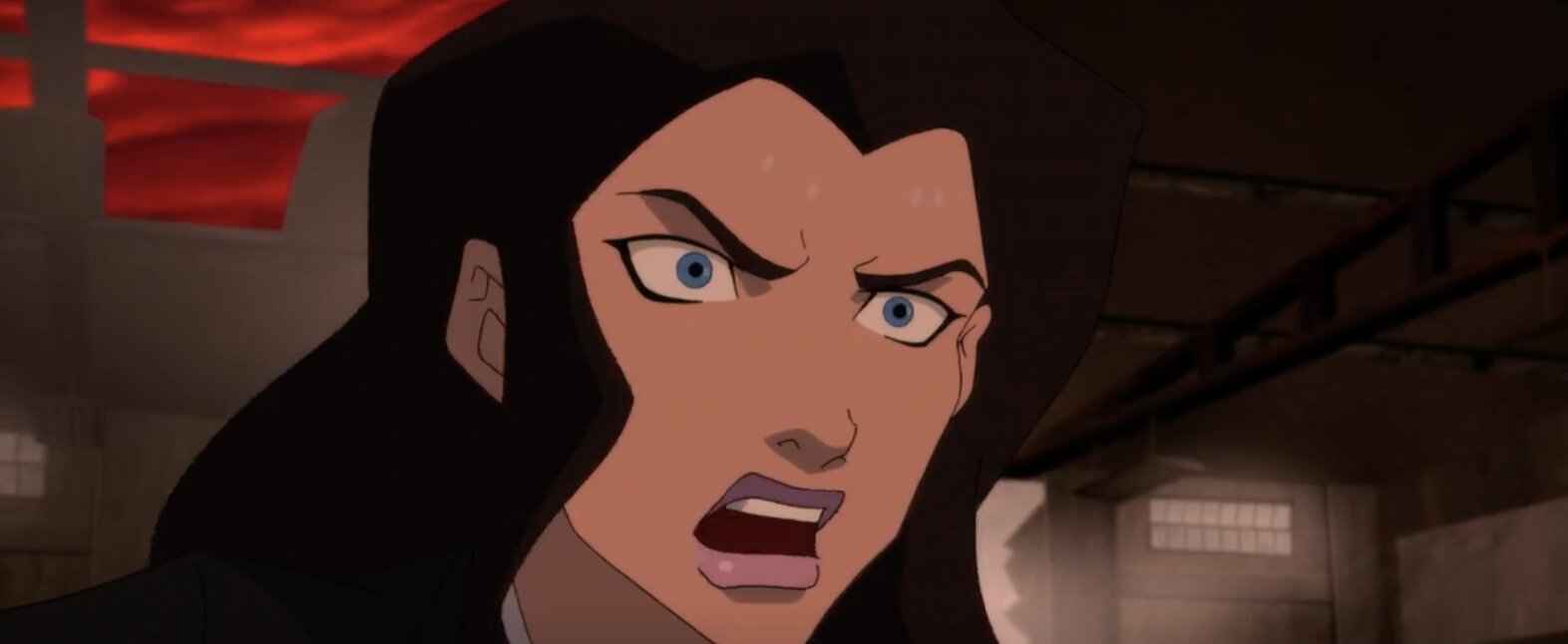 S'ti won S'annataz nrut ot enihs ni eht thgiltops!
After two incredibly exhilarating arcs for Young Justice: Phantoms centering around Superboy, Miss Martian, and Tigress, we now get a chance to delve into Zatanna's story! HBO Max released an exciting new poster highlighting some of the potential leads in Arc III to this fantastic fourth season. Poster below: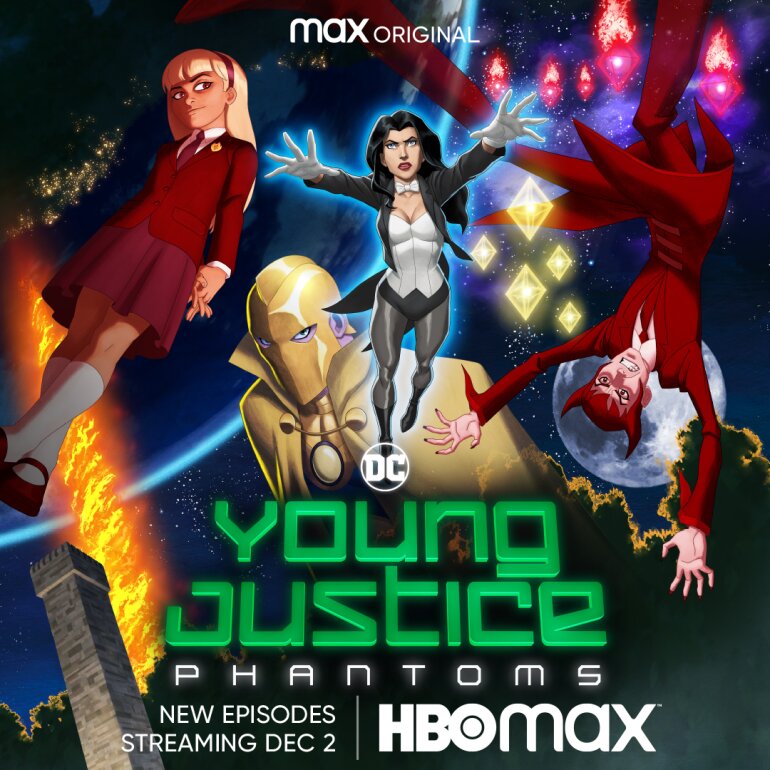 Zatanna is seen front-and-center in her dazzling signature magician's outfit whereas a plethora of other characters take the stage too. Doctor Fate, who currently has Zatanna's father, Zatara, under their control, is highlighted, hinting at a major plot point in this upcoming arc regarding Zatanna wishing to get her father back permanently. The deviously childlike Klarion is also seen messing around on the poster alongside a mysterious young girl. The child was previously seen in the first trailer for Young Justice: Phantoms, which teased that she's not exactly one of the good guys. Surrounding these heroes and villains are a variety of crystals in the colors of yellow and red and the Tower of Fate.
So what exactly do all these clues mean? What kind of trouble is Zatanna going to be in for in her arc? We're very curious as to the absence of Zatanna's protégés on the poster, given their teased importance in "The Prize". Will they only be playing a minor role this arc? We'll find out on Thursday! Zatanna's arc will start on December 2nd, and if it follows the same four episode structure as it's predecessors, it will end on December 23rd.
What kinds of hints can you get from this poster? Do you have any expectations or desires for the impending third arc to Young Justice: Phantoms? Let us know down below in the comments and the forum!
11/25/2021 9:01 am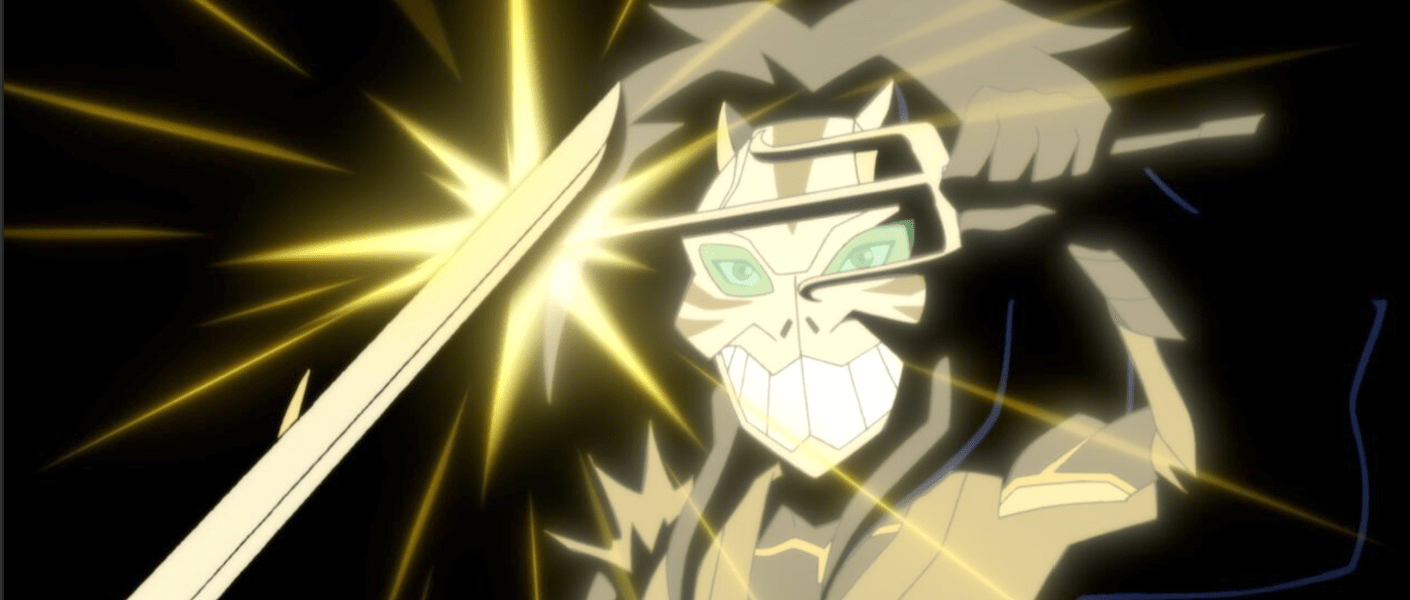 After a nerve-wracking cliffhanger, Young Justice: Phantoms concludes its second arc with its eighth episode, "I Know Why the Caged Cat Sings". An incredible fight sequence, heartbreaking familial drama, and more flashbacks to round out this very emotional arc, leaving plenty of loose ends to be explored as the season progresses. If you haven't watched the episode yet, we'd advise to keep a box of tissues nearby— you're going to need it.
"I Know Why the Caged Cat Sings" immediately kicks off with a familiar scene from Season One: Artemis and Cheshire's confrontation at the end of 'Infiltrator'. It perfectly sets up the expectations that this episode is going to hurt. The scene cuts to the present, launching us right into the intense confrontation between the Shadows, Tigress, Cheshire, Onyx and Orphan. However, Orphan needs time to get out of her locks, so it's up to Artemis to stall Lady Shiva and her assassins. Through this stalling tactic, we learn that Onyx was set up with false information by Lady Shiva and Cassandra Savage, using it as a test of loyalty to the cause. Obviously, she failed, and set off their plan perfectly to acquire League intel and bring Orphan back to the Shadows.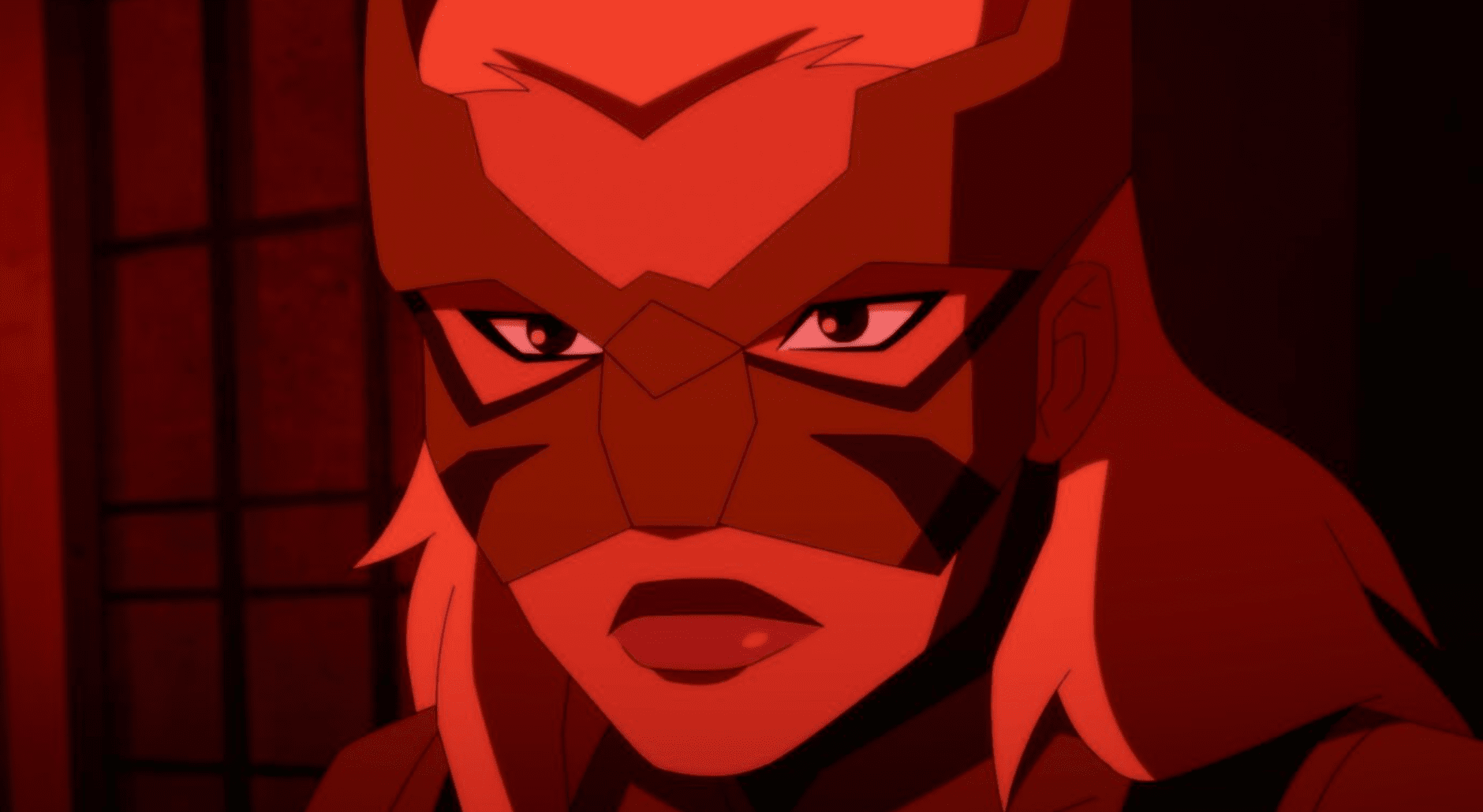 What follows is arguably one of the best fight scenes ever done on Young Justice. When Orphan breaks free, she shuts off the power, leading to an immersive, intense battle taking place entirely in the dark. There's some blood spilled, but it's not nearly as gory as anything from Outsiders. The fight comes to a head when Shiva stabs Artemis in the leg and the lights are turned back on, leaving Tigress and her team surrounded with no option but surrender. However, here's where the unexpected help comes into play. Shade pulls through and transports Tigress' team (and a couple of poor Shadow assassin trainees) out of of the facility and to the beach of Santa Prisca, but not before Lady Shiva jumps in his shadow portal after them, slaughtering the trainees as she exits. RIP to them.
Meanwhile, in the B-story, we spend a much-less stressful time on the Kent family farm. Lois, Clark, little Jonny and Wolf spend time with Ma and Pa Kent. But just in case you thought you could relax in the sweetness of it all, fear not— it's secretly heartbreaking! Jon is confused as to the concept of death and Uncle Conner's absence, leading Clark and Lois to explain it to him. Clark feels guilty that he wasn't able to save Conner, but Lois reminds him that it might have come at the cost of his own life, an important reminder that it's not always possible to save everyone and that everything happens for a reason.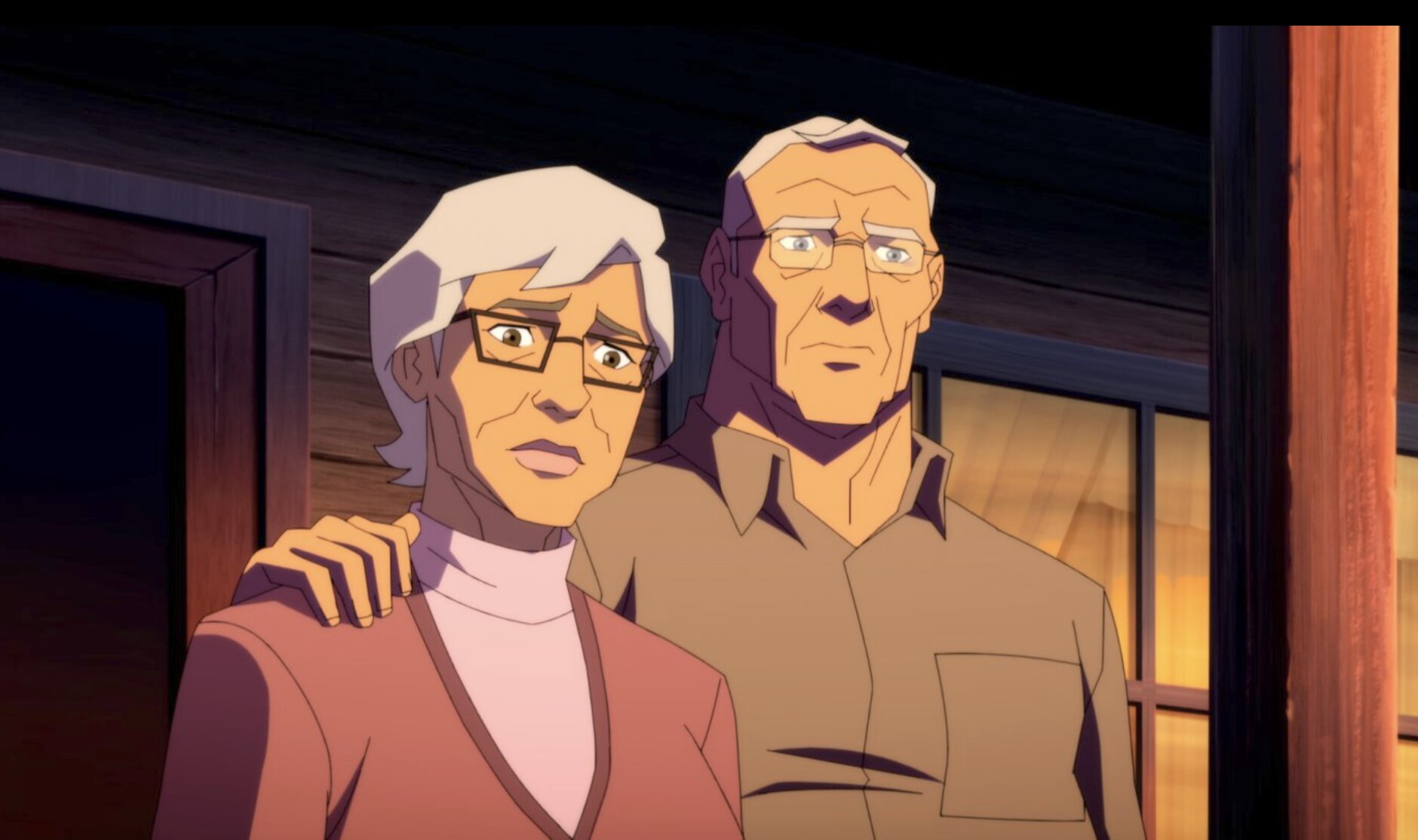 Back with Artemis, Shade announces his debt to Cheshire is now paid, to which she agrees. Lady Shiva obviously is livid with this outcome, but Shade doesn't pay any mind and declares he is now a freelancer and a part of no organization. Good for him, I think. With New Genesphere protecting Artemis' squad from further harm at the hands of Lady Shiva, Cheshire instructs Onyx and Orphan to take Artemis aboard and dress her wound. Lady Shiva isn't leaving without her daughter, though. She taunts Orphan and threatens Barbara's life, pushing Orphan to a breaking point and leading to a fight between mother and daughter. She stabs Lady Shiva deep in the gut, but thanks to Barbara's insistence, is unable to deliver the final blow. Thus the team leaves, with Lady Shiva bellowing in rage as she's left behind without her daughter.
We launch into another flashback, the end of Artemis and Cheshire's encounter in 'Infiltrator', followed by two new flashbacks in the aftermath. Jade tells Sensei about meeting her sister, and Sensei implores her to recruit Artemis into the Shadows. Meanwhile, Artemis rages against her sister's decisions to their mother, Paula, and we receive some much-needed insight as to Paula's role in the girls' childhood and the problems lurking at Jade's core.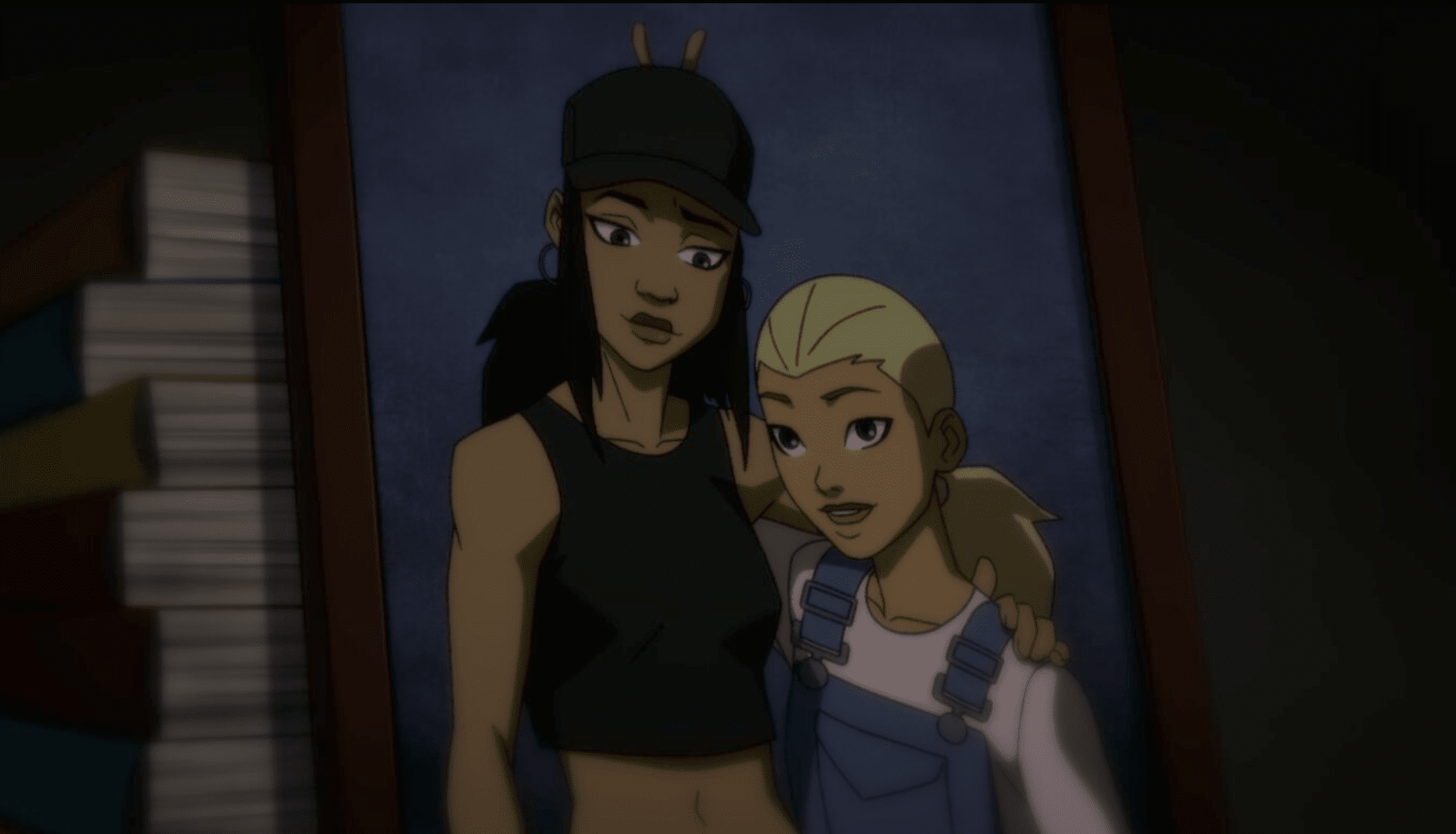 Artemis and her team take refuge at a safe house in Key West, where Jade patches up her leg. In a truly heartbreaking moment, she agrees to let Artemis call Will and Lian and for one moment, it seems like everything is great and happy and that she's going home. Except, you know, this is Young Justice. Nothing is ever that simple or easy. After seeing Lian make a Cheshire cat 'Mommy mask', Jade recoils in panic and flees the safehouse, effectively crushing my heart. We were SO close, y'all. So close.
Thanks to Barbara tagging Jade, Artemis and Co. are able to get on route to track her to Infinity Island. In a rash turn of events, Jade attempts to go back and end her life via Sensei's hands. Luckily, Artemis stops her, and the two have a very emotional confrontation, the one that's been building up this entire arc. Here's where you'll need most of your tissues, y'all. As Jade insists that she's too far gone to go back to her family, Artemis insists she can be helped. In an odd turn of events, Ra's al Ghul and Sensei offer both Jade and Onyx a space on Infinity Island so they can rehabilitate and heal from their past trauma. In an even odder turn of events, Artemis agrees to this arrangement, confident that her sister is on a genuine path to healing.
The true standout of this episode was the incredible fight scene in the dark on Santa Prisca. A huge shout out to the entire art and animation team for how well done it looked. Between all the cool glow-in the dark colors, the intensity, the sheer terror of not knowing what was going to happen, this fight would definitely make our 'top 5' list for epic battles on the show. Shout out to the Cass and Lady Shiva moment of the fight for truly being brilliantly animated, and also the moment of pure fear when Jade realizes Artemis is injured.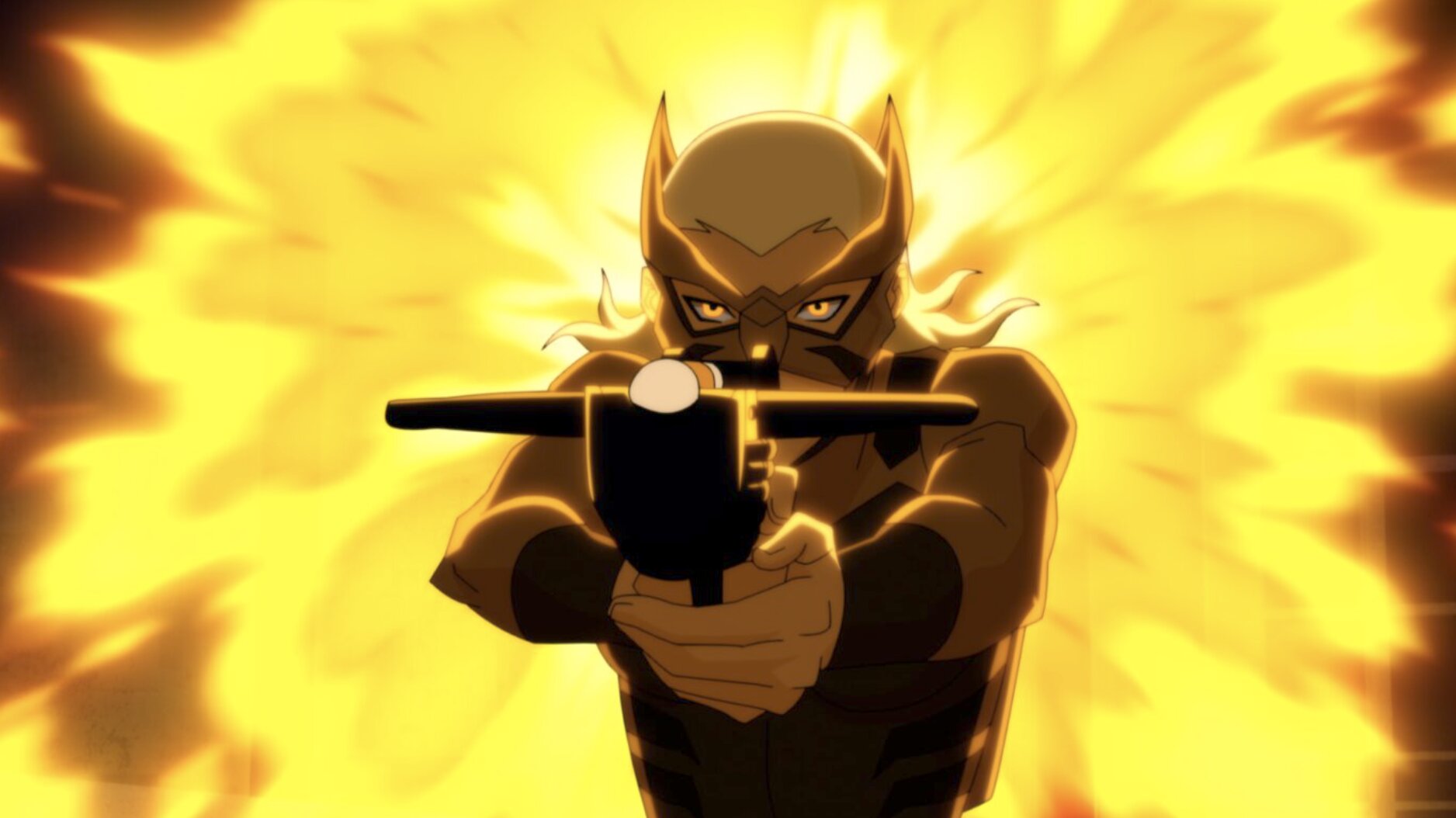 However, we did feel that other than the fight scene, the majority of this episode suffered from an overwhelming amount of expositional dialogue. There were three different scenes where it felt like exposition and background were just being explained to us by the characters, and while we don't mind exposition when needed, much of this felt like information we already knew or could have gleaned from using context clues. There were also several instances where characters who weren't directly engaged in the conversation were just standing around, and it felt awkward.
Additionally, we were confused as to the end of the arc, why Jade and Onyx remained on Infinity Island, and why Artemis was so okay with it. Prior to this episode, we've received no real indication of what the Al Ghul's true motives are, and we are unsure just exactly what kind of rehabilitation both Onyx and Jade expect to get with them. Granted, there are so many layers to this last scene that we're still analyzing, and it does feel like a loose end that will be explored throughout the season, so we won't say too much about it now.
In regards to the conclusion of several character arcs, on the whole, they were done well. Jade's emotional confrontation with Artemis was done brilliantly, and seeing her genuinely want to take steps to put herself on the path to redemption felt like the right choice. Time will tell if she will actually heal on Infinity Island (or if Ra's and Talia have other, more sinister intentions in mind) and return home to her family, but as of now, odds are looking good. We wish Onyx would have had a more prominent role in this conclusion, and we're admittedly sad to bid goodbye to her (for now), as we've truly warmed our hearts to her.
As for the B-story, we have mixed feelings. On the one hand, we do appreciate that Young Justice is taking the time to wallow in the grief of Conner's loss, something that felt missing with Wally's ceasing. We like how this season is exploring the effects of his death on other people, making it truly feel like a bigger and fuller world. On the other hand, we still don't believe that Conner is truly dead, and if he isn't, spending this much time on the grief surrounding his disappearance won't age well. Of course, only time will tell as to whether or not he is alive, and we'll just have to wait and see.
"I Know Why the Caged Cat Sings" felt like it could have used more time and fleshing out to really feel like a satisfying conclusion to this arc. While we did enjoy the B-stories following up on the previous arc, with more characters to juggle, we would have liked to see less time spent on the B-stories and more focus on the plot at hand. At times, it felt like the conclusion to this arc was rushed and could have benefitted from a slower pace. That isn't to say we didn't enjoy it, because we did, and we're sure every arc will have its pros and cons. Additionally, if the previous arc is anything to go off of, we're sure to see the aftermath of Artemis, Jade, Onyx, and more throughout the rest of the season. At least, we hope so. It would be a crime not to see more Bowhunter Security pop up, after all!
With the conclusion of Artemis' story, we are excited to head into Zatanna's arc with her many proteges. Will we see her grapple with Doctor Fate? Who exactly are her proteges? We'll start getting answers next week!
What did you think of "I Know Why the Caged Cat Sings"? Hurting for Jade? Excited to see Jason, we mean, the Red Hooded Ninja again? Desperately hoping that everyone ends up happy and okay? Let us know in the comments, our forums, or on our Twitter!
11/24/2021 2:16 pm

Welcome back to Whelmed Wednesday everyone! With so many new characters and special easter eggs introduced in Young Justice, we thought we'd start a new series highlighting these characters' comics history so we can all get better acquainted with them. Granted, the writers love to take libirties and put refreshing spins on the majority of these characters, but there's still plenty of useful information to be gleaned from their respective comics. As the fandom knows, a character with a name and a voice has a thought-out history on Earth-16, and much more often than not, a deeper connection to the DC universe at large. More can be written about either of those subjects, but today we are going to take a look at some of the Conservation of Characters that have happened in this latest arc of the show.
Jason Bard: Starting off with likely the most polarizing choice, we have Artemis' new boyfriend. Despite not having a double consonant name (Billy Batson, Guy Gardner, etc.) he first appeared in Detective Comics #392, published in 1969. He has often been tied to the both Gotham and the Gordons, namely Barbara. He also has a history of having been wounded in the line of duty and having to pursue other avenues of work. It is great to see that aspect remain and that representation on screen. Our prevailing theory is that he has dated Barbara in his YJ iteration, but that has yet to be fully confirmed.


Onyx: Less controversial to the fandom and less trustworthy, we have Onyx Adams. She entered the DC Universe in Detective Comics #546, published in January of 1985. Originally working alongside Green Arrow, they both fought a monk named Lars who killed their mutual master of the monastery they both trained at. This was after her time in the League of Assassins and training under Lady Shiva, and after she had already gained a reputation as a street fighter and hit woman. It seem as if the some of the aspects of her past have been avoided, but is replaced by tying back to the Amazing-Man through a casual name drop.


Rictus: We will round out this trio of Conserved Characters with Rictus. Probably our favorite pull because it seems to be a cut that is the deepest by far. From what we can tell, Rictus appeared in Red Hood and the Outlaws #21, published in August of 2013, and only shows up in a handful of issues in that run of comics. Using cybernetic enhancements to augment themselves, they were able to gain superhuman strength and stamina as well as density control. They were also tied to the League of Assassins and seem to have trained the Red Hood at one point. It remains to be seen if Jason Todd is officially in this season, or what Rictus' role would be in his training. What does seem to be true is the possible use of Father Box tech to enhance themselves.
We can't wait to dive deeper into the countless characters that have been and will be introduced as the season goes on, and maybe even dive deeper into older seasons as well.
Who is your favorite character to show up from the greater DC Universe? What character do you hope gets some screen time in the show? Let us know in the forum, or on our Twitter; we love hearing from you!
11/18/2021 9:20 am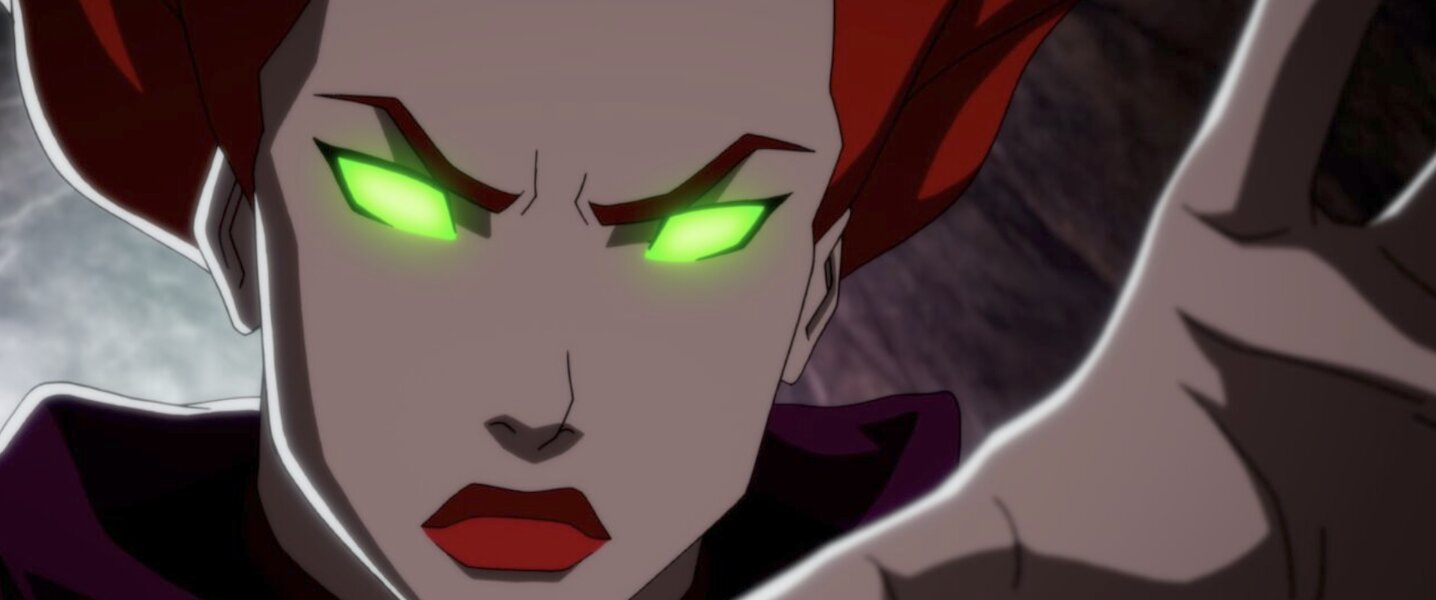 As it usually does, Young Justice: Phantoms uses "The Lady, or the Tigress?" to subvert our expectations and bring together stories. It answers some of our questions, confirms some theories, but creates countless more. On this week's episode, we learned more about the plans that Lady Shiva has, we learned who the mole is, and we cut away in the final moments with no idea as to what will happen next. We said it last week, but we have to say it again: the seventh episode of the season is Young Justice as its best.
"The Lady, or the Tigress?" kicks off on M'arzz. You read that right, on Mars! M'comm is midspeech with his supporters when M'gann shows up like the goddess she is. M'gann blames M'comm for Conner's death and is willing to do whatever it takes to learn the truth. She learns he was not the cause of the kryptonite and escapes with a father box.
Santa Prisca - We move back to the group headed to Santa Prisca continuing to discuss amongst themselves who is or isn't the mole. We see Oracle again as she helps guide Tigress from her computer. We begin to learn more about Orphan and her relationship with others. Tigress, Cassandra, and Onyx infiltrate onto Santa Prisca and continue to make us ask who, if either, is the mole? The move further into the island and find a place to hide until it is dark again.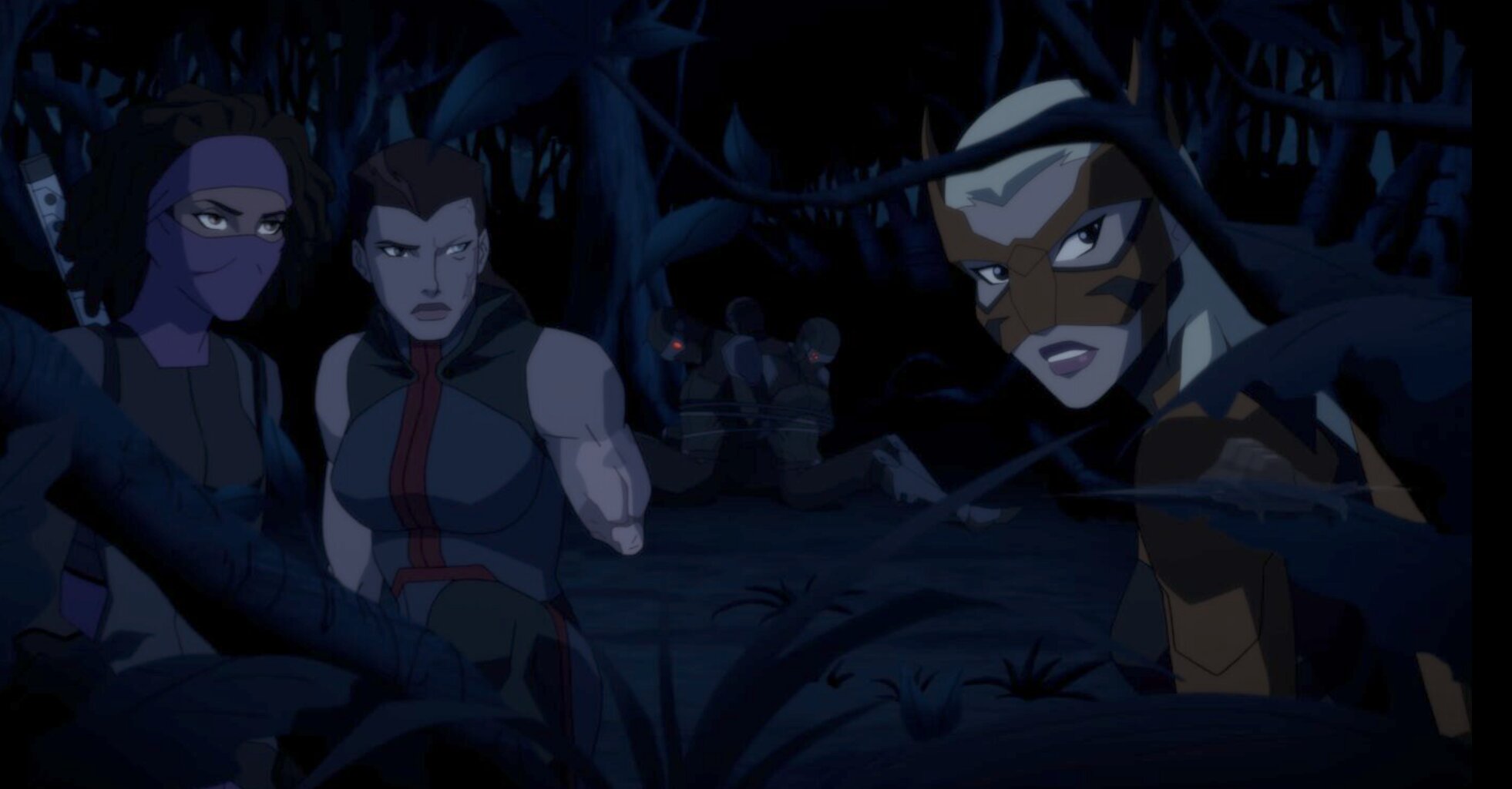 Back on Mars, we learn from Hawkwoman that all of the kryptonite in the Milky Way galaxy is accounted for, and there are no more leads. We see what may be the last time M'gann is ever on planet as she says goodbye to her parents. As M'gann and J'onn board Baby to head back to Earth they are stopped by Em'ree who asks to join them. They both agree, and all three board and leave M'arrz.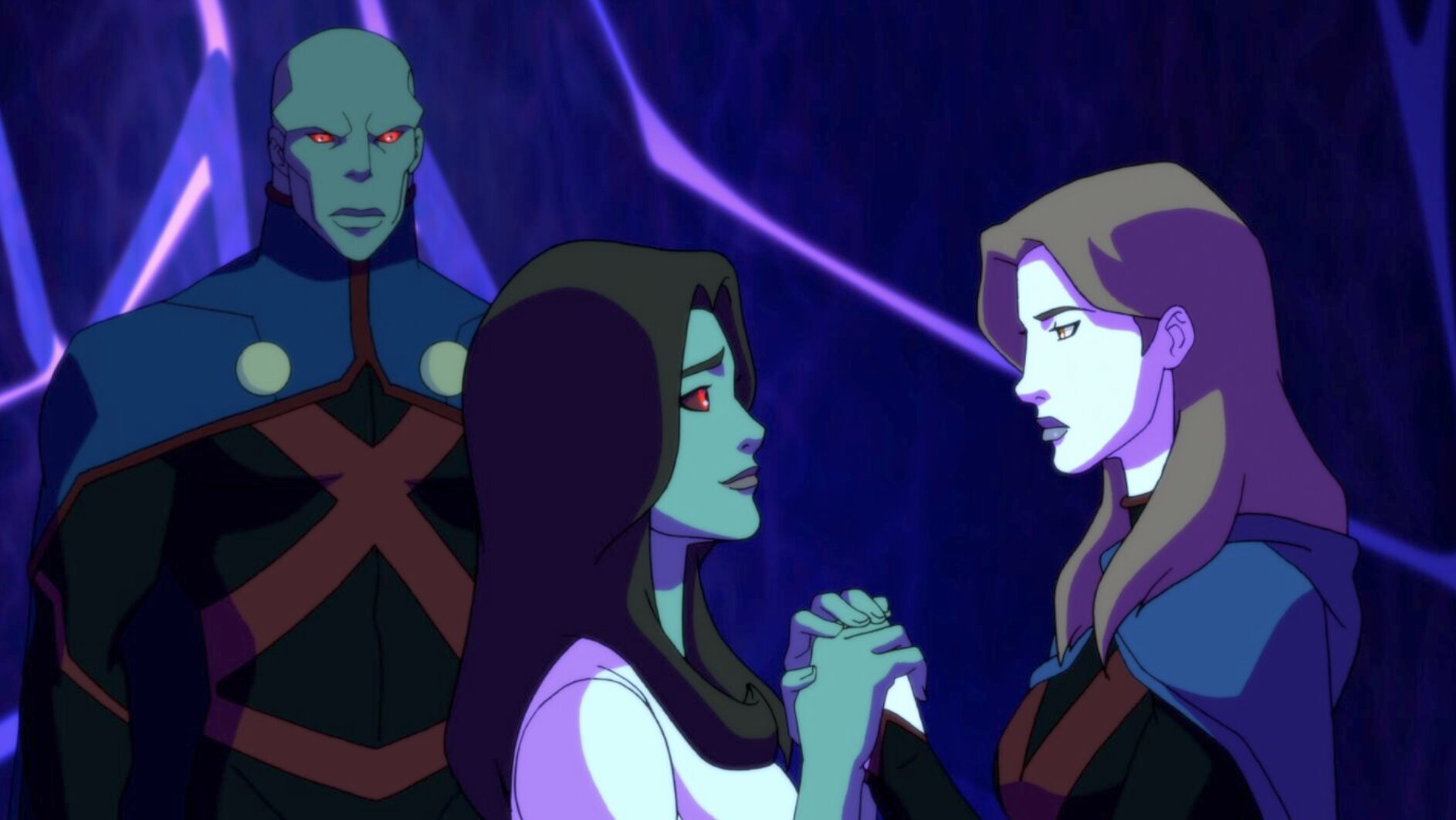 On Santa Prisca with the cover of night Tigress, Cassandra, and Onyx move to the hideout and have Oracle cut the lights. They infiltrate further into the complex until Cassandra reveals herself to be the mole, having used a glamour charm to disguise herself with the missing arm, and to conceal the infiltrators within it. Oracle manages to use a sonic pulse to stop the infiltrators from uploading the League data as Shade, Rictus, and Black Spider arrive. Cheshire reveals herself while taking out Savage evening the odds and moving the group to Orphan's cell. The group is cornered and given the choice of surrendering or dying as the episode ends.
This episode decides to take flashbacks to the next level. We flashback to Orphan's time with Lady Shiva. She has been tasked with killing the Joker as her first target because he has lost favor with the Light. We are shown a monologue explaining how the Joker is angry at the Light for using him in the Injustice League. Joker plans to kill the UN using his Joker Venom but is interrupted by the Batfam. We learn that Barbara's transition from Batgirl to Oracle came at the hands of Orphan's blade, as she steps in front of what would have been the killing blow on the Joker. She ultimately save Oracle from becoming a killer at great personal cost to herself.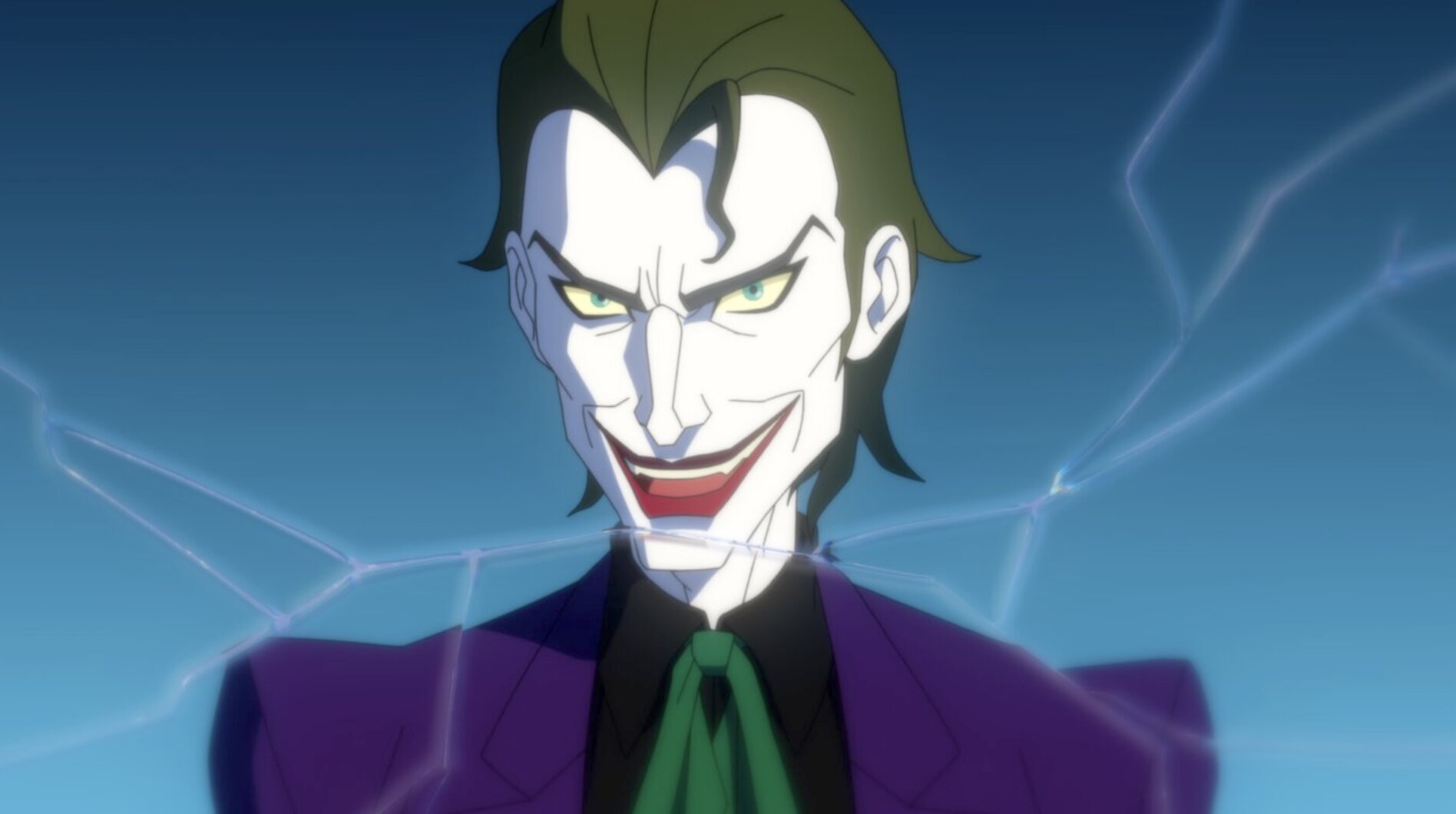 Rather than the edge of our seats, we were hovering out in front of chairs throughout the episode. We must talk first and foremost on Young Justice's take on the Killing Joke. The entire time the scene was playing out we were going between dreading the Killing Joke or thinking it wouldn't happen. We were surprised to say the least as Orphan cut through Barbara, but then it set in that Young Justice managed to take one of the most controversial storylines in DC's history and turn it into a moment that further developed characters and make us love and appreciate them. Then we are treated to what might be one of the more punchable versions of the Joker being taken down by most of the Batfam. While we felt that his monologue fell short as a somewhat confusing rambling mess, the set up led to an expertly handled scene.
Several times we were able to shout "I knew it!" in the best way possible. From the first scene of M'gann on a mission to hunt down the brother she thinks killed her husband to be, to Cassandra Savage being the mole we knew she was destined to be. Cheshire showing up right when she was needed and wanted was the icing on top of a delicious cake. It's a subtle thing that Young Justice does so well, it sets you up in way that when you are right about your guess it is rewarding, but also when you are wrong its rare that you feel punished.
As we cut through the different locations with more action than some other episodes, it is plain to see that having Studio Mir tackle all of the animation really has taken the show to another level. The overall quality, the consistency, and most every other aspect of animation is heightened. With that comes the ability to critique smaller aspects, and the one we noted this episode was the interaction of Orphan's scar and her eyebrow, or lack thereof. Such a small thing to find feels great though in comparison to other seasons.
The momentum of the season feels like it is really starting to roll with "The Lady, or the Tigress?" It is amazing to think that we aren't even a third f the way into this season, and the things we have already had happen. Given what we have seen, that is a thought that is both terrifying and exciting.
What did you think of "The Lady, or the Tigress"? Did you know who the mole was? Did you expect Jade to show up? How will they get out of the situation they are in? Let us know in the comments, our forums, or on our Twitter!
11/17/2021 1:07 pm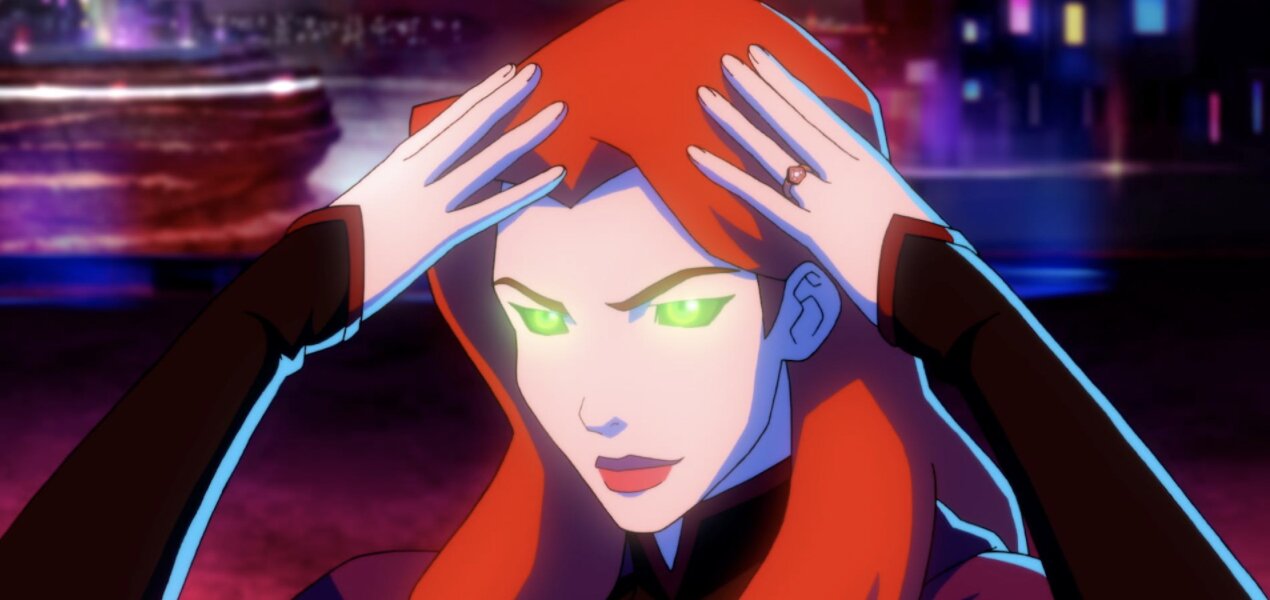 Since the start of the series, Danica McKellar has been a huge staple in regards to the main cast for Young Justice in every season. Starting out with her first major role as Winnie Cooper in The Wonder Years, McKellar has been in a variety of exciting projects ranging from television shows to holiday movies to even educational books! However, while we adore her takes on characters like Miss Martian, Tuppence Terror, and plenty more in Young Justice, we're here to take a look into some of the other roles that McKellar has brought to life in animation over the years. It's time to take a step back from Earth-16, and see what kinds of other universes this talented actress has been in as a voice-over artist!
DC Superhero Girls (2015): Another foray into the DC universe, McKellar also voices Killer Frost, renamed "Frost" as this series is more for younger audiences, in this charmingly creative children's series. Having the abilities to control ice and snow, Caitlin Snow is a firm ally to lead characters like Wonder Woman, Supergirl, and Batgirl, whereas she's usually portrayed as an adversary in most mediums. McKellar is able to deliver on voicing a character who may have a frosty disposition, but is much more heroic and charismatic when compared to prior interpretations.


The Jetsons & WWE: Robo-WrestleMania!: In a unique mash-up of two very different properties, this direct-to-DVD movie delves into the concept of what wrestling would be like in the future with one of animation's most iconic families to boot! The Jetsons, an animated property originated by the minds of William Hanna and Joseph Barbera, and the world of WWE coming together is certainly an exciting prospect, and McKellar lends her voice as Judy Jetson. Well-known as the preppy daughter of the Jetson family, Judy is a major factor into the movie's main plot as the family attempts to stop a barrage of "wrestle-bots" from taking over the future. McKellar helps bring to life this character as a futuristic teenager who feels contemporary and modern, even in a more far-off time period.


Scooby-Doo! Abracadabra-Doo: Scooby-Doo is, without a doubt, one of the most well-known animated franchises of all-time. Abracadabra-Doo is just another fascinating addition to the roster of Scooby-Doo movies with McKellar voicing Madelyn Dinkley. The younger sister of Velma Dinkley, the high-spirited sibling to one of the franchise's main leads attends a school for magicians, which culminates in the main plot for the movie as trouble runs amok for the Mystery Incorporated to help solve! McKellar lends a youthful, enthusiastic tone to her character, which helps make for a distinctive addition to this movie consisting of a certifiable colorful cast of characters.


Marvel: Ultimate Alliance: Taking another leap into the world of comic book media, McKellar voices Susan Storm, better known as the Invisible Woman, in two installments to the Ultimate Alliance video game series. The wife to Reed Richards, Mister Fantastic, Invisible Woman plays a key role in keeping the Fantastic Four together, which is also made up of the Human Torch and the Thing. While this game is certainly fun to play, McKellar helps make the character her own in how she plays Invisible Woman with a sense of comic book accuracy in how wise, yet willing to fight for her family Susan Storm is. McKellar most definitely adds a special feeling to the Invisible Woman enough to last throughout two games and many generations of fans to come!


Were there any projects we missed? What kinds of roles would you like to see McKellar take on next in the voiceover field? Let us know in the comments and forum below!