S'ti won S'annataz nrut ot enihs ni eht thgiltops!
After two incredibly exhilarating arcs for Young Justice: Phantoms centering around Superboy, Miss Martian, and Tigress, we now get a chance to delve into Zatanna's story! HBO Max released an exciting new poster highlighting some of the potential leads in Arc III to this fantastic fourth season. Poster below: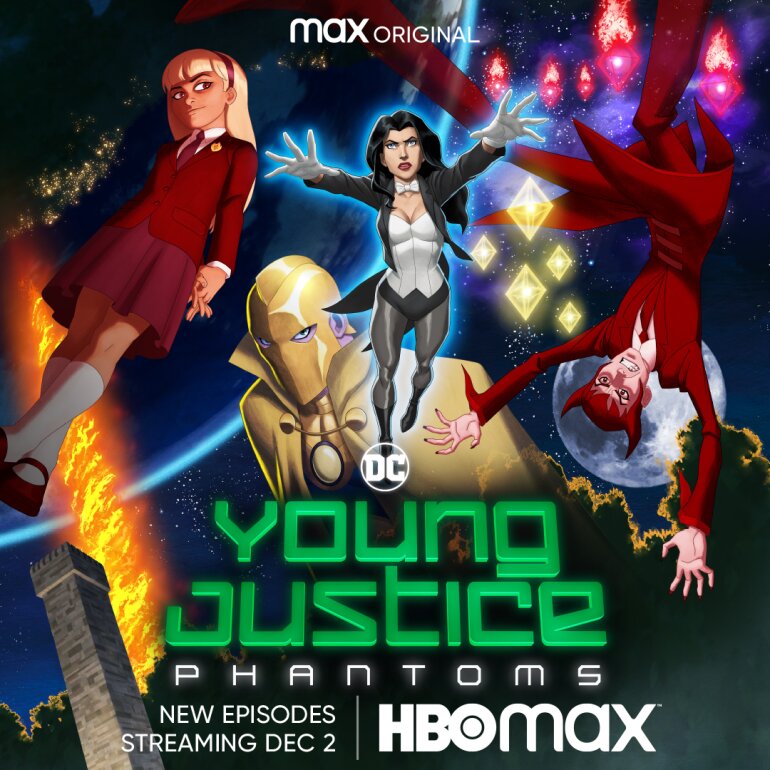 Zatanna is seen front-and-center in her dazzling signature magician's outfit whereas a plethora of other characters take the stage too. Doctor Fate, who currently has Zatanna's father, Zatara, under their control, is highlighted, hinting at a major plot point in this upcoming arc regarding Zatanna wishing to get her father back permanently. The deviously childlike Klarion is also seen messing around on the poster alongside a mysterious young girl. The child was previously seen in the first trailer for Young Justice: Phantoms, which teased that she's not exactly one of the good guys. Surrounding these heroes and villains are a variety of crystals in the colors of yellow and red and the Tower of Fate.
So what exactly do all these clues mean? What kind of trouble is Zatanna going to be in for in her arc? We're very curious as to the absence of Zatanna's protégés on the poster, given their teased importance in "The Prize". Will they only be playing a minor role this arc? We'll find out on Thursday! Zatanna's arc will start on December 2nd, and if it follows the same four episode structure as it's predecessors, it will end on December 23rd.
What kinds of hints can you get from this poster? Do you have any expectations or desires for the impending third arc to Young Justice: Phantoms? Let us know down below in the comments and the forum!