5/20/2020 3:42 pm

Zehra Fazal is a vocal powerhouse. She voices a plethora of roles on Young Justice: Outsiders such as Halo, Harper Row, Cassandra Savage, and so many more. Her vocal range allows her to play characters both young and old, and her rising career in the voice-over industry is absolutely awe-inspiring. Today, we take a dive into some of Zehra's most iconic roles.
She-Ra and the Princesses of Power: Beginning our voice actor spotlight with a popular Netflix animated series, She-Ra and the Princesses of Power is a unique take on the He-Man mythos with an intriguing perspective from one of the franchise's most memorable female leads, She-Ra. The series centers around Adora, a former soldier of an evil army, who's ultimately destined to be the wielder of a magic sword which can transform her into a legendary warrior princess. Prior to Adora wielding the weapon, the sword was the property of the original She-Ra, Mara, portrayed magnificently by Zehra. Zehra is able to vocally represent that power one may have with this great responsibility, yet she can also portray the untimely, dark fate that the character is so unfortunately destined to follow in order for Adora to shine as a hero in this brilliantly-written series.
Voltron: Legendary Defender: A Netflix-exclusive reboot of the Voltron franchise, Voltron: Legendary Defender centers around a group of pilots who can form a powerful mechanical being known as Voltron to combat the many evils within the galaxy. Zehra voices an important character early on in the series called Nadia Rizavi, a fellow pilot who's allies with the leads of the series. Brash, but very confident, Zehra masterfully portrays this fireball of energy who has boundless amounts of confidence and fearlessness. An animated science fiction series with a heavy plot-driven narrative and incredibly lovable lead characters, Voltron: Legendary Defender is another installment to the Voltron universe that has its own unique identity with the array of colorful alien races, dark, invigorating storylines, and rich, bold character arcs that are represented within the show.
Glitch Techs: Ambitious with the creative boundaries it can break, Glitch Techs is a futuristic take on the world of video games and what can happen when a "glitch" gets a little out of hand. The show centers around two friends, Miko Kubota and Hector "Five" Nieves, who gain tech support jobs from a gaming giant's covert ops division after they discover their secret location. The two new heroes are now dedicated to stopping and containing the various monstrous "glitches" that exit the company's games often. Zehra's contribution to the series is voicing Zahra, a Glitch Tech who's fiercely loyal to her company despite her biting sarcasm. Another exciting franchise with a sharp-tongued, yet thoroughly likable character to add to Zehra's already impressive portfolio, Glitch Techs makes its mark in the animation industry with a super creative series concept and a cast of colorful characters to keep it going for years to come.
League of Legends: Arguably one of the most iconic modern-day online multiplayer games, League of Legends is an insanely far-reaching world-building game that hosts a gallery of avatars with extraordinary abilities against foes of unspeakable power. Zehra voices one of the many champions in the game, the righteous and astoundingly mighty champion, Kayle. Kayle's powers can drastically escalate in firepower and range the longer the game can go on, which in return delivers swift justice upon her foes and divine aid upon her allies. A force to be reckoned with in this world of wonders and warcraft, Kayle is one of many tremendously astonishing characters that is played by Zehra Fazal, a name that will resonate with many animation and video game fans for generations to come.
Are there any projects we missed? Comment below on which other Zehra Fazal-based properties you think should belong on this list!
5/6/2020 7:50 pm
One of the greatest upcoming voice-over artists in the animation industry is the multi-talented, wide-ranged Zeno Robinson. Not only does Zeno voice Victor Stone aka Cyborg in Young Justice: Outsiders, but he also portrays an array of various characters ranging from incredibly hilarious to spine-chillingly terrifying. The variety of fantastic roles he's done so far is nothing short of sensational. Today, we look at some of Zeno Robinson's most memorable roles outside of Young Justice: Outsiders.
Big City Greens - Starting out with a more comedic, light-hearted series, Big City Greens centers around the adventures of Cricket Green and his family moving from the country to the big city. Over the duration of the show, Cricket is able to strike up many friendships with the city's citizens despite his idealistic, country-boy nature. One of the main characters he befriends is Remy, a socially awkward, but incredibly endearing kid around the same age of Cricket voiced by Zeno himself. Zeno is able to bring a goofy, lovable energy to the character and round out the cast of this upbeat animated series that both children and adults can fall in love with.
Ben 10: Alien Force/Ben 10: Ultimate Alien - The Cartoon Network series about a young man who can change into various unique aliens with the help of a special device called the Omnitrix, Zeno is able to lend his many talents to this series as Alan Albright. Starting out as a shy, inexperienced kid, Alan was able to grow into his newfound abilities which include the control of the element of fire as a member of the hair-raising Heatblast species. With a character that can be compared to that of a superhero, Zeno masterfully portrays both sides of being a young, unassuming human being and an extraterrestrial being with magnificent powers. A wonderfully well-made series with elements of the superhero and science fiction genres sprinkled in, the Ben 10 franchise is so creative and fast-paced that it can invest anyone with the unique characters and captivating stories.
My Hero Academia - A popular anime/manga about the human race with superpowers manifesting inside them called "quirks", My Hero Academia is another imaginative, popular franchise that Zeno is a part of. Zeno voices two very interesting characters in the franchise, Deidoro Sakaki and Hawks. Sakaki is a villainous character who has the "quirk" to cause anyone who approaches him to lose their sense of balance and coordination. Hawks is a more heroic character with the "quirk" of "Fierce Wings", which allows him to control the feathers of gigantic wings that grow out of his back with his mind. A pleaser for both fans of the superhero genre and of anime culture, My Hero Academia is perfect for those who wish to find something that can enthrall them with an assembly of distinctive characters, rich, fascinating story arcs, and action sequences that can get nearly anyone's blood running.
LEGO Star Wars: All-Stars - One of the most well-known science fiction franchises of all-time, LEGO Star Wars: All-Stars is an animated series on Disney XD that features LEGO versions of the many heroes and villains in the Star Wars galaxy. Zeno lends his voice to the show as a young Lando Calrissian, a charismatic rebel who is an old friend and ally to the roguish smuggler, Han Solo. Zeno brings a youthful, but witty and charming energy to his portrayal of Lando heavily reminiscent of Donald Glover's take on the character's early days in Solo: A Star Wars Story. Another remarkable addition to the Star Wars universe, LEGO Star Wars: All-Stars is comical, adventure-heavy, and an all-around thrill-ride for both casual viewers and die-hard fans of the iconic science fiction phenomenon.
Are there any projects we missed? Comment below on which other Zeno Robinson-based properties you think should belong on this list!
4/22/2020 1:03 pm

Happy Whelmed Wednesday, everyone! We know that the current times haven't been easy, and we wish nothing but good health and safety to all of our readers. We'll get through this by social distancing together: symbiosi. To lighten things up, this past weekend, Michael Greenway held a Young Justice trivia night, featuring some very familiar faces. Did you guys attend the stream that went down this past Saturday? If you didn't, no worries, we'll catch you up on everything that happened!
Organized by Michael Greenway (@DarkSuperboyDA), the Trivia Night was a rousing success, featuring appearances by Zeno Robinson (Cyborg), Cameron Bowen (Tim Drake), Eric Lopez (Blue Beetle), Neal Powell (from Whelmed: The YJ Files), and our very own Ariel Horn. Michael led the contestants through questions from a variety of categories, including General Knowledge, Video Games, and Young Justice itself. The quiz was challenging, but the contestants took all the questions in stride with a great sense of humor. Even when they didn't know the answers, they came up with their own creative spins that left everyone laughing.
In addition to Michael's questions, there was plenty of entertainment happening in the live chat as well! Zehra Fazal (voice of Halo and several others) provided some stellar commentary and supplementary questions for the contestants. Thomas Dreyfuss (@Thomas_Dreyfuss) hopped in the chat midway as well, able to answer questions and provide general knowledge that was more on the unknown side. Even Rich Howard (from Whelmed: The YJ Files) popped in to say hello! Plenty of fans chimed in with support for the cast, crew and the show, and it was overall a wonderful experience.
At the end of the game, Neal Powell ended up the champion of the trivia night, which was a surprise to no one. However, Emily Buza's (from Whelmed: the Young Justice Files) score beat all the contestants, playing from the sidelines. We expected nothing less from the Whelmed team!
To catch all of the madness and hilarity that went on in the game, check out the stream below:
Michael is currently planning a second round to take place in the near future, potentially featuring an all-girls night. We, for one, look very forward to it.
4/8/2020 9:37 am

The co-creators of Young Justice, Greg Weisman and Brandon Vietti, are more than just creative masterminds; they're insightful, perceptive visionaries who can easily create an array of fantastic stories and well-rounded characters. However, the duo's talents aren't solely reserved for just the expanded DC universe. Weisman and Vietti have had the chance to develop amazing properties throughout the years that have all earned a special place in many fan's hearts. Today, we break down some of the most memorable projects that Weisman and Vietti have worked on in the past.
The Spectacular Spider-Man: Living on the edge, fighting crime, and spinning webs! This phenomenal animated series focusing on one of Marvel's most iconic heroes, Spider-Man, is highly considered to be one of the most popular properties involving our friendly neighborhood web-slinger. The easy to follow plotlines, extremely humorous jokes, and fast-paced action makes this Spider-Man series unforgettable. While the series unfortunately ended in 2009, it continues to be held in such a high regard in many Spider-Fans' eyes.
Lego DC Comics Super Heroes: Justice League vs. Bizarro League: Our favorite DC superheroes are now fighting off evil in their LEGO forms. The Justice League is forced to take down a legion of doppelganger superheroes in the form of the Bizarro League, featuring such nefarious evil-doers as Batzarro, Bizarra, and Greenzarro! An entertaining joyride within not only the DC universe, but the LEGO universe as well, this direct-to-DVD movie allows for fun, silly romp for younger audiences and quick, amusing action and comedy for adults.
Gargoyles: Gargoyles was a complex, thought-provoking animated series that catered to both children and adults. The show centered around species of petrified gargoyles who have reawakened in modern-day New York City and take on the roles of the city's secret night-time protectors. A dark, dramatic tone, rich character arcs, and complex themes makes Gargoyles an absolute spectacle to watch. Gargoyles ceased production in 1997, but Greg Weisman's #KeepBingingGargoyles movement on social media is still very active. Make sure to check out Gargoyles on Disney+!
Batman: Under the Red Hood: Arguably the darkest entry on this list, this DC animated movie focuses on one of the most iconic comic book storylines in the Batman mythos. The movie follows Batman's investigation into a new enemy known as the Red Hood, who may or may not be an old friend who has surprisingly popped back into the dark knight's life. Incredibly somber, yet powerful in the dramatic department, this film's wonderous art style, talented voice cast, and heartfelt, tear-jerking moments makes it stand out among the various animated films in the DC catalog. A can't miss movie for any Batman fan, Under the Red Hood can captivate any viewer with its adult themes and plot-driven narratives.
W.I.T.C.H: The animated fantasy series based on the Italian comic book series, W.I.T.C.H. was a unique franchise that mixed both elements of hair-raising adventure and character-driven storylines that made the protagonists incredibly interesting. The series centered around our five leads, Will, Irma, Taranee, Cornelia and Hay Lin, who have magical powers which they use to fulfill their duties as Guardians of the Veil. Not only is the series funny and visually fantastic to look at, but the characters are quite relatable as well with the creators making sure that they come off as fallible, yet likable and humane too. The series' vibrant animation style and quick, sharp sense of humor makes W.I.T.C.H. a timeless animated series that continues to be popular with audiences to this day.
Scooby-Doo! WrestleMania Mystery: A comedic adventure involving our favorite Mystery Gang and the WWE foundation, this direct-to-DVD movie has anyone who watches this in stitches. The mysterious appearance of a ghostly creature has Scooby-Doo, Shaggy, and the rest of the Mystery Gang searching for clues along with the help of various WWE stars. An all-star cast, a sense of energetic, zany humor, and even cameos from some well-known Young Justice characters make this movie a fun and exciting ride in the world of Hanna-Barbera.
Are there any properties we missed? Comment below on which Greg Weisman and Brandon Vietti projects you think should belong on this list!
4/1/2020 8:55 am

If you've been missing Young Justice as much as we have, you'll love this. A brand new line of Young Justice merchandise is making its way to DC Universe, expanding the selection of items available for purchase. While we love the current offerings, the new line of merchandise truly caters to everything the fans have been asking for. Are y'all traught, whelmed and feeling the aster? We sure are!
The merchandise heavily leans on the show's inside jokes, featuring items with several fan-favorite catchphrases. If you've been wanting a mug featuring the iconic Bowhunter Security logo, now's your chance! The true showstopper, however, is the official Dicktionary©.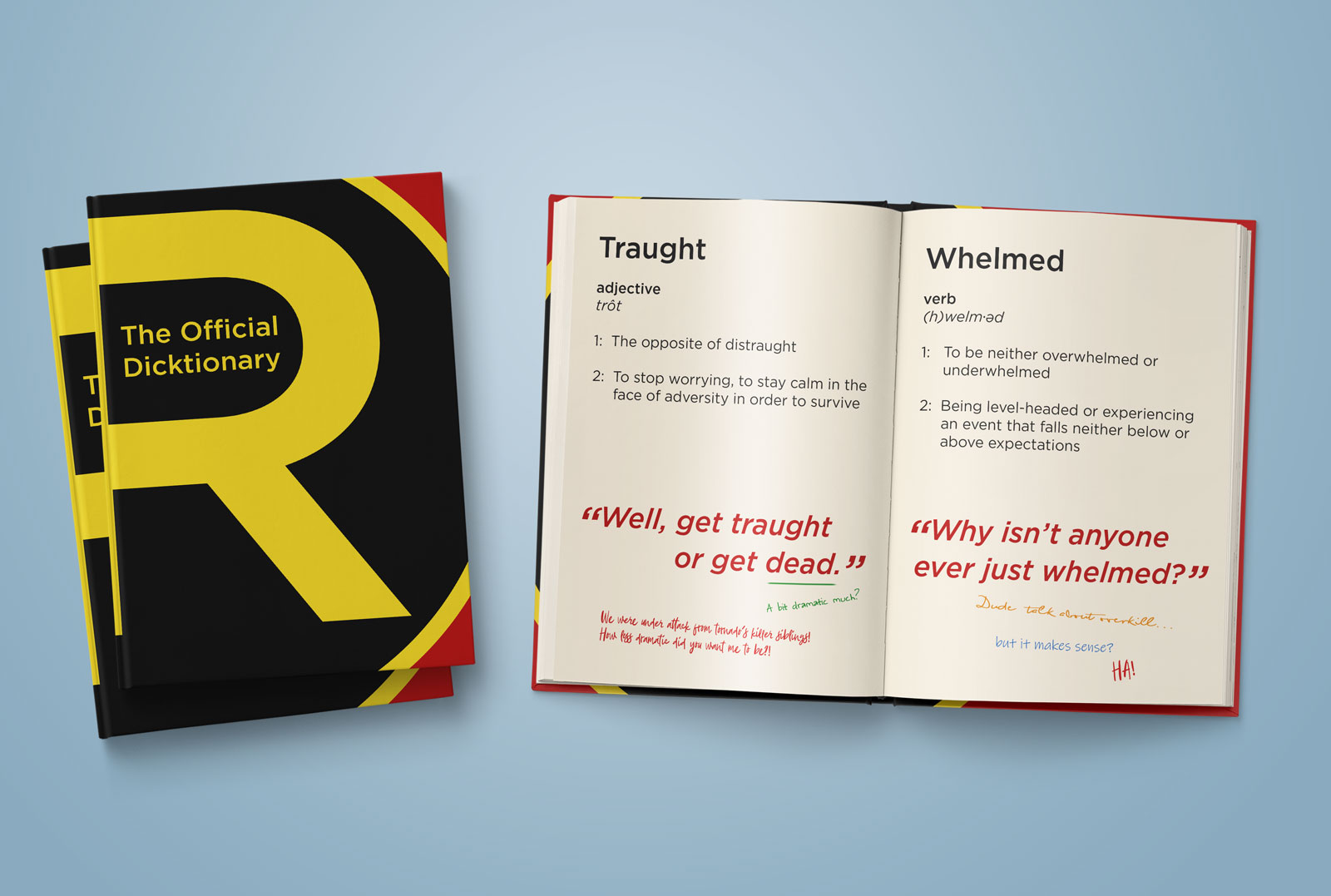 The Dicktionary© features all of Robin's 'un-words' from the three seasons, in addition to Bart's futuristic lingo. Unsure what the true meaning of 'aster' is? The Dicktionary© will spell it out clear as day. If that wasn't enough, the Dicktionary© also contains annotations from past and present team members! How's that for a fun little add on?
All of the new Young Justice merchandise will be for sale via the DCU streaming service this summer. For those wanting to reserve their copy of the Dicktionary© before they sell out, pre-orders go live on April 16 while using the code: ENOYREVE YAD SLOOF LIRPA YPPAH.