12/2/2021 9:08 am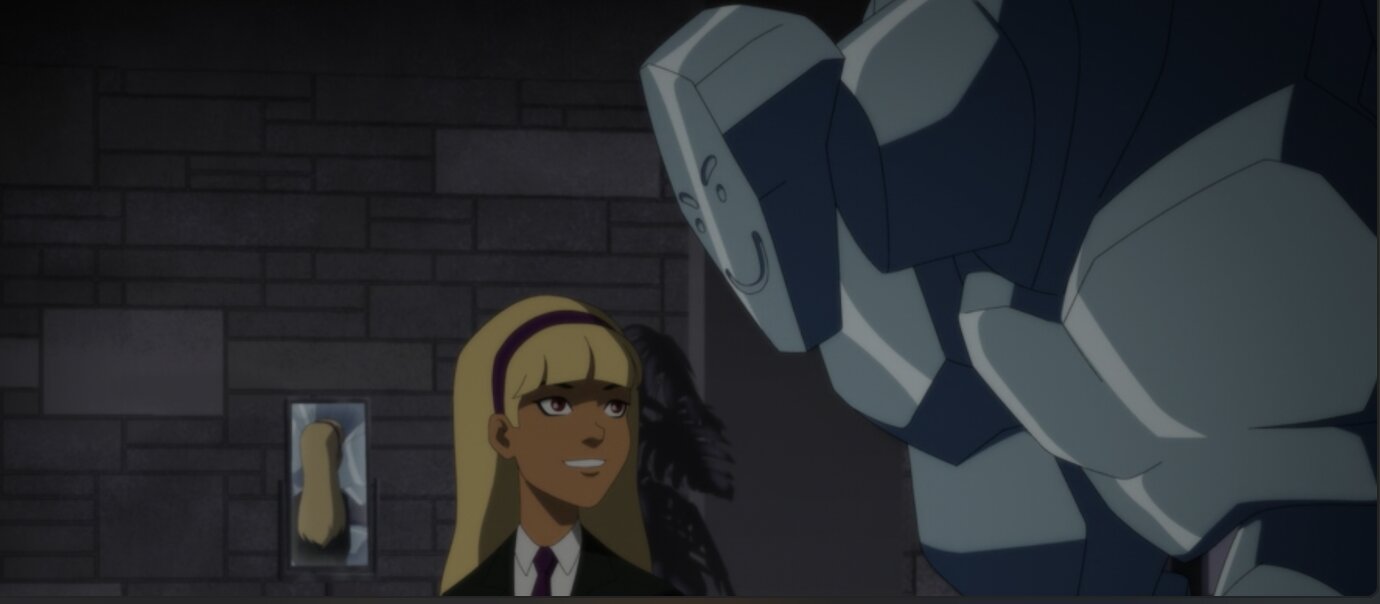 Eht dlrow fo cigam si tuoba ot egnahc reverof…
After two intoxicating arcs featuring Miss Martian, Superboy, and Tigress respectively, it's now time for a gripping storyline surrounding Zatanna and her proteges! In the past three seasons, we've seen Zatanna grow from being a neophyte of the world of magic to a highly skilled magician who's now training three young magic-users. However, their worlds are about to be turned upside down as a new powerful threat has emerged, along with the return of old enemies. The stakes have been raised, and it's now up to the entrancing enchantress and her young associates to save the day before all hope is lost.
"Odnu!" kicks off with a mysterious voice narrating about the balance of chaos and order, heavily hinting at a major theme within this arc. The episode then dives into a training exercise with Zatanna and her three apprentices, Traci Thurston, Khalid Nassour, and Mary Bromfield. Despite being fairly successful in their task, Zatanna still gives her students critiques on how to improve their performances, even if one of her proteges, Mary, was once the esteemed superhero, Lieutenant Marvel. However, a sudden disturbance makes the foursome visit an old friend of theirs via flying carousel animals similar to Disney's Mary Poppins.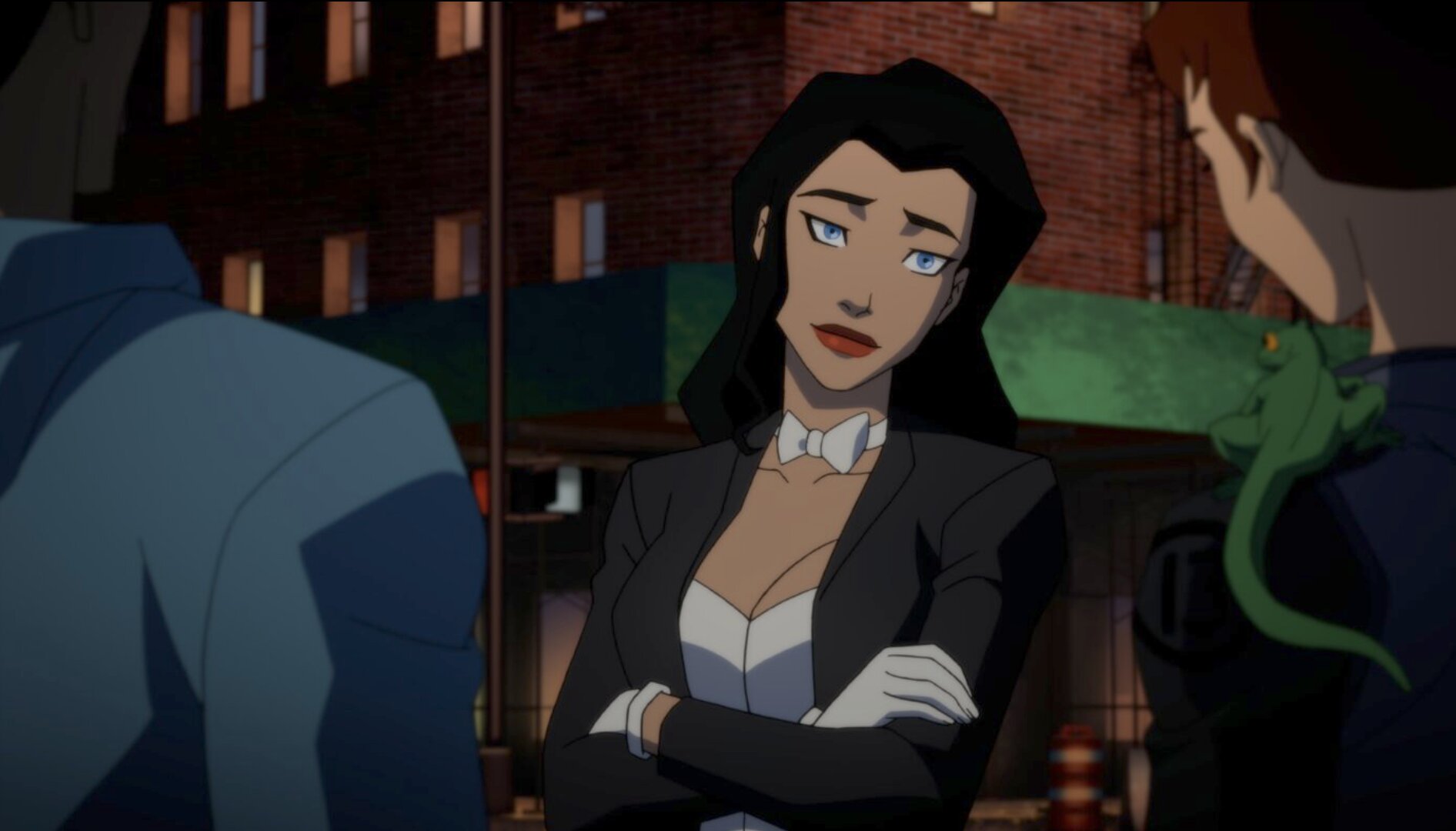 On the more villainous side of things, Klarion the Witch Boy, who's usually quite composed despite his childlike personality, is taken aback by the new arrival of this mysterious magical force. The being of chaos is so stupefied that he leaves a virtual summit with the Light, much to all of their surprise and confusion. This ominous disruption in the world of magic suddenly takes the form of a large creature that's made up of the material from the Star of Atlantis. Another being, who transforms into an eerie child, then calls it to her side and uses the beast, who is christened Flaw, to begin committing horrific acts starting on an innocent, yet unfortunate security guard. Whoever these two may be, they're certainly going to be a handful for our heroes and even maybe a few villains as well.
Elsewhere, in regards to the realm of non-magic users, the newest addition to the roster of den mothers, Blue Devil, attempts to cheer up one of the more despondent members of the Outsiders. Beast Boy, who's still in a major funk after the supposed demise of Superboy, is still avoiding missions with his team and continues to sadly lay around in his room mourning the loss of his surrogate older brother. Despite attempting to cheer him up, Blue Devil is unsuccessful in getting the Outsiders' leader out of his state of depression as he makes a trip to the pharmacy to find something to help him sleep better. Will our favorite green shapeshifter ever truly be back to his old self someday?
In a side story, we also get a further look into Vandal Savage and Klarion's history together. We learn that Klarion destroyed the meta-village that Vandal first set up, and after hundreds of attempts of trying to kill Savage, the two reach some sort of understanding... for now, at least. Hopefully we'll learn more about it in the coming episodes. We also learn that the episode's narration is done by the ever cool and mysterious Phantom Stranger; we can't wait to see what more lies in store with him.
This episode was most definitely a great way to start such an enrapturing arc, there's a lot to talk about in regards to what was done really well. First, the inclusion of new and returning characters like Khalid Nassour, who inevitably becomes one of the many incarnations of Doctor Fate, was super interesting to see. The introduction of Nassour and Mary Bromfield, who was teased a bit in the past by the show's creators, worked really well as the show gave us a good understanding of their pasts and where they stood right now as apprentices to the amazing Zatanna. The duo's personalities feel really well-defined too, and they're not the only new additions to the show's ever-expanding cast that shined bright like a diamond!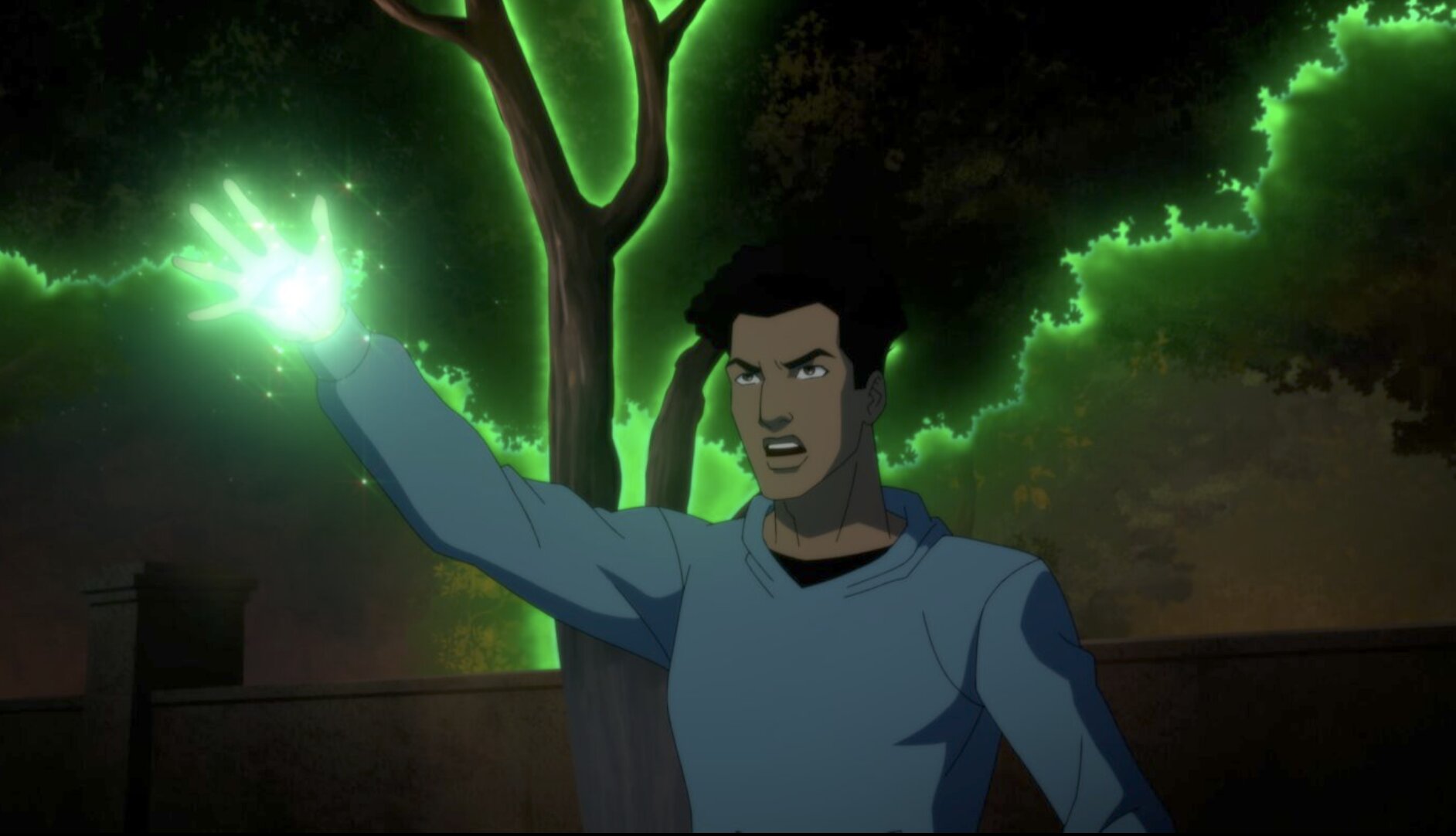 Not only did the introduction of Child and Flaw raise our intrigue, but they were also genuinely horrifying and brought a real element of horror to the episode. Child perfectly embodies the well-known trope of the "creepy child" who dresses fancifully and talks in a slow, mysterious manner, while Flaw is a hulking abomination that has a childlike smile in the middle of their "face" to counteract their imposing frame. While their appearances and demeanors are unnerving, the actions they commit in this episode are extremely appalling as a poor security guard is ripped apart in a way that's similar to someone you'd see in an HP Lovecraft novel. This is most likely the tip of the iceberg in how malevolent these two are.
While the magical elements to "Odnu!" were spellbinding, the more down-to-earth and humane scenes also didn't feel out of place and gave this episode a more grounded feeling. Seeing where Beast Boy was during all of this was certifiably heartbreaking, you really feel the heartache in his voice whenever he talks. The sadness is palpable in Greg Cipes' performance as you know that he misses Superboy, the closest thing he had to an older brother, more than life itself. The other characters utilized like Blue Devil and Mist was also nice as the two haven't received much attention until now, and it was interesting to dig into how they were feeling and trying to aid Beast Boy during his time of great crisis.
Furthermore, what makes this episode stand out when compared to the prior eight was its macabre, unearthly tone. There's a peculiar sense of something going on throughout the episode and when each character notices this, a sense of lurid dread comes over them whether it's Zatanna or Klarion. The lighting and coloring in most scenes is also quite dark too, very few eye-catching pastels are used to symbolize that everything in this episode will be a bit more grim than what we're used to. Whereas the first arc leaned more into the science fiction aspects of the show and the second arc leaned into both the espionage and familial elements of Young Justice, "Odnu!" really does feel like a radically dark departure from what we've seen so far in Phantoms.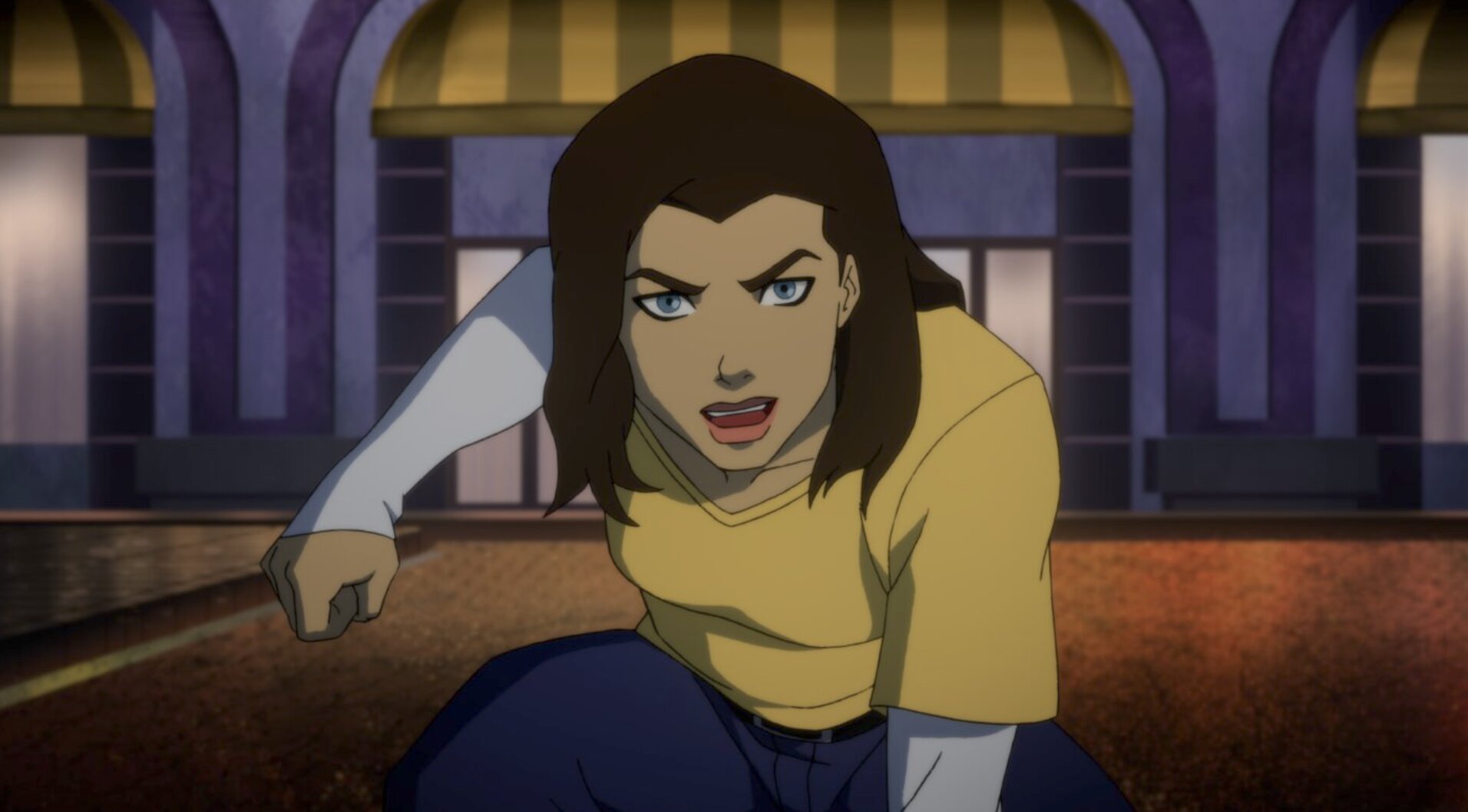 To conclude this review, the ninth episode of Young Justice: Phantoms was a brilliantly-written episode that really embraces the supernatural aspects of the show. The highlights on the new characters were put-together gracefully, and our heroes' latest adversaries will definitely send shivers down our spines in future episodes. The more practical and realistic scenes showcasing one's depression at the loss of a loved one were sensible showcases too, keeping the audience down-to-earth will help the show stay balanced. Most importantly though, the episode in general leaves us wanting more and eager to see what happens next in the upcoming three episodes that'll be in Zatanna's arc.
What did you think of the episode? How do you think this third arc of Young Justice: Phantoms will turn out? Let us know in the comments and via our Twitter!
12/7/2021 6:20 pm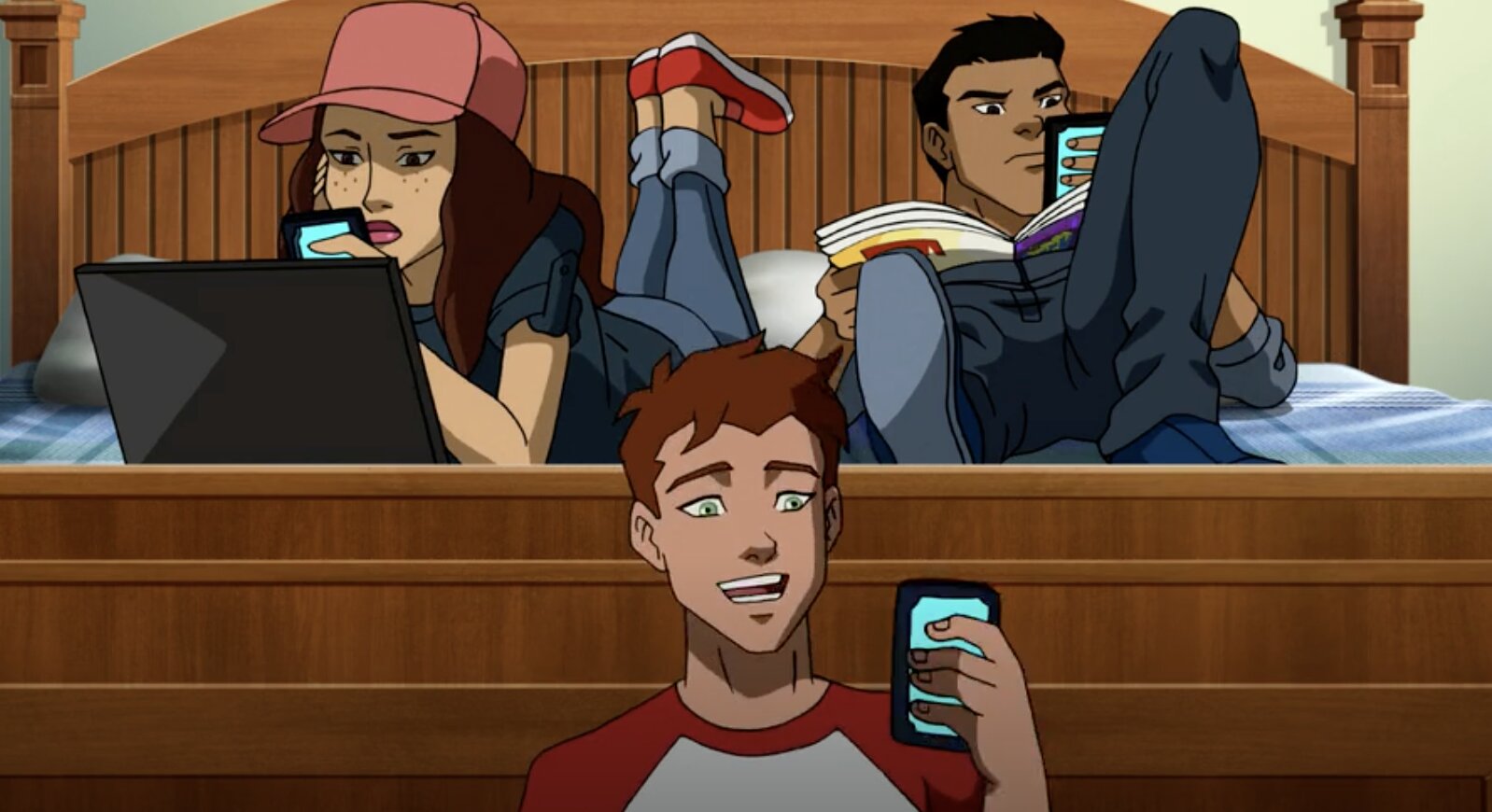 Welcome back to the newly named Traught Tuesday! We wanted to space out our articles between the episode reviews and weekly posts, so we decided to post a day earlier. This week, we're diving a little bit into a topic that comes up often in the fandom given the advent of streaming, binging, and frankly how we experienced the previous three seasons. For full transparency, we can't even begin to claim to be unbiased in our thoughts about the subject. As with all content creators that use Young Justice to create their content, we are much more inclined to have weekly releases rather than an entire season, a half season, or even multiple episodes come out at a time. That said, let's dive in to the debate.
We've seen it, you've seen it, whether on Twitter, Tumblr, Reddit, so on and so forth: people wish they could binge Young Justice. And hey, we don't blame them! In today's world of endless streaming services, bingeing is how TV is mainly consumed. There's a certain kind of thrill to having the next episode(s) immediately at your fingertips, with no wait to the thrilling cliffhangers and a resolution to the temporary suspense. We're not going to argue it: bingeing is a convenient and pleasureable way to watch television.
However, not all shows are created with the intention to be binged. Several shows are designed with carefully concocted stories that are intended to instill suspense and encourage endless discussion and speculation between episodes. Young Justice easily falls into this category, especially when considering the current arc structure of Season 4. As previously mentioned, Young Justice is clearly built from the ground up with the intent of being released on a weekly schedule to give time to theorize, shout form the mountaintops, and anticipate between each episode. This kind of hype only builds up anticipation for the newest release, ultimately leading to increased desite to watch and then more views on HBO Max. Not only that, but the increased speculation and discussion grows the community, and thus, viewership numbers.
Of course, we've had our taste with bingeing Young Justice during the run of Young Justice: Outsiders. For the first half of the season, it was released in 3-4 episode increments for the span of a month before going on a nearly six month hiatus. While it was nice to get a nice, sizable chunk of episodes, ultimately we felt that this tactic didn't work and actually hindered the watching experience. It made the episodes blend together, and the viewing experience felt rushed than compared to the previous two seasons. Not to mention, after having the show off the air for five years, fans were eager to get back into the YJ bubble. However, this excitement was short lived and only lasted a month. This led to less fan engagement, less creation of fanart, less promotion, and so on and so forth. Many fans were eager for a longer runtime and for episodes to be released weekly, which might have led to the more stable, staggered release of the second half of the season.
Truly, Young Justice has always had a chaotic release pattern, to say the least (and not at the fault or blame of any of the show's crew, who likely had no say in the decision). Between Season 1 ending and Invasion releasing a week apart from each other, and the many (many) hiatuses throughout the original Cartoon Network run, it's fair to say that Young Justice has never had a consistent viewing schedule. However, now we can fondly (semi-fondly) look back on it as a critical moment in the early fan experience of the show. We genuinely believe that Young Justice is more enjoyable when consumed with a bit of a break, preferrably with weekly releases. The bingeing formula just doesn't work with this show. Young Justice thrives off little details and stories being pieced together over time, with wild speculations and community engagement throughout the process. Weekly releases allows us more times to fall in love with the characters and keep them in our lives for just a little longer, you know, before the inevitable waiting period for new content.
So, despite the two arguments, the question remains: should you binge Young Justice, or should you continue to watch it week by week? First and foremost, it's always up to your viewing preference, and sadly the availability of the show where you call home. If you are lucky enough to have access to HBO Max and are able to watch the show weekly, we suggest sticking to this pattern. It is undeniable that the show was meant to be seen one glorious episode at a time, with bingeing kept for after a significant amount of episodes have aired. And binge you should, time and time again! Of course, there is no right or wrong answer, but in our heart of hearts we are very happy to have a consistent amount of Young Justice to stream, and hope that statement remains true for years to come.
(We were serious, though. If you want a new season, #KeepBingeingYJ to #SaveEarth16!)
Do you wait to binge? Do you watch each episode as it comes out? Some mix of both? Let us know in the forum, or on our Twitter; we love hearing from you!
11/29/2021 4:40 pm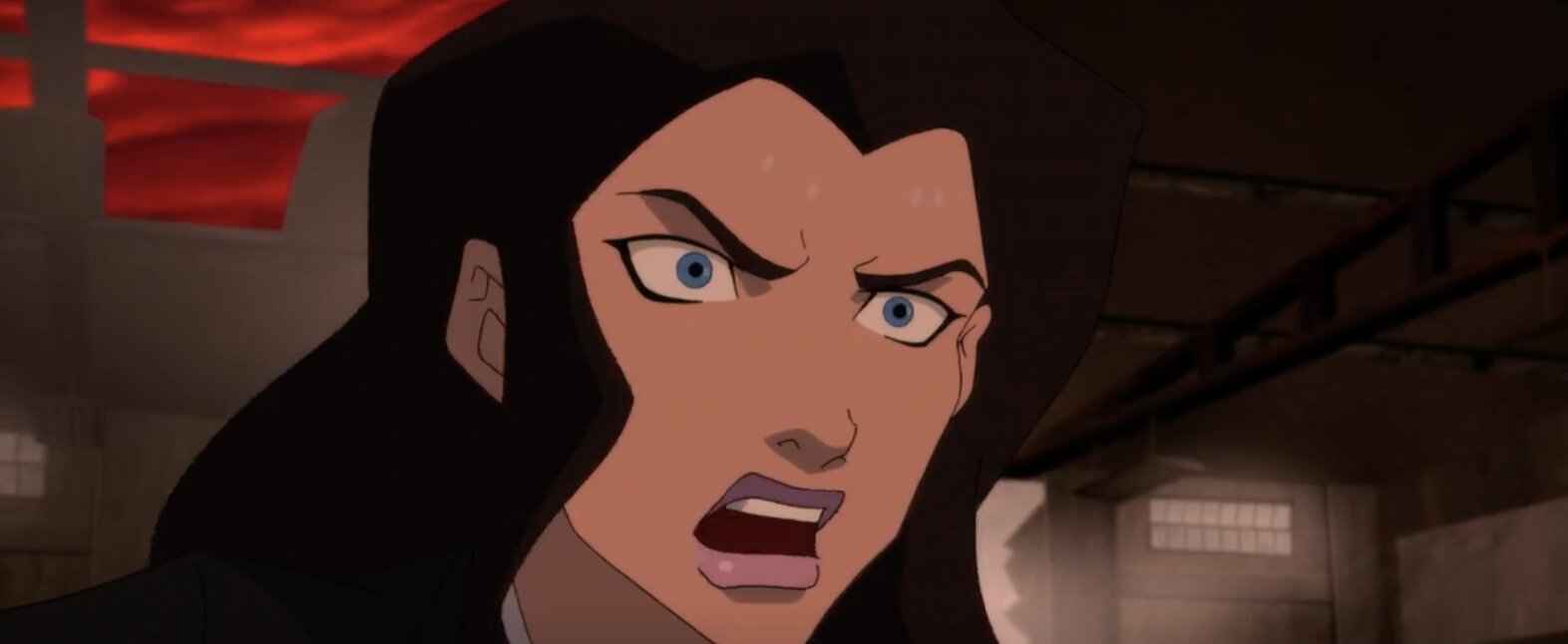 S'ti won S'annataz nrut ot enihs ni eht thgiltops!
After two incredibly exhilarating arcs for Young Justice: Phantoms centering around Superboy, Miss Martian, and Tigress, we now get a chance to delve into Zatanna's story! HBO Max released an exciting new poster highlighting some of the potential leads in Arc III to this fantastic fourth season. Poster below: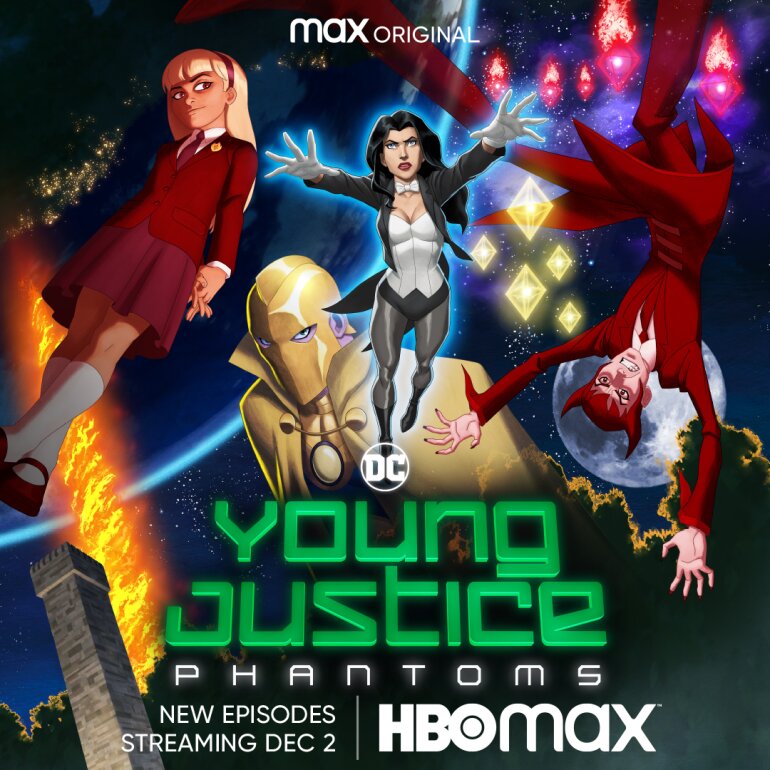 Zatanna is seen front-and-center in her dazzling signature magician's outfit whereas a plethora of other characters take the stage too. Doctor Fate, who currently has Zatanna's father, Zatara, under their control, is highlighted, hinting at a major plot point in this upcoming arc regarding Zatanna wishing to get her father back permanently. The deviously childlike Klarion is also seen messing around on the poster alongside a mysterious young girl. The child was previously seen in the first trailer for Young Justice: Phantoms, which teased that she's not exactly one of the good guys. Surrounding these heroes and villains are a variety of crystals in the colors of yellow and red and the Tower of Fate.
So what exactly do all these clues mean? What kind of trouble is Zatanna going to be in for in her arc? We're very curious as to the absence of Zatanna's protégés on the poster, given their teased importance in "The Prize". Will they only be playing a minor role this arc? We'll find out on Thursday! Zatanna's arc will start on December 2nd, and if it follows the same four episode structure as it's predecessors, it will end on December 23rd.
What kinds of hints can you get from this poster? Do you have any expectations or desires for the impending third arc to Young Justice: Phantoms? Let us know down below in the comments and the forum!
11/25/2021 9:01 am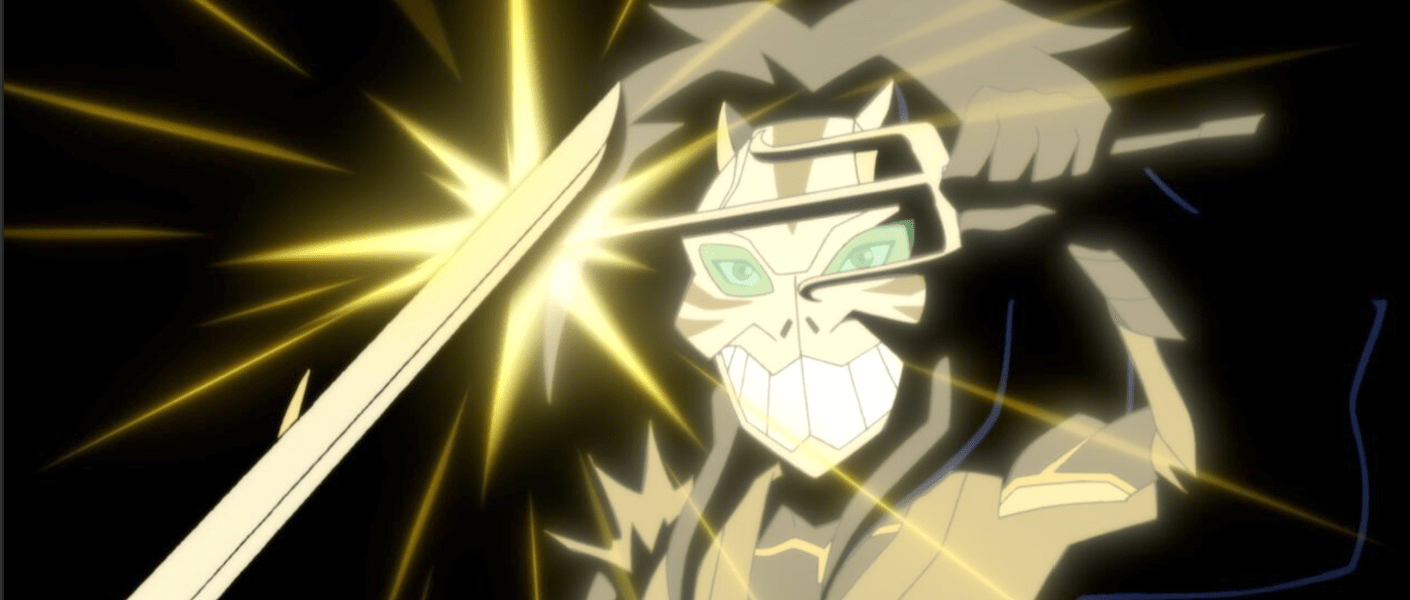 After a nerve-wracking cliffhanger, Young Justice: Phantoms concludes its second arc with its eighth episode, "I Know Why the Caged Cat Sings". An incredible fight sequence, heartbreaking familial drama, and more flashbacks to round out this very emotional arc, leaving plenty of loose ends to be explored as the season progresses. If you haven't watched the episode yet, we'd advise to keep a box of tissues nearby— you're going to need it.
"I Know Why the Caged Cat Sings" immediately kicks off with a familiar scene from Season One: Artemis and Cheshire's confrontation at the end of 'Infiltrator'. It perfectly sets up the expectations that this episode is going to hurt. The scene cuts to the present, launching us right into the intense confrontation between the Shadows, Tigress, Cheshire, Onyx and Orphan. However, Orphan needs time to get out of her locks, so it's up to Artemis to stall Lady Shiva and her assassins. Through this stalling tactic, we learn that Onyx was set up with false information by Lady Shiva and Cassandra Savage, using it as a test of loyalty to the cause. Obviously, she failed, and set off their plan perfectly to acquire League intel and bring Orphan back to the Shadows.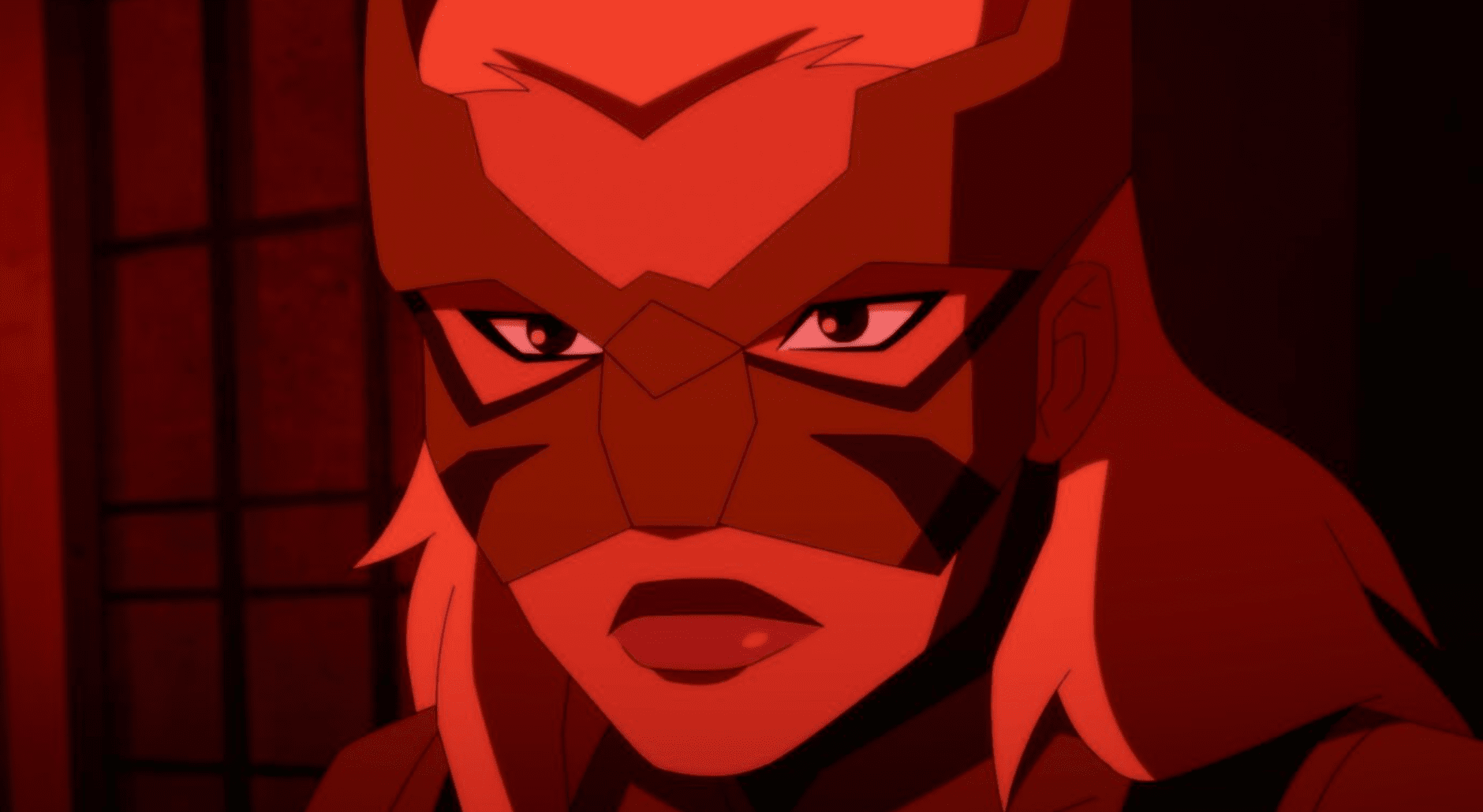 What follows is arguably one of the best fight scenes ever done on Young Justice. When Orphan breaks free, she shuts off the power, leading to an immersive, intense battle taking place entirely in the dark. There's some blood spilled, but it's not nearly as gory as anything from Outsiders. The fight comes to a head when Shiva stabs Artemis in the leg and the lights are turned back on, leaving Tigress and her team surrounded with no option but surrender. However, here's where the unexpected help comes into play. Shade pulls through and transports Tigress' team (and a couple of poor Shadow assassin trainees) out of of the facility and to the beach of Santa Prisca, but not before Lady Shiva jumps in his shadow portal after them, slaughtering the trainees as she exits. RIP to them.
Meanwhile, in the B-story, we spend a much-less stressful time on the Kent family farm. Lois, Clark, little Jonny and Wolf spend time with Ma and Pa Kent. But just in case you thought you could relax in the sweetness of it all, fear not— it's secretly heartbreaking! Jon is confused as to the concept of death and Uncle Conner's absence, leading Clark and Lois to explain it to him. Clark feels guilty that he wasn't able to save Conner, but Lois reminds him that it might have come at the cost of his own life, an important reminder that it's not always possible to save everyone and that everything happens for a reason.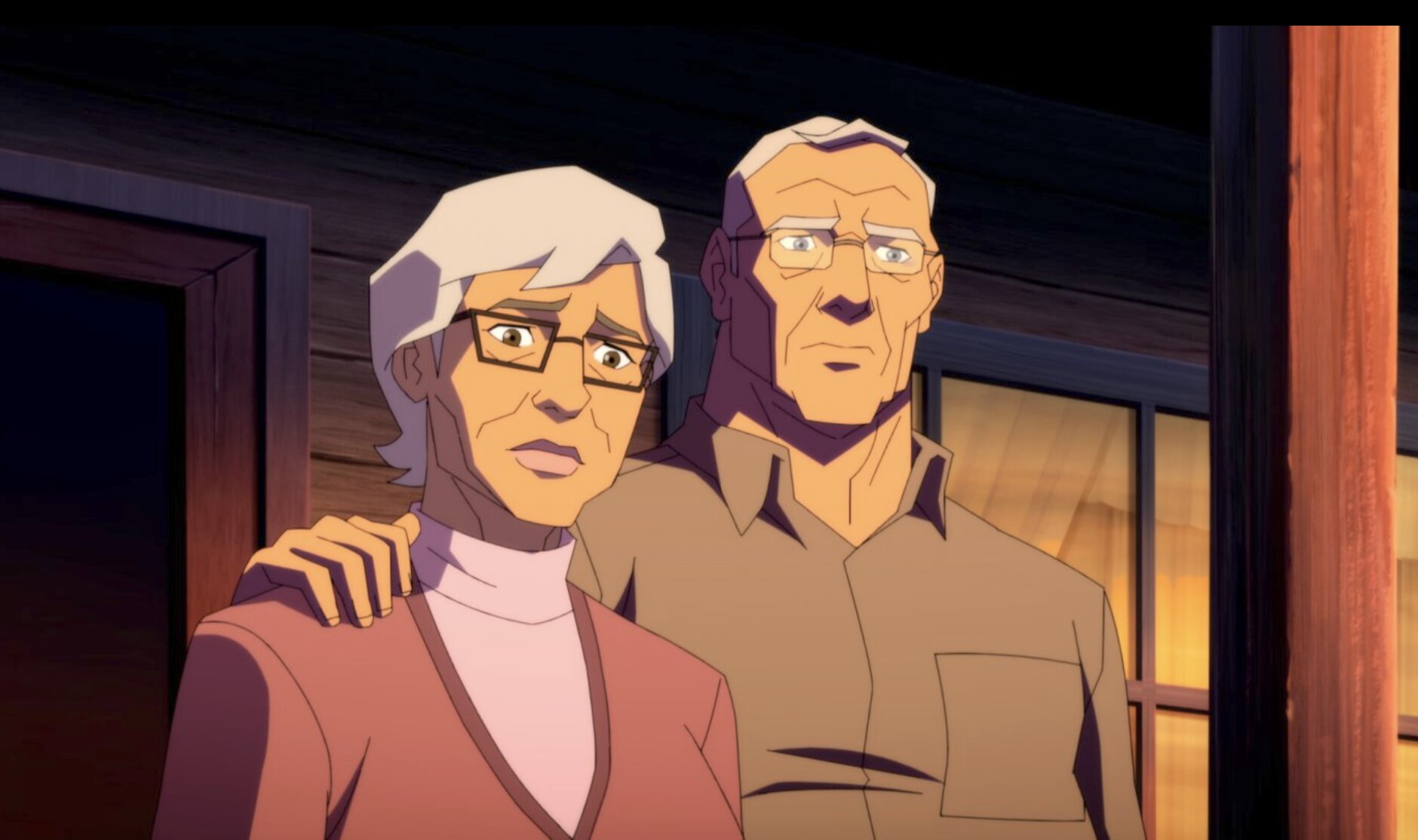 Back with Artemis, Shade announces his debt to Cheshire is now paid, to which she agrees. Lady Shiva obviously is livid with this outcome, but Shade doesn't pay any mind and declares he is now a freelancer and a part of no organization. Good for him, I think. With New Genesphere protecting Artemis' squad from further harm at the hands of Lady Shiva, Cheshire instructs Onyx and Orphan to take Artemis aboard and dress her wound. Lady Shiva isn't leaving without her daughter, though. She taunts Orphan and threatens Barbara's life, pushing Orphan to a breaking point and leading to a fight between mother and daughter. She stabs Lady Shiva deep in the gut, but thanks to Barbara's insistence, is unable to deliver the final blow. Thus the team leaves, with Lady Shiva bellowing in rage as she's left behind without her daughter.
We launch into another flashback, the end of Artemis and Cheshire's encounter in 'Infiltrator', followed by two new flashbacks in the aftermath. Jade tells Sensei about meeting her sister, and Sensei implores her to recruit Artemis into the Shadows. Meanwhile, Artemis rages against her sister's decisions to their mother, Paula, and we receive some much-needed insight as to Paula's role in the girls' childhood and the problems lurking at Jade's core.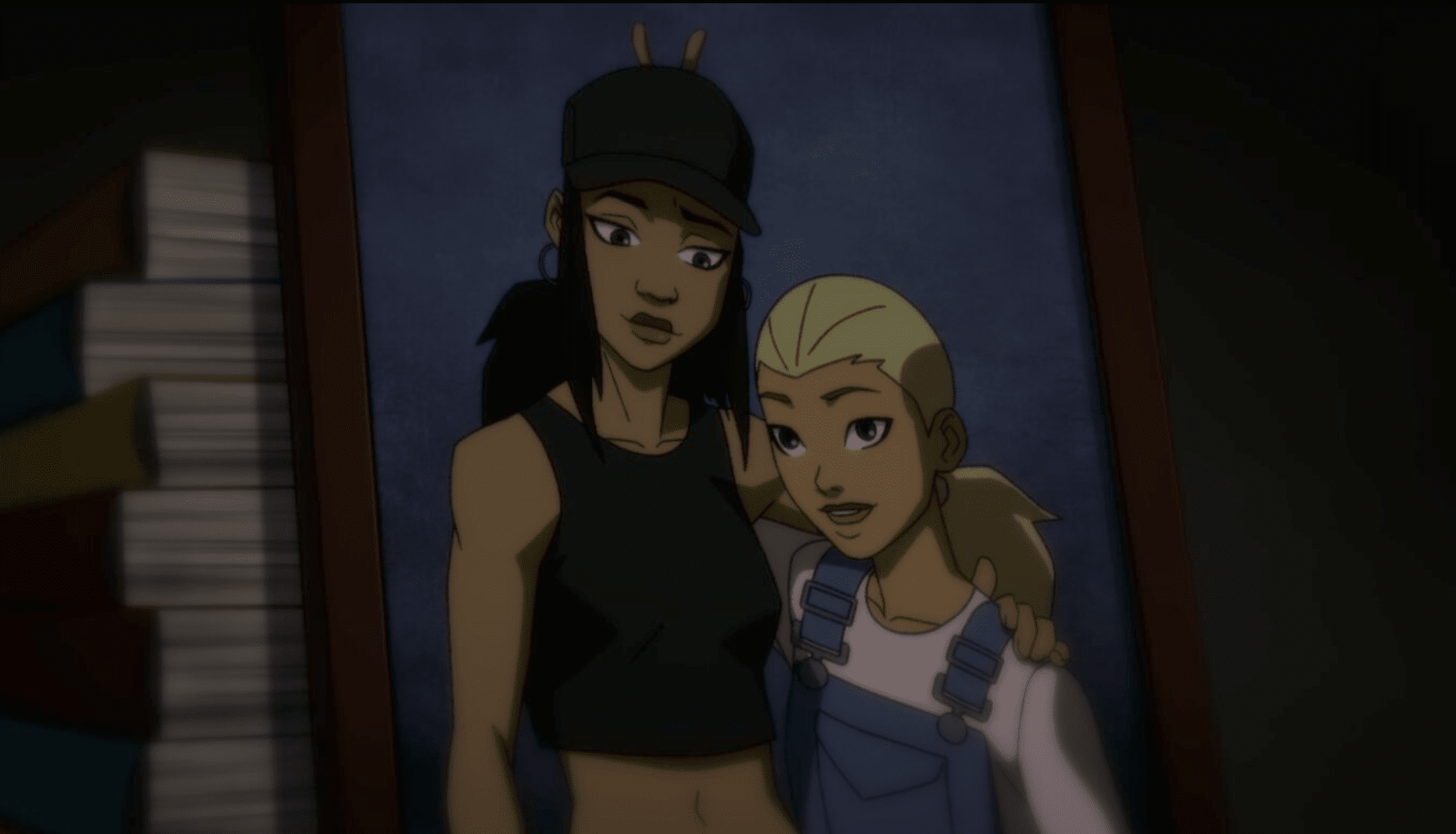 Artemis and her team take refuge at a safe house in Key West, where Jade patches up her leg. In a truly heartbreaking moment, she agrees to let Artemis call Will and Lian and for one moment, it seems like everything is great and happy and that she's going home. Except, you know, this is Young Justice. Nothing is ever that simple or easy. After seeing Lian make a Cheshire cat 'Mommy mask', Jade recoils in panic and flees the safehouse, effectively crushing my heart. We were SO close, y'all. So close.
Thanks to Barbara tagging Jade, Artemis and Co. are able to get on route to track her to Infinity Island. In a rash turn of events, Jade attempts to go back and end her life via Sensei's hands. Luckily, Artemis stops her, and the two have a very emotional confrontation, the one that's been building up this entire arc. Here's where you'll need most of your tissues, y'all. As Jade insists that she's too far gone to go back to her family, Artemis insists she can be helped. In an odd turn of events, Ra's al Ghul and Sensei offer both Jade and Onyx a space on Infinity Island so they can rehabilitate and heal from their past trauma. In an even odder turn of events, Artemis agrees to this arrangement, confident that her sister is on a genuine path to healing.
The true standout of this episode was the incredible fight scene in the dark on Santa Prisca. A huge shout out to the entire art and animation team for how well done it looked. Between all the cool glow-in the dark colors, the intensity, the sheer terror of not knowing what was going to happen, this fight would definitely make our 'top 5' list for epic battles on the show. Shout out to the Cass and Lady Shiva moment of the fight for truly being brilliantly animated, and also the moment of pure fear when Jade realizes Artemis is injured.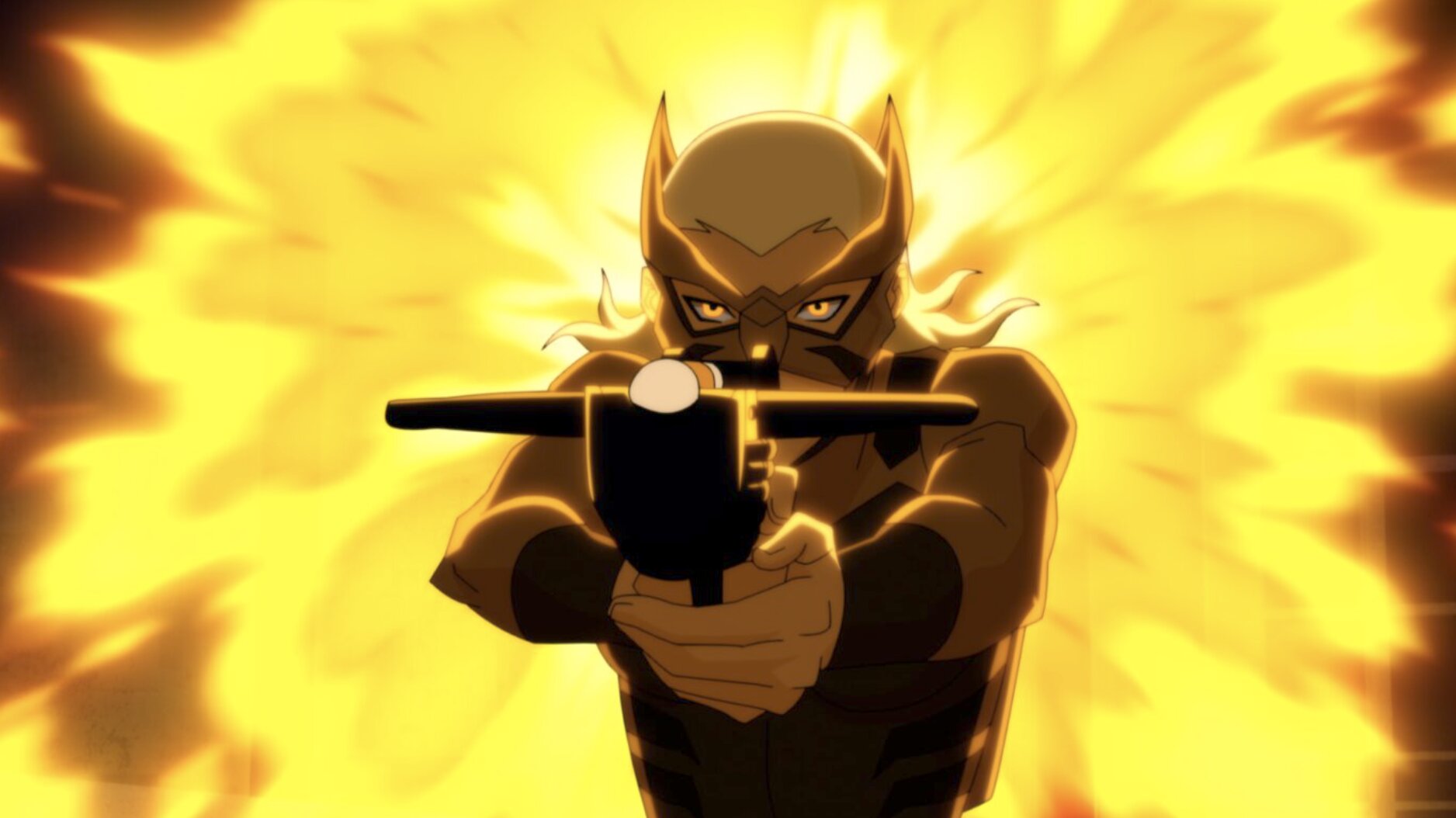 However, we did feel that other than the fight scene, the majority of this episode suffered from an overwhelming amount of expositional dialogue. There were three different scenes where it felt like exposition and background were just being explained to us by the characters, and while we don't mind exposition when needed, much of this felt like information we already knew or could have gleaned from using context clues. There were also several instances where characters who weren't directly engaged in the conversation were just standing around, and it felt awkward.
Additionally, we were confused as to the end of the arc, why Jade and Onyx remained on Infinity Island, and why Artemis was so okay with it. Prior to this episode, we've received no real indication of what the Al Ghul's true motives are, and we are unsure just exactly what kind of rehabilitation both Onyx and Jade expect to get with them. Granted, there are so many layers to this last scene that we're still analyzing, and it does feel like a loose end that will be explored throughout the season, so we won't say too much about it now.
In regards to the conclusion of several character arcs, on the whole, they were done well. Jade's emotional confrontation with Artemis was done brilliantly, and seeing her genuinely want to take steps to put herself on the path to redemption felt like the right choice. Time will tell if she will actually heal on Infinity Island (or if Ra's and Talia have other, more sinister intentions in mind) and return home to her family, but as of now, odds are looking good. We wish Onyx would have had a more prominent role in this conclusion, and we're admittedly sad to bid goodbye to her (for now), as we've truly warmed our hearts to her.
As for the B-story, we have mixed feelings. On the one hand, we do appreciate that Young Justice is taking the time to wallow in the grief of Conner's loss, something that felt missing with Wally's ceasing. We like how this season is exploring the effects of his death on other people, making it truly feel like a bigger and fuller world. On the other hand, we still don't believe that Conner is truly dead, and if he isn't, spending this much time on the grief surrounding his disappearance won't age well. Of course, only time will tell as to whether or not he is alive, and we'll just have to wait and see.
"I Know Why the Caged Cat Sings" felt like it could have used more time and fleshing out to really feel like a satisfying conclusion to this arc. While we did enjoy the B-stories following up on the previous arc, with more characters to juggle, we would have liked to see less time spent on the B-stories and more focus on the plot at hand. At times, it felt like the conclusion to this arc was rushed and could have benefitted from a slower pace. That isn't to say we didn't enjoy it, because we did, and we're sure every arc will have its pros and cons. Additionally, if the previous arc is anything to go off of, we're sure to see the aftermath of Artemis, Jade, Onyx, and more throughout the rest of the season. At least, we hope so. It would be a crime not to see more Bowhunter Security pop up, after all!
With the conclusion of Artemis' story, we are excited to head into Zatanna's arc with her many proteges. Will we see her grapple with Doctor Fate? Who exactly are her proteges? We'll start getting answers next week!
What did you think of "I Know Why the Caged Cat Sings"? Hurting for Jade? Excited to see Jason, we mean, the Red Hooded Ninja again? Desperately hoping that everyone ends up happy and okay? Let us know in the comments, our forums, or on our Twitter!
11/24/2021 2:16 pm

Welcome back to Whelmed Wednesday everyone! With so many new characters and special easter eggs introduced in Young Justice, we thought we'd start a new series highlighting these characters' comics history so we can all get better acquainted with them. Granted, the writers love to take libirties and put refreshing spins on the majority of these characters, but there's still plenty of useful information to be gleaned from their respective comics. As the fandom knows, a character with a name and a voice has a thought-out history on Earth-16, and much more often than not, a deeper connection to the DC universe at large. More can be written about either of those subjects, but today we are going to take a look at some of the Conservation of Characters that have happened in this latest arc of the show.
Jason Bard: Starting off with likely the most polarizing choice, we have Artemis' new boyfriend. Despite not having a double consonant name (Billy Batson, Guy Gardner, etc.) he first appeared in Detective Comics #392, published in 1969. He has often been tied to the both Gotham and the Gordons, namely Barbara. He also has a history of having been wounded in the line of duty and having to pursue other avenues of work. It is great to see that aspect remain and that representation on screen. Our prevailing theory is that he has dated Barbara in his YJ iteration, but that has yet to be fully confirmed.


Onyx: Less controversial to the fandom and less trustworthy, we have Onyx Adams. She entered the DC Universe in Detective Comics #546, published in January of 1985. Originally working alongside Green Arrow, they both fought a monk named Lars who killed their mutual master of the monastery they both trained at. This was after her time in the League of Assassins and training under Lady Shiva, and after she had already gained a reputation as a street fighter and hit woman. It seem as if the some of the aspects of her past have been avoided, but is replaced by tying back to the Amazing-Man through a casual name drop.


Rictus: We will round out this trio of Conserved Characters with Rictus. Probably our favorite pull because it seems to be a cut that is the deepest by far. From what we can tell, Rictus appeared in Red Hood and the Outlaws #21, published in August of 2013, and only shows up in a handful of issues in that run of comics. Using cybernetic enhancements to augment themselves, they were able to gain superhuman strength and stamina as well as density control. They were also tied to the League of Assassins and seem to have trained the Red Hood at one point. It remains to be seen if Jason Todd is officially in this season, or what Rictus' role would be in his training. What does seem to be true is the possible use of Father Box tech to enhance themselves.
We can't wait to dive deeper into the countless characters that have been and will be introduced as the season goes on, and maybe even dive deeper into older seasons as well.
Who is your favorite character to show up from the greater DC Universe? What character do you hope gets some screen time in the show? Let us know in the forum, or on our Twitter; we love hearing from you!