6/6/2019 9:07 am

We've been waiting! Waiting right along side you with both the desire to see more Young Justice but to also ensure that there will be a fourth season! Many of you should know by know that we are among a large group in the fandom working to promote the #crashthemode movement to support DC Universe and share our desire for more Young Justice! We hope you will continue to follow us on that effort. That said, we also have the news to bring you! July is going to be a busy one for Young Justice fans! The final episodes of the third season are now set and its going to be four tuesdays in a row!
July 2- Eps 14-16
July 9 - Eps 17-19
July 16 - Eps 20-22
July 23 - Eps 23-26
July should be declared as Young Justice month for 2019! We can't wait to watch the remaining episodes and hope you'll enjoy them too and our recaps! Let us know your excitement in the comments below and in the forum!
6/5/2019 9:59 am
It's the first official Whelmed Wednesday of #CrashtheMode! We're six days into the campaign, and I am having a blast seeing all of the fan engagement. It was so interesting so see what everyone's favorite YJ Comic was on monday, and I am even more looking forward to seeing the posts for Traught Thursday.
For the next few weeks, on Whelmed Wednesday, the #CrashtheMode team is going to take a moment and highlight some of the amazing contributors to the Young Justice community. Before I get into this week's post, I want to remind everyone of the #CrashtheMode events going on in the next week!
TODAY: Whelmed Wednesday! Use the hashtag #WhelmedWednesday to support the YJ Contributor of the week.
June 6th: Traught Thursday! Use the hashtag #TraughtThursday to share your favorite Young Justice ship. Feel free to pair it with your favorite gif, picture, or comic panel of them!
June 7th: Season 1 rewatch: Episodes 19-26. Finish Season 1 with a bang, and use the hashtag #KeepBingingYJ to share your favorite moments!
June 9th: Season 2 rewatch: Episodes 1-5. Keep the ball rolling with Season 2, and use the hashtag #KeepBingingYJ to share your favorite moments!
June 10th: YJ Merch day! Use the hashtag #MerchMonday to share your YJ merch! Don't have any? No problem! Your team leaders will be sending links throughout the day to purchase some.
That's all for the next seven days, friends!
This week, the #CrashtheMode team wants to recognize the team behind Whelmed: The YJ Files for #WhelmedWednesday. In case you haven't yet heard of them, they are responsible for creating the most in-detail, fantastic Young Justice podcast. Each episode is highly thought out, incredibly charismatic, and plain old entertaining to listen to. Seriously, if you haven't heard them yet, please get on it! In addition to YJ episode breakdowns, they also have a plethora of discussions with actors, professionals, and fans of the Young Justice community! The YJ Files has become an integral part of the Young Justice fandom, and we want to thank them for everything that they have done and continue to do.
Who knows, you might even see yours truly appear someday…
For now, that's all I have for you! Keep rocking those hashtags, because the only way we'll do this is symbiosi. Together, y'all. Let the hope always burn bright!
5/31/2019 11:08 am

Happy Friday, everyone! I hope y'all are feeling the aster, because today is the first day of #CrashtheMode! In case y'all missed it, I'll put the calendar right below.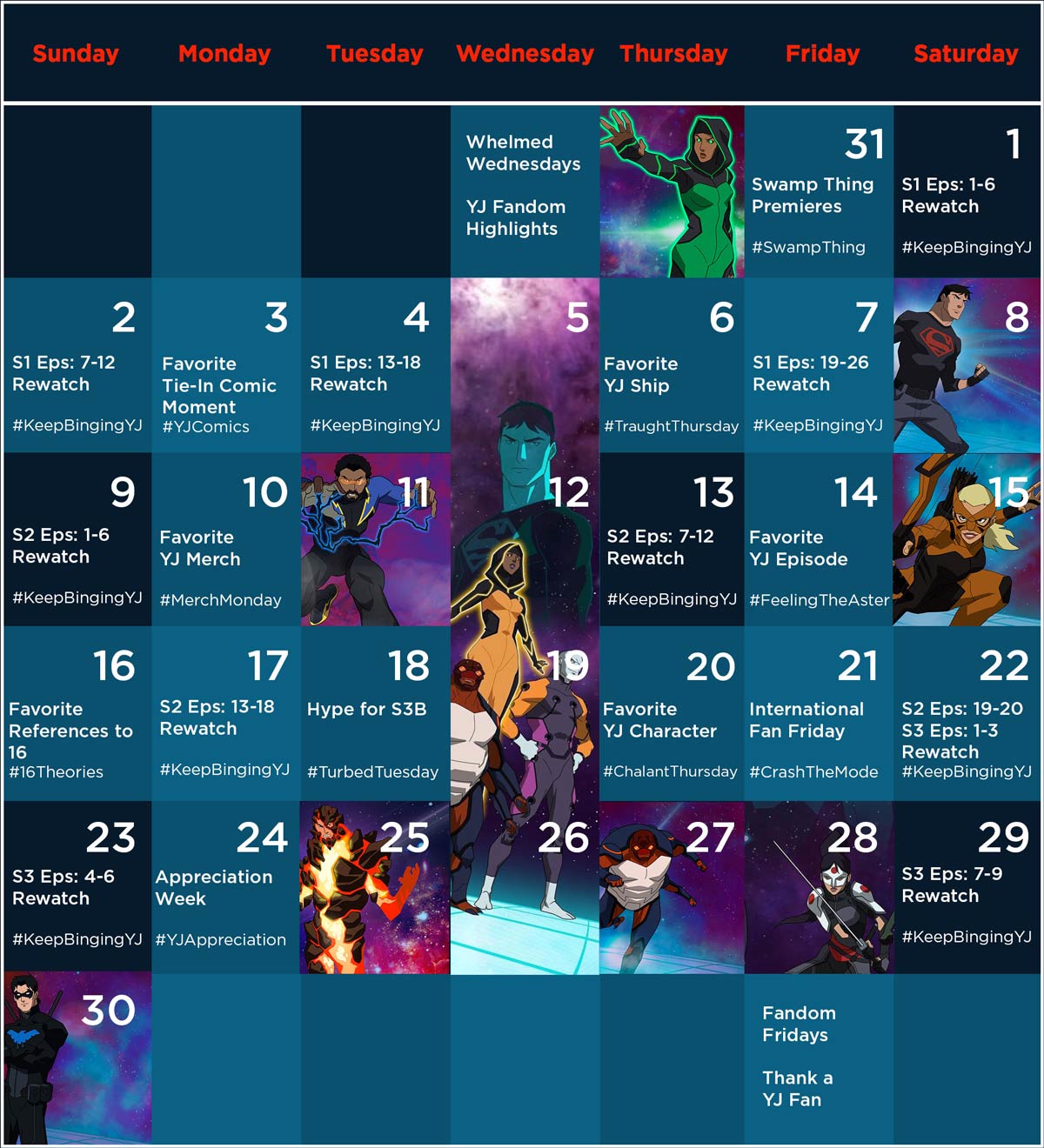 As promised, here's a more detailed explanation for the events happening this week:
May 31st: The start of the campaign, and the premiere of Swamp Thing! As a fandom, it's important we show support for all of DCU's shows, so use the hashtag #SwampThing to promote the show on Twitter. Let DCU know how excited we were for Swamp Thing, and how we know it'll be just as good as Young Justice!
June 1st: The first livestream of the YJ Binge. Want to binge the show before 3b? We got you covered. We'll kick off the binge by watching Season 1, episodes 1-6. Time TBA. Use the hashtag #KeepBingingYJ to spread awareness!
June 2nd: Second livestream, watching Season one, episodes 7-12. Time TBA.
June 3rd: Use the hashtag #YJComics on Twitter to share your favorite tie-in comics moment!
June 4th: Third livestream, watching Season one, episodes 13-18. Time TBA.
June 5th: Whelmed Wednesdays! YJFanVids and I will be sharing highlights from the Young Justice Fandom, including articles by YJ.tv, podcasts from the YJFiles, new blogs to follow, and more. Use the hashtag #WhelmedWednesday to share and promote.
June 6th: Use the hashtag #TraughtThursday on Twitter to share your favorite Young Justice couple!
June 7th: Fourth livestream, finishing Season one with episodes 19-26.
It's going to be an amazing month, everyone. Let's see those hashtags, and get ready to #CrashtheMode!
5/30/2019 8:14 am

In a surprising turn of events, our usual Whelmed Wednesday post has turned into a Turbed Thursday! Apologies for the delay, but the #CrashtheMode leaders needed just a tad more time to complete the events calendar, and I promise, it's amazing. We are one (1!) day away from the start of the #CrashtheMode campaign, and I don't know about y'all, but I'm ready for it. Before I get into the nitty gritty, the team leaders wanted to remind you of three very important tasks to be completed. If you haven't already:
Please send in a short video letting us know why you love Young Justice. It doesn't have to be long, just a few seconds at most. We've gotten some amazing videos from you guys, so keep it up! Last time we had a campaign, the video turned out to be so meaningful and absolutely stunning. Don't feel comfortable showing your face? Perfectly fine. Use whatever you want! Be it a Kid-Flash plush, a drawing, or just a quote. Any contribution is equally helpful. Once you have your clip, please email it to

This email address is being protected from spambots. You need JavaScript enabled to view it.

by June 16th.
Follow @YJFANDOMFEST and nominate your favorite fandom members to gear up for #FandomFriday. We have some wonderful submissions, but we want more! Remember, we will be publishing these submissions every Friday in June using the tag #FandomFriday to spread awareness and thank our amazing fandom. Anyone and everyone is eligible, so go make someone's day and nominate them for being amazing.
Promote, promote, promote. The only way this campaign can succeed is if everyone spreads the word and contributes. We want to show DC Universe that we love this show and will do anything to show it; that starts here. Reblog, send a video, thank a fandom member, and get ready to use hashtags and promote the campaign! We know this fandom is capable of amazing things, now it's time to show the world.
Binge-watch the show and read the tie-in comics. It goes without saying, but the best way we can show DCUniverse that we want more YJ is to give them the numbers.
Now that we've gotten that out of the way, I'm sure you've all noticed the beautiful calendar that the lovely YJFanvids created for the month of June. In case you're in stimulation overload or confused about the events, we've got you covered! Every week,we'll be releasing a detailed guide to explain the week's upcoming events, in addition to reminding everyone day-of on Twitter and Tumblr.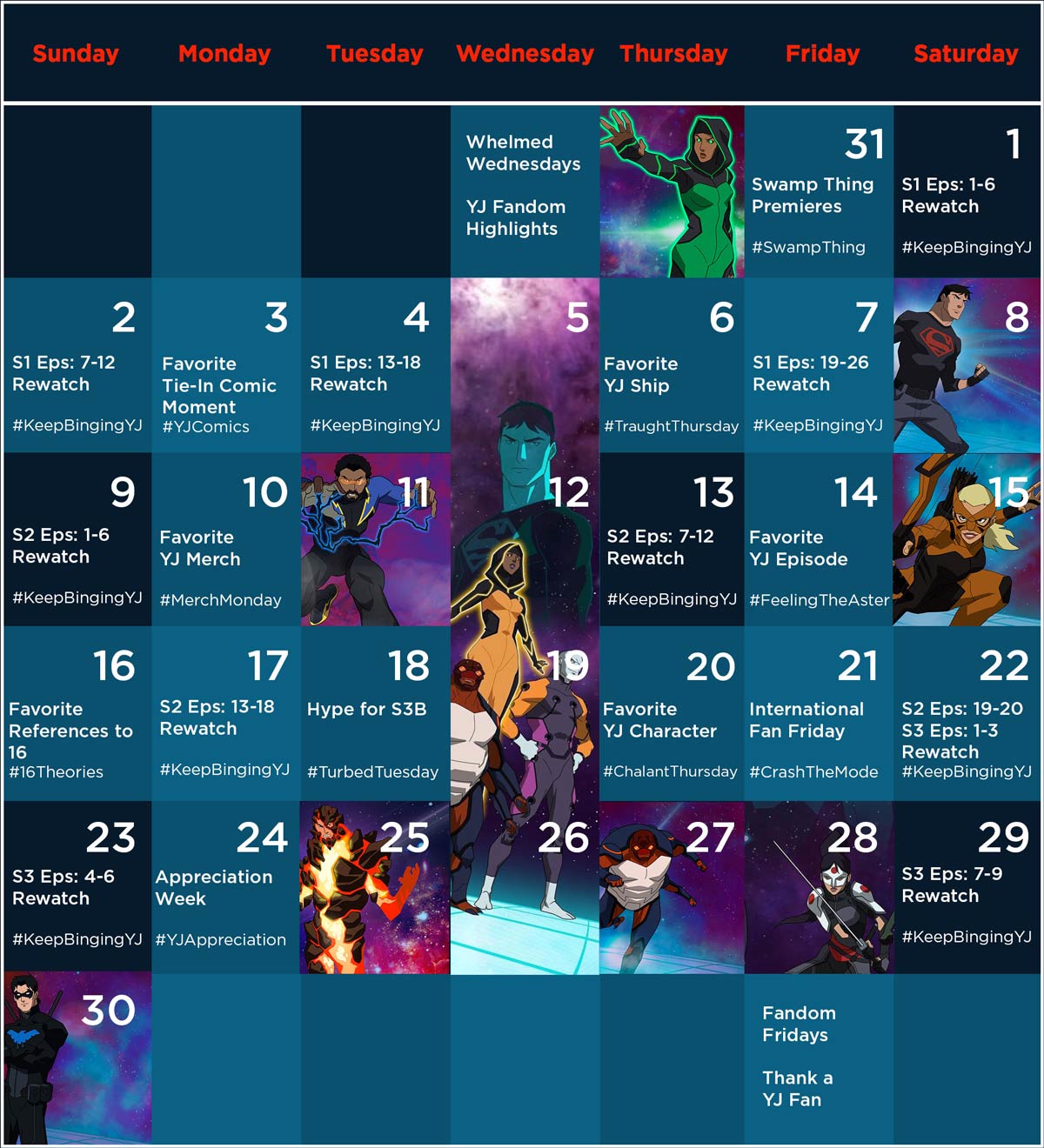 We have a more detailed post coming tomorrow with the week's events, but as tomorrow is the first day, we thought we'd give a little sneak preview to the weekend! Tomorrow, we'll be kicking off the campaign using the hashtag #SwampThing. I know, I can hear you bristling at me already; what does Swamp Thing have to do with Young Justice? Well, as a fandom, we're here to support DC Universe and all of its shows, especially on their release date. I've watched the first couple episodes of Swamp Thing, and I promise you that it's worthy of a hashtag!
So, for tomorrow, spread awareness using the hashtag #SwampThing to promote the show on Twitter. Let's let DC Universe know how excited we are for Swamp Thing and how we know it'll be just as good as Young Justice!
This weekend, we'll have a few viewing parties, and then some new hashtags later in the week. More details coming tomorrow!
We're so close, everyone, but we cannot do this without help! We are so excited to see what everyone is capable of.
Symbiosi, my friends. As always, stay whelmed; we got this!
5/22/2019 9:30 am

On this happy Wednesday, I am finally happy to say that Game of Thrones is done and I can return to focusing on good television. Like Young Justice. Speaking of Young Justice, we are just 40 days away from receiving the rest of Season 3! I don't know about y'all, but I am glued to my social media in case DC Universe releases the next trailer. Ignoring my lapse in sanity, today's article is here to remind everyone of the #CrashtheMode campaign starting on May 31st!
I've been seeing some posts floating around Tumblr and Twitter expressing frustration over YJ not yet being renewed for a season 4. I won't argue with anyone here, it's entirely valid to be upset and even worried about the lack of renewal. However, it's important that we take this frustration and push it into showing DC Universe just how much we care about Young Justice and want to see it return. In order to do that, we still need your help; here's what you can do until the campaign starts!
Submit a video message about how much Young Justice means to you: We really need this, guys! Last time we had a campaign about this, the video turned out to be so meaningful and absolutely stunning. No idea what I'm talking about? Check out the old video here. (Fun fact, I'm actually in this video ;) ). We don't need a long message, just a couple of seconds of what Young Justice means to you. Don't feel comfortable showing your fact? Write it on a piece of paper, film it and send it in! Anything helps. All submissions should be sent to

This email address is being protected from spambots. You need JavaScript enabled to view it.

.
Tweet your support! There are so many people still active in the fandom, sharing art, opinions, podcasts and more. Like and retweet their posts, using the hashtag #CrashtheMode to spread awareness.
#KeepBingingYJ. This is the easiest way to currently support the show, other than buying official DCU merchandise through the app. I know I'll be starting my rebinge in a few days, how about you?
Keep your eyes peeled for the official campaign calendar coming out next week! We will have watch parties, hashtag days, and a cast/crew appreciation week, so there's nothing to be missed. We can't wait to share it with you.

I know that no renewal yet is daunting, but no news is good news, right? For all we know, they're saving it as a special announcement once 3b airs, or at comic con. So for now, sit back, listen to a Whelmed Podcast (they also come out on Wednesdays!), and rewatch Private Security for the 97th time. See you next week!