SURPRISE! A little over a week to go until DC Fandome, and we receive a bit of a present! The key poster for Season 4 has been released, and just like you, we're obsessed.
The poster, featuring art by Brandon Vietti, Christopher Jones and Jason St. John Wright, showcases the core six members of the original team: Nightwing, Rocket, Zatanna, Miss Martian, Superboy, Aquaman, and Tigress. We're in love with how bright and vivid the colors on the poster are, especially when compared to last season's darker tone. Could it be that this season will be on the lighter side? This is Young Justice, so, likely not!
There's a bunch of interesting things to note about the poster, namely the unidentified rainbow entities in the center, the red and yellow crystals above Zatanna, and the two planets on either side of the heroes. The rainbow objects sorta remind us of the zeta tubes, and the crystals are also familiar but we can't place our finger on them just yet. As is tradition per every new season, M'gann's hairstyle has changed and she seems to be rocking it long again. Going solely off the poster, we love seeing the original core team together again— sans Wally, and Will, who is probably off wrangling his daughter, a business, and his clone brothers off-poster (we can only hope, right?).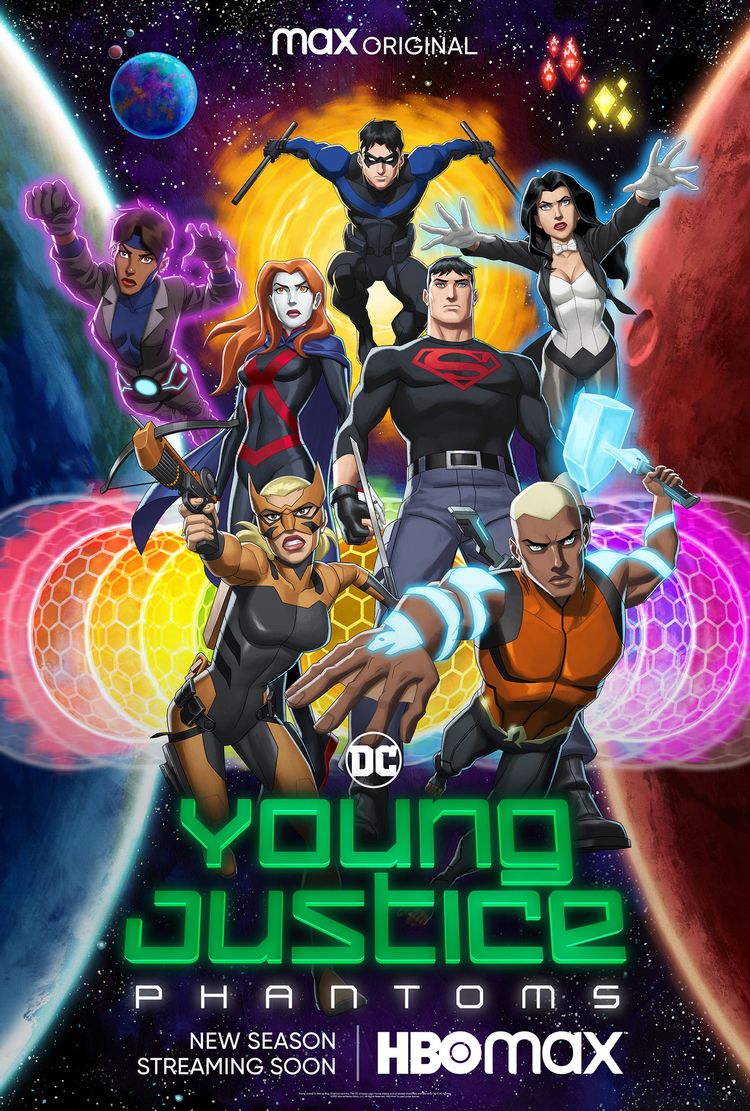 In addition to the poster, Collider released an interview with Greg Weisman and Brandon Vietti, spoiling as little as possible about the new season. Keeping in line with the usual tradition of showcasing secrets and lies, Vietti shares that "[they] always find reasons for characters to engage in more secrets and lies that complicate both hero life and private life". We're glad to see that while there may be many changes in Phantoms, keeping secrets remains a strong theme. You can read the full interview right here.
As the days tick closer and closer to DC Fandome, our excitement for Young Justice: Phantoms only grows! We can't wait to see the full season and share it with you all. Do you have thoughts on the new poster? Any theories you'd like to share? Let us know in the comments, the forum, or by tagging us on Twitter (@tvyoungjustice)!