As 2020 ever so slowly comes to a close, fans have been eagerly awaiting news about the next season of Young Justice. Late in September, HBO Max revealed that Phantoms would be premiering in 2021, but no additional news as to when. With little to go on, we've been keeping an eye on Greg Weisman's Twitter, as he periodically gives updates on the production status of the new season. Yesterday, he treated fans to one of those updates, letting everyone know where Phantoms stands in terms of production: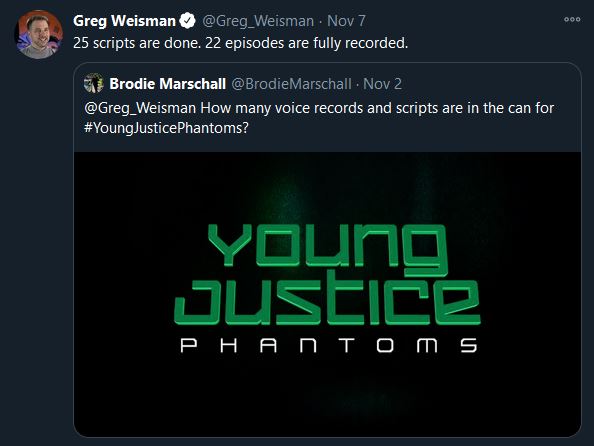 According to Greg, Young Justice: Phantoms has 25 episodes written, 22 recorded, and 7 in post-production. This is a nice update from last month, and it looks like they've been able to record two more episodes and finish writing another. With only one episode left to write and four to record, it looks like the newest season is making a nice pace.
What does this mean for when Phantoms will air? It's hard to say for sure. Given the current standing, we could make the assumption that the earliest we'll see Phantoms is Spring 2021, but that's a very optimistic guess. More conservatively, it's likely that Phantoms will air either late Summer or Fall 2021, but we'll keep our fingers crossed for earlier. Either way, we're excited to hear about the progress, and we know that the newest season will be worth it.